Hands down Olive Garden Shrimp Alfredo is a favorite recipe of so many people! Did you know you can make this classic Olive Garden dish in just about 30 minutes?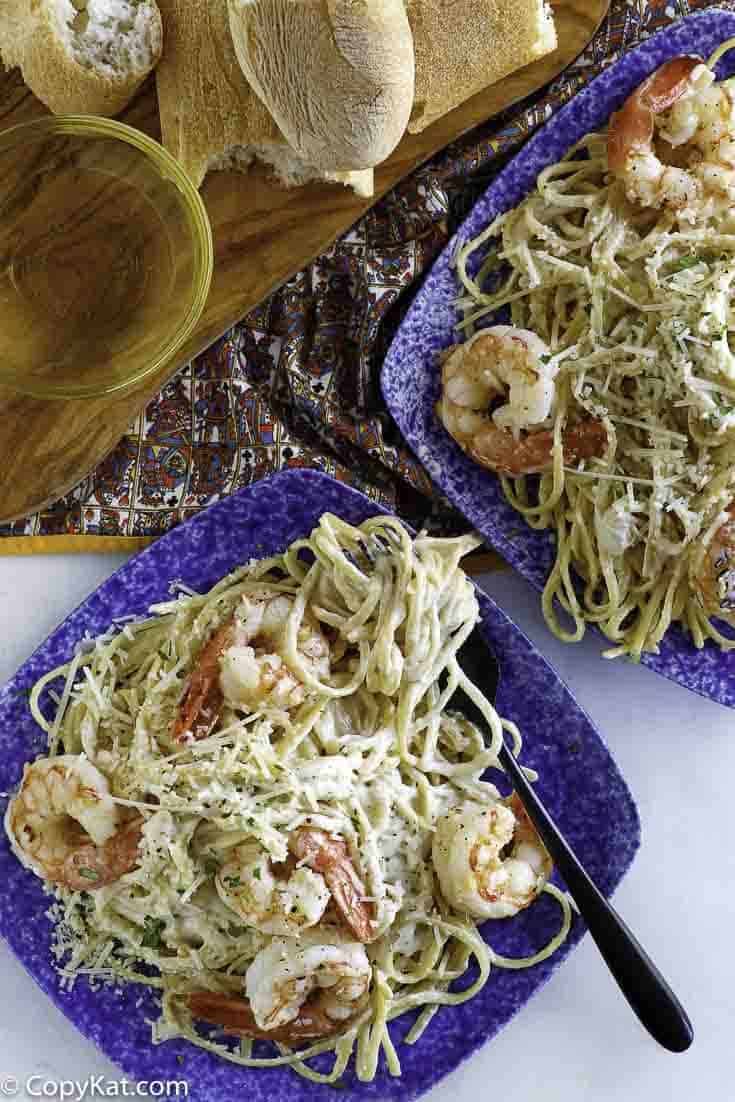 The Olive Garden is known for its amazing Alfredo Sauce. A rich and creamy Parmesan cheese sauce is made even better when paired with freshly sauteed shrimp. This recipe is perfect for when you want a dinner that is rich and decadent. Did you know it's actually pretty easy to make this classic fettuccine alfredo pasta recipe?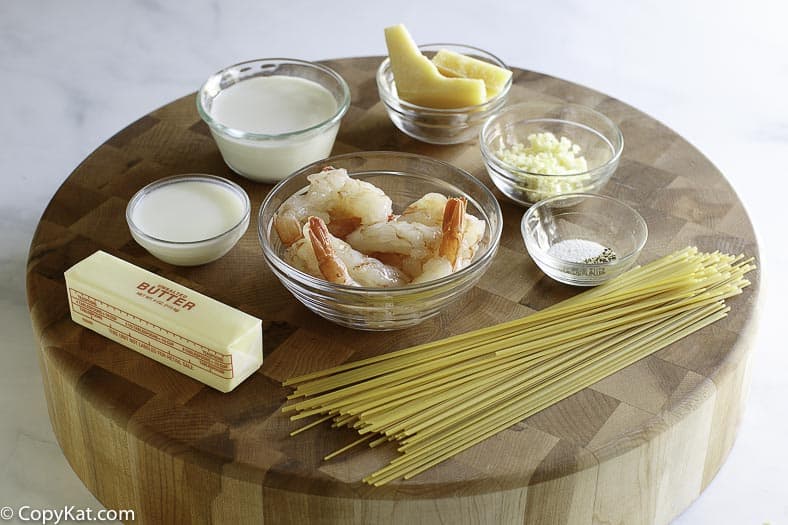 Why this dish works.
Alfredo sauce with pasta works so well because you use fresh butter, cream, and Parmesan cheese. Parmesan cheese is a dry slightly salty and nutty cheese that always adds the special touch many Italian dishes. In Alfredo shrimp pasta, shrimp is perfectly seasoned and cooked in a seasoned butter to give the shrimp a little something extra.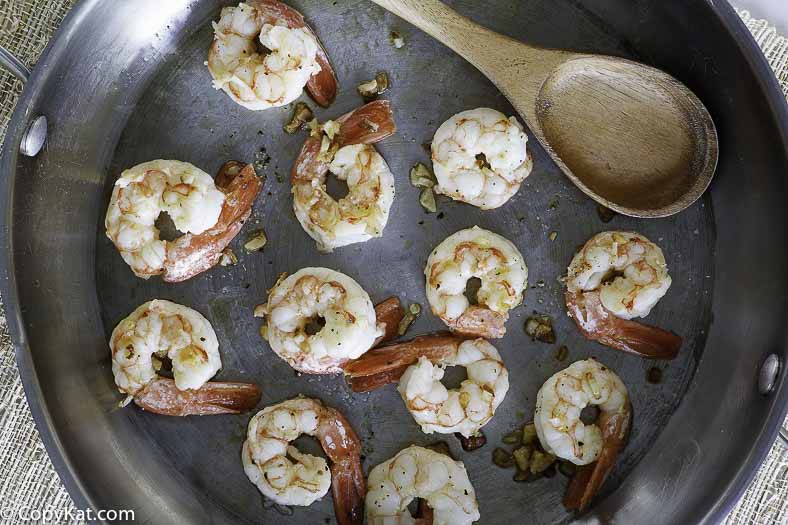 Secrets for how to make a delicious shrimp alfredo
Use medium-size shrimp, this way you get a good bite of seafood flavor.
Be careful not to overcook the shrimp, you can undercook the shrimp a tiny bit, as when it is combined with the pasta it will finish cooking.
Use a good quality Parmesan cheese. Do not use Parmesan cheese from a can.
Do not overcook the pasta – Mushy pasta is not a good thing. Cook your pasta al dente.
How to make shrimp Alfredo
Making shrimp Alfredo is not difficult to make at all. You can make the whole dish in under 20 minutes. If your shrimp is not peeled and deveined, peel and devein the shrimp. Start the pasta water to boil, and then start making the Alfredo sauce by melting the butter and cream together. When the butter and cream are melted, add in the Parmesan cheese, stir until the cheese melts. Reduce the temperature to low.
Drop your pasta into the boiling water, and start to cook the shrimp. When the pasta is done, toss it into the Alfredo sauce, and top with the cooked shrimp.
Tips and tricks for making Alfredo sauce
Use a Parmesan cheese you will grate. Pre-grated cheese has an anti-caking agent in it that may prevent the cheese from melting well.
Heat the butter and cream to where it bubbles before you add the cheese, it will melt better this way.
If you plan on having some extra sauce, do not store the sauce with the pasta, the pasta can soak up the sauce.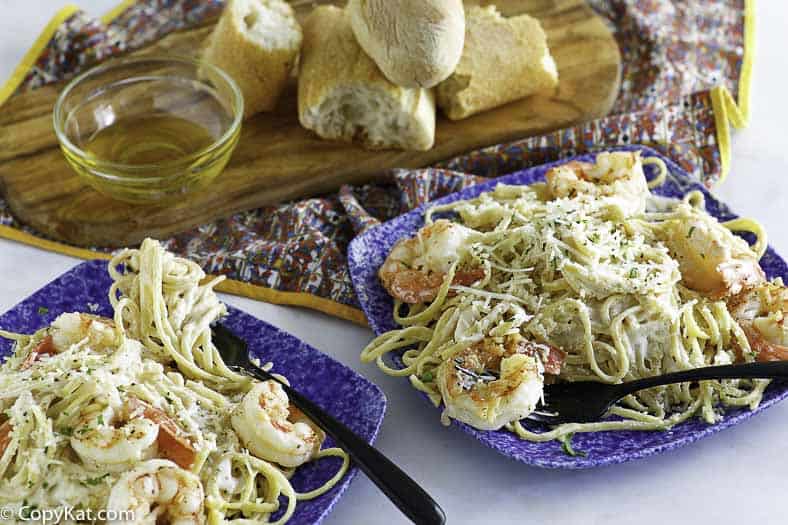 Love Olive Garden? Be sure to check out these recipes
More Shrimp Recipes
Be sure to take a look at more of my copycat seafood recipes and easy Italian recipes.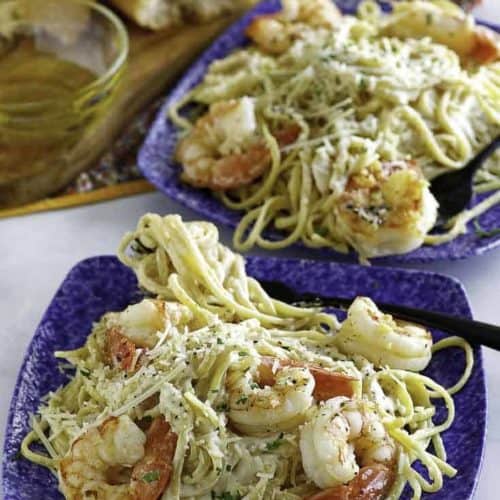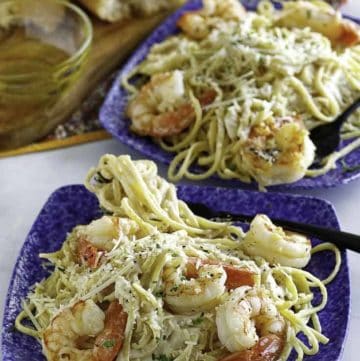 Ingredients
Shrimp
12

ounces

medium-sized shrimp, peeled and deveined

1/2

teaspoon

salt

1/4

teaspoon

ground black pepper

1

tablespoon

butter

1

teaspoon

chopped garlic
Pasta
12

ounces

dry fettuccine pasta
Alfredo Sauce
2

cups

heavy cream

4

ounces

butter

3/4

cup

grated Parmesan cheese

1/2

teaspoon

garlic powder

optional
Instructions
Pasta Directions
Salt water for pasta in a large pot, and bring to a boil.

Cook pasta for the time recommended on the pasta.
Shrimp Directions
Season shrimp with salt and black pepper.

Saute shrimp by adding butter to a pan over medium heat. When the pan is hot add chopped garlic and saute for about 30 seconds.

Saute shrimp on each side for about 2 to 3 minutes. The shrimp should be pink.
Alfredo Sauce Directions
Prepare the Alfredo sauce by combining the cream and butter in a saucepan over medium-high heat. Do not let the mixture come to a boil, but heat until small bubbles begin to form.

Add the Parmesan cheese and whisk quickly. Add the garlic powder and continue to whisk.
Serving the Shirmp Alfredo
Place cooked pasta into a large bowl. Add cooked shrimp and alfredo sauce. Toss together. Serve immediately.
Recipe Tips for the Cook
Do not allow the pasta to overcook. The residual heat in the pasta will help it finish cooking.
Do not allow the shrimp to overcook; it will become rubbery. Wait until it is just pink.
Do use a block of Parmesan cheese that you grate for best results.
If your alfredo sauce is thin, add a couple of tablespoons of cream cheese to it to make it thicker.
Nutrition
Calories:
1122
kcal
|
Carbohydrates:
68
g
|
Protein:
38
g
|
Fat:
77
g
|
Saturated Fat:
47
g
|
Cholesterol:
462
mg
|
Sodium:
1516
mg
|
Potassium:
370
mg
|
Fiber:
2
g
|
Sugar:
2
g
|
Vitamin A:
2705
IU
|
Vitamin C:
4.5
mg
|
Calcium:
433
mg
|
Iron:
3.1
mg