Chilis Awesome Blossom Petals is a great way to enjoy one of those blooming onions without all of the work! Perfect for watching the game or movie night. Everyone loves these crispy onion petals.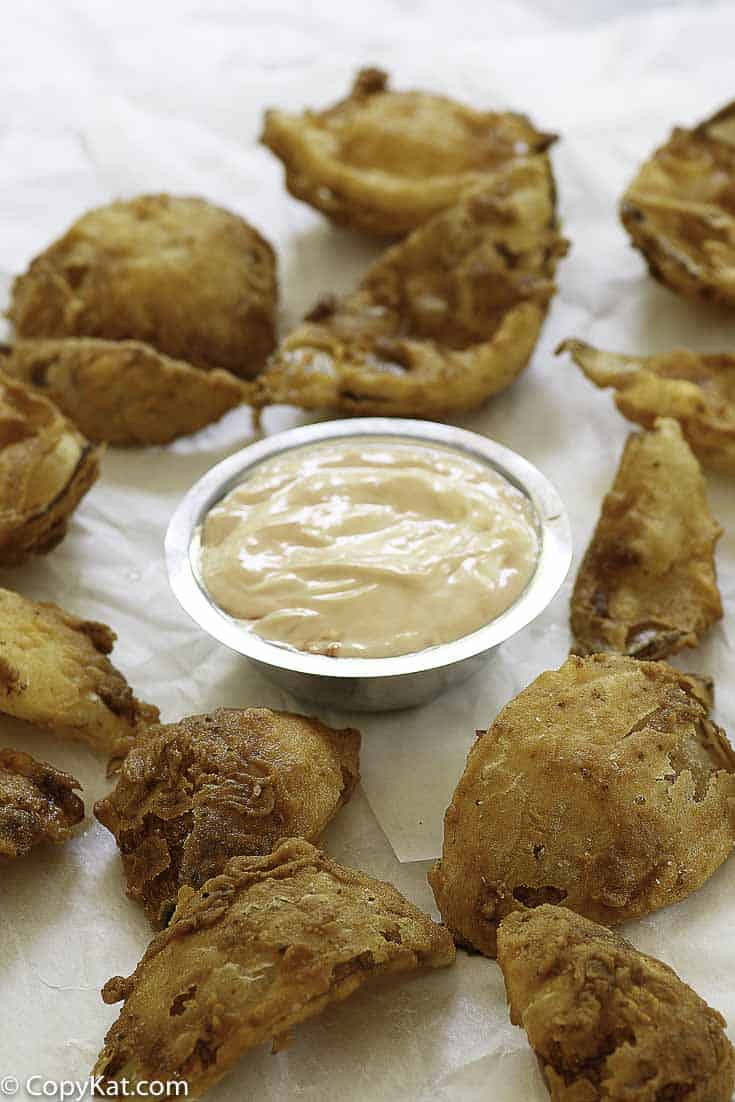 Chili's Awesome Blossom Petals has replaced Chili's The Awesome Blossom. Instead of the onion in full bloom, Awesome Blossom Petals serves up the onion as separate petals. The petals dish involves a light, flaky breading, a contrast between the sweetness of the onion and a hint of seasoned salt, and a "blossom" dipping sauce similar to a ranch-style dressing. The petals are so much easier to make, especially for home cooks.
What makes the Chilis Awesome Blossom Petals so good?
These crispy and crunchy onion petals are completely snackable. They are fried crisp and the breading is seasoned with just the right amount of spice! Then they are served with a spicy Ranch sauce you are going to love.
These awesome blossom petals are easy to make. You are going to cut the onions in petal shapes, you can do by simply making 4 cuts in an onion, prepare a seasoned flour mixture, batter these petals up, and fry them to perfection.
Did I mention this was much easier than making a deep-fried onion blossom???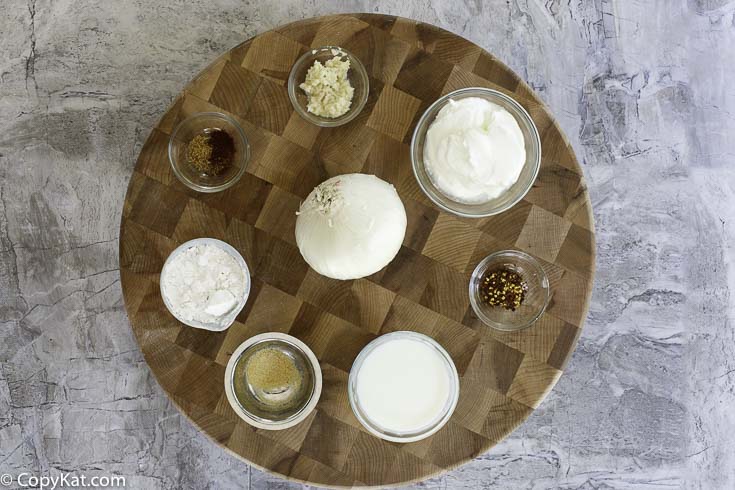 How to Cut Onions Without Weeping
Cutting into an onion triggers a sequence of chemical reactions that unleashes propanethial S-oxide. This is the irritant that causes your eyes to tear up. The secret to preventing tears is chopping an onion in a way that lowers the production of this irritant and/or keeps the irritant from getting to your eyes. Here are no fewer than six ways to cut off the waterworks:
Make sure your knife is sharp – A sharp knife means less damage to onion cell walls and the release of fewer irritants.
Limit exposure to cuts. Immediately after halving an onion, leave the side you aren't working on upside down and unpeeled. Place the diced onion from the first half into a bowl and move it as far away as possible from you before cutting up the remaining onion.
Copy a chef. Chefs know to dice an onion so that most of the exposed cuts are against the cutting board. Here's a video to show you how.
Work with chilled onions (refrigerated not frozen). If an onion is cold, it will produce lesser amounts of irritant. Frozen raw onions will turn mushy when they thaw.
Turn on the vent hood. Place your cutting board adjacent to the stove and switch on the exhaust fan to pull the irritants away from you and your eyes.


Wear goggles. Purchase an inexpensive set of safety goggles from the hardware store or buy goggles designed just for onion-choppers. Guaranteed to work!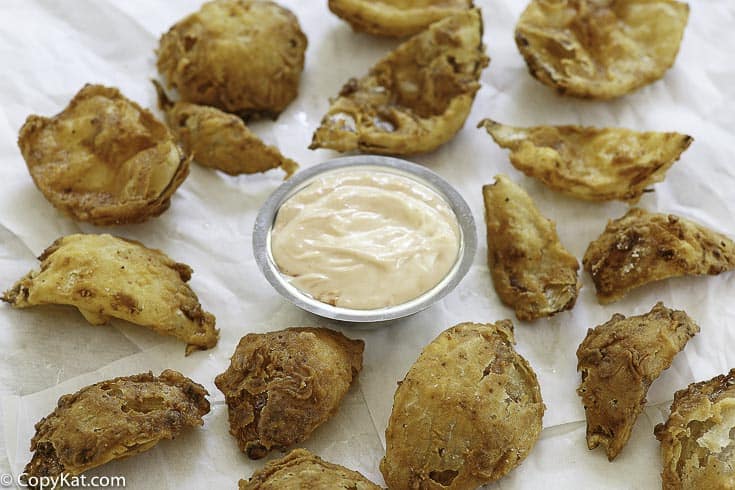 Let me know how much you enjoyed making Chili's Awesome Blossom Petals.
Love Chilis? Check out these copycat Chilis recipes.
Copycat Chilis Southwest Egg Rolls
Chilis Chicken Crispers Copycat Recipe
Copycat Chilis Monterey Chicken
Chilis Awesome Blossom
Create this copykat Chili's Awesome Blossom Petals recipe in your kitchen for your family. These petals are really easy to make and super tasty! They are enjoyably messy to eat, so don't forget the napkins! 
Print
Pin
Rate
Add to Collection
Go to Collections
Ingredients
Awesome Blossom Sauce
1/2

cup

sour cream

2

tablespoons

ketchup

1/2

teaspoon

McCormick Seasoned Salt

1/8

teaspoon

cayenne pepper

1 1/2

teaspoons

prepared horseraddish
Seasoned Breading
2 1/2

cups

flour

2

teaspoons

McCormick Seasoned Salt

1/2

teaspoon

ground black pepper

1/4

teaspoon

garlic powder

1/4

teaspoon

onion powder

1/2

teaspoon

paprika

1

cup

buttermilk
Instructions
Awesome Blossom Sauce
In a small bowl combine sour cream, ketchup, seasoned salt, cayenne pepper, and horseradish. Stir well. Cover, and place in the refrigerator until you are ready to serve.
Onion
First, peel the onion, It will depend on how large your onion is, but you want to end up with cuts that are about 1/2 inch thick.

Cut the stem of the onion off and place the onion stem side down on the cutting board. Cut the onion in half vertically and horizontally. You should have 4 pieces, then make two additional diagonal cuts.
Prepare the breading station
In a bowl add the buttermilk.

In another bowl combine the flour, seasoned salt, black pepper, garlic powder, onion powder, and paprika. Stir with a fork to mix up the breading.

Bread the onions by first putting in the flour, then dip into the buttermilk, and back into the flour. Rest the onions on a wire rack.
Cooking the onions
Preheat oil to 350 degrees. Add a the onions in small batches, do not overcrowd the onions. Cook for 2 to 3 minutes or until they are golden.

Remove from oil, and then drain on a wire rack.
Recipe Tips for the Cook
You can use vegetable oil for frying. I personally buy generic vegetable oil. You could use peanut oil, canola oil, or even vegetable shortening, all work well.
Be careful not to fry too many petals at once, they will reduce the temperature of the oil, and the result would be petals that aren't crispy.
I like to rest fried foods on a wire rack, resting fried foods on paper towels causes them to steam, where a wire rack keeps them nice and crispy.
Nutrition
Calories:
424
kcal
|
Carbohydrates:
44
g
|
Protein:
7
g
|
Fat:
24
g
|
Saturated Fat:
4
g
|
Cholesterol:
14
mg
|
Sodium:
1078
mg
|
Potassium:
153
mg
|
Fiber:
2
g
|
Sugar:
4
g
|
Vitamin A:
310
IU
|
Vitamin C:
0.7
mg
|
Calcium:
75
mg
|
Iron:
2.5
mg