Cream cheese clam dip is the perfect dip, is so delicious, and takes just a few minutes to make! Packed full of flavor, this dip will become the hit of your next party, game night, or bunco party! If you love clam flavor, this is the dip you have got to try!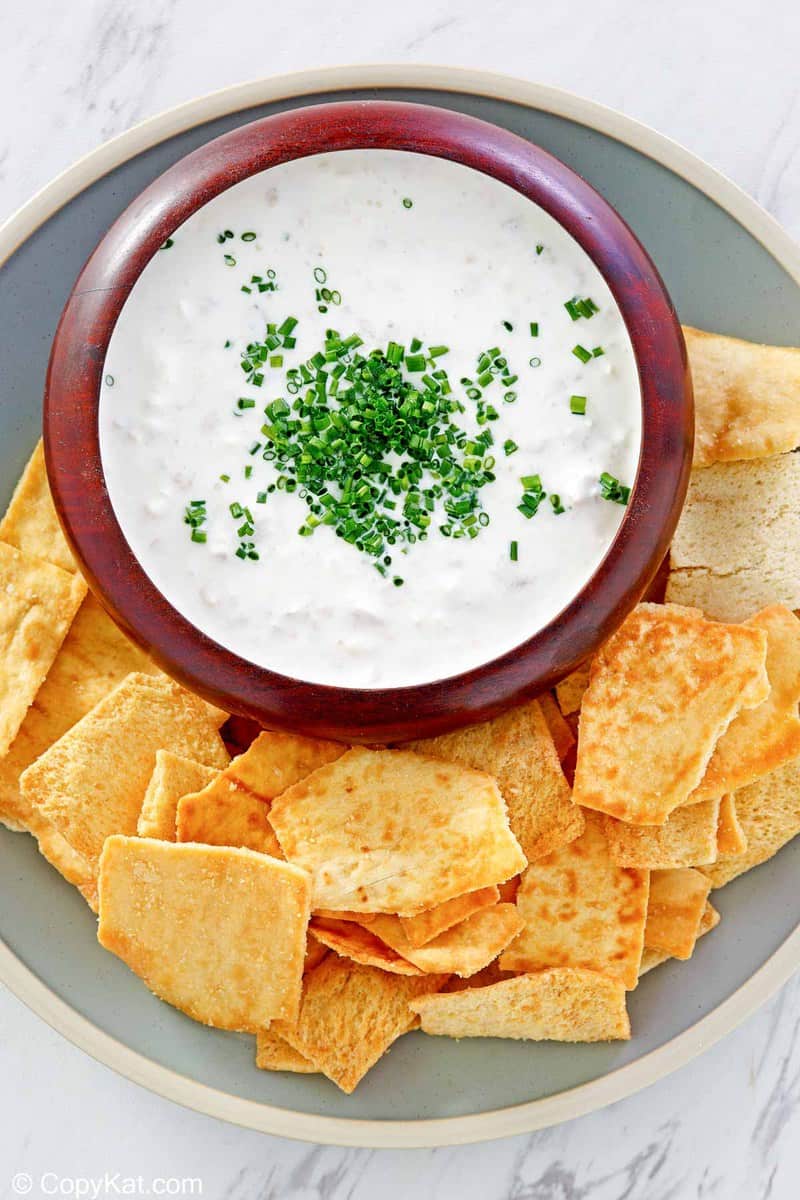 This post contains affiliate links. As an Amazon Associate, I earn from qualifying purchases
Easy Clam Dip
This easy clam dip recipe is the perfect dip to enjoy while watching the big game or to bring to a party. Everyone will declare this is a delicious clam dip. Canned clams, cream cheese, and sour cream add the perfect touch to this creamy dip! You can serve this dip with your favorite potato chips, crackers, or even homemade crostini!
I recently served this at a party, and this dip was the first dish that was emptied. In fact, the party-goers raved about the recipe, and demanded that I bring it again and again! This dip is perfect for a summer bbq, bunco party, or your next game day. The only thing is that you will want to make sure you bring plenty of it!
What makes this recipe for cream cheese clam dip so good?
This dip is the perfect snack to serve at a party or gathering! It has simple ingredients, it's easy to make, and this recipe realy allows the flavor of the clams to take center state and be the superstar.
What's in this creamy clam dip?
Who doesn't love a recipe when you can make it quickly and easily with ingredients that are easy to find? This recipe for clam dip with cream cheese won't disappoint.
I like to use chopped clams for this dip recipe. I think the chopped clams give the dip a better texture than the minced clams. This homemade clam dip is made of:
Chopped canned clams – this recipe does not use fresh clams, you will need 2 cans of those small clams
Cream cheese – room temperature cream cheese works the best, you can mix everything together easily
Sour cream – I use the natural kind, I don't like it when it has gelatin in it
Lemon juice – freshly squeezed lemon juice works the best
Sugar – this takes just a touch of sugar to balance everything thing!
Accent Flavor Seasoning (optional)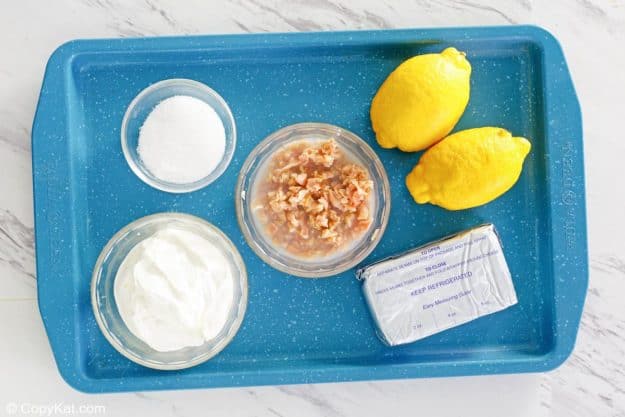 How to Make Clam Dip
Leave the package of cream cheese out on the counter so it will reach room temperature and soften.
Drain the clams over a small mixing bowl, be sure to keep the juice.
In a medium-sized mixing bowl combine cream cheese, sour cream, lemon juice, sugar, and accent.
Mix with a electric mixer, until smooth and creamy.
Add 3 tablespoons of clam juice you saved, and discard the rest.
Stir in the clams with a spoon.
Place dip into an airtight container and refrigerate for 1 hour before tasting. The flavors need to mingle a bit before you adjust for taste.
Adjust with salt, pepper, or anything below.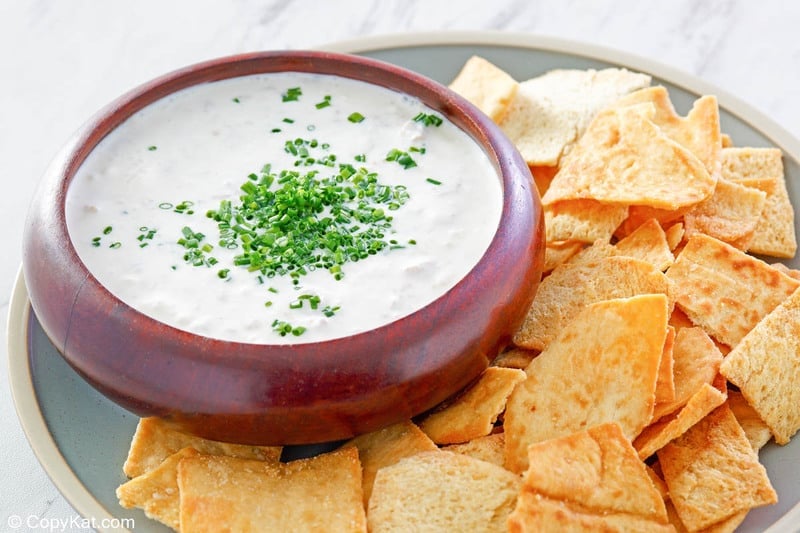 Make This Dip Your Own
What is one of the best things about cooking at home? You can modify this classic clam dip any way you like it. Make changes to the recipe to make it your own! Try some of these ideas for recipe variations:
Add about 1/2 teaspoon prepared horseradish to the sauce. Horseradish gives the dip a bit of zing!
Add a teaspoon or two teaspoons of chives to the dip. Chives just make everything look pretty, and the flavor of fresh chives is perfect.
Add a little heat with a couple dashes of tobasco
Add in a finely minced clove of garlic
Add a teaspoon of minced white onion. White onions give you onion flavor without the heat yellow onion have.
Add two teaspoons of sliced green onions – Green onions are mild and add a nice bit of flavor and crunch.
Add a splash of hot sauce like Tobasco to the dip. Is perfect if you like a bit of heat.
Add a teaspoon of Worcestershire sauce. This adds a bit of depth, I love this sauce, it adds flavor, and no one can tell what it is.
Two teaspoons of finely minced shallots are amazing. Again, one of those ingredients that no one can put their finger on, but you know it will make this a flavorful dip.
How to Serve Clam Dip
To serve this delicious seafood dip, grab a small pretty bowl, or you could even use a small serving bowl. Pour the dip into the bowl, and then set the bowl on a serving platter.
Add everything people would enjoy with the dip. Chips and crackers are popular but there is so much more that goes great with this dip.
Your guests will get to decide what the best pairing is for clam dip. I know when you serve this dip, the next time you have a gathering, you will need to prepare this dip!
What to Serve with this Creamy Clam Dip
While this delicious dip is so tasty you could eat it with a spoon, it is the perfect dip to dunk all sorts of chips, crackers, toasted bread, tortilla chips, and sliced vegetables.
I recommend potato chips that are thicker as thin chips will break when you dunk this into this creamy clam dip!
Salty potato chips
Kettle chips
Broccoli florets
Fresh cut vegetables
Ritz crackers
Corn chips
Saltine crackers
Club crackers
How to Store Clam Dip
Should you happen to have any of this creamy clam dip recipe leftover be sure to store the extra dip in an airtight container for 1 week in your refrigerator.
How long does clam dip stay fresh?
Don't be worried that this recipe won't stay fresh should you not consume it in one sitting. Canned clams are generally cooked, so they are not raw.
This dip will stay fresh in your refrigerator for about 1 week. I think this dip tastes better if you allow it to rest for a few hours in the refrigerator before serving.
Love dip? Try these great recipes!
More Clam Recipes
Be sure to check out more of my easy dip recipes and the best seafood recipes here on CopyKat.com!
Ingredients
24

ounces

clams

canned

16

ounces

cream cheese

8

ounces

sour cream

1/2

teaspoon

sugar

1

teaspoon

salt

2

teaspoons

fresh lemon juice

(or 2 1/2 teaspoons reconstituted)

1/2

teaspoon

MSG (Accent flavor seasoning)
Optional Garnishes
fresh chopped parsley

fresh chopped chives
Instructions
Drain the clams and reserve 3 tablespoons of the juice. Discard the remaining clam juice.

In a medium bowl, combine the cream cheese, sour cream, sugar, salt, lemon juice, reserved clam juice, and MSG.

Mix with a

mixer

until smooth and creamy.

Add the clams and stir with a wooden spoon or spatula.

Place the dip in an air-tight container in the refrigerator and let it rest for a few hours.

Garnish with fresh chopped parsley or chives if desired.
Notes
You can half the recipe if desired.  
Nutrition
Calories:
255
kcal
|
Carbohydrates:
3
g
|
Protein:
4
g
|
Fat:
25
g
|
Saturated Fat:
14
g
|
Cholesterol:
79
mg
|
Sodium:
533
mg
|
Potassium:
118
mg
|
Sugar:
2
g
|
Vitamin A:
955
IU
|
Vitamin C:
0.7
mg
|
Calcium:
89
mg
|
Iron:
0.4
mg