If you are looking for the perfect dip to watch a big game, or when hosting a party, this taco dip is my go-to recipe! You can make this recipe with little to no preparation.
What makes this easy taco dip so dang good?
What makes this delicious this recipe an easy taco dip recipe stand out is the fact that it is made with real cheddar cheese? While most cheese dip recipes are made with Velveeta, not this one!
This easy taco dip has the perfect combination of cream cheese, sour cream, and cheddar cheese to make this a super creamy dip. I know this is going to become your favorite taco dip!
How does taco dip taste?
The taco dip with cream cheese tastes just like the flavors of actual taco meat with the delicious mix of rich creamy and melty cheese.
So basically it is an amazing dip that makes you feel like you're eating a tasty taco on a small chip.
What are all the ingredients you will need for this taco dip recipe?
The ingredients of the delicious chili cheese dip recipe are what makes this recipe stand out the most. It is not your average taco dip recipe.
Here are the ingredients that will be used in the recipe:
Salsa
Canned chili
Cream cheese
Sour cream
Shredded cheddar cheese
How to Make Taco Dip
Place all ingredients in a saucepan over medium heat.

Heat and stir until the mixture is combined and the cheese has melted.

Serve with tortilla chips of your choice.
Microwave Directions
Put all the ingredients in a microwave-safe bowl and microwave it for 30 to 45 seconds. Stir and repeat microwaving and stirring until it is smooth and heated through.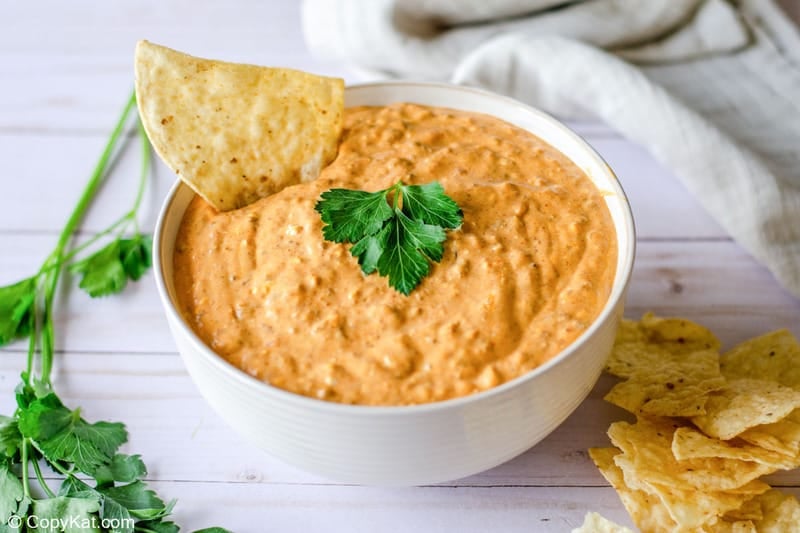 How long does it take to make taco dip with meat?
Once everything has been put in the pan, it just takes 5-7 minutes to melt everything together and serve it up with your favorite tortilla chips.
Why is the taco dip runny?
There could be a few reasons. Did you use canned chili or chili beans? Was too much sour cream added? Maybe too much salsa?
All of these could lead to a runny dip issue.
What can you do if the taco dip is too runny?
If the cream cheese taco dip seems to be too runny once you have everything melted down, you can do one of two things to fix it.
You can either add more cream cheese or more shredded cheddar cheese to the pot. I would suggest only doing a little at a time because you don't want to add too much and make it extra thick.
Add a little bit at a time until you get the consistency you like.
Is taco dip and 7 layer dip the same thing?
No, they are not! While they both have some of the amazing taco flavors, the seven-layer dip has 7 layers and is a cold dip with shredded lettuce, black olives, refried beans, shredded lettuce, green onion, and more. Check out my recipe for 7 Layer Dip.
This delicious taco dip is all mixed together and served hot. The hard part of this recipe is getting into the serving dish!
Great Things to Serve with Taco Dip
While I would not recommend this dip recipe to replace dinner, it makes a great appetizer or side dish.
How long does it last?
This dip will last for about 5-7 days when you store it in the fridge in an airtight container. Just reheat it in the microwave, give it a good stir and it is ready to serve!
Can taco dip be frozen?
Yes, it can!! This recipe actually does wonderfully frozen. After it is made, pour it into a freezer-safe container and store it for up to three months.
Then just pull it out when you need it and pop it into a slow cooker and let it heat up while stirring it occasionally.
Love party dips? Try these recipes!
Favorite Appetizer and Game Day Recipes
Check out more of my easy dip recipes and the best game day food here on CopyKat!
Ingredients
12

ounces

salsa

15

ounces

canned chili

8

ounces

cream cheese

16

ounces

sour cream

16

ounces

shredded Cheddar cheese
Instructions
Place all ingredients in a medium-sized saucepan over medium heat.

Heat gently and stir until the mixture has a uniform consistency and the cheese has melted.
Notes
Serve Taco Dip with tortilla chips of your choice.
This taco dip can also be made in the microwave. Just microwave for 30 to 45 seconds, stir, then repeat until it is smooth and heated through.
You can use light or fat-free cream cheese and sour cream if desired.
Nutrition
Calories:
374
kcal
|
Carbohydrates:
8
g
|
Protein:
14
g
|
Fat:
31
g
|
Saturated Fat:
19
g
|
Cholesterol:
96
mg
|
Sodium:
634
mg
|
Potassium:
373
mg
|
Fiber:
1
g
|
Sugar:
5
g
|
Vitamin A:
1610
IU
|
Vitamin C:
62.1
mg
|
Calcium:
415
mg
|
Iron:
1
mg