Rotel Dip is an easy recipe for classic cheese dip with a spicy kick. This recipe is very popular for many family gatherings, parties, and game-day festivities. This Rotel dip recipe is made with Velveeta Cheese and Rotel Tomatoes. You will love this classic cheesy Rotel dip, it's always a crowd pleaser.
Rotel Cheese Dip
Rotel cheese dip is a popular appetizer enjoyed for decades. The next time you sit down to watch the big dame why not make the best dip around and grab your favorite chips and dig in and enjoy this Velveeta cheese dip?
It's party time any time you serve this perfect party dip. Whip up this two-ingredient cheesy dip that has a little bit of a kick during the time it takes for a commercial break. This Rotel dip recipe is sure to become one of your big game party foods.
Do I Really Need to Use Velveeta Cheese?
Velveeta is perfect for melting and is known for its cheesy goodness. Nothing melts quite as good as Velveeta!
If you are looking for an alternative to Velveeta, you can find other processed cheese products in the supermarket. I recommend American cheese you get from the Deli department of your grocery store. It will melt very nicely and will help you create this easy dip recipe.
Modernist Cuisine has a fascinating recipe for using sodium citrate to turn almost any cheese into a creamy sauce for those who prefer to use unprocessed cheese and are willing to turn their kitchen into a science lab.
Recipe Ingredients
Here's what you need to make Rotel cheese dip:
Velveeta Cheese – this is a blend of cheese that makes for a creamy cheese dip.
Rotel canned diced tomatoes with chopped green chilies, 1 can of rotel does wonders!
That's it! Just 2 simple ingredients. Plus a bag of tortilla chips to serve with the dip.
Recipe Variations
Are you wondering "how can I customize Rotel cheese dip"? Well, it's easy to do and there are lots of choices.
This is one recipe that begs you to add your own touch. Whether you want to tweak it a little or a lot, there are almost endless options. Here are several that you should try.
Add some cooked beans. You can use your favorite Southwestern-style bean recipe or reach for a pre-seasoned canned variety. About 5 ounces of beans, or a third of a standard can of beans, is a good starting point. Feel free to add more or fewer beans based on your preference. I personally love to add some cooked black beans to this recipe.
Switch out the variety of Rotel tomatoes you use. With ten different types, there is one that you will love. The lime and cilantro and the serrano chili varieties are particularly delicious in this queso dip.
Toss in some meat. This is a great recipe to use up any leftovers you have in your fridge. Try adding ground beef, shredded chicken, ground sausage, or ground turkey prepared with taco seasoning it a perfect addition to the dip. Just make sure to cook the meat before using it in this recipe.
Sprinkle on your favorite toppings. Chopped pickled jalapenos are a fantastic addition if you like things a bit on the spicy side; otherwise, stick to milder toppings like sliced chives, green onions, and black olives.
How to Make Rotel Dip
The first thing you must do is cut Velveeta cheese into chunks.
Place cheese and tomatoes in a saucepan over low heat on the stovetop.

Heat until the cheese melts. Stir occasionally to combine melted cheese and tomatoes.

Serve hot dip with tortilla chips, fresh vegetables like carrot or celery sticks, or even some bagel chips.
Tips for Making and Storing Rotel Cheese Dip
Make in the microwave. Place all the ingredients in a microwave-safe bowl. Cover the bowl and heat on high for 4 minutes. Remove from the microwave carefully; it will be hot. Stir well. Heat for one additional minute and stir. Continue heating in 1-minute increments until the cheese melts.
Make in a slow cooker. Spray the insert of the slow cooker with oil to help keep the cheese from sticking. Put all the ingredients in the slow cooker and set it on low for 2 hours. Cover and stir after an hour. This nacho cheese dip has the perfect consistency when made in your crockpot.
Serve hot. Keep the queso dip warm by using a mini slow cooker set to warm setting or a fondue set.
Throw away any Velveeta Rotel dip you served. You can store unserved Rotel cheese dip for 4-5 days in the fridge in an airtight container. If you add meat to the Rotel dip recipe, you should eat it within two days.
Check out all of our favorite recipes on Facebook.
I hope you enjoy this recipe! It has to be one of the easiest dips you can prepare. This is one of the cheesy dips that make frequent appearances at my house.
More Cheese Dip Recipes
Here are a few additional cheese dips you must try:
Great Wings for Game Day
Some tasty recipes for chicken wings to make and enjoy while watching the game:
Check out more of my easy dip recipes and the best game day food here on CopyKat!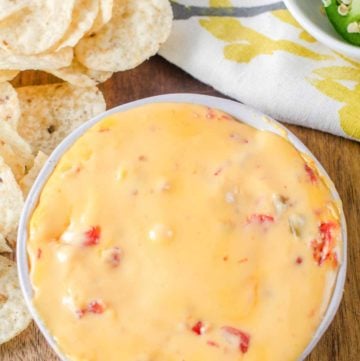 Ingredients
1

pound

Velveeta Cheese

10

ounces

Rotel Diced Tomatoes and Green Chilies
Instructions
Cut Velveeta cheese into cubes.

Place cheese cubes and tomatoes in a saucepan over low heat.

Heat until cheese melts, stirring occasionally.

Serve hot with tortilla corn chips.
Nutrition
Calories:
175
kcal
|
Carbohydrates:
10
g
|
Protein:
15
g
|
Fat:
8
g
|
Saturated Fat:
5
g
|
Cholesterol:
31
mg
|
Sodium:
1203
mg
|
Potassium:
349
mg
|
Fiber:
0
g
|
Sugar:
7
g
|
Vitamin A:
800
IU
|
Vitamin C:
4.4
mg
|
Calcium:
449
mg
|
Iron:
0.6
mg