TGI Friday's Pretzels and Beer Cheese Dip is a recipe that has been requested by so many people just like yourself. TGI Fridays is a casual restaurant I love. They have a wonderful bar and a menu that is constantly changing all of the time.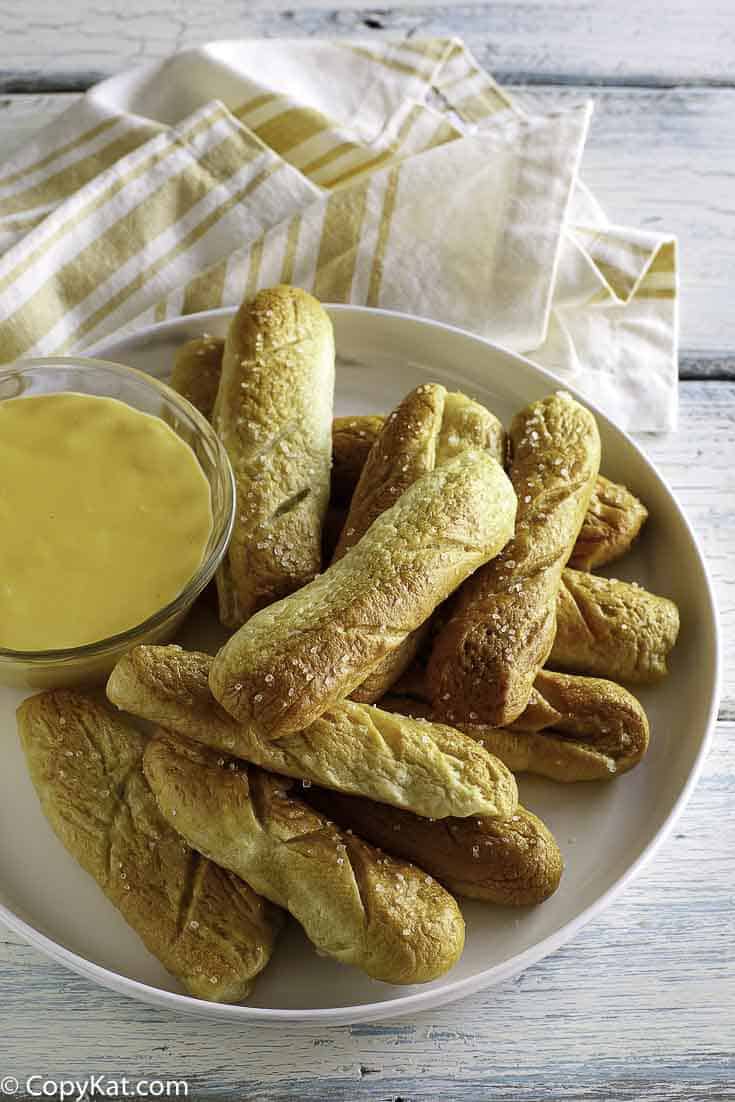 Making TGI Friday's Pretzel Sticks and Beer Cheese Dip
TGI Friday's has a wonderful pretzel stick and beer cheddar dip, and you can make this tasty appetizer at home. Believe it or not, homemade pretzels sticks aren't difficult to make, and you will amaze your family and friends by being so talented! The beer cheese dip is simple to put together. You just need some American cheese and your favorite beer.
The History of Pretzels
One common origin story about pretzels is that they date back to the year 610 when they were created by an Italian monk. Before baking them, this monk folded pieces of dough so that each one looked like a child crossing its arms in prayer. He called them pretiolas which means "little rewards" in Italian. He would give out pretiolas to children who had memorized their prayers.
Recorded Evidence – While there is no way to prove the monk story, what is certain is that pretzels were featured on the crests of German bakers' guilds in the year 1111. Dating from 1440, is a portrait of St. Bartholomew surrounded by some pretzels in a prayer book belonging to Catherine of Cleves.
The Meaning of Pretzels
Pretzels came to represent spiritual wholeness and good luck. The three holes in the typical shape of a pretzel possibly represented the Holy Trinity. The pretzel as good luck appeared on New Year's Day when German children hung pretzels around their necks. In Austria in the 16th Century, pretzels were ornaments on Christmas trees. And Swiss parents hid little pretzels on Easter for children to find – an early version of an Easter egg hunt. Also in Switzerland, the pretzel shape represented a marriage knot – the bride and groom would each pull on one side of a pretzel. The person with the larger half brought prosperity to the marriage – kind of like a doughy wishbone tradition.
Pretzels in Pennsylvania
In the 1700s, pretzels voyaged across the Atlantic with German immigrants (later called the Pennsylvania Dutch). Today, around 80% of American pretzels come from Pennsylvania. While it's estimated that the average American eats two pounds of pretzels in one year, pretzel consumption in Philadelphia shoots up to around twelve pounds of pretzels per Philadelphian per year.
Soft and Hard Pretzels
Early pretzels were soft. There's a popular legend that hard pretzels came about in 1600 when a baker fell asleep while tending his fire and burned his pretzels to a crisp. While this is a good story, we do know that in 1861, Julius Sturgis established the first commercial pretzel bakery in Lititz, Pennsylvania and developed the hard crunchy salty snacks that we enjoy today. To read more about the fascinating twisted history of pretzels, click here.
Beer and Cheese – It's Better Than Wine and Cheese
Read this interesting article that explains why combining beer with cheese is better than pairing cheese up with wine. My recipe uses American cheese, but you can try other cheeses if you wish. If you really want to get into this, click here for some tips on which kind of cheese goes best with different beers.
Many of you requested this recipe, and I am happy to develop a new recipe for you. Here we are combining homemade pretzel sticks and an easy to make beer cheese dip. For this beer cheese dip, I am using Molson, but you can use any brand of beer that you like. I personally like a hearty beer so this was my choice for this recipe. I have done a similar beer cheese dip with Coors Light, Spaten Oktoberfest, and a couple of others, all with good results. If you don't drink beer, replace the beer with milk and you will have a tasty cheese sauce.
Love TGI Fridays? Be sure to check out these recipes
TGI Friday's Baked Potato Skins
TGI Friday's Jack Daniel's dipping sauce
TGI Friday's One Hour In the Candy Store

Ingredients
1 1/8

teaspoon

yeast

1 package instant yeast

1

cup

water

plus 2 tablespoons warm water (125 to 130 degrees)

2

tablespoons

sugar

1

teaspoon

sugar

4 1/2

cups

all-purpose flour

plus more for rolling

1

teaspoon

salt

vegetable oil

for the bowl

8

cups

for water

1/4

cup

baking soda

1

egg

white lightly beaten with 1 teaspoon water, for glaze

1

tablespoon

coarse kosher salt

for sprinkling
Beer Cheese Sauce
8

ounces

American cheese

4

ounces

beer
Instructions
Pretzel Sticks
To make the pretzel sticks: Proof the yeast by combining it with 2 tablespoons warm water and 1 teaspoon sugar in a small bowl. Once the yeast begins to foam and bubble, it is ready to use. Transfer the yeast mixture to the bowl of a stand mixer and add the flour and salt; and begin to mix, using the dough hook. Slowly stream the remaining 1 cup of warm water into the flour; a ball of dough will form. Continue to mix for another minute to knead the dough. Grease the bowl with vegetable oil, place the dough ball in the bowl, cover with a towel, and let rise for approximately 35 minutes.

The dough should double in size. Four a cutting board and place the dough on the board. Knead and then divide the dough into 16 portions. Roll each portion into a cigar shape and use a sharp knife to cut 2 or 3 slits into the top. Cove with a towel and let rise for another 25 minutes. Preheat the oven to 375 degrees.

On the stovetop, bring the 8 cups of water to boil in a large saucepan. Add the baking soda and the remaining 2 tablespoons of sugar (the water will foam for a moment). Drop 4 pretzel sticks at a time into the boiling water and cook for 30 seconds per side. Use a slotted spoon to remove the sticks and place them on a baking sheet.

Brush the pretzels with the egg white glaze and sprinkle generously with coarse salt. Bake until brown, about 25 minutes. Transfer to a wire rack and let cool for 10 minutes. Serve warm or at room temperature.
Beer Cheese Sauce
Chop the cheese into 1-inch cubes and place in a small saucepan with 4 ounces of beer. Warm and stir over low heat until the cheese has melted
Nutrition
Calories:
394
kcal
|
Carbohydrates:
59
g
|
Protein:
13
g
|
Fat:
10
g
|
Saturated Fat:
5
g
|
Cholesterol:
48
mg
|
Sodium:
2674
mg
|
Potassium:
136
mg
|
Fiber:
2
g
|
Sugar:
4
g
|
Vitamin A:
300
IU
|
Calcium:
310
mg
|
Iron:
3.6
mg