TGI Friday's Captain Morgan Island Rum Punch is a tasty tropical cocktail perfect for hot summer days and fun occasions. If you enjoy the Caribbean or Jamaican rum punch, you will love this fruity drink made with spiced rum, dark rum, amaretto, fruit juices, and grenadine.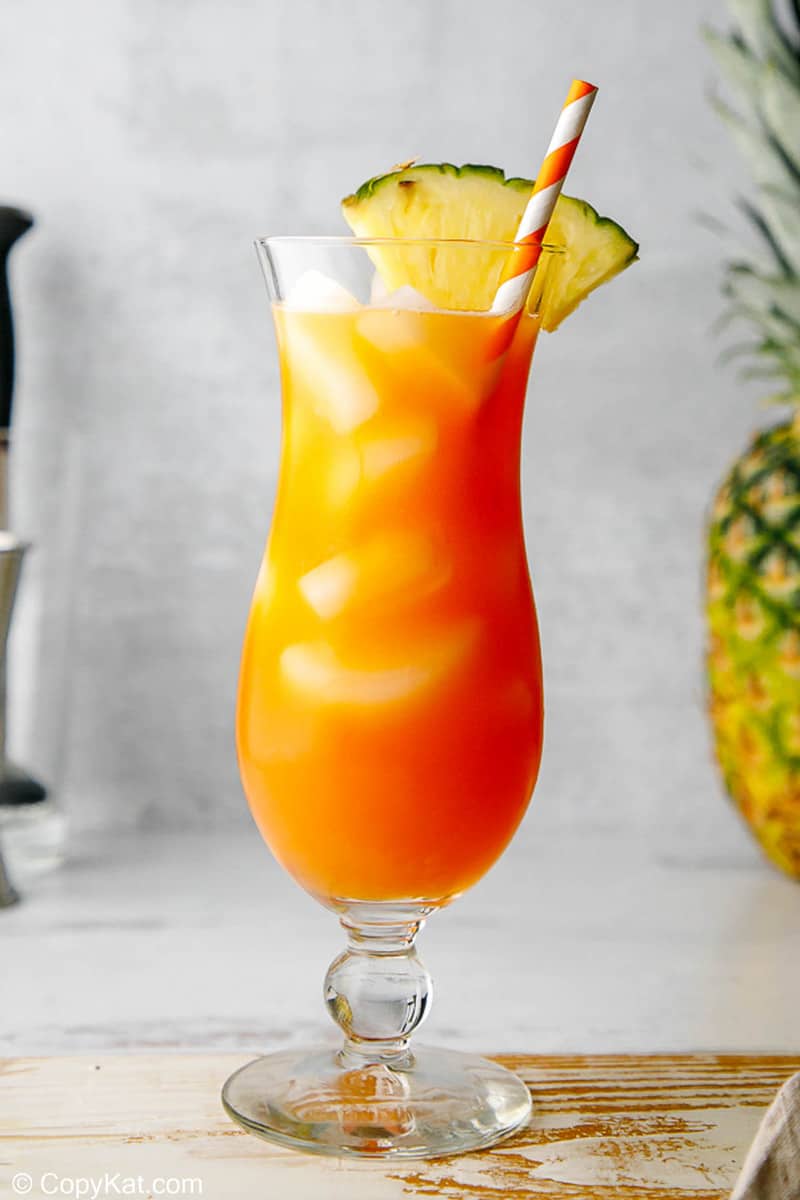 There is just something about rum-based drinks that changes the way you view the world. Even land-locked in the dead of winter, sipping a Caribbean-inspired rum punch cocktail can mentally transport you to a luxury beach vacation. And since TGI Friday's specializes in delivering good times, it's not a surprise that the chain makes some of the rum-heavy drinks like its Captain Morgan Island Rum Punch.
So, What's a Punch?
In 1980s films, the bad kids were constantly spiking the punch at high school dances, but they wouldn't have to do it if they were going to school in the 1780s. At that time, punch was already highly alcoholic.
People serve traditional punches in punch bowls (from where they get their name) and contain various spirits, citrus, and sweeteners to help balance the flavors. The first punch was probably served in India during the time of the East India Trading Company to make local alcohol more palatable for the British colonists.
Today's punches are rarely served in punch bowls but do share some of the characteristics of the originals.
Rum Punch Ingredients
The mixture of spiced and dark rum with Amaretto goes incredibly well with the fruity components of this rum punch cocktail. Discover a little more about what goes into this Jamaican rum punch:
Captain Morgan's Spiced Rum comes from a recipe that's over 70 years old and is based on traditional spiced rums served throughout the Carribeans hundreds of years earlier. This smooth rum that won't burn your throat or empty your wallet dazzles your tastebuds with its vanilla, clove, and nutmeg flavor. You can find Captain Morgan's in any liquor shop, and it is key to this cocktail, so don't settle for anything else.
Myers Rum is a dark rum that is perfect for any Jamaican rum punch. Since the 1800s, Myers has been distilling its rum from pure molasses made from the island's bountiful sugarcane harvest. After distilling, it goes through an aging process that produces the rum's signature caramel-honey sweetness along with notes of dried figs and raisins. Any molasses-based dark rum will work well. Some highly rated alternatives include Gosling Black Seal and Pusser's British Navy Dark.
Disaronno Amaretto, a classic Italian liqueur, gives this cocktail additional sweetness and a distinct almond flavoring that complements the taste of the rums. You can easily swap out a more inexpensive version of amaretto like Amaretto di Amore or even use an amaretto-flavored coffee syrup if you prefer.
Passion Fruit Puree adds a sweet and sour component to this Caribbean rum punch that helps to tie all of the other ingredients together. You won't find passion fruit puree in most grocery stores, but you can in some liquor stores or online.
Grenadine Syrup came frompomegranates originally, but most commercial grenadine syrups you find now are nothing more than corn syrup, red food coloring, and a few flavorings. Bartenders use grenadine syrup for sweetness and color, but you can leave it out of this cocktail if you want.
Tips For Making and Serving TGI Friday's Captain Morgan Island Rum Punch
Use a cocktail shaker. Shake until the outside of the shaker is cold, about 10 seconds. Always use fresh ice for each drink.
Use fruit juices without pulp. As an alternative, you can strain the drink when you pour it into the glass.
Serve in a hurricane glass. If you don't have a hurricane glass, you can use any tall narrow glass. Serve with a straw or two, and use as pineapple wedge as a garnish.
Check out more of our fantastic cocktails on YouTube!
Captain Morgan Spiced Rum Punch Recipe Ingredients
Here's a list of what you need:
Captain Morgan Spiced Rum
Myers Dark Rum
Disaronno Amaretto
Passion fruit puree
Pineapple juice
Orange juice
Grenadine
How to Make Captain Morgan Island Rum Punch
Fill a cocktail shaker with ice.
Add Captain Morgan spiced rum.

Add dark rum.

Add amaretto.

Add passion fruit puree.

Add pineapple juice.

Add orange juice.

Add grenadine.

Put the top on the shaker and shake it vigorously.
Strain and pour the drink into a hurricane or tall glass filled with ice.

Garnish with fresh pineapple if desired.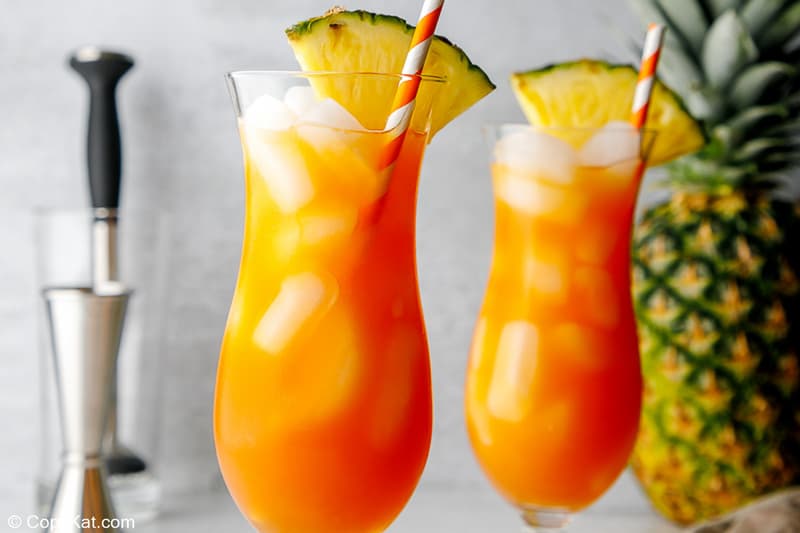 Love TGI Friday's? Try these copycat recipes!
Popular Cocktail Recipes
Check out more of my easy cocktail recipes and the best copycat casual dining restaurant recipes here on CopyKat!
Ingredients
1 1/4

ounces

Captain Morgan Spiced Rum

3/4

ounce

Myers's Original Dark Rum

1/2

ounce

Disaronno Amaretto

2

ounces

passion fruit puree

1 1/2

ounces

pineapple juice

1/2

ounce

orange juice

1/2

ounce

grenadine

ice

1

pineapple slice

to garnish (optional)
Instructions
Shake all the ingredients (except for the garnish) in a cocktail shaker with ice.

Shake and strain into a glass over ice.

Garnish with a pineapple slice if desired.
Nutrition
Calories:
331
kcal
|
Carbohydrates:
43
g
|
Protein:
2
g
|
Fat:
1
g
|
Saturated Fat:
1
g
|
Polyunsaturated Fat:
1
g
|
Monounsaturated Fat:
1
g
|
Sodium:
23
mg
|
Potassium:
361
mg
|
Fiber:
7
g
|
Sugar:
31
g
|
Vitamin A:
780
IU
|
Vitamin C:
34
mg
|
Calcium:
24
mg
|
Iron:
1
mg