Sex on the Beach is a popular fruity cocktail that is super easy to make. This classic drink is great for summer parties and barbecues. The base is refreshing fruit juices, so this drink is perfect for people who do not like drinks that strong alcohol flavor.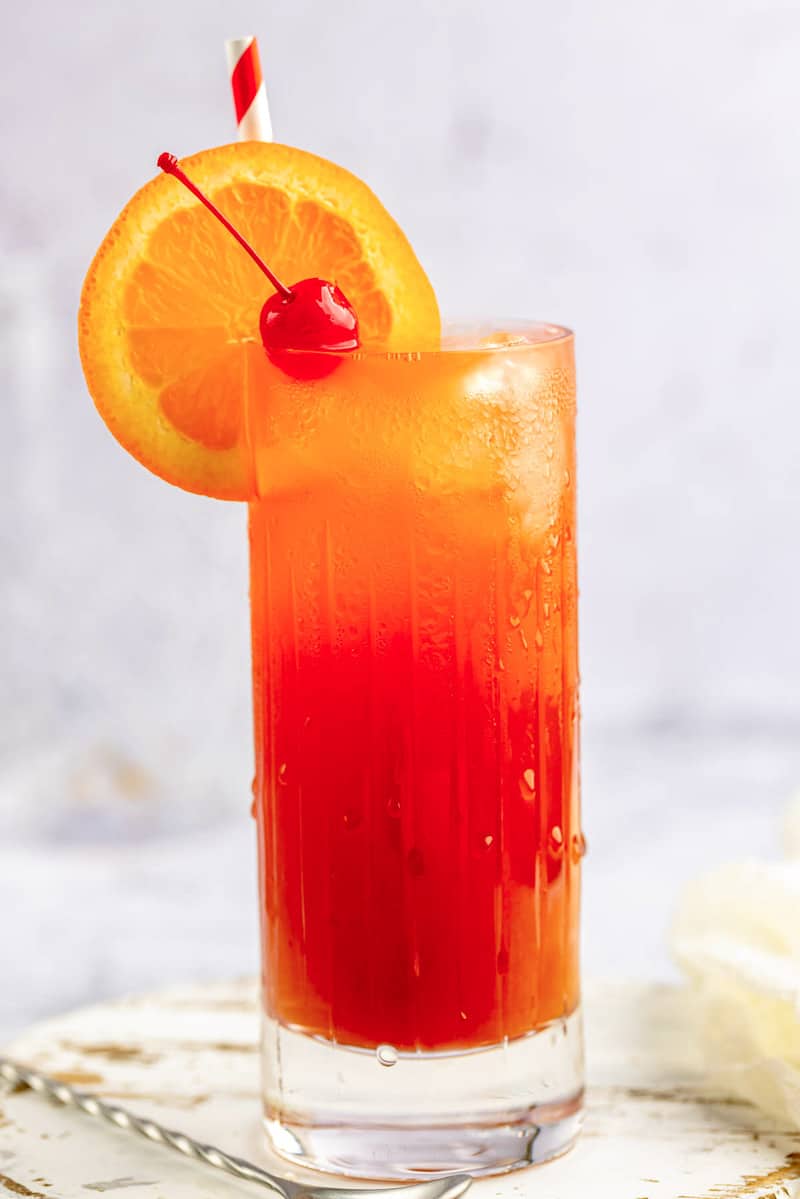 This post contains affiliate links. As an Amazon Associate, I earn from qualifying purchases.
Homemade Sex on the Beach Drink
One of the best things about making cocktails at home is that they are much less expensive to make than to purchase in bars. And, best of all, there is no driving involved so you can have more than one!
How Did the Sex on the Beach Mixed Drink Get its Name?
Sex on the Beach got its start in Florida. The story goes that the cocktail was invented by a bartender called Ted who worked at Confetti's Bar. He was inspired by a campaign to sell the most peach schnapps, so he came up with a cocktail featuring it.
Ted called it Sex on the Beach because he thought that sex and the beach were the two main attractions for spring breakers – big bar clientele in Florida.
What Makes This Sex on the Beach Cocktail So Good?
Do you want to sip on a retro cocktail that isn't going to make you feel like you are trying just a bit too hard to be cool? Then this lusciously sweet and tart Sex on the Beach recipe is for you.
While this drink is definitely a throwback to the heady 80s, you don't need to be old-school to appreciate it fully.
What Does a Sex on the Beach Drink Taste Like?
There is just one problem with spending a night out drinking Sex on the Beach cocktails: They don't taste like there's any alcohol in them.
The sweetness from the melon and raspberry liqueurs combines with the tartness of the cranberry and pineapple juice to make a drink that's perhaps a little too easy to gulp. That can be a little dangerous with such a high-octane cocktail.
While the original Sex on the Beach recipe includes peach schnapps, this version uses melon liqueur instead. This small change pumps up the sweetness factor of the drink and offers a much more balanced and refreshing taste.
Ingredients in Sex on the Beach Cocktail
The Sex on the Beach ingredients are:
Vodka
Midori (or another melon liqueur)
Chambord (or another brand of raspberry liqueur)
Pineapple juice (without pulp)
Cranberry juice
Ice
Orange
Maraschino cherry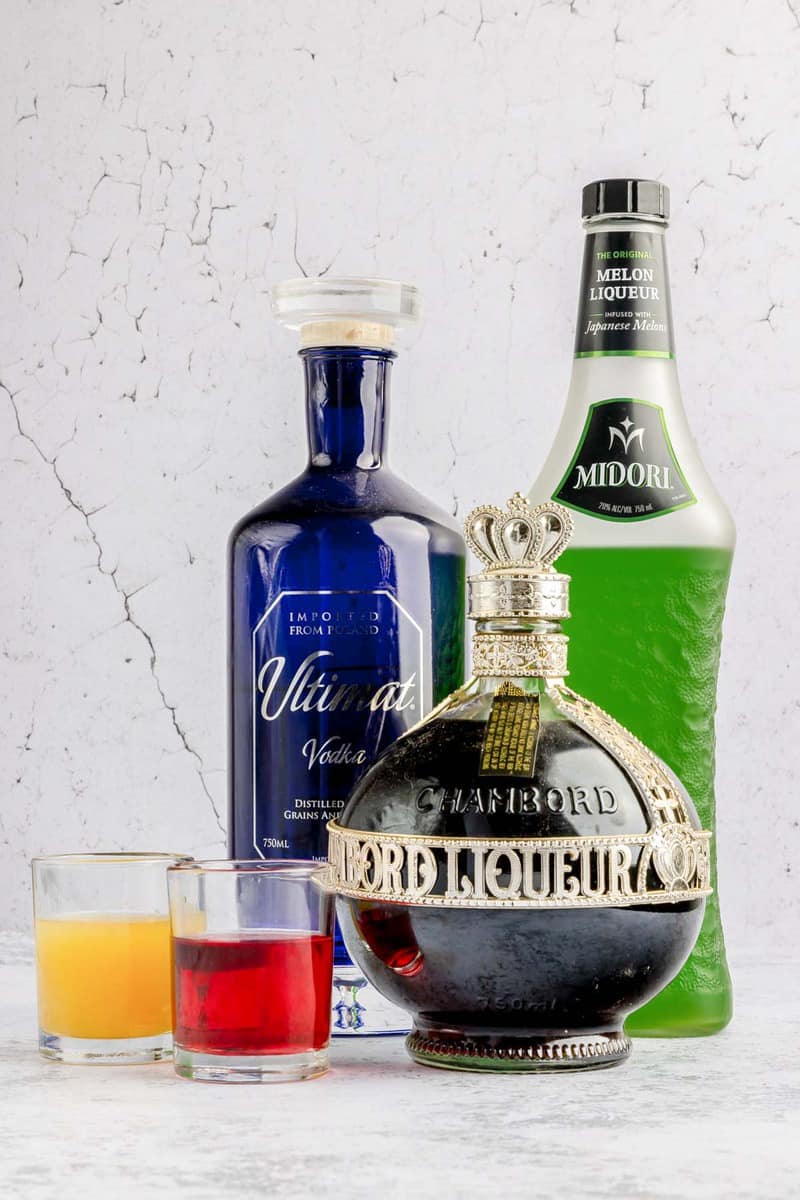 Ingredient Notes
Vodka
Just about any vodka brand works fine for this recipe. In fact, because of everything else that is going on in this cocktail, it is probably a good idea to save your quality vodka for another time.
Look for a brand of pineapple juice without pulp.
Midori
Midori is a strong, sweet melon flavored liqueur with a vivid green color that comes in at a very impressive 20% ABV. It is a bit on the pricey side, but you can use a similar but less expensive brand like Bols or De Kuyper without altering the taste too much.
The word Midori means green in Japanese. Midori is actually made from two types of melons:
Yubari King Melon: Originally a cross between two kinds of cantaloupes, these melons are grown near Yubari City in Japan. The melon has orange flesh and juicy sweetness.
Musk Melon: Musk melons are grown in the Aichi and Shizuoka provinces of Japan. This is a juicy melon with amazing sweetness and green flesh which gives Midori its wonderful color.
Chambord
Chambord is a sweetened raspberry liqueur with a cognac base. At 33 proof, it is slightly less potent than Midori but is still respectful. At more than 30 bucks a bottle, it is worth considering other raspberry liqueurs like De Kuyper's Razzmatazz.
The Chambord brand was founded in 1982, but the inspiration came from a raspberry liqueur made in the Loire Valley in the late 1600s. History says that the drink delighted Louis XIV during one of his visits to the Château de Chambord.
Chambord is still produced in the Loire Valley and is made from black and red raspberries, Moroccan citrus peel, Madagascar vanilla, honey, and cognac.
How to Make Sex on the Beach Drink
Pour vodka into a small pitcher.
Add Midori.
Add Chambord.
Add pineapple Juice.
Add cranberry Juice.
Stir everything together.
Place ice in a collins glass and pour the drink over the ice.
Garnish with an orange slice and cherry if desired.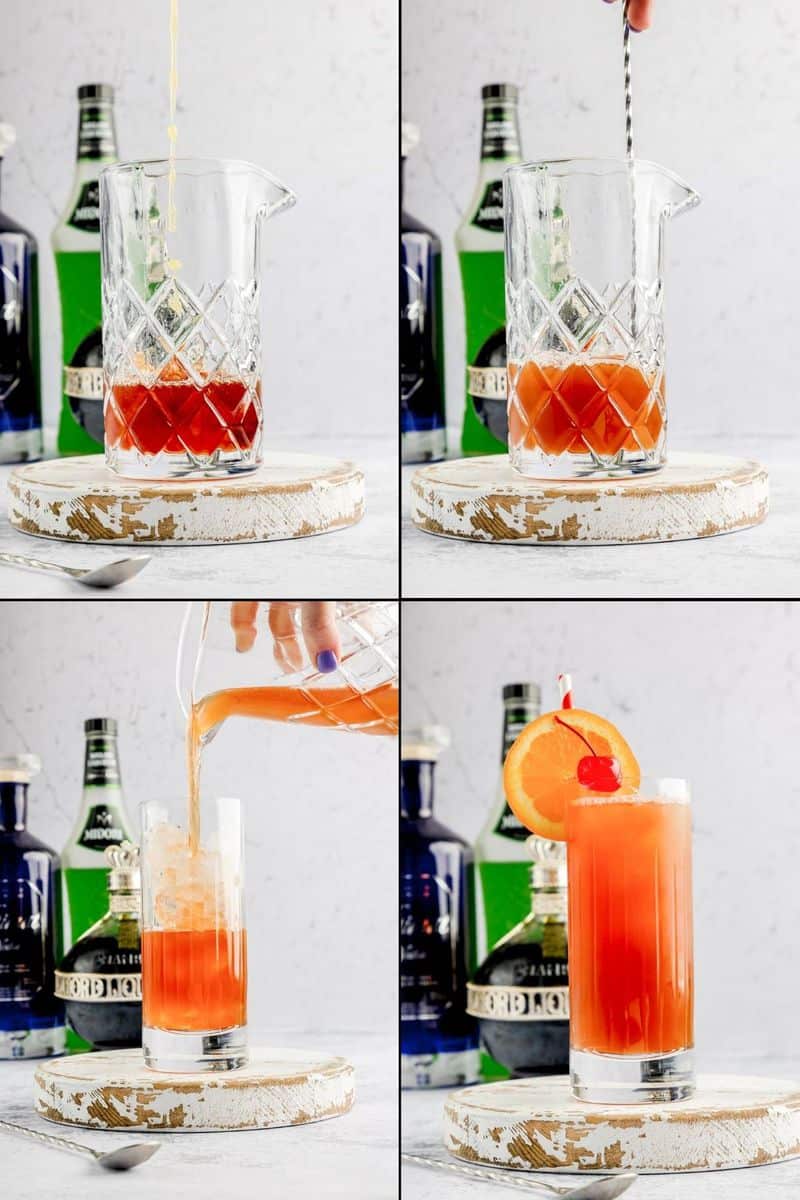 To make a single serving of this drink:
Fill a cocktail shaker with ice.
Pour in the vodka, melon liqueur, raspberry liqueur, cranberry juice, and pineapple juice. 
Cover with the top and shake for 30 seconds until the shaker feels ice-cold. 
Strain into chilled, ice-filled Collins glass and add a straw.
Garnish the rim of the tall glass with an orange wheel and drop in a maraschino cherry.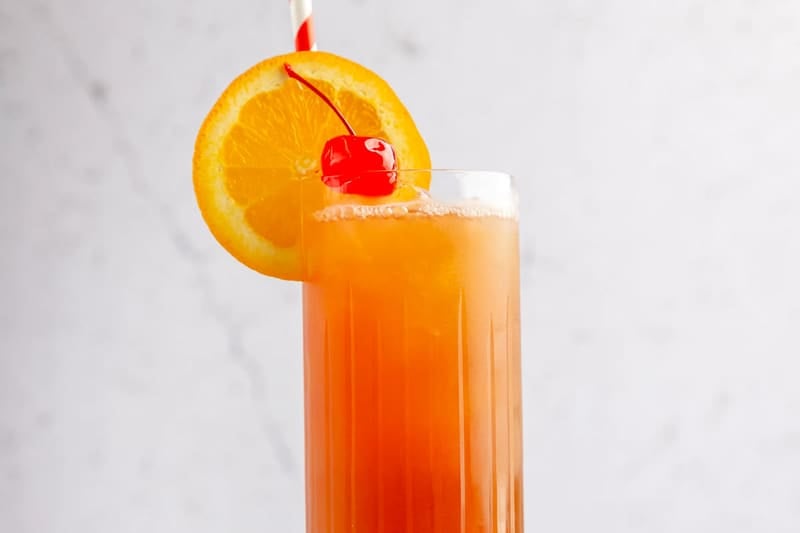 What Type of Glass Should You Serve This In
Although Sex on the Beach is not a layered drink, it can still benefit from being served in a tall, slender glass. The Collins glass or the hurricane glass is the typical go-to barware for a Sex on the Beach cocktail, but the drink works equally well in a highball or zombie glass. So if you don't have fancy barware on hand be sure to grab a nice tall glass.
What Goes With a Sex on the Beach Drink
Try pairing this drink with something that has some heat to help round out the flavor profile. Drinkers would appreciate either a platter of spicy Jezebel Dip or Jalapeno Poppers to nibble on.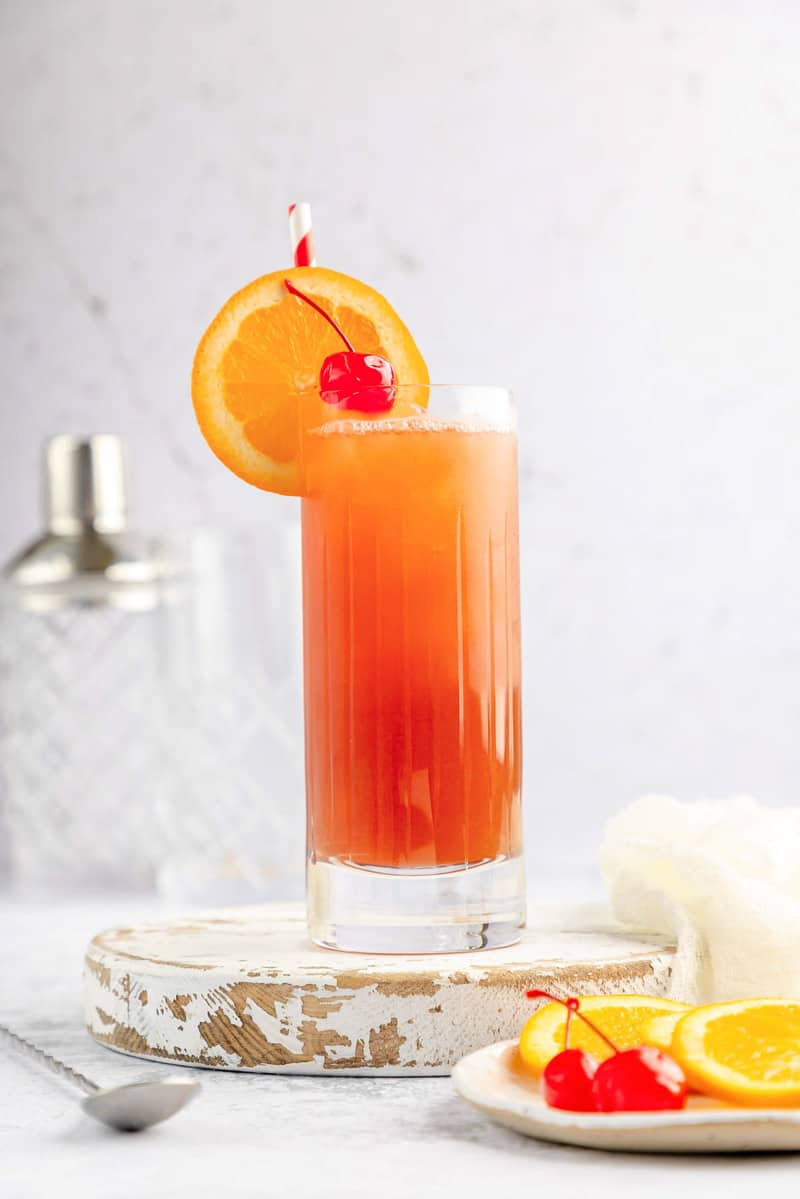 Popular Cocktail Recipes For Your Home Bar
Refreshing Fruity Non-Alcoholic Drinks
Check out some fruity rum drinks and the best cocktail recipes here on CopyKat!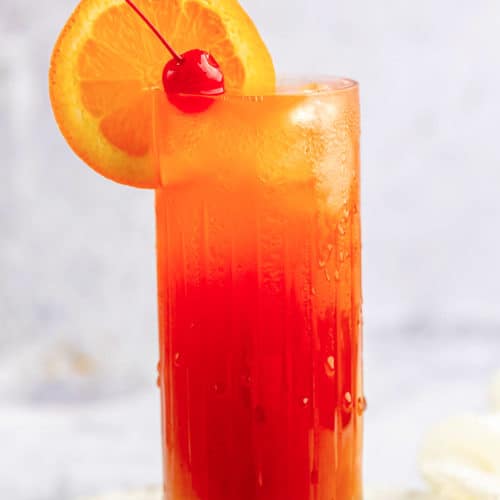 Sex on the Beach Cocktail
If you like easy-to-drink, fruity cocktails, this Sex on the Beach recipe should be your go-to. This drink is perfect for anyone with a sweet tooth and you can easily make this famous drink at home.
Print
Pin
Add to Collection
Go to Collections
Ingredients
3/4

ounce

vodka

3/4

ounce

Midori melon liqueur

3/4

ounce

Chambord raspberry liqueur

1 1/2

ounces

pineapple juice

1 1/2

ounces

cranberry Juice

ice

1

orange slice

to garnish (optional)
Instructions
Combine the liquid ingredients in a small pitcher or cocktail shaker and stir.

Fill a highball glass with ice and pour the mixture over the ice in the glass.

Garnish with an orange slice and a maraschino cherry if desired. Enjoy!
Nutrition
Calories:
215
kcal
|
Carbohydrates:
20
g
|
Protein:
0
g
|
Fat:
0
g
|
Saturated Fat:
0
g
|
Cholesterol:
0
mg
|
Sodium:
2
mg
|
Potassium:
55
mg
|
Sugar:
19
g
|
Vitamin C:
4.3
mg