Sonic Strawberry Lemonade is a favorite drink of so many people. Guess what? You can make this Sonic drink at home with this easy copycat recipe.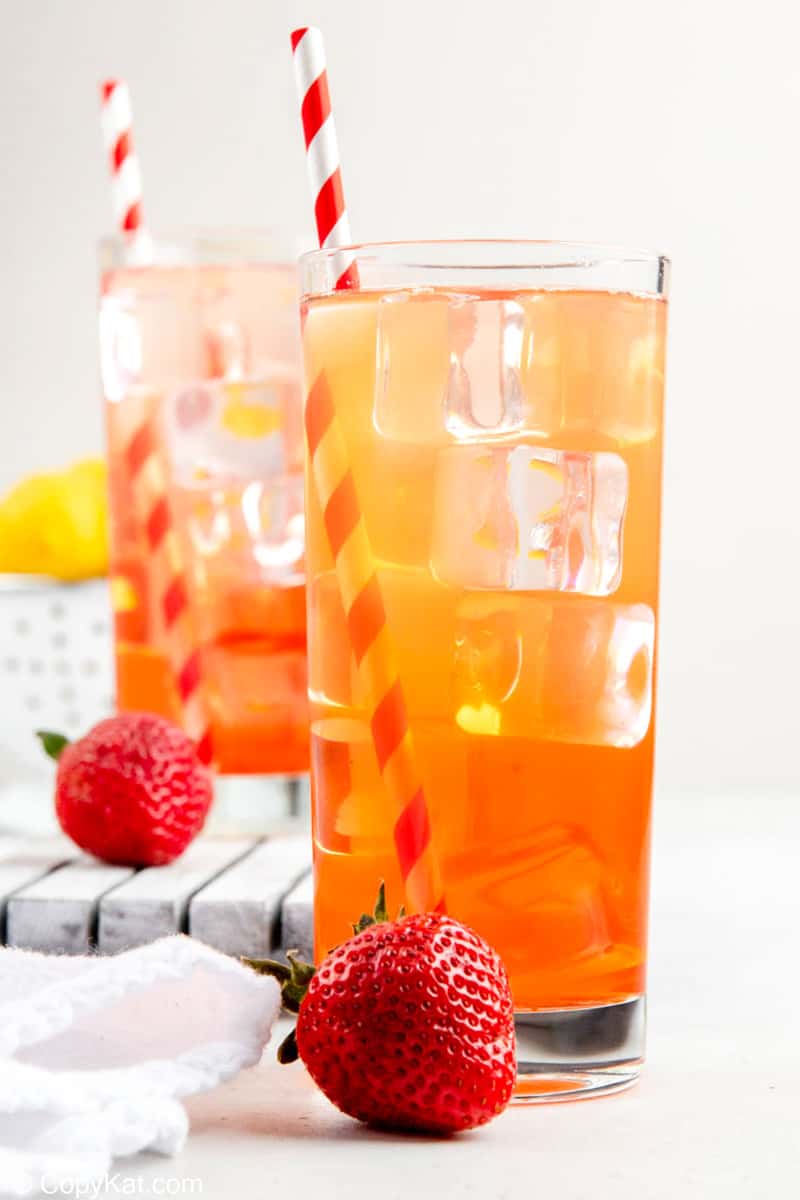 Sonic is Known for Its Drinks
Did you know that Sonic has over 168,00 drink combinations? Sonic has so many flavors of sodas, slushes, flavor add-ins, and more.
So you could literally go to Sonic every day once a day for over 400 years and still have not tried each one of these drinks. Pretty amazing, isn't it?
When you make your favorite drink at home, you don't have to be worried that your favorite happy hour flavor will be on the menu only available for a limited time. With a copycat recipe, all of your flavors are available all of the time.
Lemonade with Homemade Strawberry Syrup
I personally love homemade lemonade. What can make a lemonade better? Strawberry syrup.
I can show you how to make a delicious strawberry syrup with real fresh strawberries. The homemade strawberry syrup has no artificial colors.
Recipe Ingredients
Here's a list of what you need:
Strawberries (we use fresh real strawberries)
Sugar
Water
Lemonade
Ice
If you don't want to use sugar, you could experiment with another type of sweetener.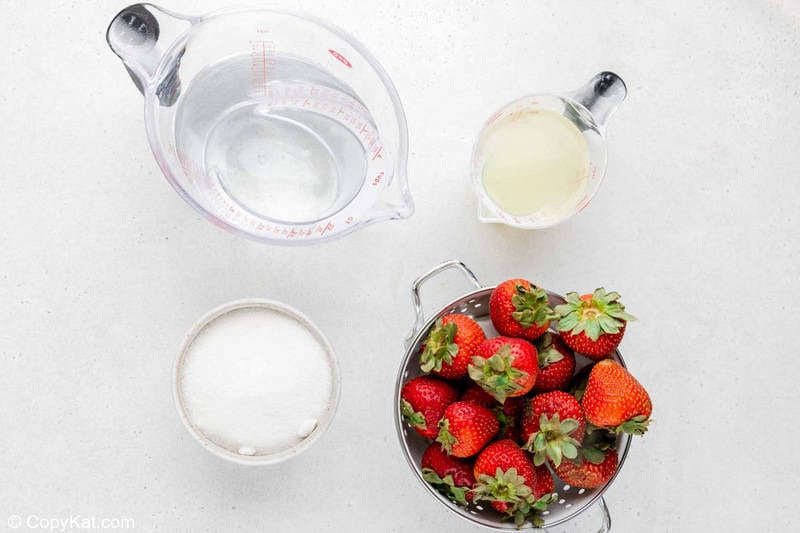 How to Make Sonic Strawberry Lemonade At Home
My strawberry lemonade taste's just like the one from Sonic. Here's how I make it. And, of course, you can print out the recipe from the printable card at the bottom of this post.
Homemade Strawberry Syrup with Fresh Strawberries
My fresh strawberry syrup is made very simply. Here are the recipe steps:
Strawberries are washed, hulled, quartered, and then simmered in hot water.
The solids are removed from the beautifully flavored water.
The strawberry-infused water is then sweetened with sugar.
Be sure to store the strawberry syrup in the refrigerator, it will last for about 10 days.
Homemade strawberry soda syrup can be used to make a Sonic Strawberry Limeade, spruce up a Mimosa, or simply added into Champagne.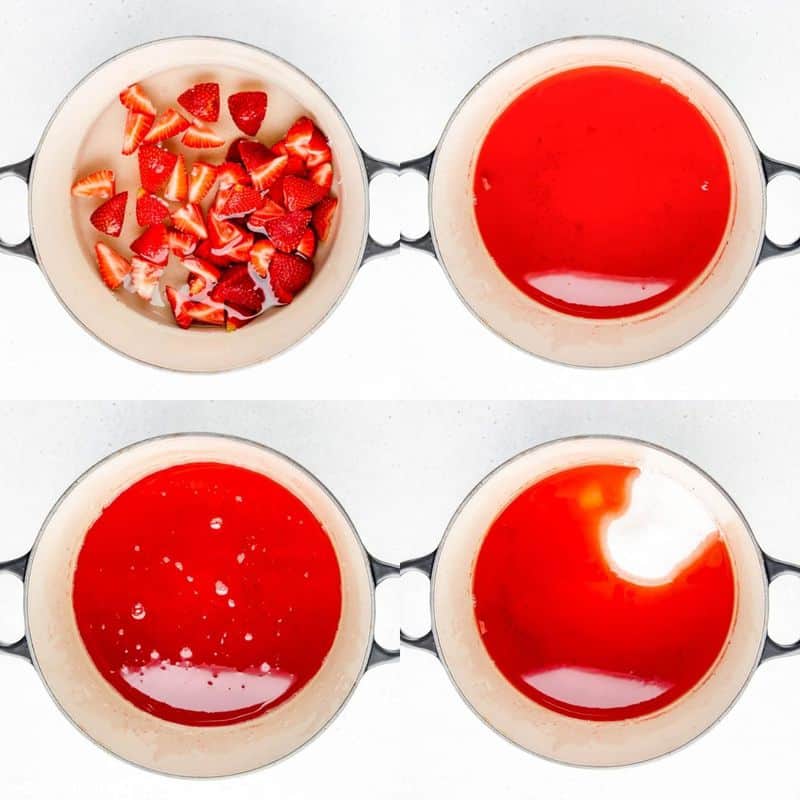 Add Strawberry Syrup to Lemonade
After you have your syrup, here are the steps to make strawberry lemonade:
Put some strawberry syrup in a glass.
Add ice.
Add lemonade.
Stir and then enjoy this refreshing drink.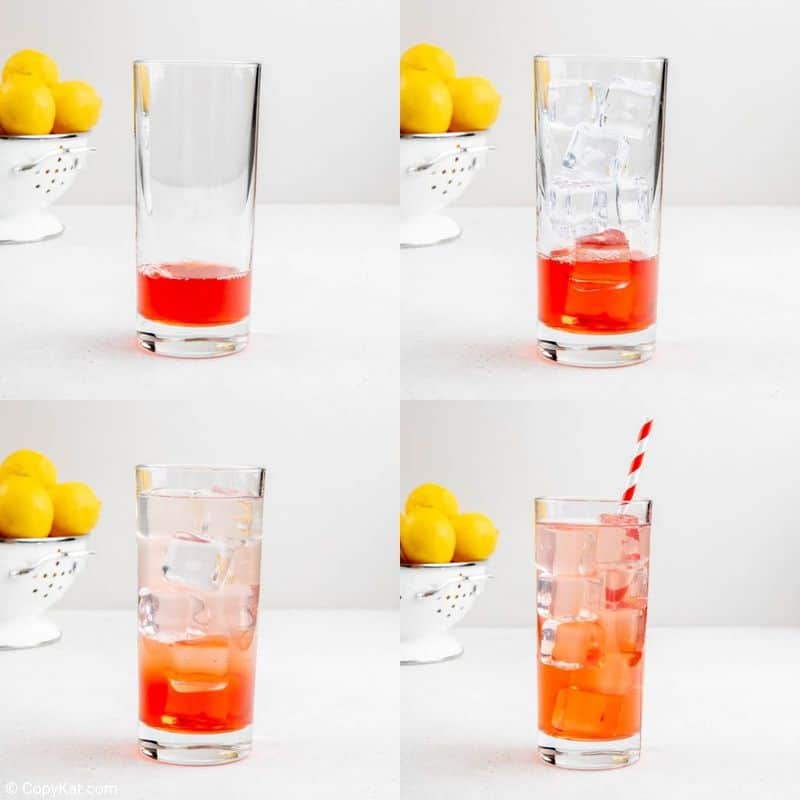 Yum! This is a perfect summer drink and the combination can't be beaten!
As you can see it's really easy to make a wonderfully flavored strawberry syrup with natural ingredients, and the possibilities are unlimited. I hope you enjoy this Sonic Strawberry Lemonade.
How to Make Sonic Strawberry Lemonade Keto
My recipe has sugar in it, and so does the original drink from Sonic. But if you are going to make it at home, there is a way to make a low-carb version.
You'll need a sugar-free lemonade as the base. Then, as you are making your strawberry syrup, use erythritol or monk fruit sweetener instead of sugar. That's it. Easy!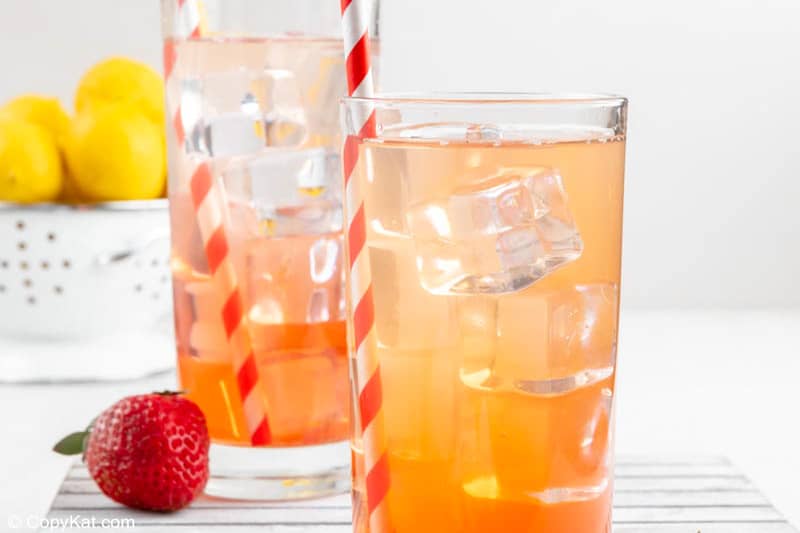 What kind of strawberries does Sonic use?
You know when you drink the strawberry lemonade or limeade and the strawberries are so mushy you can almost drink them through the straw
This is probably because they create their own syrup and keep some smashed strawberries in the syrup with it.
I discarded the strawberries after making my syrup. But you can keep them in there if you want.
Does Sonic add sugar to their strawberries?
I'm not sure if they add sugar to the strawberries, but to make a strawberry syrup you need some sort of sugar. So I'm confident in guessing that they add sugar to them, yes.
I hope you give this drink a try! if you want to turn this into a slush simply blend everything in a blender, and add more ice. This is a family favorite at my house, and I hope you enjoy this as much as I do.
More Sonic Copycat Recipes
Popular Fast Food Recipes
Check out more of my easy drink recipes and the best fast food recipes here on CopyKat!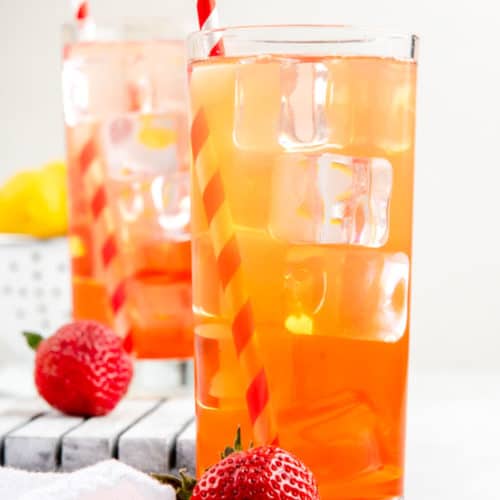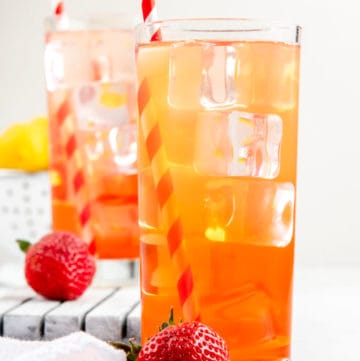 Ingredients
Strawberry Syrup
1

pound

strawberries

32

ounces

water

1 1/2

cups

sugar
Drink Recipe
1/4

cup

strawberry syrup

1

cup

lemonade

1

cup

ice cubes

1

strawberry

for garnish
Instructions
Strawberry Syrup
Wash and hull your strawberries.

Cut strawberries into quarters. Place strawberries into a pot and add 32 ounces of water. Bring to a boil, then simmer for 15 minutes.

Strain liquid, discard the strawberries.

Add sugar, and cook for 5 additional minutes. Skim off any impurities on the top of the syrup.

Pour into a container, and allow to cool. Store the syrup in the refrigerator for up to two weeks.
Strawberry Lemonade Drink
Place 1/4 cup strawberry syrup in a glass. Add ice and 1 cup of your favorite lemonade.

Garnish with a strawberry if desired.
Nutrition
Calories:
35
kcal
|
Carbohydrates:
9
g
|
Protein:
0
g
|
Fat:
0
g
|
Saturated Fat:
0
g
|
Cholesterol:
0
mg
|
Sodium:
6
mg
|
Potassium:
5
mg
|
Sugar:
9
g
|
Vitamin C:
0.7
mg
|
Calcium:
1
mg
|
Iron:
0.3
mg