Sonic Onion rings are made fresh every single day. I worked at Sonic as a teenager and had to help make the Sonic onion rings EVERY DAY…the secret is using vanilla ice milk mix, but using melted vanilla ice milk works just as well.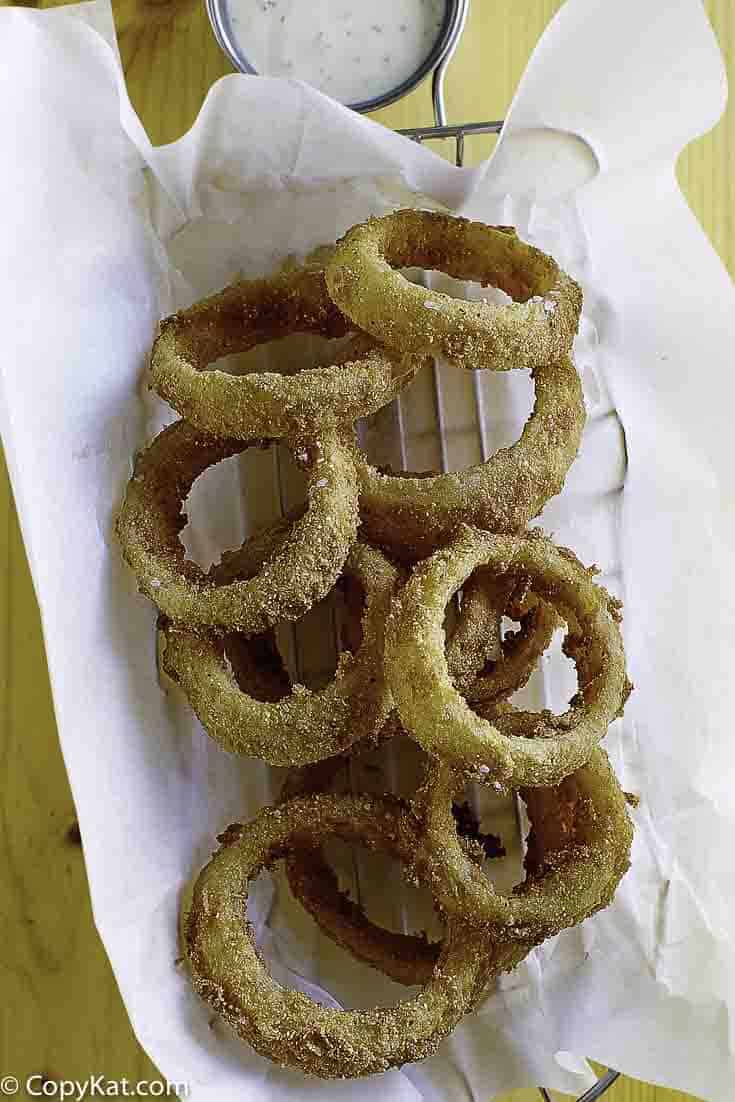 Make Sonic Onion Rings at home
Sonic onion rings are made fresh every single day – these are definitely not prepackaged onion rings. I worked at Sonic as a teenager and had to help make the Sonic onion rings every day. Sonic had bags and bags of onions in the back room. The secret ingredient is vanilla ice milk mix, but using melted vanilla ice cream works just as well. Making rings for Sonic was one of the more memorable and pleasant experiences of my young life.
The Sonic Drive-In Story
What eventually became Sonic was opened in 1953 in Shawnee, Oklahoma under the name Top Hat. In the beginning, Top Hat customers parked their automobiles anywhere on the gravel parking lot and walked up to place their orders. However, Top Hat's founder, Troy Smith, saw a drive-in that used speakers for ordering. This gave him the idea of controlling the parking so his customers could order from curbside speakers without ever leaving their cars. Carhops would deliver the food to customers sitting comfortably in their vehicles. This technology led to the slogan Service at the Speed of Sound, which translated into one word: Sonic. So, in 1959 the name was changed from Top Hat to Sonic Drive-In. Read more about Sonic.
Sonic's Menu
Sonic has lived up to its sonic name by surging forward while specializing in fresh, made-to-order meals. Nowhere else can you order from a drive-in menu featuring toaster sandwiches (sandwiches served on thick slices of Texas toast), quarter pound foot-long coneys (hot dogs topped with chili and cheese), and onion rings that are sliced, breaded and made fresh every day in every Sonic drive-in. And the Sonic way includes topping off your meal with a hand-mixed shake made with real ice cream in a variety of flavors or a drink featuring Sonic's beloved craveable ice.
Make Sonic Onion Rings at Home
You can make this wonderful fast food favorite at home. You don't even have to be too exact in measuring everything out. However, making these onion rings can be messy, and I suggest trying to use one hand for dry ingredients and the other for dipping the onion rings into the melted ice cream. It will go easier this way. These are messy, but they taste so good and you will never buy store-bought onion rings again.
Looking for more recipes that taste like Sonic?  We have you covered at CopyKat.com with all of your favorite restaurant recipes.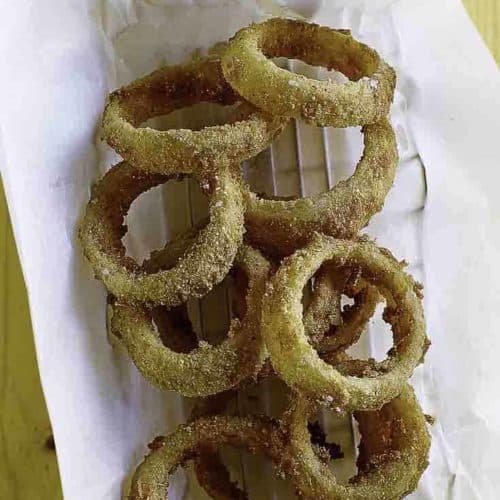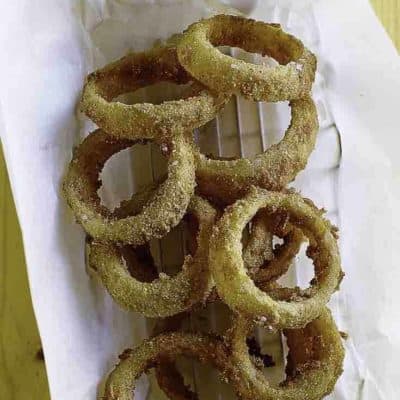 Ingredients
2

pounds

Spanish onions

sliced, and rings seperated

24

ounces

water

2

cups

all purpose flour

12

ounces

vanilla ice cream

melted

8

ounces

corn meal

vegetable oil

for frying
Instructions
Peel onions. Slice onions into slices that are between 3/8 and 1/2-inch. Remove the small center of the onions, you can chop those into diced onions. Separate onions into rings, and place the rings into a large bowl of water.

Place three containers in a row. In the first container, place the flour, in the second container, place the melted ice cream, and in the third container place the cornmeal.

Preheat oil to 350 degrees.

Prepare onion rings by shaking off the water, dip onion into the flour, shake off excess flour. Dip into the melted ice cream, and then dip into the cornmeal. Gently shake off excess cornmeal. Place the onion ring on a cookie sheet to dry for a few minutes before frying.

Fry onion rings until golden brown.
Recipe Tips for the Cook
Sifting the flour and corn meal once in a while keeps lumps out and makes it easier to coat the rings When placing on cookie sheets to save room, lean on top of each other to allow entire ring to dry.
Nutrition
Calories:
829
kcal
|
Carbohydrates:
130
g
|
Protein:
17
g
|
Fat:
27
g
|
Saturated Fat:
17
g
|
Cholesterol:
37
mg
|
Sodium:
89
mg
|
Potassium:
749
mg
|
Fiber:
11
g
|
Sugar:
28
g
|
Vitamin A:
360
IU
|
Vitamin C:
17.3
mg
|
Calcium:
179
mg
|
Iron:
5.1
mg