The Sonic Ultimate Meat and Cheese Burrito is one amazing breakfast. A burrito is packed full of crispy bacon, savory sausage, the famous Sonic tater tots, fluffy scrambled eggs, and savory cheddar cheese, all together wrapped by a warm tortilla.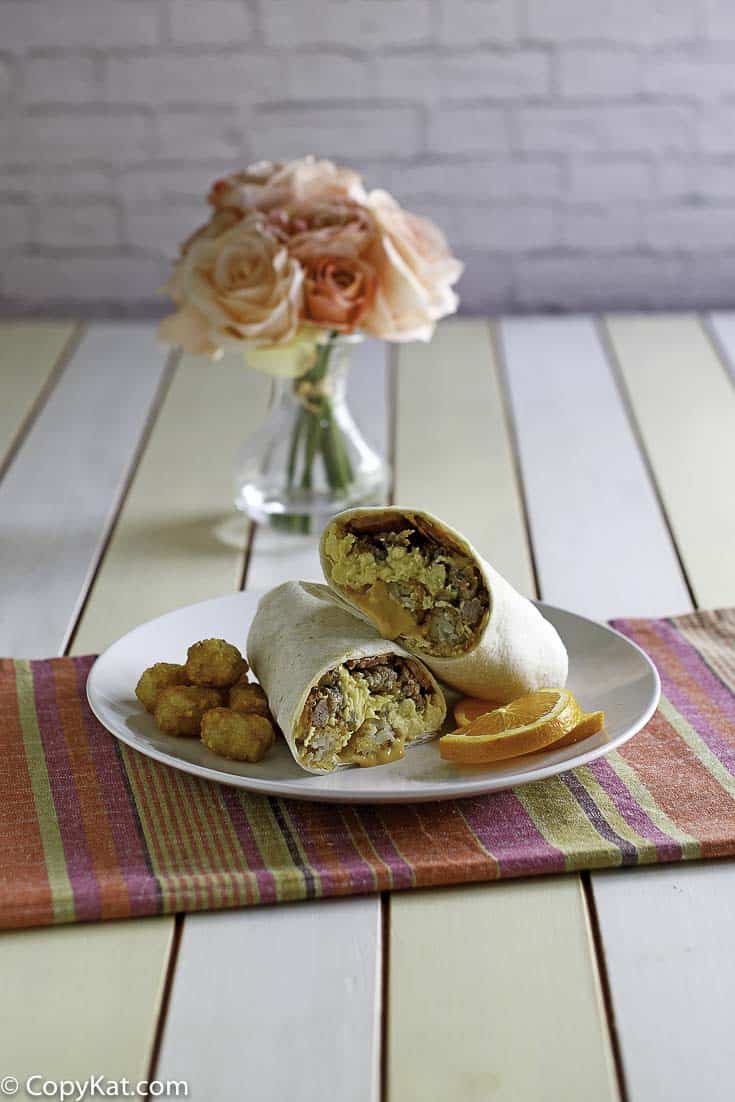 If you aren't lucky like many, you can make your own copycat Sonic Ultimate Meat and Cheese Burrito at home. I consider myself one of the lucky ones, there is a Sonic nearby my house. So it's easy for me to get into the car and get my favorite flavor of soda, the irresistible tots, and so much more. Sonic Drive-Inn also serves up a really good breakfast. Their Ultimate Meat and Cheese Burrito is one of my favorite breakfasts you can get from a drive-through. This one is hearty and will sustain you through lunch.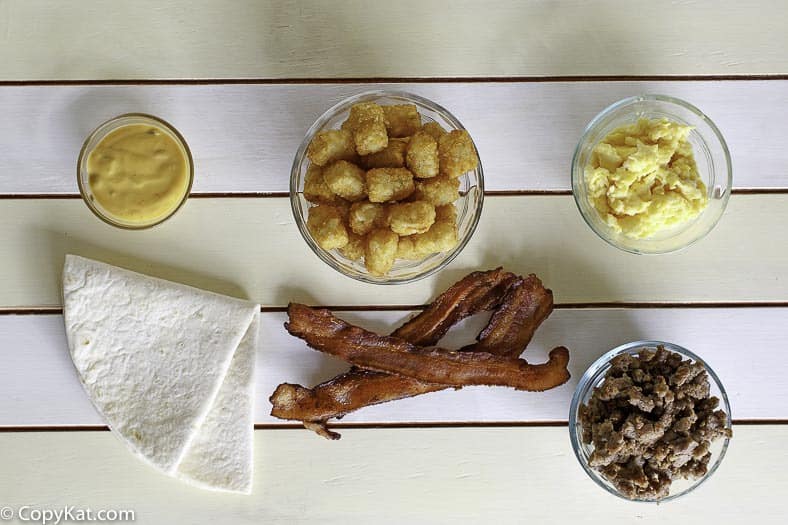 When I have made these at home, I have made several at a time, this way I can reheat them in my microwave and be out the door with a hot breakfast. So when doing this, I will bake my bacon in the oven. I love to cook bacon in the oven, it comes out crisp and perfectly cooked. For the tater tots, I will either cook them in my air fryer or cook them in the oven as well. For the cheese, I am using a good quality American cheese. American cheese melts wonderfully, if you go to the deli at your grocery store, you can find some good quality American cheese. For this burrito, you are going to make a cheese sauce, and add a sprinkle of Cheddar cheese.
I know you are going to enjoy the Ultimate Meat and Cheese Breakfast Burrito as well. Let me know what you would add to your breakfast burrito to make it your own.
Love Sonic? Get more Sonic copycat recipes
Sonic Coconut Cream Pie Shake
Sonic Extreme Tots
Sonic Onion Rings
Ingredients
1 1/2

cups

Tater Tots

1

pound

ground sausage

1/2

pound

bacon

6

ounces

American cheese

4

tablespoons

milk, divided use

10

Eggs

salt

and

pepper

1/2

cup

shredded Cheddar cheese

1

jalapeno pepper

slices

6

flour

tortillas
Instructions
Preheat the oven to 350 degrees. Spray a baking sheet with nonstick spray and place the Tater Tots on the baking sheet. Bake for approximately 22 to 25 minutes. While the tater tots are in the oven, cook the sausage in a skillet over medium heat until it is well browned. Drain sausage over paper towels and cover with another paper towel to help keep the heat in as you continue to cook the breakfast.

You can cook the bacon in the same pan that you cooked the sausage in. Cook the bacon until crispy. Remove bacon from pan and drain on paper towels. Sonic serves their burrito with a cheese sauce. Cube the 6 ounces of American cheese and place in a small pot over low heat and add 2 tablespoons of milk. Melt the cheese, stirring frequently, the milk and cheese will combine to form a cheese sauce. Once the cheese sauce has formed turn off the burner and leave the pot on the stovetop, the residual heat will keep the sauce fluid while you cook the eggs.

In a medium-sized bowl combine the eggs with the remaining 2 tablespoons of milk. Spray a nonstick skillet with nonstick spray. Over medium heat add the egg and milk mixture. Season eggs with a pinch of salt, and a pinch of black pepper. Gently stir the eggs as they cook. Once they are done remove from the heat. Heat tortillas for about 60 seconds to make them warm and pliable.

Assemble these by distributing the eggs, sausage, tater tots, bacon, and cheese sauce over the tortillas. If you want to add a few jalapeno slices to the burritos do so, if you desire, add a little sprinkle of Cheddar cheese before folding the burritos. If desired you can fold up the burritos, and wrap in plastic, and place in the freezer so you can reheat later.
Nutrition
Calories:
596
kcal
|
Carbohydrates:
10
g
|
Protein:
24
g
|
Fat:
50
g
|
Saturated Fat:
19
g
|
Cholesterol:
118
mg
|
Sodium:
1411
mg
|
Potassium:
406
mg
|
Fiber:
0
g
|
Sugar:
1
g
|
Vitamin A:
475
IU
|
Vitamin C:
5.7
mg
|
Calcium:
388
mg
|
Iron:
1.4
mg