These aren't just any old fried potatoes — Jojos are crispy, battered, irresistible delights that taste like a chicken-fried steak and potato wedge had a baby.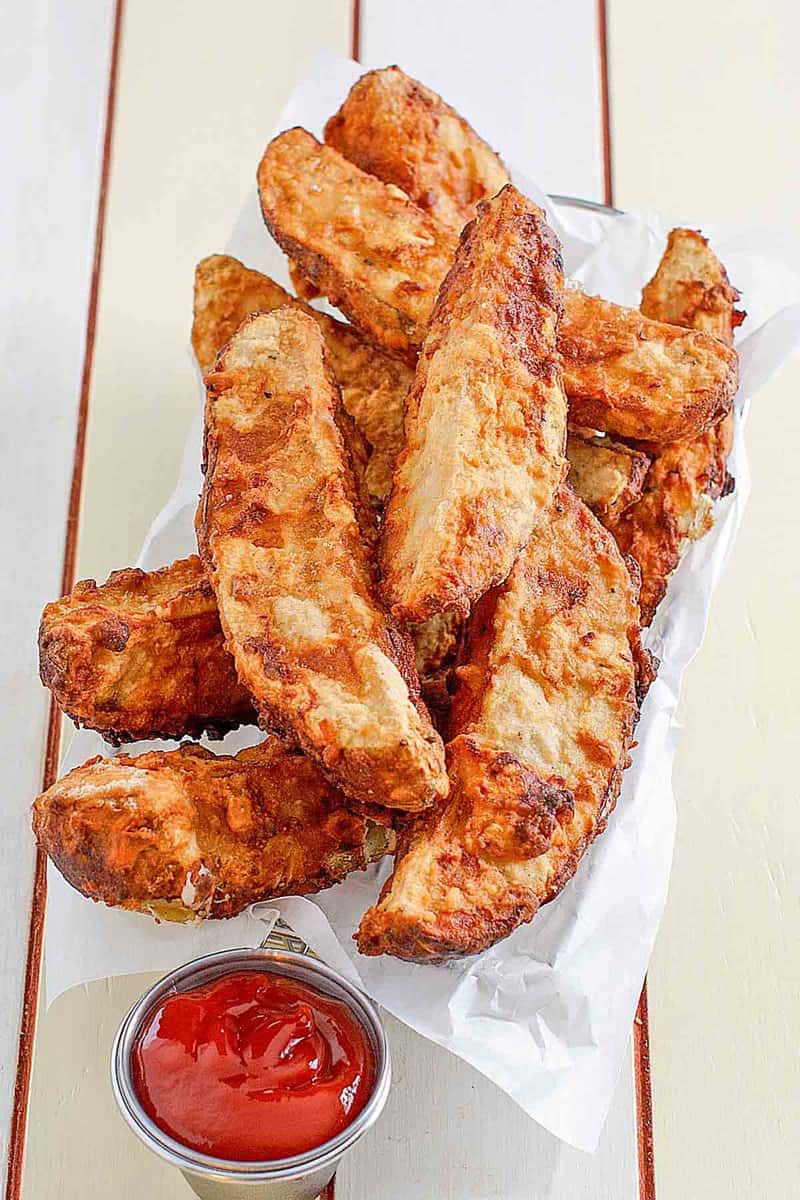 This post contains affiliate links. As an Amazon Associate, I earn from qualifying purchases.
JoJo Potatoes
Forget fries or regular old potato wedges. Jojo potatoes, sometimes known as Jojo fries, are an iconic West Coast side dish particularly popular in the Pacific Northwest.
What sets them apart is the crunchy, battered coating of seasoned flour and buttermilk, much like you'd see on fried chicken or chicken fried steak. The result is a deliciously crispy, hearty side that goes with just about anything.
Why This is the Best Recipe for Jojo Potato Wedges
In the original Jojo potatoes recipe, the spuds were prepared using a pressure fryer, a unique device that cooks food quickly at higher temperatures to help it develop a crisp outside while remaining tender and moist inside. However, this recipe allows you to enjoy these mouthwatering delights with an ordinary deep frying setup.
This Jojo recipe is also highly customizable based on the spices and seasonings added to the flour coating. Try dried oregano, basil, and thyme for an Italian flair, while a dash of cayenne or chili powder can add heat or smokiness to the mix.
Ingredients for Jo-Jo Potatoes
For the basic version of this Jojo's potatoes recipe, you'll only need a handful of easy-to-find items:
Russet potatoes
All-purpose flour
Ground black pepper
Salt
Garlic Salt
Buttermilk
Vegetable oil
Medium-sized russets are the ideal potato for Jojos, like those found in bags sold at grocery stores. Not only do they have the right starch and moisture content for perfect frying, but they also easily cut up into properly sized wedges.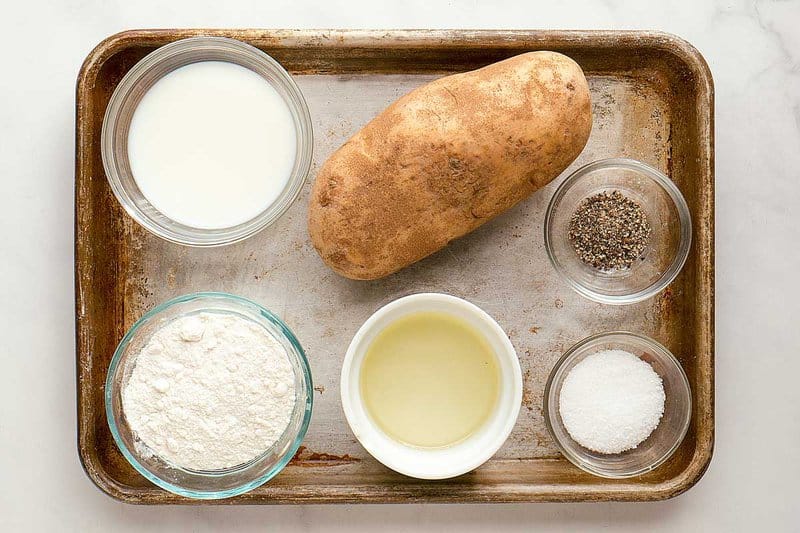 Equipment Note
While deep frying can be done in any sufficiently sized pot on the stove, I use a T-Fal fryer, which is great because it has a lid and allows you to filter the oil. This keeps it from burning or adding off flavors to your food.
How to Make Jo Jo Potatoes
Wash potatoes and cut them into quarters (or eights, if they're large), placing them into a bowl of cold water afterward to soak and prevent browning.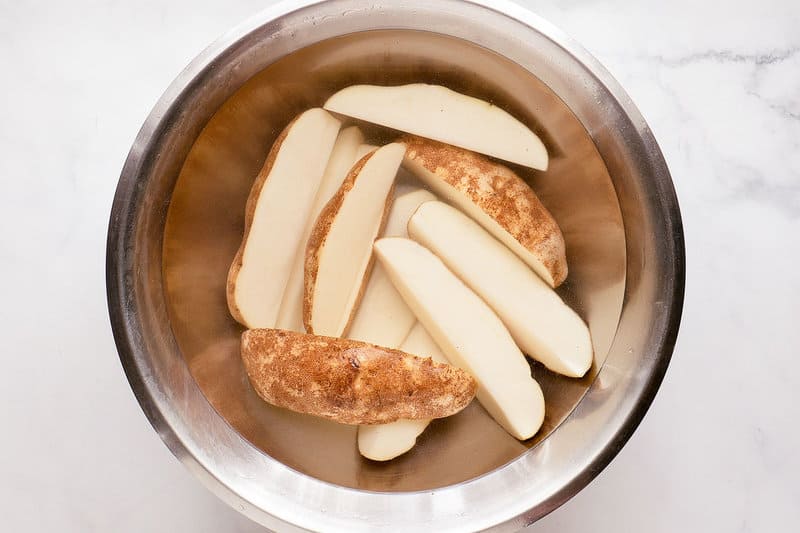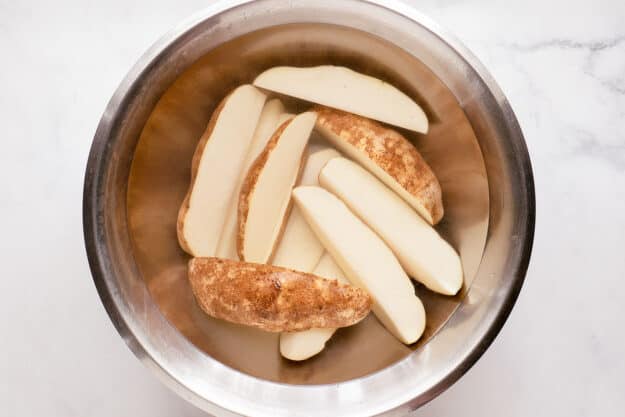 Prepare the seasoned flour: combine flour, salt, black pepper, and garlic salt in a medium bowl and mix.
Pour buttermilk into another medium bowl.
Remove potato wedges from the water and toss them in the seasoned flour.
Shake off the excess and dip into the buttermilk, followed by another dip in the seasoned flour.
Shake off the excess once again and lay them on a wire rack. Let them rest for at least five minutes before frying.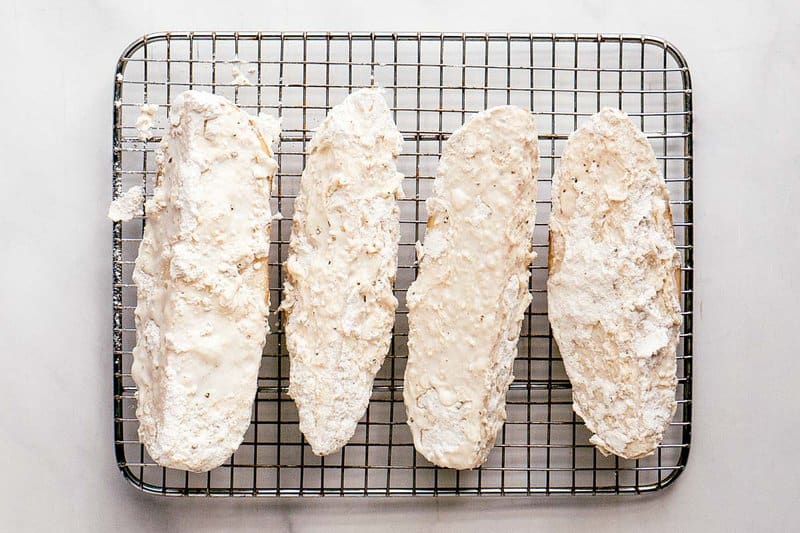 Meanwhile, heat the vegetable oil to 350 degrees Fahrenheit.
Add the battered potatoes to the oil and cook in small batches. Remove them when they're golden brown.
Drain the cooked potatoes on a clean wire rack.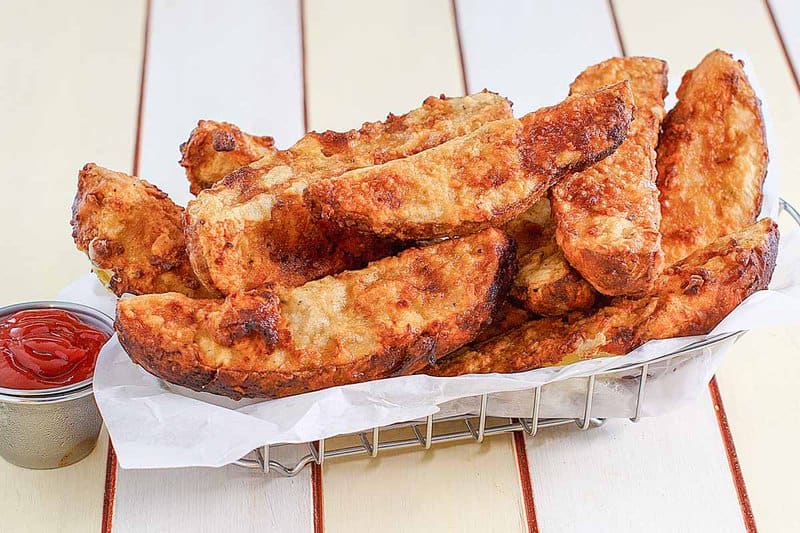 Recipe Variations
While russets are best for Jojo fries, Yukon gold potatoes can be swapped out if russets aren't available. For those who don't have buttermilk or don't want to buy it specifically for this recipe, combining a tablespoon of white vinegar or lemon juice with ordinary milk will create a similar result.
Everyday vegetable oil is just fine for frying Jojo potatoes. But it can be swapped out with any neutral flavored oil with a high smoke point, like canola or peanut oil if you prefer them or that's all you have on hand.
How to Serve Jojo Potatoes
How can you make these delicious potatoes even better? Plenty of sauces, of course. Serve Jojo potatoes with:
What Goes Well with Jojo Potatoes?
There's no doubt fried chicken is the classic pairing for Jojos. But fried fish works equally well, as do all sorts of sandwiches and burgers. They can even provide the perfect starchy side for grilled or broiled steaks or pork chops.
How to Store Leftovers
Store cooked Jojo potatoes in an airtight container in the fridge. Eat them within five days. We don't recommend freezing them.
How to Reheat Leftovers
Many might think to use the microwave, but that'll leave you with a softer exterior for each potato. To preserve maximum crispness, try one of these methods:
Bake in the oven at 350°F for 8 to 10 minutes.
Air fry at 350°F for 6 to 8 minutes.
The final result is worth the extra time.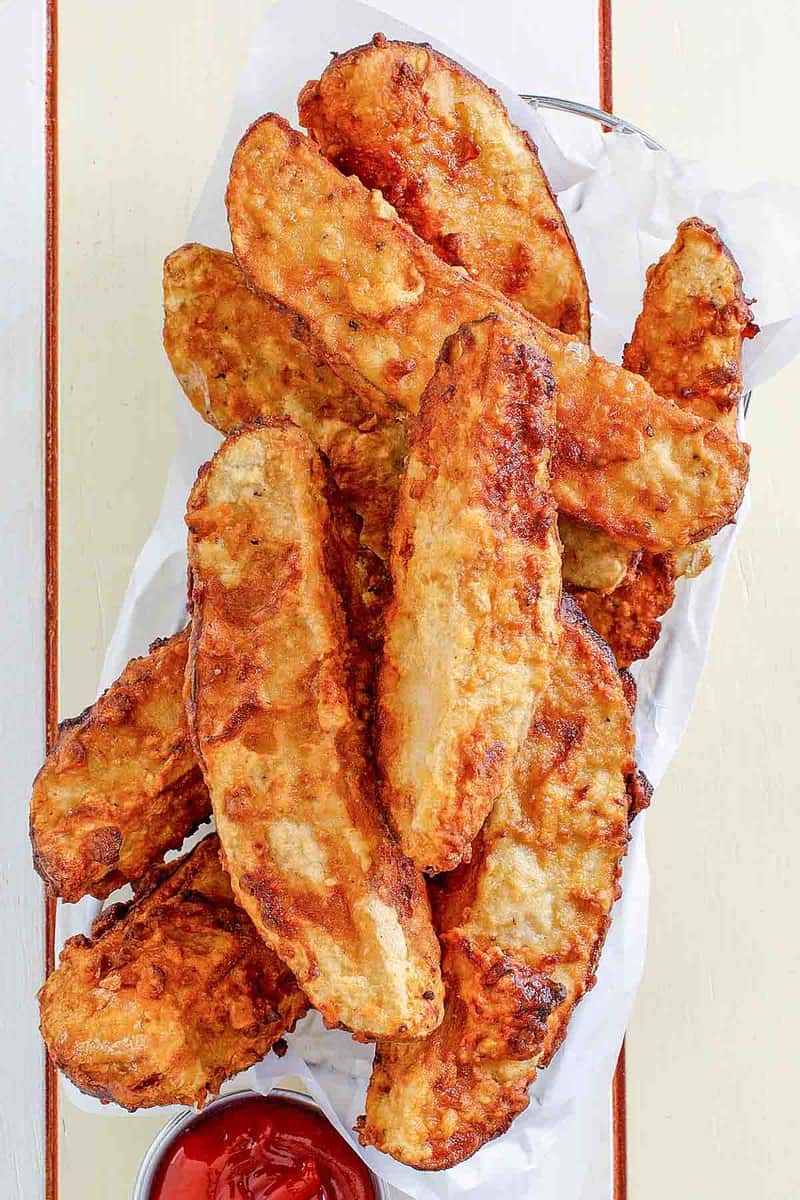 Love Potatoes? Check out these other great ways to enjoy potatoes
More Fried Vegetable Side Dishes
Discover even more delicious homemade side dishes and the best copycat recipes to make for your family and friends.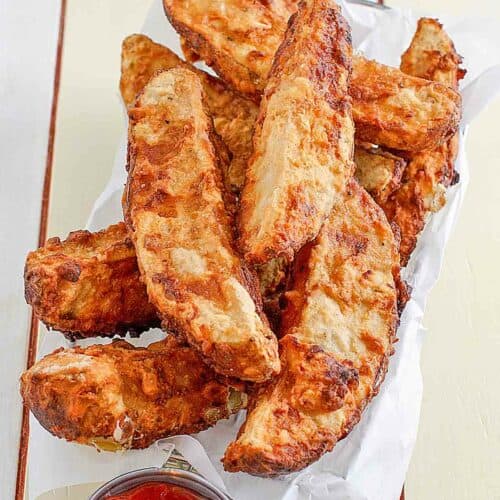 Ingredients
4 to 6

medium

russet potatoes

(4 inches long)

2

cups

all-purpose flour

1

teaspoon

ground black pepper

1

teaspoon

salt

1

teaspoon

garlic salt

2

cups

buttermilk

oil for frying
Instructions
Wash potatoes, and cut them into quarters. Place potato quarters into a bowl of water.

Prepare seasoned flour by combining 2 cups of flour, 1 teaspoon ground black pepper, 1 teaspoon salt, and 1 teaspoon garlic salt together in a bowl.

Place 2 cups of buttermilk in another bowl.

Batter potatoes by placing them in the seasoned flour, shake off excess flour. Place potatoes into the buttermilk, and coat the potatoes well. Place potatoes back into the seasoned flour and coat well. Shake off excess flour.

Place the potatoes on a

wire rack

to rest for about 5 minutes before cooking.

Preheat oil in a deep fryer to 350°F.

Cook potatoes for 8 to 12 minutes or until they are brown, and they float. Drain on a clean wire rack.
Nutrition
Calories:
151
kcal
|
Carbohydrates:
26
g
|
Protein:
5
g
|
Fat:
2
g
|
Saturated Fat:
1
g
|
Cholesterol:
6
mg
|
Sodium:
645
mg
|
Potassium:
114
mg
|
Fiber:
0
g
|
Sugar:
3
g
|
Vitamin A:
100
IU
|
Calcium:
74
mg
|
Iron:
1.5
mg