Easy Oven Roasted Potatoes is a side dish that will practically cook itself and when you serve these, the pan will come back to the kitchen clean. These potatoes are a favorite of my family.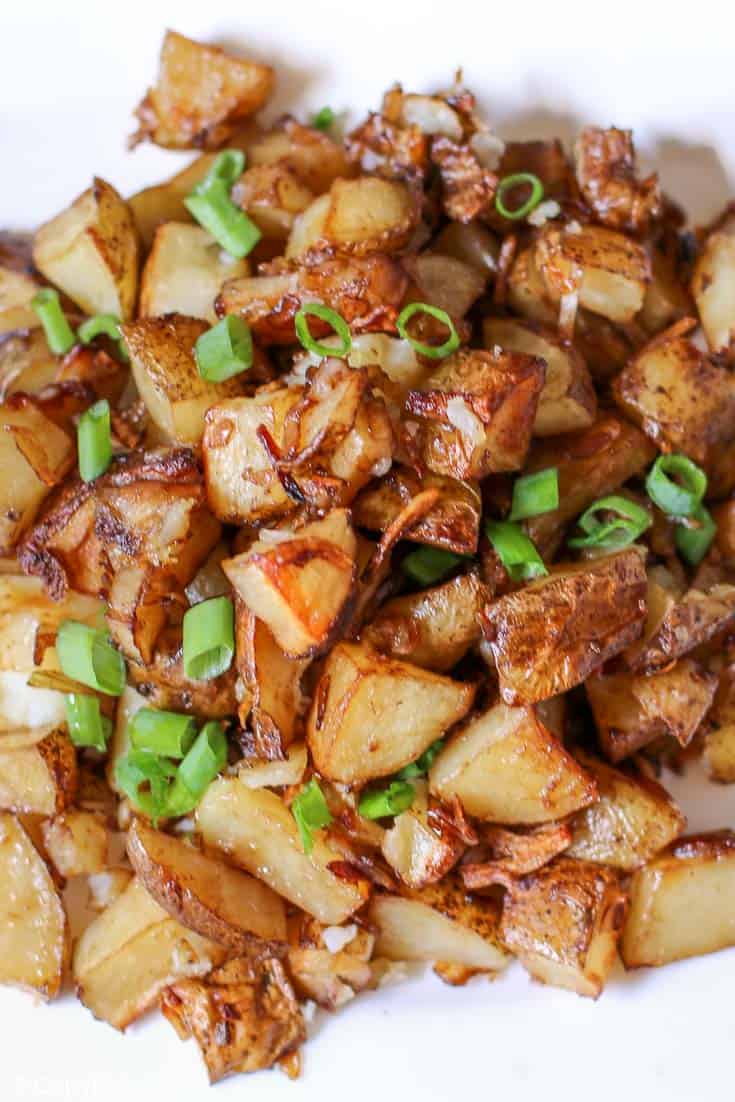 Oven Roasted Potatoes
Has to be one of those perfect side dishes. These potatoes are easy to make, these potatoes are seasoned perfectly, if you happen to have any leftover, they make the best leftover hash browned potatoes.
How to Roast Potatoes
You might be surprised at how easy it is to roast potatoes. This recipe uses Russet potatoes. So grab a few of them, give them a good wash, and then you will want to cut the potatoes into uniform cubes.
The real secret to cooking perfectly roasted potatoes is to cut all of the potatoes in a uniform size. When you cut all of the potatoes in one size, they will cook uniformly.
What Temperature to Roast Potatoes
You might be surprised the temperature range of roasting potatoes is a bit narrow. Anything below 350 degrees the insides of the potatoes dry out completely long before the outsides brown.
Cooking potatoes above 450 means the outsides can cook and burn leaving you with insides that aren't quite done. Ideally, I like to roast potatoes between 375 to 425 degrees.
What's the difference between baked and roasted potatoes
The main difference between these two recipes is baked potatoes require no additional fat to cook the potatoes. When you roast potatoes you will use a fat like olive oil, lard, or seasoned oil to cook the potatoes.
Ingredients
Two pounds potatoes (Russet potatoes are preferred)
1 package of Lipton Onion Soup Mix
1/4 cup vegetable oil
Chopped onion (optional)
Chopped red bell pepper (optional)
How to make easy oven-roasted potatoes
Preheat oven
Wash and pat potatoes dry, chopped onions and bell pepper if desired
Place chopped potatoes, and other vegetables in a gallon zip top bag
Add vegetable oil to the bag, and shake the bag a bit to coat the vegetables in the bag
Sprinkle on the onion soup mix
Spread the coated potatoes and vegetables in a baking pan
Cook, and enjoy!
More Potato Side Dish Recipes
Recipes with Lipton Onion Soup
Be sure to check out more of my easy side dish recipes and copycat favorites.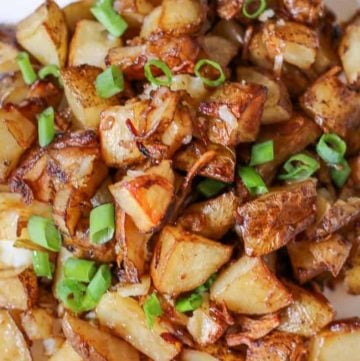 Ingredients
2

pounds

potatoes – any kind will do

1

package

Lipton Onion Soup Mix

1/4

cup

of oil, you can use olive, or even plain vegetable oil

1

red

bell pepper chopped – optional

1

medium

sized onion chopped – optional
Instructions
Preheat oven to 450 degrees

Cube potatoes into small bite sized pieces

Place potatoes into a gallon sized ziplock bag

Pour oil over potatoes, mix well

Add in optional ingredients if you like. Sprinkle in dry onion soup mix, and shake the back so the soup mix coats the potatoes

Place potatoes into a 13 x 9 inch baking dish

Bake for approximately 40 minutes
Nutrition
Calories:
154
kcal
|
Carbohydrates:
20
g
|
Protein:
3
g
|
Fat:
7
g
|
Saturated Fat:
0
g
|
Cholesterol:
0
mg
|
Sodium:
584
mg
|
Potassium:
539
mg
|
Fiber:
3
g
|
Sugar:
0
g
|
Vitamin C:
14.4
mg
|
Calcium:
47
mg
|
Iron:
3.8
mg