Looking for the perfect side dish for any entree? This scalloped potatoes recipe is it! It's one of those classic potato recipes you must have in your cooking arsenal. And, you don't have to wait until the holidays to enjoy this family-favorite comfort food that everyone loves.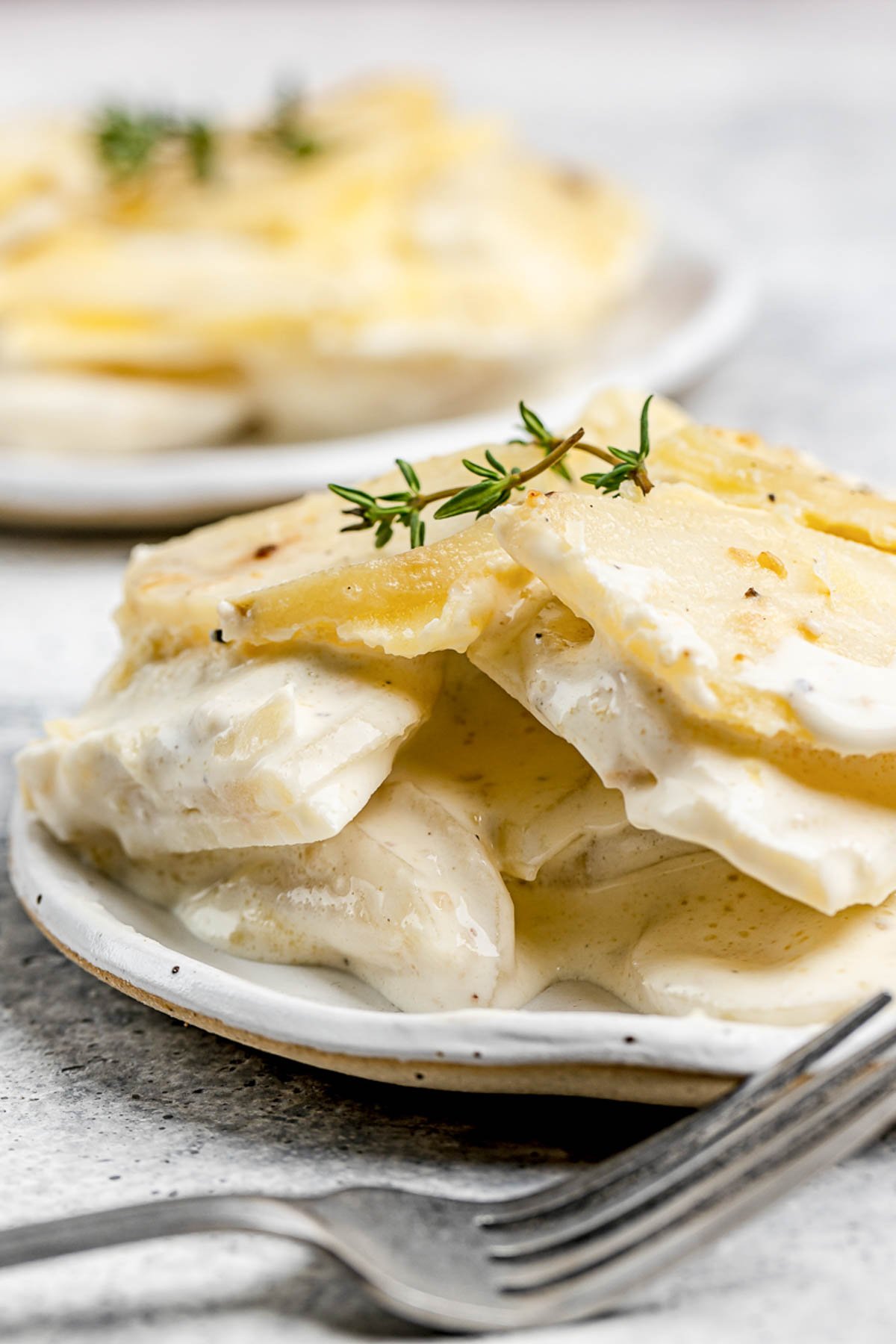 This post contains affiliate links. As an Amazon Associate, I earn from qualifying purchases.
Why This Scalloped Potatoes Recipe is the Best
We are all familiar with scalloped potato recipes that you find on the side of a box, but once you make these scalloped potatoes from scratch, you will never go back. Believe me, homemade potato casseroles are so much tastier!
This is the best recipe for homemade scalloped potatoes for the beginner or expert cook!
What are scalloped potatoes?
The word "scallop" is basically a term to describe how the potatoes are sliced. Thinly cut potatoes are placed in layers in a casserole dish, covered with a cream sauce, and then baked. The result is a savory scalloped potato dish.
What is the difference between scalloped and au gratin potatoes?
The main difference tween the two popular potato dishes is cheese.
Scalloped potatoes consist of thinly sliced potatoes layered in a casserole dish and baked with a creamy sauce.
Potatoes au gratin has grated cheese between the layers and on top, making the dish both creamy and cheesy.
Homemade Scalloped Potatoes Ingredients
This old-fashioned scalloped potatoes recipe is made with ingredients you probably already have in your kitchen. Here's a list of what you need:
Russet potatoes
Butter
Minced garlic
Heavy cream
Onion powder
Kosher salt
Ground black pepper
What Type of Potatoes to use for a Scalloped Potatoes Recipe
For this scalloped potatoes recipe, I recommend using plain old russet potatoes, which you can find in every grocery store. Russet potatoes have a high starch content which helps keep the structure of the dish.
Along with Russets, I recommend another white potato variety such as Atlantic, Snowden, Dakota Pearl, Superior, Kennebec, Shepody, Cal White, and Pike.
Another choice would be one of the yellow potatoes like Yukon Gold, Innovator, Yukon Gem, Keuka Gold, or Satina.
I do not recommend making this dish with new or red potatoes. Although we can do all sorts of delicious things with red potatoes, they aren't starchy enough for this dish.
How to Make Scalloped Potatoes without Cheese
Preheat oven to 350°F. Butter a 2-quart casserole dish.
In a wide saucepan, combine butter and garlic. Heat over medium heat until the garlic becomes translucent.
Pour in the cream.
Add the potato slices.
Add the spices (onion powder, salt, and ground black pepper). Gently stir to combine.
Reduce the heat to low and simmer the potatoes for about 15 minutes.
Use a slotted spoon to transfer the potatoes to the casserole dish.
Drizzle the cream sauce over the potatoes.
Cover the dish with foil and bake at 350°F for 40 minutes. Then remove the foil and bake until the top is golden.
Let the potatoes rest for 10 to 15 minutes before serving.
Variations on this Scalloped Potatoes Recipe
This is a basic potato dish and you can easily change it up to make it your own. Here are some suggestions:
If you have any leftover ham, you can easily add it to this recipe.
Some cooked bacon would also be amazing in this dish.
Include some garlic powder for added flavor.
Finish the dish with cheese. I recommend Swiss, Cheddar, Colby, and Parmesan.
Sprinkle some fresh herbs on top just before servings. I recommend fresh parsley, sliced green onions, chives, or tarragon.
Add some greens. Fresh kale or baby spinach would be delicious.
For an extra tasty twist, stir in 1/4 cup of basil pesto.
Substitute half of the potatoes with sweet potatoes for a winning sweet and savory combo.
Can you make scalloped potatoes ahead of time?
This potato casserole is best served straight out of the oven. You can make it up to two days ahead of time, pop it in the fridge, and then bake it the day of.
How to Store Scalloped Potatoes
This potato dish will keep in the fridge for about four days. You can easily reheat it in the microwave, oven, or in a frying pan.
Can You Freeze Scalloped Potatoes?
If you want to freeze homemade scalloped potatoes, it's best not to fully cook them all the way. Leave them a little undercooked.
Once cooled, portion them out the way you like and wrap the portions before placing them in the freezer.
They will keep for up to three months.
To reheat, simply thaw and finish cooking until the potatoes are tender again. They might break apart a bit when reheated, but they will still taste great.
What to Serve with Scalloped Potatoes
Scalloped potatoes is the perfect side dish to go with so many entrées:
Here are some great vegetables to serve with scalloped potatoes:
Love potatoes? Try these recipes!
Check out more of my easy side dish recipes and the best Easter recipes on CopyKat!
Ready to make homemade scalloped potatoes? Let me know how you did in the comments below.
And don't forget to follow me on Facebook or Instagram or subscribe to my mailing list for the latest CopyKat recipes!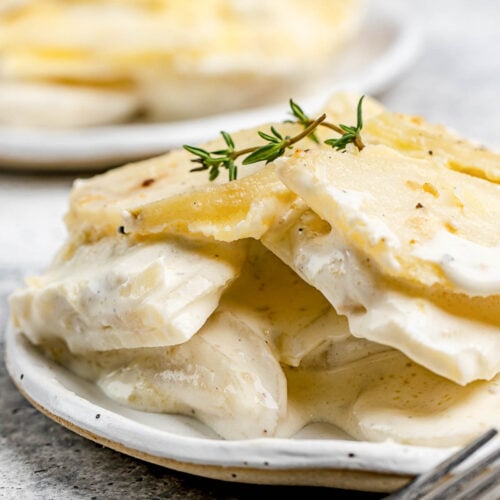 Ingredients
4

tablespoons

butter

divided use

2

teaspoons

minced garlic

3

cups

heavy cream

2

pounds

russet potatoes

peeled and sliced 1/8 inch thick

1

teaspoon

onion powder

1 1/2

teaspoons

kosher salt

1/2

teaspoon

ground black pepper
Instructions
Preheat the oven to 350°F and butter a deep-dish pie plate or 2-quart casserole dish.

Place the remaining butter and the garlic in a wide saucepan over medium heat and cook until the garlic becomes translucent. Add the remaining ingredients, reduce the heat to a simmer, and cook for about 15 minutes.

Transfer the potatoes to the casserole dish and pour the cream over the potatoes.

Cover with foil and bake in the preheated oven for 40 minutes. Then remove the foil and bake until the top is golden. Remove from the oven and allow the potatoes to rest for 10 to 15 minutes before serving.
Nutrition
Calories:
445
kcal
|
Carbohydrates:
24
g
|
Protein:
5
g
|
Fat:
38
g
|
Saturated Fat:
24
g
|
Polyunsaturated Fat:
2
g
|
Monounsaturated Fat:
10
g
|
Trans Fat:
0.2
g
|
Cholesterol:
116
mg
|
Sodium:
511
mg
|
Potassium:
566
mg
|
Fiber:
2
g
|
Sugar:
3
g
|
Vitamin A:
1488
IU
|
Vitamin C:
7
mg
|
Calcium:
78
mg
|
Iron:
1
mg