Deep Fried Turkey – if you haven't had it, I promise you are missing out on a juicy and well-flavored turkey. It isn't only people in Texas, home of the fried food exhibit in their State Fair, that enjoy this. You can deep fry a turkey at home.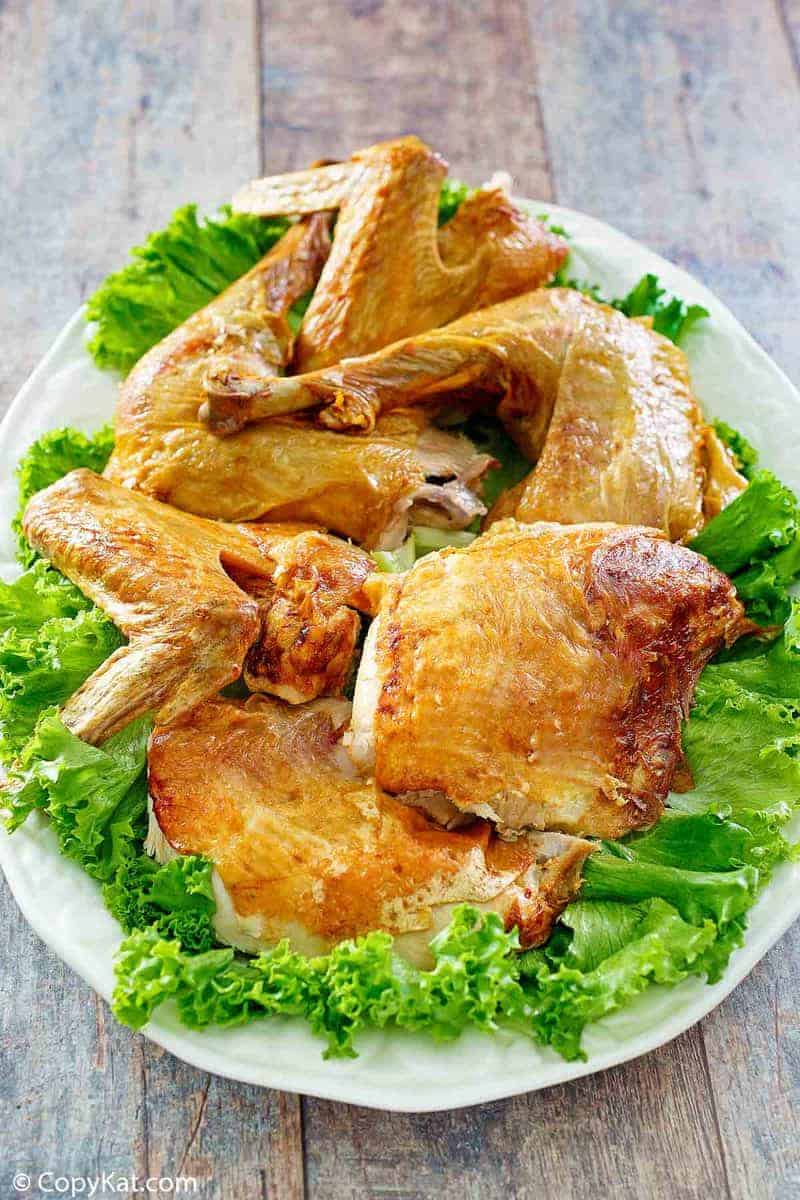 This post contains affiliate links. As an Amazon Associate, I earn from qualifying purchases.
I use my Masterbuilt 23011114 Butterball Indoor Gen III Electric Fryer Cooker Extra Large Capacity
. What I really like about this is you can really fry a turkey indoors without an issue.
Let's be honest here. Most people only make a turkey for dinner on Thanksgiving because it is a tradition. Too often, the bird is disappointingly dried out and flavorless. Hey, at least there are all of those holiday side dishes and desserts to make up for a lackluster main course. But if you like good turkey, I am talking about a golden, crispy turkey that is juicy and full of flavor; you got to try this deep-fried turkey recipe. In less than an hour, you can finally serve a Thanksgiving dinner where the turkey is the star of the meal and not your Aunt Sally's recipe for cranberry sauce! This deep-fried version is so darn delicious that you might even find yourself frying one up when it isn't even a holiday!
Save Hours of Cooking Time
No one wants to get stuck in the kitchen during Thanksgiving, especially when the game is on. It can take hours to roast a turkey in the oven and requires plenty of hands-on supervision and regular basting to ensure it cooks evenly. Still, half the time, the turkey is raw in the center com and burnt on the outside. But when you are deep frying at 400 degrees, it takes only about three and a half minutes per pound to cook the turkey thoroughly to the bone. That means you can start a 15-pounder, at half-time, and it will reach a proper turkey internal temp well before the end of the fourth quarter!
To Brine or Not to Brine, That is the Question
These days, most people already know that brining a turkey is a fantastic way to add additional flavor and provide a safety net against it drying out in the oven. Following this deep fried turkey recipe makes it easy to avoid overcooking the meat easy, but brining still gives you a more flavorful bird. However, if you choose to brine the turkey, you need to make sure that the turkey is extra dry before putting it into the oil. Water and hot grease leads to out-of-control bubbling and splattering.
Brining a turkey can boost its flavor profile, but it requires plenty of planning. It takes between 10 and 12 hours for a turkey to get the best benefits from its saltwater bath. But using a flavor injector, basically, a large syringe, to pump seasoned liquid directly into the meat of the bird can cut the prep time to just about an hour. After filling the injector with your favorite flavoring liquid:
Plunge it about half the length of the needle into the thickest part of the turkey breast.
Press down the plunger a little, then pull the injector slightly up without entirely taking it out of the hole and plunge the needle back into the meat in a different direction.
Do this a few more times and repeat on the other half of the turkey breast.
Give the turkey 20 to 30 minutes to allow the liquid to distribute evenly before drying the turkey entirely and deep-frying it.
Ingredients
Here's a list of what you need to deep fry a turkey:
Whole turkey, fresh or completely defrosted
Marinade
Salt
Black pepper
Oil for fryer – vegetable, peanut, safflower, or canola oil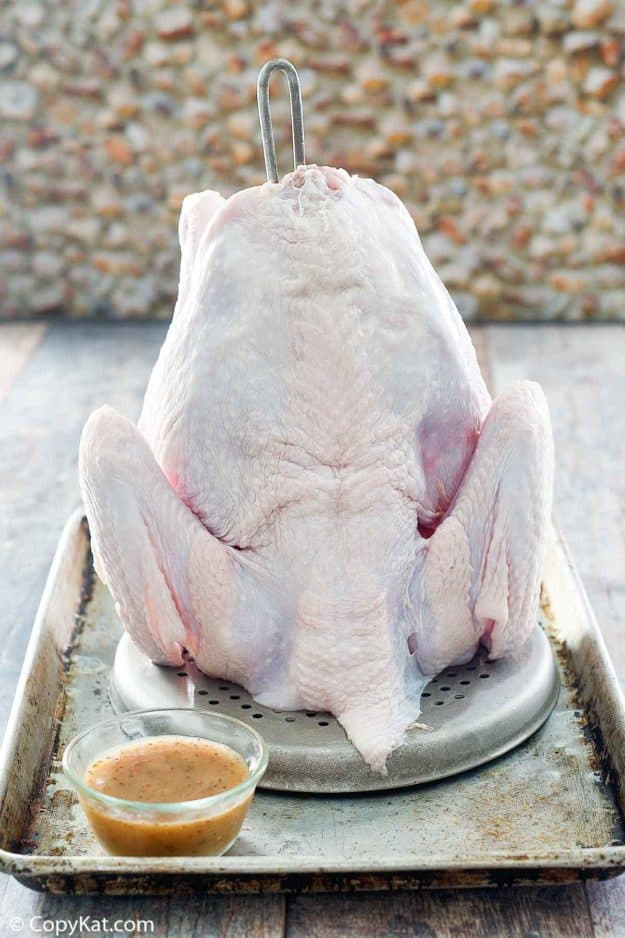 How to Deep Fry a Turkey
Dry the turkey completely with paper towels.
Inject marinade into the turkey breast, legs, and thighs.
Allow turkey to marinate in the refrigerator for a couple of hours before frying.
Heat oil to 400 degrees or the temperature recommended by the deep fryer's manufacturer.
Place the turkey on the deep fryer rack or basket.

Fry the turkey approximately 3 to 4 minutes per pound.
Use a thermometer to make sure that all dark meat has an internal temperature of 175 degrees and all white meat has an internal temperature of 165 degrees.
Tips for Deep Fried Turkey
Completely thaw your turkey – thawing a turkey on the countertop is not the best way to thaw a turkey. Consider thawing your turkey either in the refrigerator. It may take a day or two to thaw in the fridge. Or you can thaw it in a cold water bath.
When I used to work in the grocery store business, you would be surprised how many people would go into the store on Thanksgiving morning and buy a frozen turkey to prepare that night. Thanksgiving is not a surprise holiday. Buy your bird a couple of days in advance.
Buy a fresh turkey especially if you are getting one on Thanksgiving day.
Take the packaging off the turkey – your turkey will come with a variety of packaging. Remove the wrapper and leg ties. Make sure you remove the plastic pop up cooking tab, giblets, and the neck. You can save the giblets and neck to make broth.
Pat the turkey dry – make sure you remove any excess moisture from the turkey. Paper towels will do this very well. Dry both the inside and outside of the turkey. Excess water may cause the grease to splash and bubble out of control.
Cooking the turkey – Preheat the oil to 400 degrees or the proper temperature as mentioned by the manufacturer. The bird will need to cook about 3 to 4 minutes a pound. Cook all dark meat to an internal temperature of 175° F to 180° F, and all white meat to an internal temperature of 165° F to 170° F.
Ideas for Marinade
You don't need to buy an expensive marinade for your deep-fried turkey, you can make one from scratch that is as good if not better than any you can purchase from a bottle. Ideally, you should inject your turkey a few hours before you are going to prepare the bird.
Some of my favorites include chicken marinade. This is a basic marinade that can be simply purchased. But you can put together other ones easily.
Cajun – you can prepare one with 16 ounces of Italian dressing, 1 cup creole seasoning, 1/4 cup cayenne pepper, and 1/4 cup black pepper.
Butter and Beer – 1/2 pound butter, 5 ounces beer, 1/2 pound butter, 2 tablespoons salt, 2 tablespoons Worcestershire sauce, 2 tablespoons Frank's Red Hot Sauce, 1 tablespoon soy sauce, 2 teaspoons garlic powder, 2 teaspoons onion powder
Simple and Savory – 2 cups chicken broth, 1/4 pound butter, 1 tablespoon lemon juice, 1 teaspoon garlic powder, 1 teaspoon black pepper, 1/2 teaspoon salt
You may also want to use a rub if desired. I like using a simple rub of salt and pepper, it works well to help season the skin of the deep fried turkey.
Oil for Frying a Turkey
You can use any type of oil to deep fry a turkey. I personally like to use peanut oil, but this is my preference. You could also use a blend of vegetable oils if desired. Canola oil works very well to fry a turkey in, and it is a lot less expensive.
Best Thanksgiving Side Dishes
Leftover Turkey Recipes
Be sure to check out more of my easy Thanksgiving recipes and the best copycat recipes to make for your family.
Ingredients
1

turkey

completely defrosted

16

ounces

marinade

1

tablespoon

salt

2

teaspoons

black pepper

3

gallons

vegetable oil

you can use peanut, safflower, or canola oil
Instructions
Dry turkey completely with paper towels. Inject turkey with up to 16 ounces of marinade. Allow turkey to marinate in the refrigerator for a couple of hours if desired before frying. Bring oil up to the proper temperature. If desired use a rub on the turkey to help season the skin and the inside of the bird. Fry the turkey approximately 3 to 4 minutes per pound. Use a thermometer to make sure that all dark meat to an internal temperature of 175° F to 180° F, and all white meat to an internal temperature of 165° F to 170° F.
Nutrition
Calories:
624
kcal
|
Carbohydrates:
15
g
|
Protein:
72
g
|
Fat:
29
g
|
Saturated Fat:
13
g
|
Cholesterol:
231
mg
|
Sodium:
1915
mg
|
Potassium:
751
mg
|
Fiber:
0
g
|
Sugar:
12
g
|
Vitamin A:
180
IU
|
Calcium:
37
mg
|
Iron:
2.8
mg