Southern squash casserole is not to be missed. It's made with yellow summer squash and cheddar cheese. This cheesy squash casserole with buttery Ritz cracker topping is hard to resist.
This post contains affiliate links. As an Amazon Associate, I earn from qualifying purchases.
You have got to try this delicious squash casserole filled with a creamy sauce and topped off with crunchy buttery cracker topping.
What Makes this Recipe for Squash Casserole Amazing
This is no regular vegetable casserole. It has something that sets itself apart from other casseroles.
I am talking about the extremely tasty topping. It is made out of cheese and crispy buttery ritz crackers! This is a topping you will be craving for days, it is so delicious.
What to do With a Lot of Squash
With summer coming up and gardens in full bloom, you will likely see a lot of squash and zucchini and have to find new and fun things to do with it.
One great way to use up your squash would be to make this delicious summer squash casserole.
This squash casserole uses quite a bit of squash. You will need at least 8 to 10 medium-sized squash. Perfect to use up your garden squash before they go bad!
Cheesy Squash Casserole Ingredients
Here's a list of what you need:
Yellow squash
Sweet onion
Condensed cream of celery soup
Egg
Shredded cheddar cheese
Mayonnaise
Salt
Ground black pepper
Ritz crackers
Butter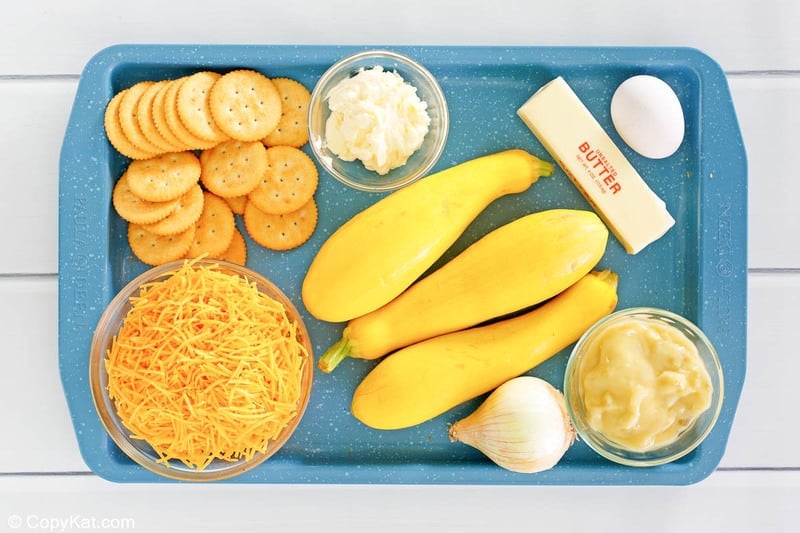 How Much Do You Get From One Yellow Squash?
Since this recipe does use a lot of squash it is good to know about how much squash you will need. For the average yellow squash when diced you will get about 1½ to 1¾ cups of diced squash.
If you need to grate the squash you will only get about 1½ cups of squash or just under. When you grate the squash you will have a bit more waste than when you cut up the squash.
Is Yellow Squash Similar to Zucchini?
Yes, it is!! The only true difference between a yellow squash and a zucchini is the color. They are both actually considered part of the squash family.
So, feel free to use either yellow squash, zucchini, or use both at the same time! It will not affect the recipe at all. Rather, using both will make the zucchini squash casserole even more colorful.
How to Make Squash Casserole
Cut the squash into bite-sized pieces.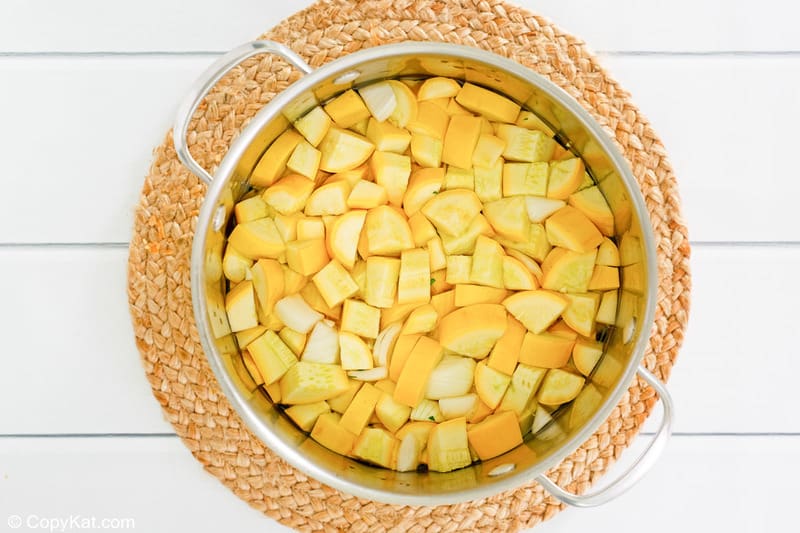 Boil squash and onion until tender. Drain and place it in a bowl.
Mix the soup, egg, cheddar cheese, mayonnaise, salt, and pepper together.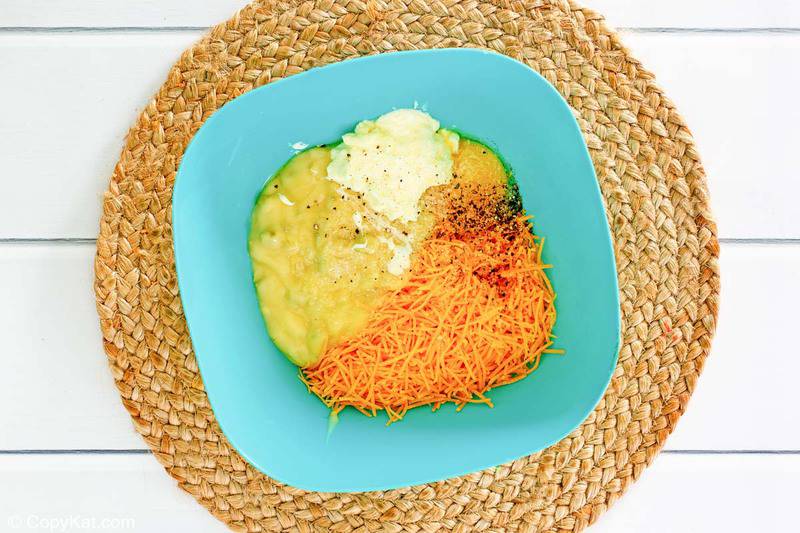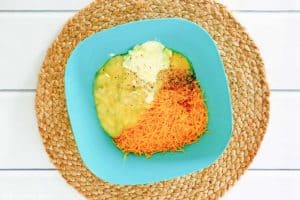 Add the soup mixture to the drained squash and onions. Stir to combine.
Place the squash mixture into a casserole dish.
Bake at 350 degrees for 20 minutes or until bubbly.
Combine crushed Ritz crackers with butter.
Remove the casserole from the oven and sprinkle the cracker mixture over the top.
Return the casserole to the oven and bake it for 15 minutes until browned.
Do You Peel Squash Before Cooking?
No, you do not! While you could peel the squash before cooking if you like it better that way, it is not necessary.
Plus, if you do peel the squash you will be removing some of the natural fiber of the cheesy squash casserole.
What to Serve with Cheesy Squash Casserole
Whether you have a productive garden or a favorite farmers' market, squash is plentiful and cheap in the early fall. That means this Squash Casserole with Ritz Crackers recipe is the perfect autumn side dish, but what are you going to eat with it? Here are a few suggestions:
How to Store Squash Casserole with Ritz Crackers
After you have made the squash casserole, any leftovers can be stored in the baking dish. Just be sure to cover it with a top or aluminum foil or saran wrap.
This will last for about 3 to 4 days in the fridge. After that, the crackers will begin to get soggy and no longer enjoyable.
When you go to reheat the casserole, preheat the oven to 350 degrees. After the oven has reached temperature, place the baking dish in the oven and heat it all the way through.
How to Freeze Squash Casserole
If you wonder "can you freeze squash casserole?", the answer is yes, it can be frozen.
You will want to do everything up until putting on the crackers and make sure to use a freezer-safe dish to freeze this in. Do not bake the dish before freezing it.
When you want to make the squash casserole, pull it out of the freezer about 24 hours before you need it and let it defrost in the refrigerator. Bake the casserole for 20 minutes at 350°F. After 20 minutes, pull out the dish and top it off with the Ritz cracker topping, and then bake the casserole for another 15 minutes.
Squash Casserole Recipe FAQs
How Do You Keep a Squash Casserole from Getting Watery?
Salting the cut squash before boiling draws out a lot of the moisture. Generously salt the squash and allow it to sit in a colander in the sink, and drain for at least 15 minutes before boiling.
Of course, you will want to drain and pat dry the cooked squash before adding it to the casserole dish.
Should I Cook a Squash Casserole Before Freezing?
You only need to pre-cook a casserole if it contains raw meat to ensure it is safe to eat. Since this recipe for squash casserole doesn't have any raw meat in it, you don't have to bake it before freezing.
Can You Make Squash Casserole in Advance?
Yes, you can make a Southern Squash Casserole and keep it covered in the fridge for up to four days. Just remember the longer it's in the refrigerator, the more likely it is to get soggy.
The best way to freeze a cheesy squash casserole is to keep it tightly wrapped with aluminum foil in the dish you'll bake it in.
Whether you refrigerate or freeze the yellow squash casserole, it is a good idea to make a fresh cracker topping right before reheating.
Squash FAQs
Can You Freeze Fresh Summer Squash?
You can freeze squash on its own, but it does take a little preparation. For the best results:
Cut the squash into cubes.
Blanch the cut squash in boiling water for a minute before plunging them into an ice bath.
Dry with a paper towel and spread out on a parchment-lined baking tray. Put in the freezer uncovered for one to two hours until solid.
Transfer the squash to a freezer-safe container and keep it in the freezer for up to six months.
How Long Should You Boil Squash?
It depends on how soft you like your squash to be. A good rule of thumb is to boil squash until it's just fork-tender. Based on the size of the pieces of squash you are cooking, anywhere from five to 10 minutes usually works.
What Goes Good with Squash?
Many people don't like to eat squash because they think it's too bland. But after adding some seasoning and plenty of butter, you might find you have a new favorite vegetable.
A few spices and herbs you can try using to liven up your squash are:
Salt
Nutmeg
White Pepper
Dill
Thyme
Mint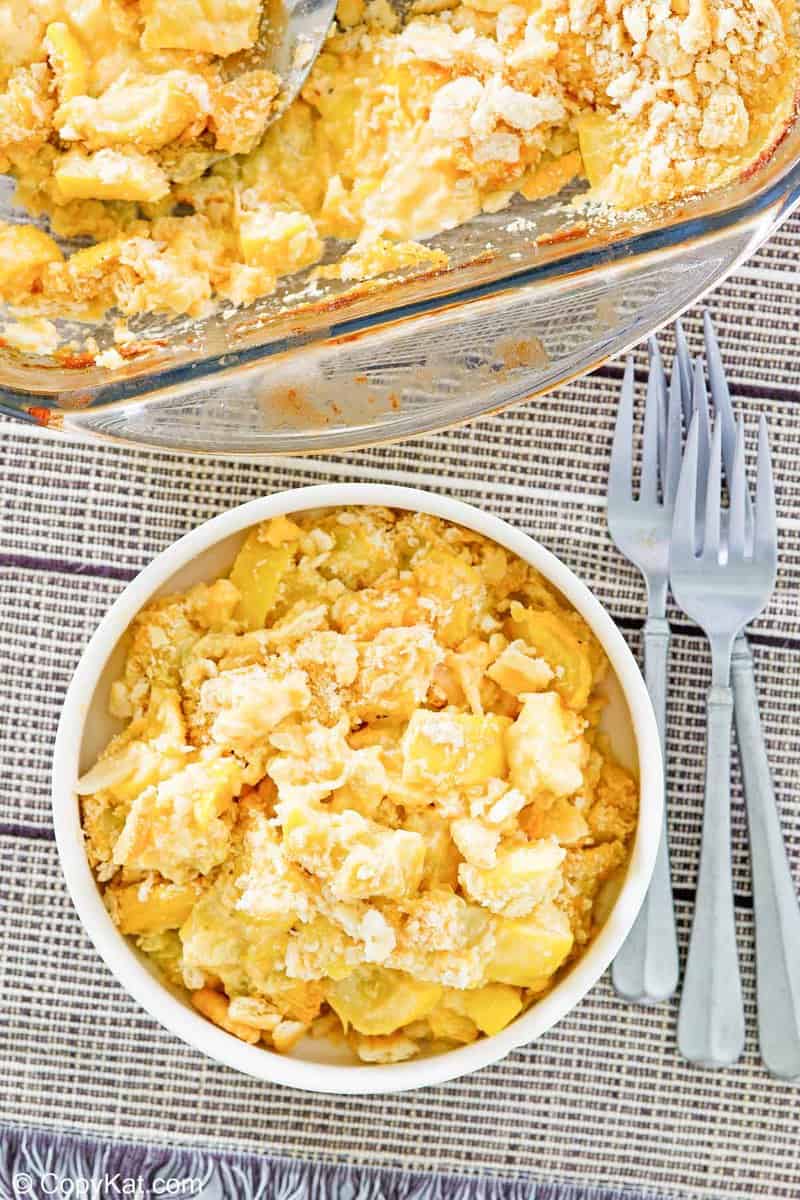 Love casseroles? Try these recipes!
Favorite Side Dish Recipes
Check out more of my easy casserole recipes and the best side dish recipes here on CopyKat!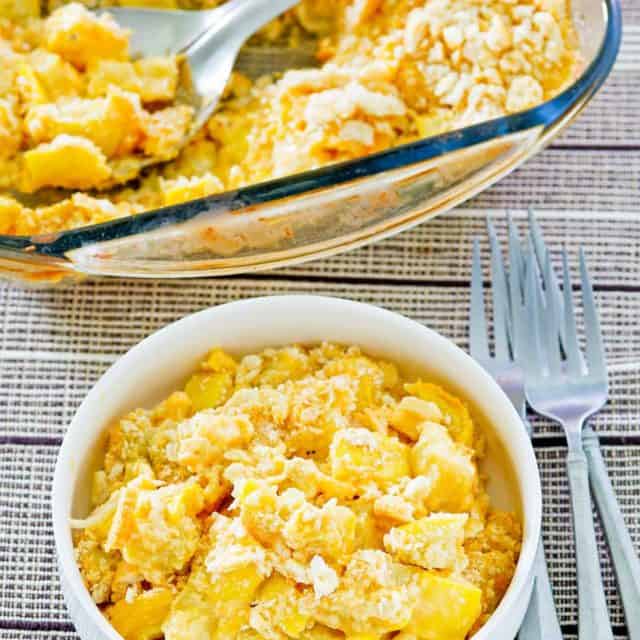 Ingredients
4½

pounds

yellow squash

(about 8-10 medium-sized)

1

cup

chopped sweet onion

10.5

ounces

condensed cream of celery soup

1

egg

beaten

1½

cups

shredded cheddar cheese

2

tablespoons

mayonnaise

salt

to taste

ground black pepper

to taste

30

Ritz crackers

crushed

½

cup

butter

melted
Instructions
Preheat the oven to 350 degrees.

Cut the squash into bite-sized pieces.

Boil squash and onion until tender. Drain the squash and onions then place them in a bowl.

Mix the soup, egg, cheddar cheese, mayonnaise, salt, and pepper together.

Add the soup mixture to the drained squash and onions. Stir to combine.

Place the squash mixture into an 8×10-inch casserole dish.

Bake at 350 degrees for 20 minutes or until bubbly.

Combine crushed Ritz crackers with melted butter.

Remove the casserole from the oven and sprinkle the cracker mixture over the top.

Return the casserole to the oven and bake for 15 minutes until the top is browned.
Nutrition
Calories:
332
kcal
|
Carbohydrates:
18
g
|
Protein:
9
g
|
Fat:
25
g
|
Saturated Fat:
13
g
|
Cholesterol:
58
mg
|
Sodium:
542
mg
|
Potassium:
737
mg
|
Fiber:
3
g
|
Sugar:
7
g
|
Vitamin A:
1175
IU
|
Vitamin C:
43.4
mg
|
Calcium:
223
mg
|
Iron:
1.7
mg
Thanks Mari for sharing this recipe with us!!