Boiled cabbage doesn't need to be boring. You can prepare flavorful cabbage with the addition of a couple of ingredients. Learn how to make flavorful cooked cabbage and your family will request this again and again.
Admittedly, there are a lot of jokes when it comes to boiled cabbage. Boiling cabbage is one of the easiest ways to prepare this vegetable. But if cooked correctly, cabbage is a versatile accompaniment for a wide range of entrees from roasted pork to sausages. It is cheap, and you can enjoy a wedge of cooked cabbage with just a pat of butter straight from the pot. Don't be intimidated you can make delicious southern cabbage recipes with this easy recipe. Traditionally cabbage is served on New Year Day and St. Patrick's day, but you can cook a head of cabbage any night of the week. If this is your first time cooking this leafy vegetable, I will walk you through the steps, so you can master boiled cabbage
Choose the Right Head of Cabbage
Cabbage is hearty, but it is not indestructible. To get the best results from this recipe, you need to choose the right head of cabbage. When selecting a cabbage, you want to buy one which has tightly compacted, green leaves, if you can find the ones with the outer dark green leaves, that tends to mean the cabbage is a little fresher.
Avoid heads with limp leaves or those which appear light for their size. A cabbage the size of a softball should weigh about one pound. Ideally, for this recipe, you want a cabbage roughly twice the size of a softball. There are several different types of cabbage, there is green cabbage, red cabbage, napa cabbage, and Chinese cabbage just to name a few.
How to Store a Cabbage
An unblemished firm whole head of cabbage can be stored inside the refrigerator for several weeks. It can store at room temperatures for 10 to 14 days. You will want to pick a head of cabbage that is firm to the touch, and without any spots when you purchase it. You will want to look for the outer heavings that have a beautiful green color. You will pick off those outer leaves when you store them. But those large leaves can indicate how healthy the cabbage was when it was picked.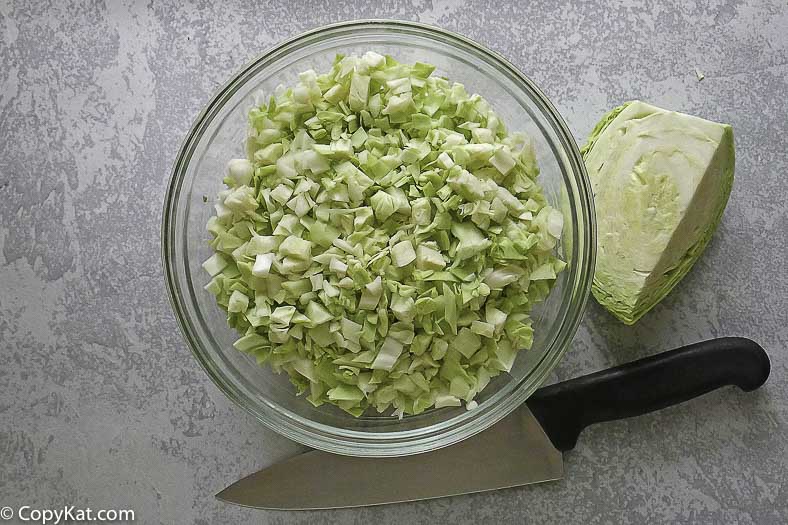 How to Cut Cabbage
Half the secret of cooking fantastic boiled cabbage is knowing how to prepare it for the pot.
First, remove any loose outer leaves from the cabbage, discard the cabbage leaves you remove, and then give the head a good rinse under the faucet. Be sure to dry the cabbage completely.
With a sharp knife, cut the cabbage in half, and then in half again. Be careful to cut through the core.
Lay each of the cabbage wedges with a flat side down on a cutting board. Then cut away the core, but leave enough of the root end to keep the leaves together.
Now cut into bite-sized pieces.
How to Boil Cabbage
It's easy to prepare boiled cabbage. You can simply immerse the cut cabbage into salted water and remove it when it becomes fork-tender, and this will take about 8 to 10 minutes, but we want to show how to add more flavor to your cabbage. So keep reading.
How Long to Boil Cabbage
When you overcook cabbage, it not only turns into mush, but it can develop that classic unpleasant smell most people associate with the food. No one wants to eat or smell that. Avoid making a stink by boiling your cabbage just until it is for fork-tender. The exact time depends on how large you cut your pieces but should take about 8 to 10 minutes, uncovered.
Cooking Cabbage Tips
Keep the cabbage steady when making the initial cut by using a towel circle. The last thing you need is to cut yourself. A simple solution is to roll up a towel and form a circle with it on your cutting board. To prevent your cabbage from rolling away, place it in the center of the towel ring when cutting the head in half.
There are lots of types of cabbage, use the right one for this recipe. Green or Savoy cabbage works best in this recipe. You should avoid boiling Red and Napa varieties of cabbage.
Boiled cabbage with Bacon
If you have never tried boiling cabbage with bacon, you are in for a real treat. The smokiness of the bacon and the addition of the salt compliment the flavor of cabbage.
Boiled Cabbage Ingredients
1 head cabbage – preferably green cabbage
Slices of bacon
Kosher salt
Boiled Cabbage Variations
Chop up a large onion and place it into this recipe when you add the bacon.
Add a teaspoon of red pepper flakes during the last five minutes of cooking
Instead of cooking with plain water, swap the water for some chicken stock
Love cabbage? Try these cabbage recipes:
More Budget-Friendly Side Dishes
Be sure to take a look at more of my great side dish recipes and budget meals.
Follow us on Facebook or Instagram, and you will be the first to know about any new recipes!
Ingredients
3

pounds

cabbage

1/4

pound

bacon

8

cups

water

2

teaspoons

salt
Instructions
Wash cabbage, remove any wilted leaves. Use a heavy knife to quarter the cabbage.  Cut out the core of the cabbage, and slice the quarters into bite-sized pieces.

Slice bacon into ½ inch slices.   Place bacon in a large pot, and cook over medium-high heat until the bacon browns.  Do not drain the bacon.

Add the water to the pot, add the cut cabbage to the pot.  Cook uncovered until the pieces can be pierced with a fork.  Season with salt and freshly ground black pepper. 
Notes
If desired you can add a chopped white onion to the cabbage when cooking for additional flavor. 
Nutrition
Calories:
136
kcal
|
Carbohydrates:
13
g
|
Protein:
5
g
|
Fat:
8
g
|
Saturated Fat:
3
g
|
Cholesterol:
12
mg
|
Sodium:
958
mg
|
Potassium:
423
mg
|
Fiber:
6
g
|
Sugar:
7
g
|
Vitamin A:
222
IU
|
Vitamin C:
83
mg
|
Calcium:
101
mg
|
Iron:
1
mg