Garlic green beans are a great way to prepare fresh green beans. These green beans are seasoned perfectly with garlic butter! Make the perfect side dish in just minutes.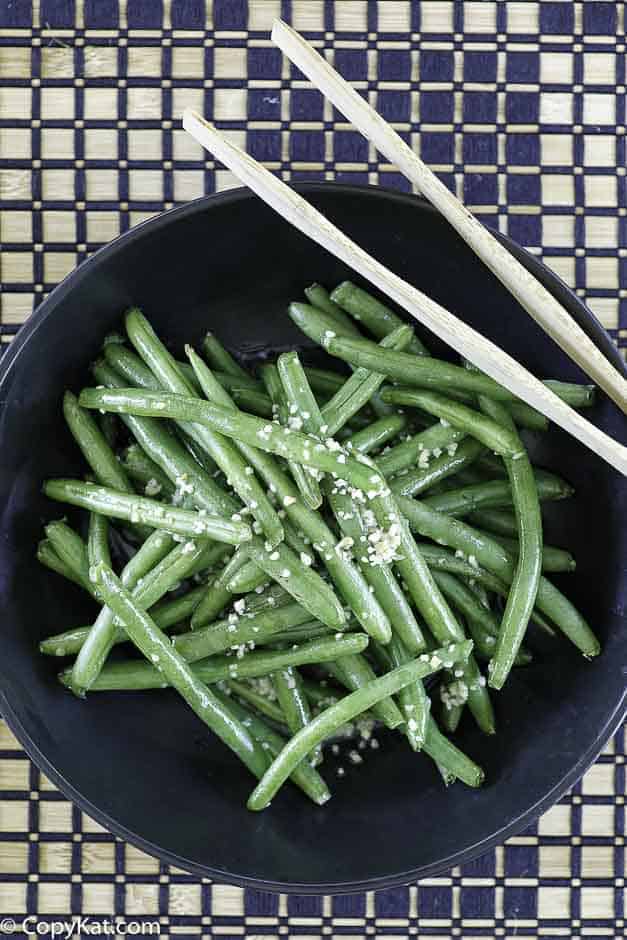 Are you looking for how to cook fresh buttery green beans? This is one of those side dishes that go with anything! I have a simple and delicious recipe for you.
If you are looking for the perfect green bean recipe, look no further? This is one of those side dishes that go with anything! I have a simple and delicious recipe for you.
Fresh green beans are plentiful in the summer, and they are always fresh in the grocery store. There are many different ways to cook green beans, you can sauté them, boil them, steam them, heck, you can even enjoy them deep-fried, and in this case, you can make garlic butter green beans.
When you combine butter, minced garlic, and tender beans you are going to find a delicious way to enjoy this summer vegetable. Sauteed green beans is an easy side dish you are going to love for weeknight dinner or even holiday dinners. This is one of my family's favorite ways to enjoy green beans, and with such an easy recipe, how can you go wrong with this simple side dish?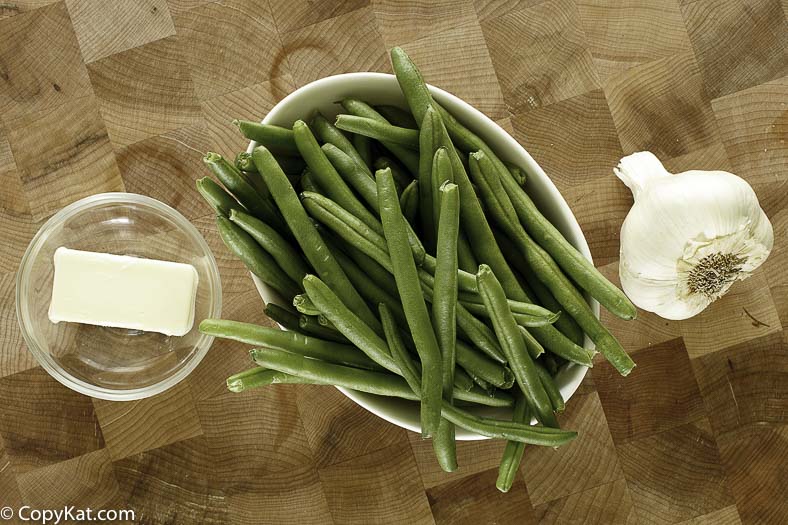 How to select the best green beans
Green beans are packed full of nutrition. Sometimes green beans are called string beans, or in fancier stores, these are called haricots verts. You may find them in your store under either name.
When shopping, look for green beans that are crisp. Pass on beans that are limp.
Look for beans that are unblemished
Look for beans that are firm, avoid beans with soft spots
Green beans should be stored in your refrigerator's crisper drawer, and they will stay fresh for about 1 week.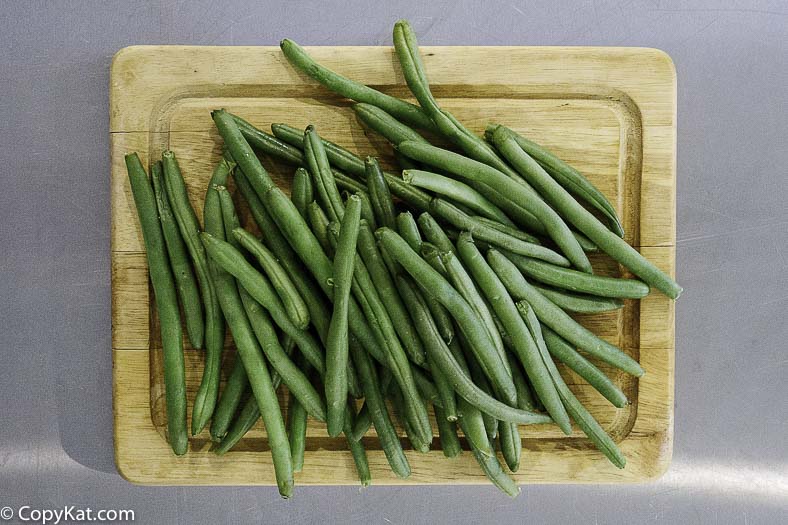 What makes this recipe for garlic green beans so good?
This is a super-easy way to prepare fresh green beans, the cooking process couldn't be any more simple. This recipe is perfect for a family dinner because the total time of cooking this garlic green beans recipe is under 15 minutes. The garlic butter turns simple green beans into a great side dish your whole family is going to love.
We are going to begin by cleaning the beans, cut off the stem end, and then steam them, and then will finish up sautéing them on medium-high heat in the garlic butter. This ensures the beans are cooked to perfection.
You can steam green beans in your Instant Pot, in the microwave, or on the stovetop (directions are below). After the beans are steamed, you will cook them in the garlic butter sauce.
When you are ready to serve them, you will drizzle the extra garlic butter sauce on top this really gives your beans so much flavor!
What to Serve with Green Beans
Green beans go with so many main dishes. It is the perfect green beans recipe for when you want to serve a green vegetable and you also want a low carbohydrate option. Enjoy some of these main dish options to serve with these beans.
Try these delicious garlicky green beans
These garlic green beans are soon to be a favorite around your house. Simple to make, and these can be easily scaled up should you need more. You can simply double or even triple the recipe for when you have guests over.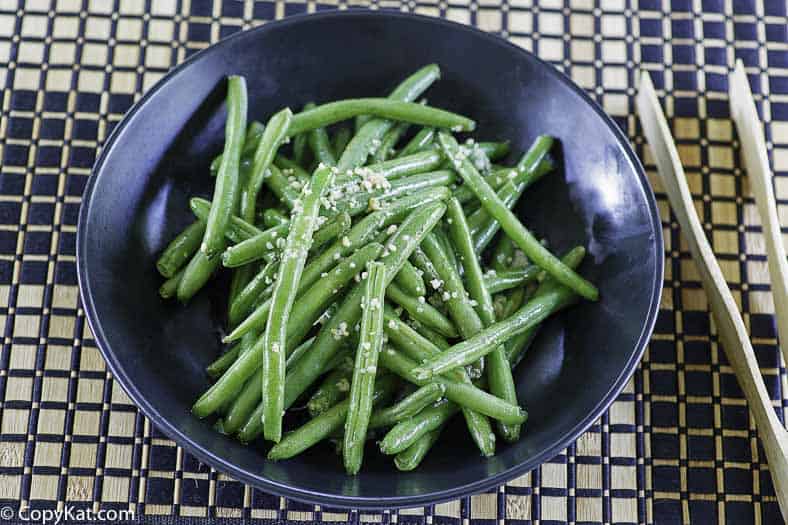 Ingredients you will need
This recipe really takes just a handful of ingredients. I know once you give this recipe a try, the next time you get hungry for green beans you are going to purchase fresh ones and pass on the canned green beans.
Fresh green beans
Fresh garlic – I really like to use fresh garlic it adds lots of flavor
Butter you can use salted butter or unsalted butter
kosher salt
freshly ground black pepper
How to store cooked green beans
If you happen to have any leftover, you can store them in an airtight container for up to 3 days in the refrigerator.
How to reheat garlic green beans
I prefer to heat these on the stovetop, sometimes I add a little olive oil to the pan and turn up the heat just enough so the skin blisters just a bit. This adds a nice bit of texture.
Microwave: These can be reheated in the microwave for heating on high for about 90 seconds.
Stovetop: I will toss everything back into a hot pan on the stove and heat on medium-high heat for 1 to 2 minutes.
Can't get enough green beans? Try these green bean recipes
Popular Vegetable Side Dish Recipes
Be sure to check out more of my vegetable side dish recipes and the best budget-friendly meals here on CopyKat.com!
Before you go let me know how you serve up green beans. Do you like them fresh, frozen green beans, or canned green beans best?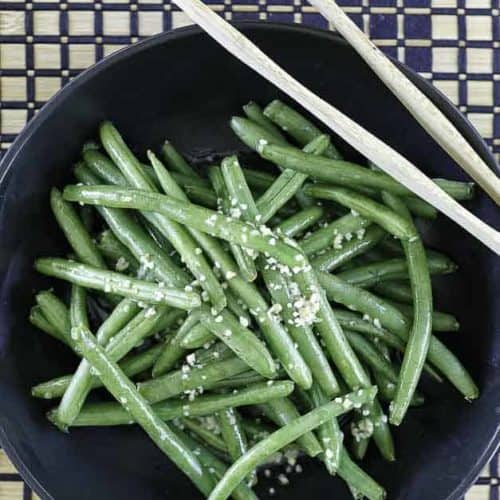 Ingredients
1

pound

fresh green beans

2

teaspoons

minced fresh garlic

2

tablespoons

butter

1

pinch of kosher salt

1

pinch of black pepper
Instructions
Wash green beans, cut off stem end with a knife.
Steam Green Beans
Microwave: Green beans can be steamed in the microwave by placing in a bowl and adding 2 tablespoons of water. Place a plate on the bowl to keep in the steam. Cook on high for 4 to 6 minutes.

InstantPot: Place the steamer rack in the instant pot. Add 2 to 3 tablespoons of water. Lock the lid and steam at LOW PRESSURE for 2 minutes.

Stovetop: Use a large pot with a steamer basket. Fill the pot halfway with water, add the steamer basket, add the green beans. Place the lid on the steamer basket. Tun the temperature to high, and steam for 6 to 8 minutes. The green beans are cooked when they turn a bright green color.
Garlic Butter
Peel the garlic cloves and finely mince the garlic.

Melt the butter over medium heat in a large skillet and the pinch of kosher salt and ground black pepper. Add garlic, and heat until the garlic becomes fragrant.

Add steamed green beans. Cook until the beans are tender. Stir until the beans are well-coated. Serve. Pour over any left-over sauce onto the green beans.

If desired and salt and freshly ground black pepper to taste.
Notes
Upgrade this recipe! Garnish with the following: 
toasted almonds 
slivered almonds
fresh lemon zest
a squeeze of fresh lemon juice
a splash of soy sauce
a sprinkle of red pepper flakes for a little zing
Nutrition
Calories:
175
kcal
|
Carbohydrates:
17
g
|
Protein:
4
g
|
Fat:
12
g
|
Saturated Fat:
7
g
|
Cholesterol:
30
mg
|
Sodium:
114
mg
|
Potassium:
479
mg
|
Fiber:
6
g
|
Sugar:
7
g
|
Vitamin A:
1915
IU
|
Vitamin C:
29
mg
|
Calcium:
89
mg
|
Iron:
2
mg