Easy Oven Roasted Brussel Sprouts are the perfect side dish to prepare. They are easy to prep and you can toss them on a sheet pan and put them in the oven. These are packed full of flavor, and great for low carb diets.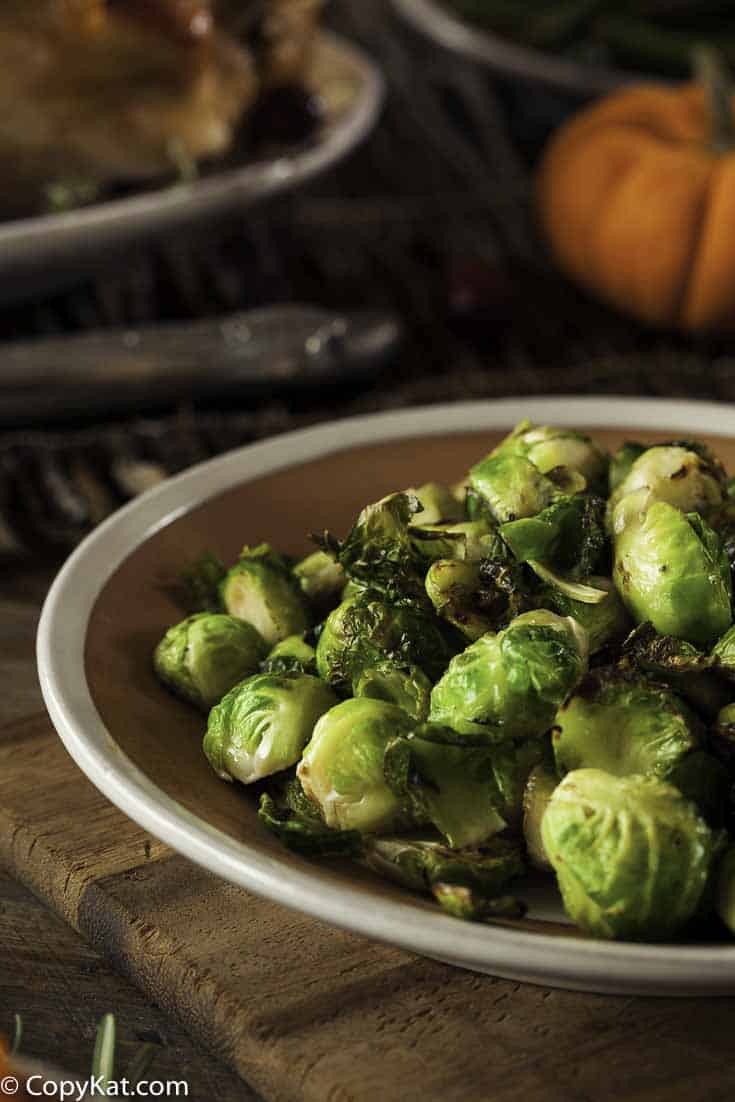 Learn how to roast Brussel Sprouts
Many people wonder how to cook Brussel sprouts. Roasting is the best way to bring out the tasty, slightly nutty flavors in Brussels sprouts. And, it's so easy.
All you have to do is put them on a roasting tray, slather them in olive oil, and let them hang out in the oven for about half an hour. The result is delicious, and even those family members who claim not to like Brussels sprouts will enjoy them.
Cooking Brussel sprouts in the oven gives them a crunch and a char. The best parts are those charred pieces!
Making a big pan of these is one of my staples for a weeknight dinner, and it's a hit every time.
How to Pick Fresh Brussels Sprouts
It's very easy to pick out the freshest Brussels Sprouts, here are 4 tips in picking out the best ones at your grocery store.
Color is everything. You want to look for heads that are bright green and firm with tightly packed leaves. Avoid Brussels sprouts that have yellowing leaves because this is a sign that they are a bit old.
If they have black spots, this could indicate the presence of fungus.
Go for the smaller Brussels sprouts as they are usually more tender and sweeter than larger ones.
If you can find them still on the stalk, they are the freshest.
The key to roasting fresh vegetables
The key to roasting vegetables is to roast them at a high temperature and space them out on the roasting sheet. If the veggies are touching or on top of each other, you will end up with steamed vegetables and not properly roasted ones.
Your baked Brussels sprouts should be golden brown and caramelized around the edges, but still nice and tender in the center. Sometimes people roast them for too long in order to get them golden, but then they dry out.
CopyKat Tip: Make sure that the Brussel sprouts are not overlapping or touching each other on the baking sheet. You want to spread them out so that they can crisp up and get a bit charred on the outside. If they are touching each other and you have crammed in too many, you will end up steaming them.
Brussel Sprouts Frequently Asked Questions
How Long Can You Keep Roasted Brussel Sprouts?
You can keep leftover Brussels sprouts in your fridge for about three days or so, but keep in mind that Brussels sprouts don't taste as good as leftovers. They taste much better freshly roasted.
Can Roasted Brussel Sprouts Be Reheated?
Yes, you can reheat them in the oven, in a skillet, or in the microwave. However, the microwave will make them a little bit soggy.
Are Brussel Sprouts Healthy?
Yes, they are very good for you. Cruciferous are sought out for their nutrition. Brussels sprouts contain high levels of many nutrients and have quite a few health benefits. Read about ten ways that Brussels sprouts can benefit your health.
How to Prep Brussel Sprouts
When baking Brussel sprouts there are a few steps you need to take to prepare these green delights for cooking.
Wash Brussel Sprouts. Wash off any dirt and peel off any yellow leaves, it's ok if a few are loose, or a few fall off.
Cut the stem off. The stem is the part that attaches to the stalk when growing. This portion can be tough because it dries out after cutting from the stalk.

Cut your Brussel Sprout in half to more than double the space that can get caramelized while cooking. It's the caramelized bits that taste so good. Also, you can check and make sure everything in the Brussel Sprout is good.

Coat the Brussel sprouts with oil and season. I toss the cut Brussel Sprouts and red onions into a bowl. I add oil to them and stir them before I season them with salt and pepper. This keeps the leaves from drying out while cooking, and it gives the seasoning the ability to stick so the seasoning stays on while cooking.
Spread oil on the baking sheet. Before placing them in the pan, I drizzle a bit of oil in the pan, and I make the sheet pan has a layer of oil on it. When the cut side is placed down in the pan, you know it's going to brown beautifully.

Even if you think you don't like Brussel sprouts or have never had them, roasting them will make you a big fan. Let me know if you try them!
These roasted Brussel sprouts are golden and caramelized on the edges, but not dried out. They're simple to make, and a great side for many meals.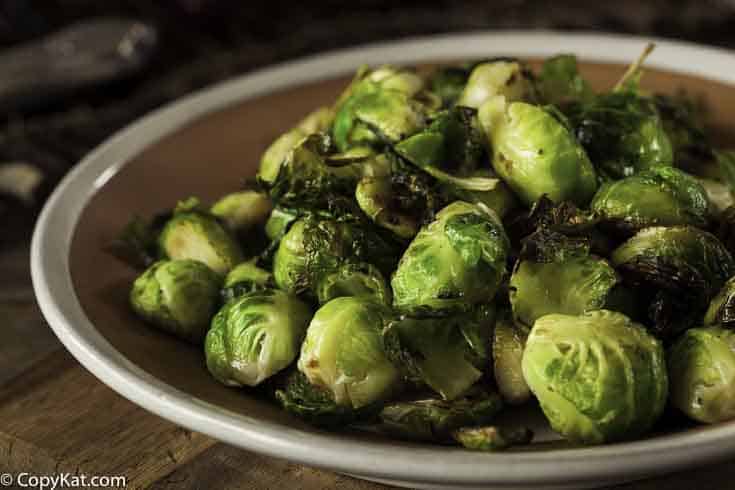 Variations of Roasted Brussel Sprouts
Maple roasted Brussel Sprouts -Toss together in a bowl six slices of chopped bacon, add 1 pound sliced Brussels sprouts, add 1/4 teaspoon salt, 1/4 teaspoon ground black pepper, 1 tablespoon olive oil, and 1 tablespoon maple syrup. Toss together, roast for 20 to 25 minutes at 400 degrees.
Garlic Parmesan Brussel Sprouts – Toss together in a bowl 1 pound sliced Brussel sprouts, 3 tablespoons olive oil, 1/2 teaspoon salt, 1/2 teaspoon Italian seasoning, 1 tablespoon chopped garlic, and 1/2 cup grated Parmesan cheese. Mix together, and roast on a baking sheet for 20 to 25 minutes at 400 degrees.
Balsamic Roasted Brussel Sprouts – Toss together in a bowl 1 pound sliced Brussel Sprouts, 2 tablespoons olive oil, 3 tablespoons balsamic vinegar, 2 teaspoons minced garlic, 1/4 teaspoon salt, and 1/4 teaspoon ground black pepper. Mix together, and roast on a baking sheet for 20 to 25 minutes at 400 degrees.
Here are some more Brussels sprouts recipes for you to enjoy.
Favorite Vegetable Side Dishes
Be sure to check out more vegetable side dish recipes and the best fall recipes here on CopyKat.com!
Ingredients
2

pounds

Brussel sprouts

1/2

cup

red onion, diced

1/3

cup

olive oil

1

teaspoon

kosher salt

1/2

teaspoon

fresh cracked pepper
Instructions
Preheat oven to 400 degrees

Wash Brussel sprouts. Peel off any yellow leaves. Trim off the stem.

Cut Brussel sprout in half. Look at the halves, and discard any undesirable ones.

Dice the onion, you can add more if desired.

Place cut Brussel sprouts and onions in a bowl and drizzle olive oil on them, and give them a stir. Season them with salt and pepper. Lay the Brussel sprouts on the baking sheet, make sure they are in one layer.

Roast for approximately 25 minutes.
Notes
Want to change up the recipe, here are some suggstions.
Change up the seasonings, a touch of lemon zest after cooking will brighten up the flavors.
Add a healthy dose of freshly ground black pepper.
Add a sprinkle of Pecorino Romano cheese after removing from the oven.
Serve with browned butter
Nutrition
Calories:
265
kcal
|
Carbohydrates:
22
g
|
Protein:
8
g
|
Fat:
19
g
|
Saturated Fat:
3
g
|
Sodium:
639
mg
|
Potassium:
911
mg
|
Fiber:
9
g
|
Sugar:
6
g
|
Vitamin A:
1710
IU
|
Vitamin C:
194
mg
|
Calcium:
100
mg
|
Iron:
3
mg