This video is the 5th in my Learn to Cook series and this recipe is how to make cooked carrots. So often we are making a meal and want a simple and delicious side dish. Boiled carrots are a perfect choice.
Boiled Carrots – Why this recipe and method is the best?
Carrots are a wonderful vegetable to try. When you cook them they are soft and sweet. They are hard to beat. I love to serve them as a side dish; they are tender, sweet, and so inexpensive to make. You really can make a delicious and economical side dish that will please the whole family.
How to select the best carrots
When you buy carrots, you may see them in a bunch with the greens on or in a cellophane bag. Either way, you purchase your carrots will be fine.
When you go to the store and select carrots, you want to select carrots that are plump, firm, bright orange, and smooth. Stay away from carrots that have tiny roots coming out of them (those are old), avoid carrots with wrinkled tips (they are past their prime.)
You can buy baby-cut carrots, I generally find that carrots you need to peel and cut to be less expensive, prepping a carrot isn't difficult.
How to store fresh carrots
Fresh carrots should be stored in the refrigerator, preferably in the vegetable crisper drawer. Typically carrots will last for 3 to 4 weeks in the refrigerator.
If you buy carrots with green tops, you may want to chop off the green tops if you are going to store them for a week or more. The green tops will wilt.
How to prepare carrots for cooking
It couldn't be more simple to prepare carrots for cooking.
Wash your carrots, and scrub off any dirt.
Grab your vegetable peeler, and peel off the outer skin of the carrot.
Place your carrots on a cutting board, and then grab a knife.
Cut your carrot into uniform pieces, the best that you can.
Should you peel carrots before boiling?
Yes, you should peel the carrots before you start to boil them. This ensures your carrots are clean and do not have any dirt on them.
This cooked carrots recipe is pretty flexible. If your bunch weighs over 1 pound just add a little extra salt and some extra butter. When you are cooking them it is important not to let them simply boil away. You want them to simmer for their cooking time.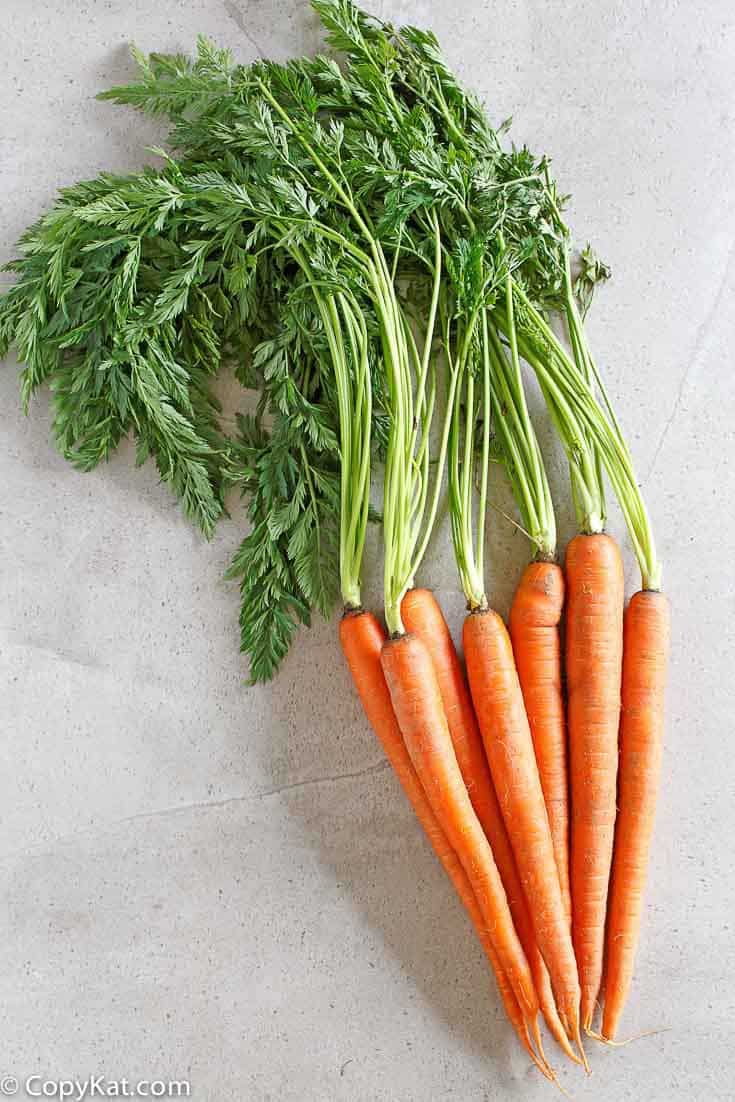 Ingredients needed to boil carrots
Did you know you need just a few ingredients to make delicious cooked carrots? Boiling carrots is so easy! This is all that you will need.
Fresh – you will peel them, and cut them
Water
Salt – you can use kosher or table salt
Butter
How to cook carrots
It couldn't be more simple to cooking carrots.
Wash, peel, and then cut the carrots into uniform sized pieces.
Place carrots into a medium-sized pot, and add water and salt.
Boil carrots for 10 to 12 minutes.
Remove pot from the stove, and then add butter.
How Long to Boil Carrots
Not a lot can go wrong with this particular carrot recipe, but you do need to pay attention to a couple of details if you want to get the best results. The most common mistake cooks make is cooking the carrots too long or not long enough. So, how long does it take to boil the perfect carrot?
The only answer is until they are done to your liking. The exact time depends on you like your carrots cooked along with the size of the pieces.
If you love this beginner cook recipe, be sure to check out the other videos/recipes. This series is me cooking my way through my old home economics book from junior high.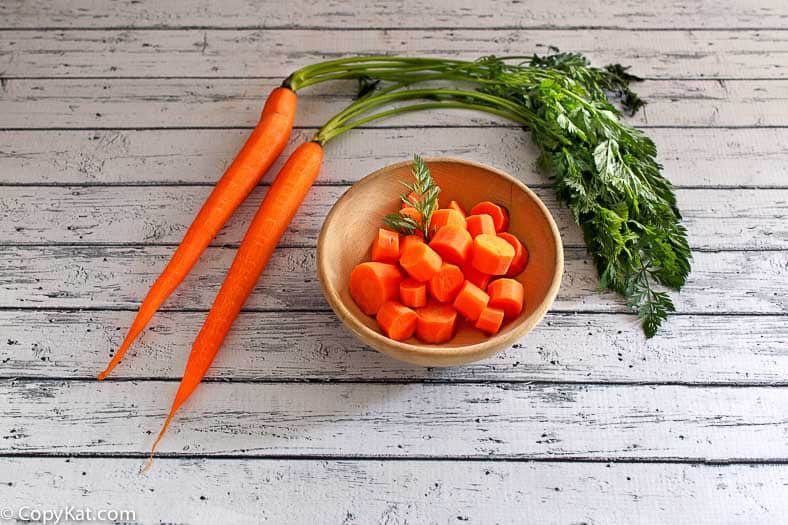 How to store cooked carrots
If you should have any carrots leftover, they can be saved and enjoyed later. Here are two different ways for you to store cooked carrots.
Refrigerate in an air-tight container for 3 to 4 days.
Freeze in an air-tight container for up to 3 months.
Can you freeze carrots?
Yes, you can. Freeze cooked carrots in an air-tight container for up to 3 months.
Freeze raw carrots take a little more work. You should first wash the carrots, peel them, and then cut in into 1/4 inch slices. You will need to blanch them in salted boiling water for 2 minutes. Cool promptly, drain and then store in either an air-tight container or in a zip-top bag. Carrots will last for about 3 months in the freezer.
I hope you will give this easy recipe for boiled carrots. Cooked carrots are simple to make, and it's a flavor the whole family will love.
Love carrots? Try these carrot recipes!
Favorite Vegetable Side Dishes
Check out more of my easy vegetable side dish recipes and the best Easter recipes here on CopyKat!
Ingredients
1

pound

carrots

2

cups

water

1

teaspoon

salt

1

tablespoon

butter
Instructions
Peel carrots, and then slice the carrots approximately 3/8 inch thick.

Place carrots in a medium-sized pot and add enough water to cover the carrots.

Add salt and stir the salt into the carrots.

Add 1 tablespoon of butter to the carrots.

Cook over medium heat for 10 to 12 minutes or until carrots are soft.
Nutrition
Calories:
71
kcal
|
Carbohydrates:
10
g
|
Protein:
1
g
|
Fat:
3
g
|
Saturated Fat:
1
g
|
Cholesterol:
7
mg
|
Sodium:
690
mg
|
Potassium:
362
mg
|
Fiber:
3
g
|
Sugar:
5
g
|
Vitamin A:
19030
IU
|
Vitamin C:
6.7
mg
|
Calcium:
41
mg
|
Iron:
0.3
mg