Buttery peas and carrots is a simple side dish to make. This is comfort food the whole family will love. This easy recipe takes less than 30 minutes from start to finish.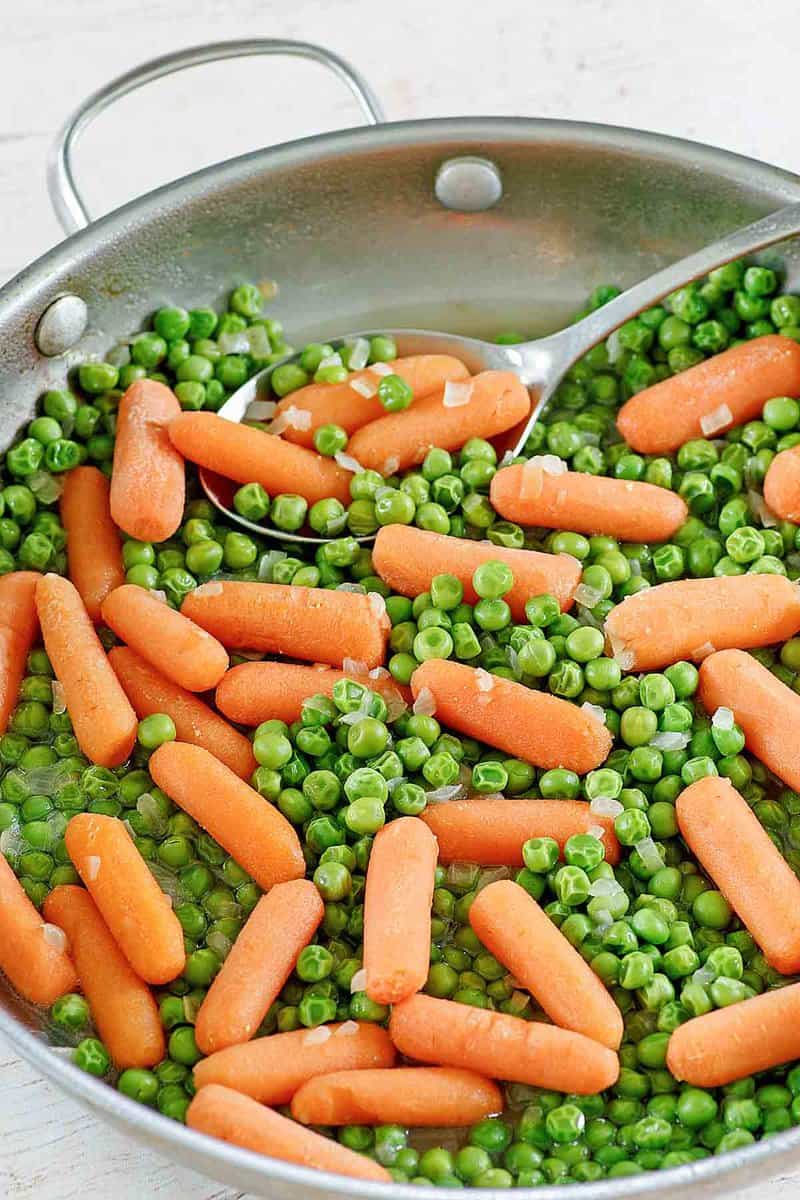 This post contains affiliate links. As an Amazon Associate, I earn from qualifying purchases.
What makes buttery peas and carrots the perfect side dish?
Dinner doesn't have to be complicated to be delicious. Home cooks need to have a handful of recipes in their back pocket that are quick and easy to make yet still taste great.
Cooking the main course is a snap; throw a roast or chicken into the oven, and the whole family is happy. Side dishes, on the other hand, can be a little more tricky.
A great side dish pleases everyone and plays well with many proteins. It gets bonus points if you can make it with staple ingredients in the house or in regular grocery stores.
It doesn't get much better than peas and carrots when it comes to a versatile side dish and a healthier alternative to mashed potatoes. They are great veggies with a sweet taste.
Why you should try this recipe for peas and carrots
This is a simple and delicious recipe. The natural sweetness of carrots pairs beautifully with the slightly earthy taste of peas. Butter ties them together with a rich, creamy undertone. This is the perfect way to get the whole family to eat their veggies!
How to choose the perfect carrot
Most people prefer tender-crisp carrots. That means the carrots are soft on the outside but still offer a little crunch in the middle.
For larger chunks of carrots, reaching the tender-crisp stage can take up to 9 minutes at a boil. Since this recipe calls for sauteing the carrots beforehand, reducing the boiling time to 6 – 8 minutes is adequate.
You will need to adjust the boiling time accordingly if you cut your carrots into smaller sizes or prefer harder or softer carrots.
Find out more on how long to boil carrots.
Recipe Ingredients
Here's a list of what you need to make this buttered peas and carrots recipe:
Frozen peas
Baby carrots or regular carrots
White onion
Butter
Water or chicken stock
Salt
Freshly ground black pepper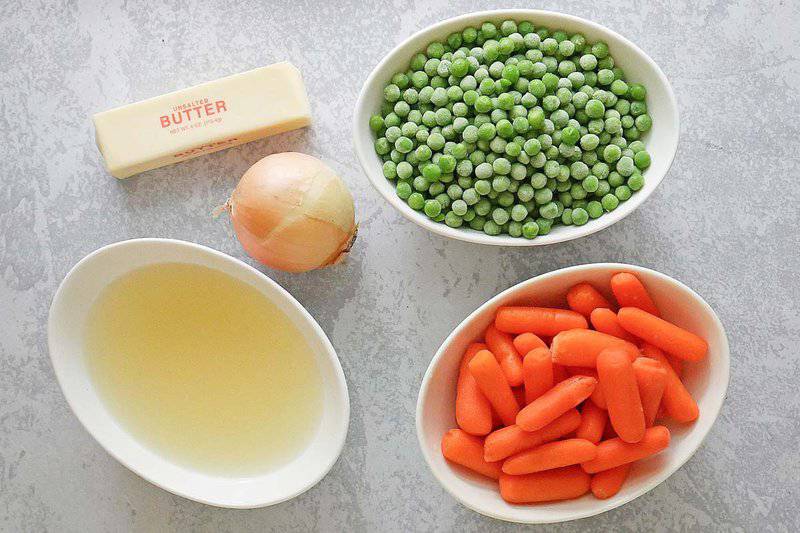 How to Cook Peas and Carrots
Melt butter in a large skillet over medium heat.
Add chopped onion, stir, and cook the onions for a couple of minutes.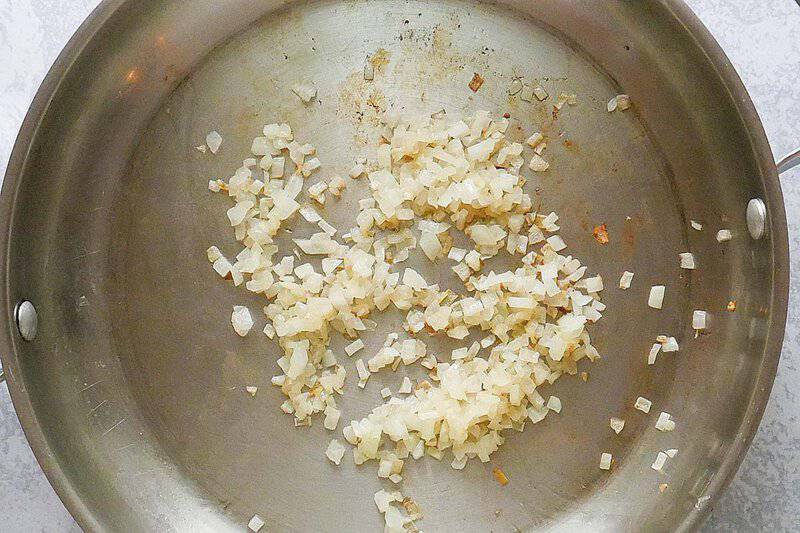 Add carrots and cook until they are tender.
Add frozen peas, water or stock, salt, and pepper. Stir to combine.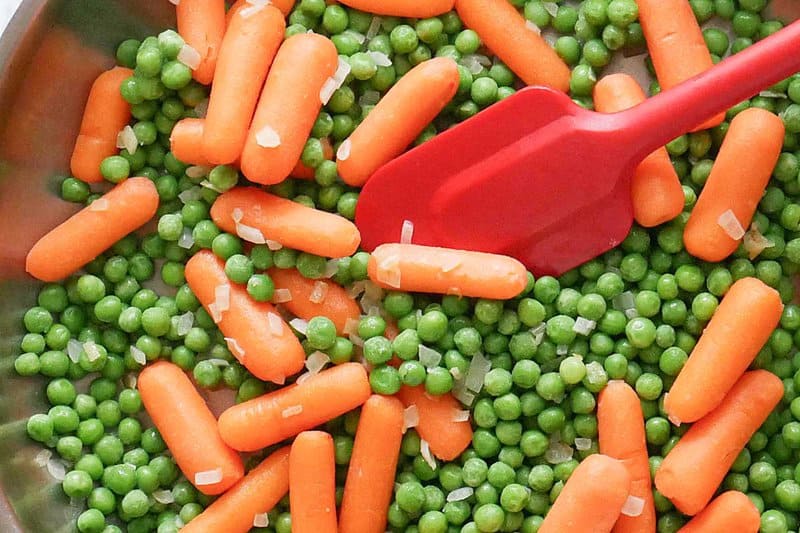 Cover and cook for 6 minutes or until the peas are cooked through.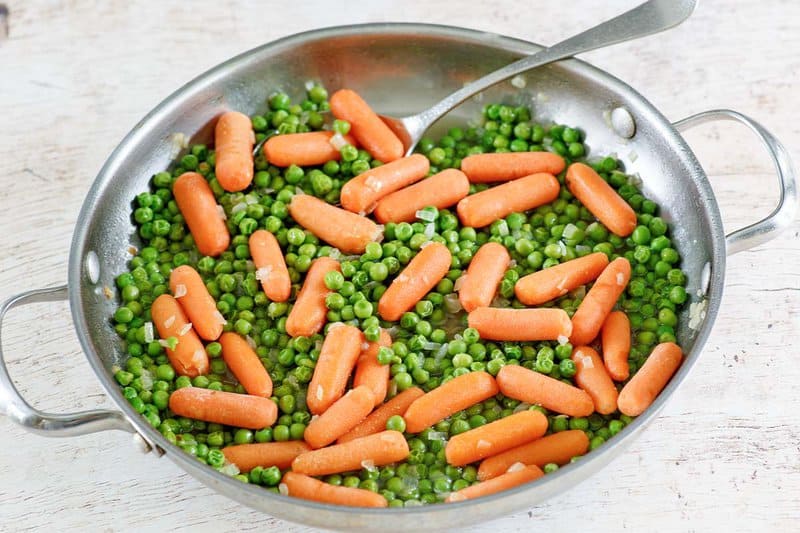 Recipe Tips
Hold off on adding all the salt until the end. It is easy to overwhelm the balance of this side dish with too much salt. Especially if you are using chicken stock to replace the water, leave out half the salt at the beginning of the recipe. You can taste and add more salt if you think it is necessary right before serving.
Please treat your peas right. Frozen peas are perfect for this dish. Flash-frozen peas have the best flavor unless you have access to straight-from-the-garden peas. You don't have to thaw peas but remove any large ice crystals before adding them to the chicken stock to avoid watering it down.
Add herbs and spices for additional flavor. Do you want to add a dash of flavor to your peas and carrots? Mix a bit of the spice used in the main course into the peas and carrots before serving. Sprinkle chopped fresh thyme, oregano, or rosemary on top for a garnish.
How to Store and Reheat Leftovers
Place the leftover peas and carrots in an airtight container and store the container in the refrigerator. They will last up to 5 days.
You can freeze leftover peas and carrots in a freezer-safe container or plastic freezer bag for up to 4 months. Thaw them in the fridge overnight.
Reheat peas and carrots in the microwave in 30-second increments until warmed through.
Tip: Add the leftovers to a homemade stew while cooking it.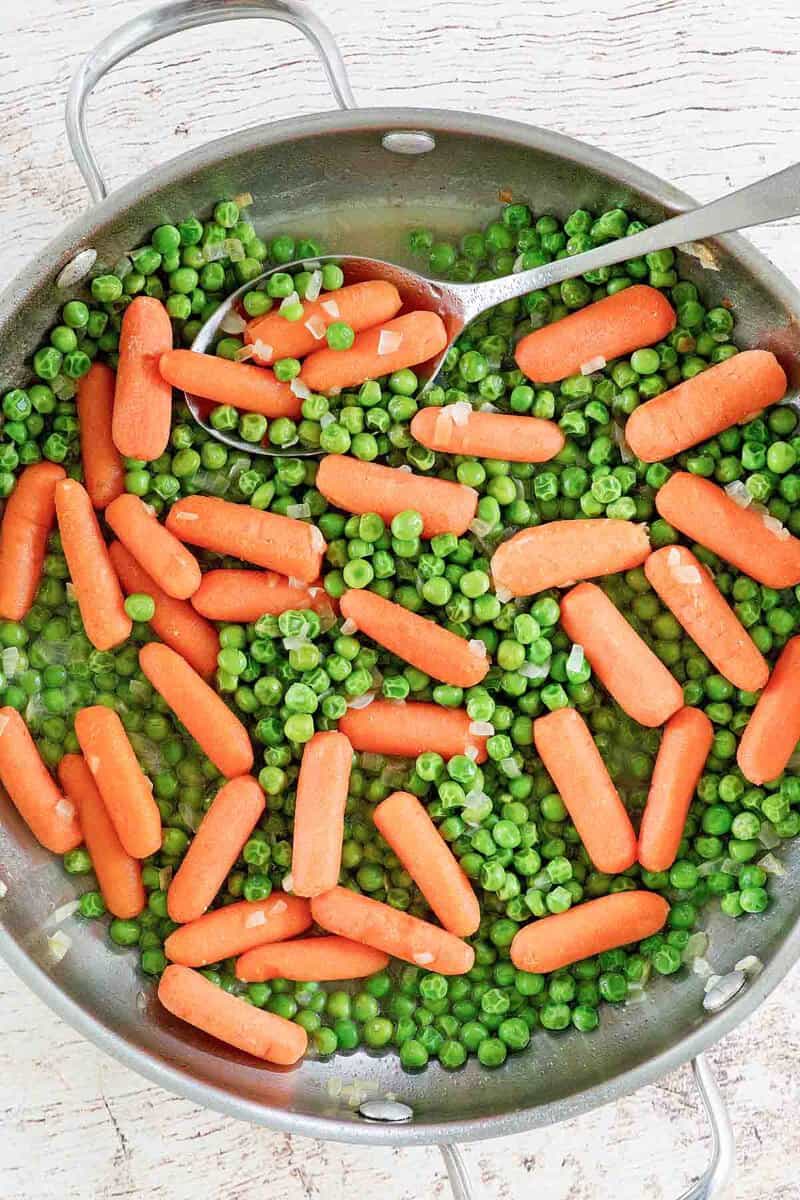 Popular Vegetable Side Dish Recipes
What to Serve Peas and Carrots With
Check out more of my vegetable side dish recipes and the best quick and easy recipes here on CopyKat!
Stay in touch and see what we are up to by following us on Instagram!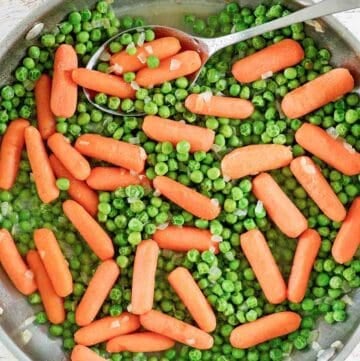 Ingredients
2

cups

frozen peas

1

pound

baby carrots

or 4 large carrots

2

tablespoons

finely chopped white onion

or shallots

4

tablespoons

butter

1/2

cup

water

or chicken stock

1

teaspoon

salt

1/4

teaspoon

freshly ground black pepper
Instructions
Heat butter in sauté pan over medium heat. Use a pan that has a lid so you can cover it for the final cooking step.

When the butter foams, add finely chopped onion.

Cook and stir for 2 minutes.

Add carrots and cook until they are tender.

Add frozen peas and stir to coat them well.

Add water or chicken stock, salt, and pepper.

Cover and cook for 6 to 8 minutes or until the peas are cooked through.
Nutrition
Calories:
201
kcal
|
Carbohydrates:
20
g
|
Protein:
5
g
|
Fat:
12
g
|
Saturated Fat:
7
g
|
Cholesterol:
30
mg
|
Sodium:
775
mg
|
Potassium:
446
mg
|
Fiber:
7
g
|
Sugar:
10
g
|
Vitamin A:
16542
IU
|
Vitamin C:
32
mg
|
Calcium:
58
mg
|
Iron:
2
mg