Cracker Barrel Sunday Chicken has been a recipe that was requested from viewers just like yourself. This menu item is only served on Sunday's so make sure you can get there on a Sunday, and if you can't, I have a copycat recipe for you.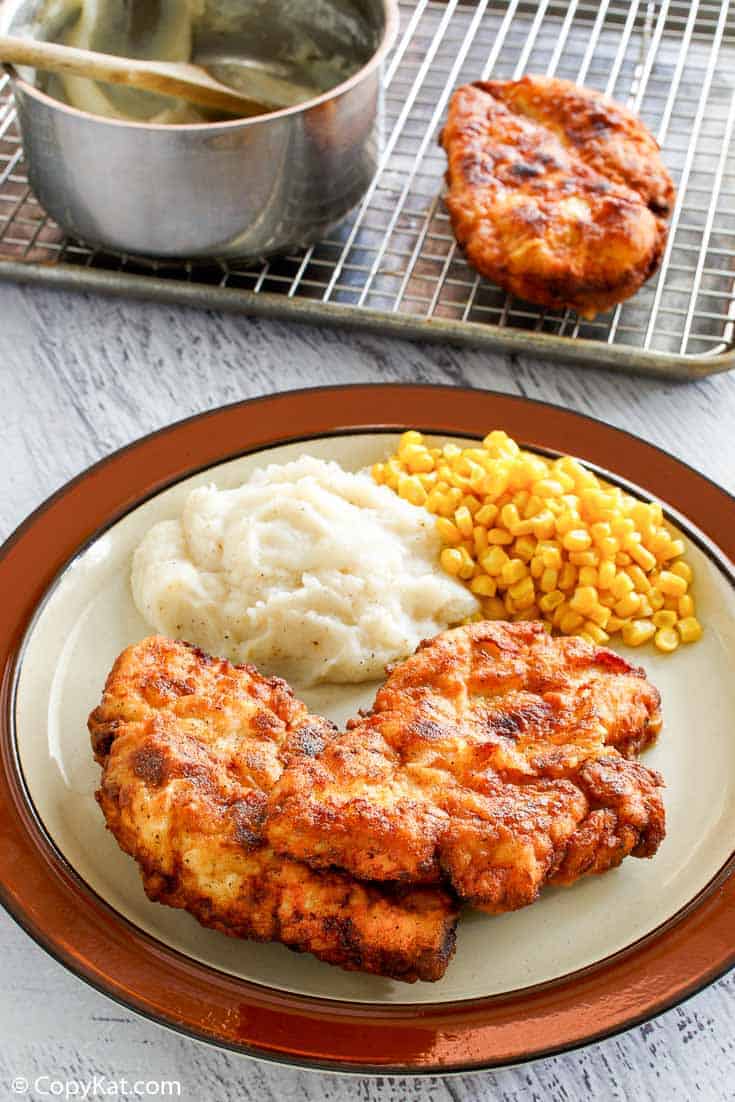 Cracker Barrel Sunday Chicken
Cracker Barrel is well known for its down-home menu, and this dish is no exception. I know I have made a point to go there on a Sunday to try this delicious fried chicken.
Now this chicken is easy to make and will remind you of the wonderful fried chicken the ladies in your family used to make. I grew up in the Midwest, and in Missouri, fried chicken was a dish that people would measure a good cook. It is simply made and tastes wonderful. The breading is crispy and thick.
Ingredients
Here's what you need to make southern fried chicken:
Boneless, skinless chicken breasts
Flour
Salt and pepper
Buttermilk
Water
Oil for frying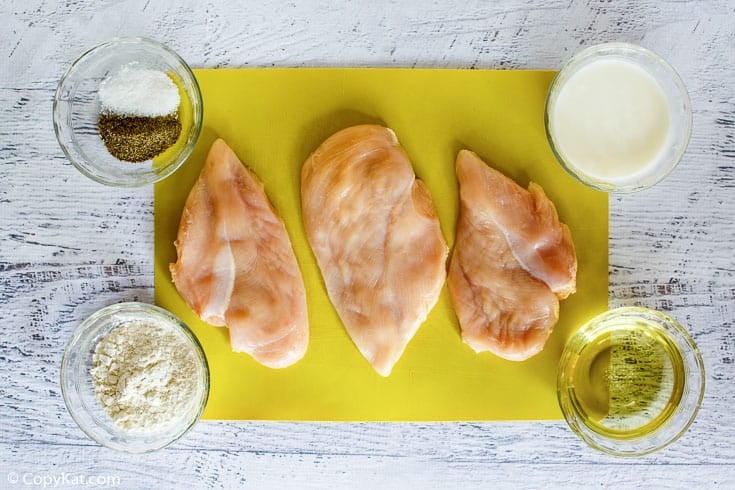 Buttermilk gives this dish its special taste. If you can get it, I personally love Borden's Country Style buttermilk, it is rich and thick buttermilk for this recipe.
I tried making this with the powdered buttermilk that you rehydrate with water, it didn't give me good results. This is one of the few times I specifically buy buttermilk for cooking. You can always make some buttermilk biscuits with this to help use up all of the buttermilk.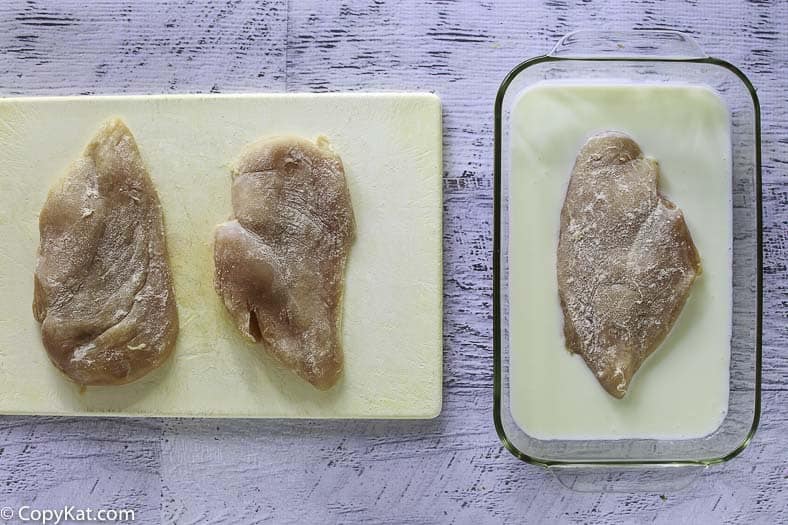 This chicken gets fried in oil. I personally like in this order for frying: peanut oil, cottonseed oil, Crisco brand shortening, then I will use generic vegetable oil to fry in. I like how peanut oil crisps everything up, and if you are clean with your batter, by shaking all of the excess loose flour off, you can reuse the oil later. Again, this is my personal preference, but I get asked this fairly often.
This chicken is prepared quickly so you can have this on your dinner table in about 20 minutes. So this is a perfect main dish for any night of the week.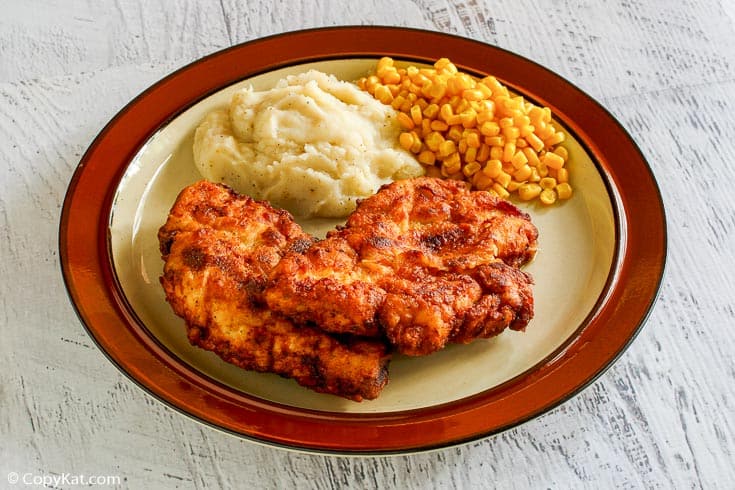 Popular Cracker Barrel Copycat Recipes
Easy Chicken Recipes
Be sure to take a look at more of my Cracker Barrel copycat recipes and the best chicken restaurant recipes.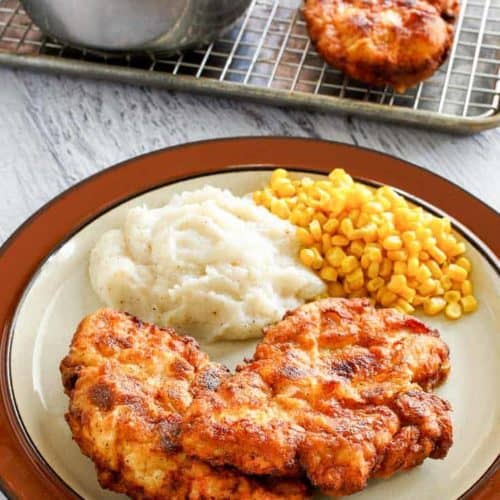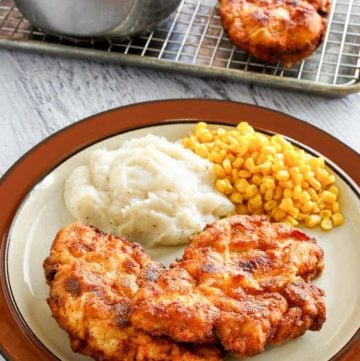 Ingredients
oil

for

frying

4

boneless,

skinless chicken breasts

2

cups

all-purpose flour

2

teaspoons

salt

2

teaspoons

ground black pepper

1

cup

buttermilk

1/2

cup

water
Instructions
Pour 3 to 4 inches of oil into a deep fryer or large pot and preheat the oil to 350 degrees. Prepare seasoned flour by combining the flour, salt, and pepper in a bowl. Stir to combine well. In another bowl mix together the buttermilk and water. If your chicken breasts are not fairly uniform in size place them between two pieces of wax paper and gently pound them out with a meat pounder until they are more uniform in size. This will help with even cooking times. Pat chicken breasts dry with a paper towel. Season the chicken with salt and pepper and then dredge into the flour, dip in buttermilk, and then dredge again in the seasoned flour and deep-fry the chicken pieces in the hot oil. Turn the chicken breasts during the cooking to make sure that both sides of the chicken are golden brown. This should take 7 to 8 minutes for each one to cook. When the chicken is done drain in a wire wrack.
Nutrition
Calories:
503
kcal
|
Carbohydrates:
51
g
|
Protein:
8
g
|
Fat:
29
g
|
Saturated Fat:
23
g
|
Cholesterol:
7
mg
|
Sodium:
1229
mg
|
Potassium:
161
mg
|
Fiber:
1
g
|
Sugar:
3
g
|
Vitamin A:
100
IU
|
Calcium:
83
mg
|
Iron:
3
mg