O'Charley's California Chicken Salad with balsamic dressing is simply incredible! This hearty dinner salad is loaded with tasty toppings and is sure to be a favorite.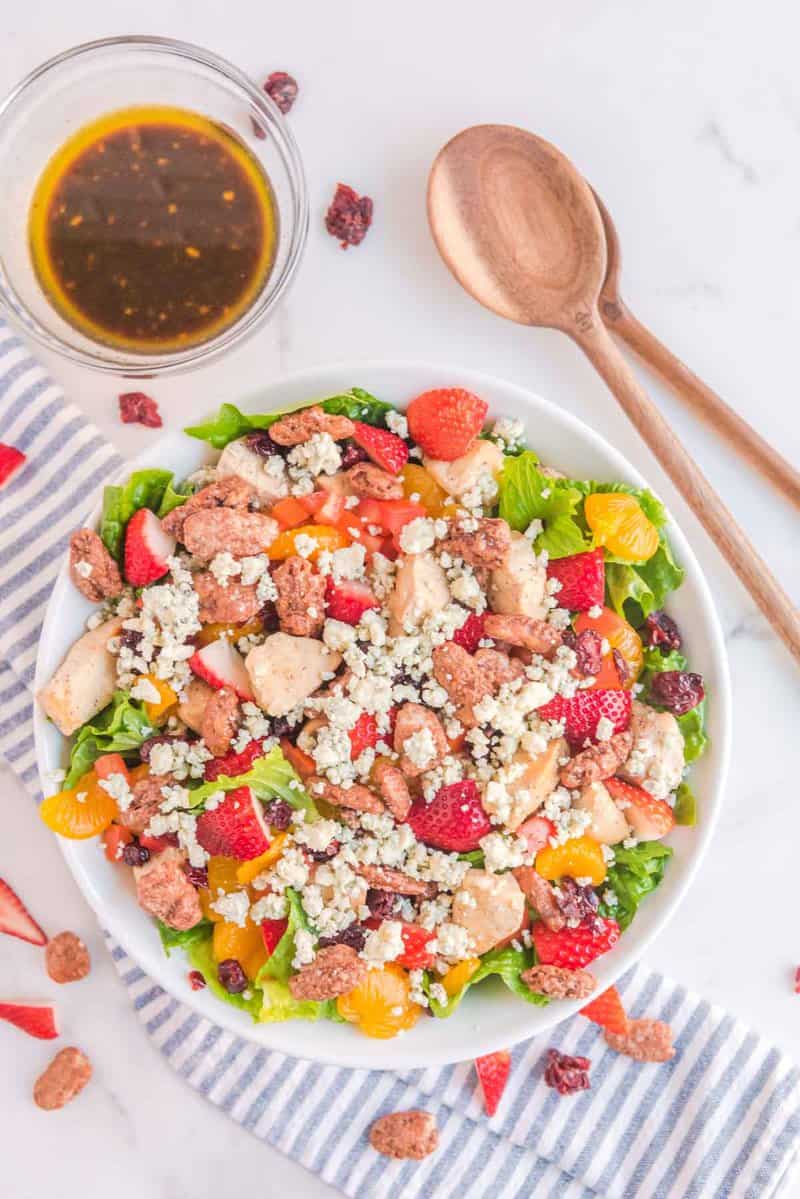 This post contains affiliate links. As an Amazon Associate, I earn from qualifying purchases.
What Makes O'Charley's California Chicken Salad One of the Most Desired Salads?
It's hard to imagine a better salad than O'Charley's California Chicken Salad! It's so good! It combines grilled chicken with mandarin oranges, candied pecans, strawberries, dried cranberries, blue cheese crumbles, and homemade dressing. It's wonderful for its ease and delectability.
You can make O'Charley's California Chicken Salad in just a few minutes, and the dressing is just as easy. It's so easy to make from scratch that this recipe will soon be one of your favorites!
Why This Is the Recipe You Should Try
You can make something wonderful from leftover chicken in just a few minutes. Alternatively, turkey would be a good option for this creamy salad.
You can serve this over mixed greens as a delicious lunch. Or scoop it onto a croissant for a wonderful sandwich treat you can take with you.
Ingredients For O'Charley's California Chicken Salad
For this recipe, you'll need the following:
Salad:
Olive oil
Boneless, skinless chicken breast, uncooked & cubed
Salt & pepper
Shredded romaine lettuce
Roma tomatoes, diced
Blue cheese crumbles
Candied pecans
Fresh strawberries, sliced
Mandarin oranges, drained
Dried cranberries
Dressing:
Balsamic vinegar
Honey
Brown sugar
Minced garlic
Salt
Pepper
Olive oil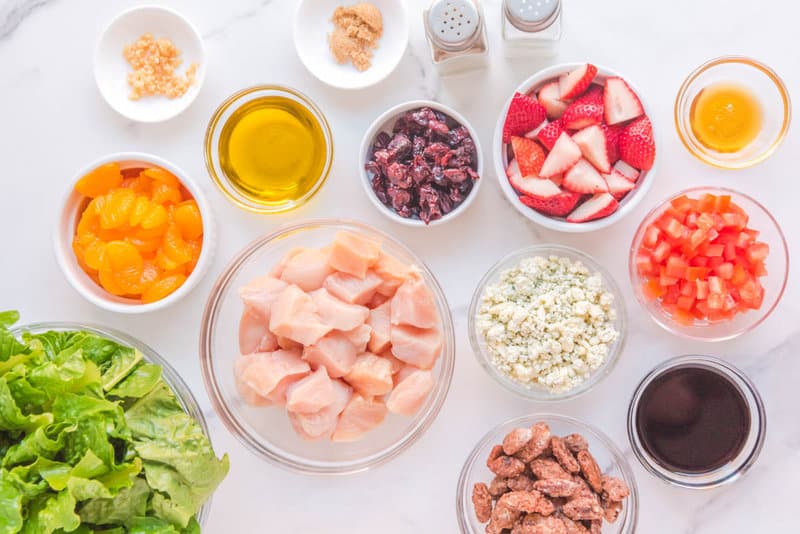 How To Make O'Charley's California Chicken Salad
To prepare this recipe, here are the instructions:
Combine all dressing ingredients in a small mixing bowl. Set the dressing to one idea until you're ready to use it.
Over medium heat, add olive oil to a medium-sized cooking skillet. Heat the oil for about 2-3 minutes.
The chicken should be cooked through after 6-8 minutes of cooking in the skillet, tossing frequently. Allow the chicken to cool after removing it from the heat.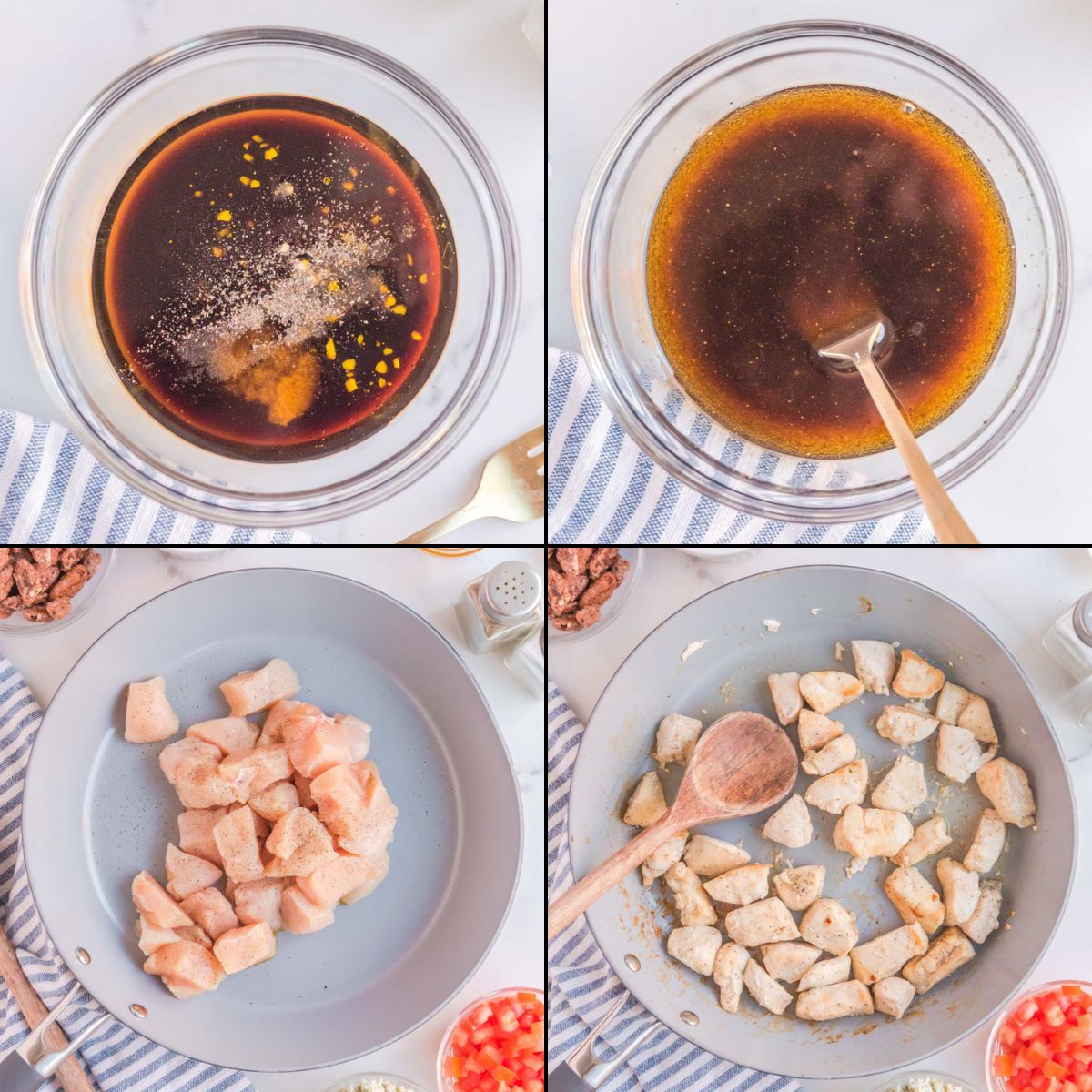 Put the lettuce in a large mixing or salad bowl.
Scatter the salad toppings over the lettuce.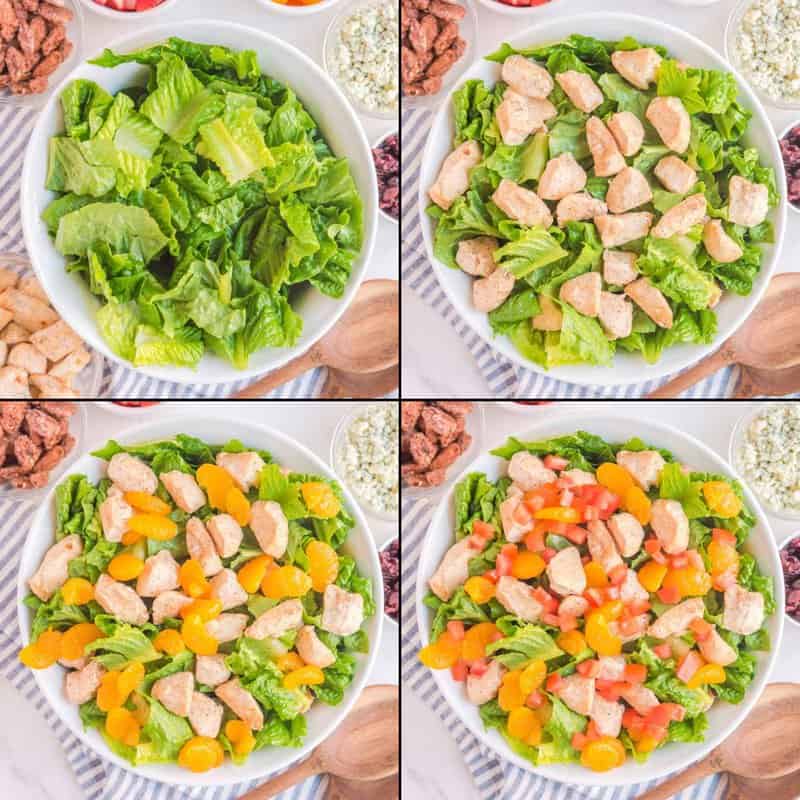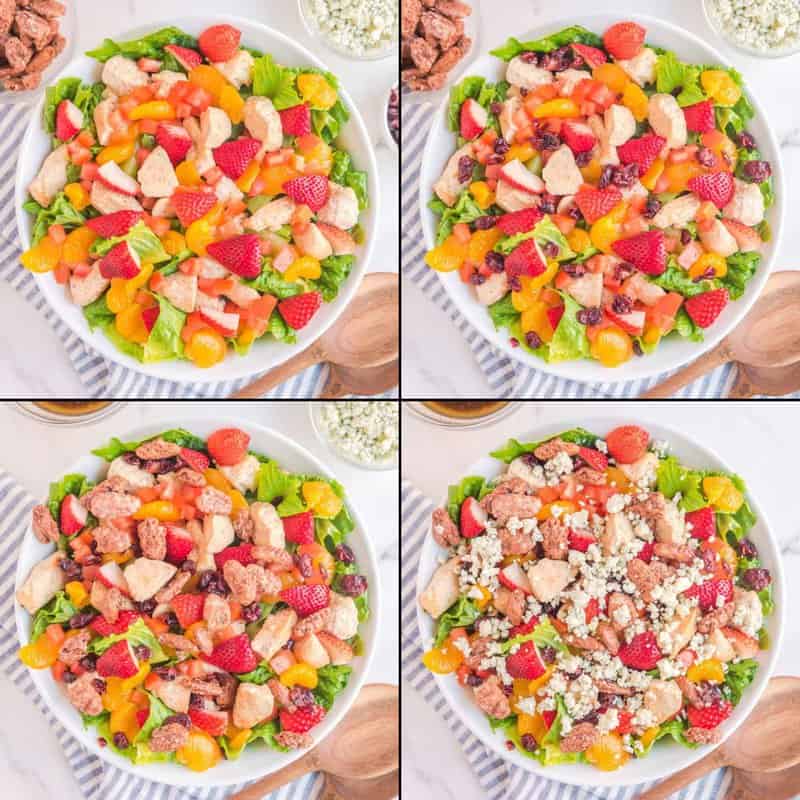 Top salad with homemade dressing before serving.
Garnish with additional blue cheese crumbles, pecans, strawberries, oranges, and dried cranberries (optional if desired).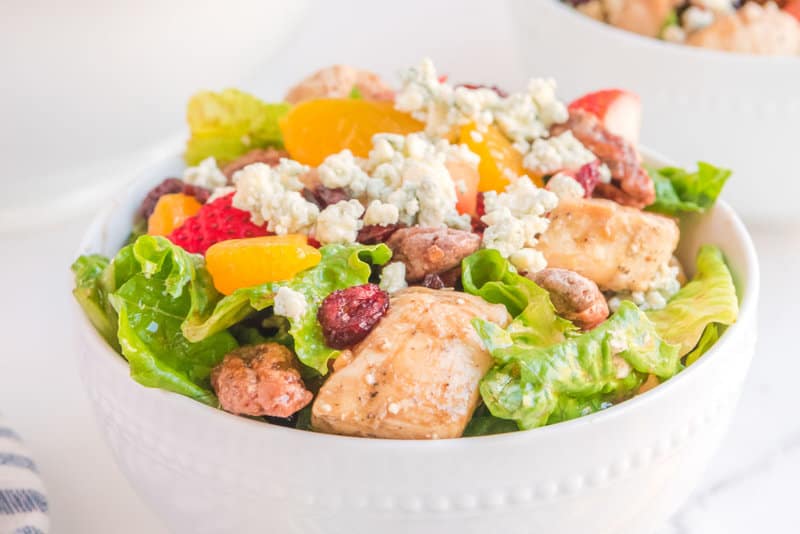 What can you serve with this salad?
Love O'Charley's? Be sure to try out O'Charley's Baked Potato soup, or the Caramel Pie, both of these would be a good addition to your lunch or dinner.
Recipe Variations
You'll love this recipe just as it is, but to give you some more options, here are some variations you should try.
One of the most popular variations involves guacamole or avocado slices. Add a dollop or cut up some avocado to add that delectable flavor.
Replace the cooking of the chicken with rotisserie chicken purchased from a store to get that flavor variation you're still sure to love.
Use fried chicken you make yourself or buy from the store or restaurant. Depending on what kind of fried chicken you use, you can add spicy accents to your favorite recipe.
Scoop your O'Charley's California Chicken Salad onto a croissant or sourdough bread slice for a sandwich that's easier to eat at work or when you're on the go.
Use a tortilla or lettuce to wrap your chicken salad into another on-the-go favorite treat.
While these are some of the most popular variations, you can also try variations on the fruit for your O'Charley's California Chicken Salad. You can also add in jalapenos or green chile to give the recipe a bit more kick.
Top Tips for O'Charley's California Chicken Salad
Here are just a few of my favorite top tips and tricks I use to make O'Charley's California Chicken Salad even better!
Be sure to give the dressing an additional mix before adding it to the salad.
In addition to pouring the dressing over the final salad, you can serve individual portions of it.
Fruity, fresh, and zingy, this salad is sure to please! Chicken adds a savory base to the salad. The bitterness of the cheese and the zinginess of the fruits give this salad a very tasty balance!
Despite the fact that all ingredients are notable in each bite, it's hard to pinpoint the predominant taste in this salad. The cheese, strawberries, pecans, chicken, and dressing all take center stage.
A bitter, zingy taste permeates the dressing. It's perfect for this salad.
You can also use store-bought balsamic vinaigrette instead of homemade dressing if you're looking for an even faster prep time.
How to Store O'Charley's California Chicken Salad
Airtight containers are ideal for storing leftover chicken salad for up to two days. It's still safe to eat after two days, but your avocado may start to brown (if you've added it to the recipe). You'll probably enjoy your O'Charley's California Chicken Salad more if you eat any leftovers in the first day or two.
If preferred, you can store your O'Charley's California Chicken Salad in a small bowl, covered with plastic wrap. You can freshen the recipe with lime juice.
Note: According to the FDA, you should not eat your chicken salad if it's been sitting out for more than 2 hours.
Favorite Salad Recipes
Popular Chicken Recipes
Check out more of my easy salad recipes and the best chicken recipes on CopyKat!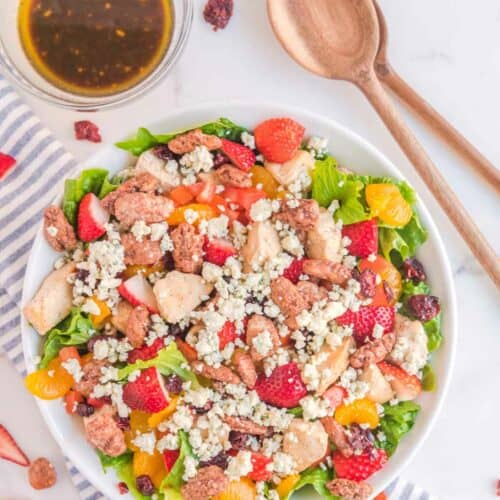 Ingredients
Dressing
½

cup

olive oil

¼

cup

balsamic vinegar

1

teaspoon

honey

1

teaspoon

brown sugar

1

teaspoon

minced garlic

½

teaspoon

salt

½

teaspoon

pepper
Salad
1

tablespoon

olive oil

1

pound

boneless skinless chicken breasts

cut into bite-sized cubes

1

teaspoon

salt

½

teaspoon

ground black pepper

3

cups

shredded romaine lettuce

½

cup

canned mandarin oranges

drained

2

Roma tomatoes

diced

½

cup

fresh sliced strawberries

¼

cup

dried cranberries

⅓

cup

candied pecans

⅓

cup

blue cheese crumbles
Instructions
In a small mixing bowl, combine all the dressing ingredients and mix well. Cover and refrigerate until ready for use.

Heat the olive oil in a medium skillet over medium heat for about 2 to 3 minutes. Add the chicken, salt, and pepper and cook for 6 to 8 minutes, tossing frequently, until the chicken is cooked through. When done, remove from the heat and allow to cool.

Place the lettuce in a large salad bowl and top with the oranges, tomatoes, strawberries, cranberries, pecans, and blue cheese crumbles. Toss to combine.

Just before serving, pour the dressing over the salad and toss to combine, or you can serve the dressing on the side.
Notes
Give the dressing an additional mix before adding it to the salad. You can add the dressing to the entire salad or to individual servings.
You can substitute the homemade dressing with store-bought balsamic vinaigrette.
You can also substitute cooking the chicken with store-bought rotisserie chicken.
Nutrition
Calories:
378
kcal
|
Carbohydrates:
15
g
|
Protein:
19
g
|
Fat:
27
g
|
Saturated Fat:
5
g
|
Polyunsaturated Fat:
3
g
|
Monounsaturated Fat:
17
g
|
Trans Fat:
0.01
g
|
Cholesterol:
54
mg
|
Sodium:
787
mg
|
Potassium:
473
mg
|
Fiber:
2
g
|
Sugar:
12
g
|
Vitamin A:
2412
IU
|
Vitamin C:
16
mg
|
Calcium:
72
mg
|
Iron:
1
mg