Shrimp Pasta Salad is a great dish for potlucks and summer parties. When made ahead of time, this cold pasta salad gets better and better as the flavors mingle together.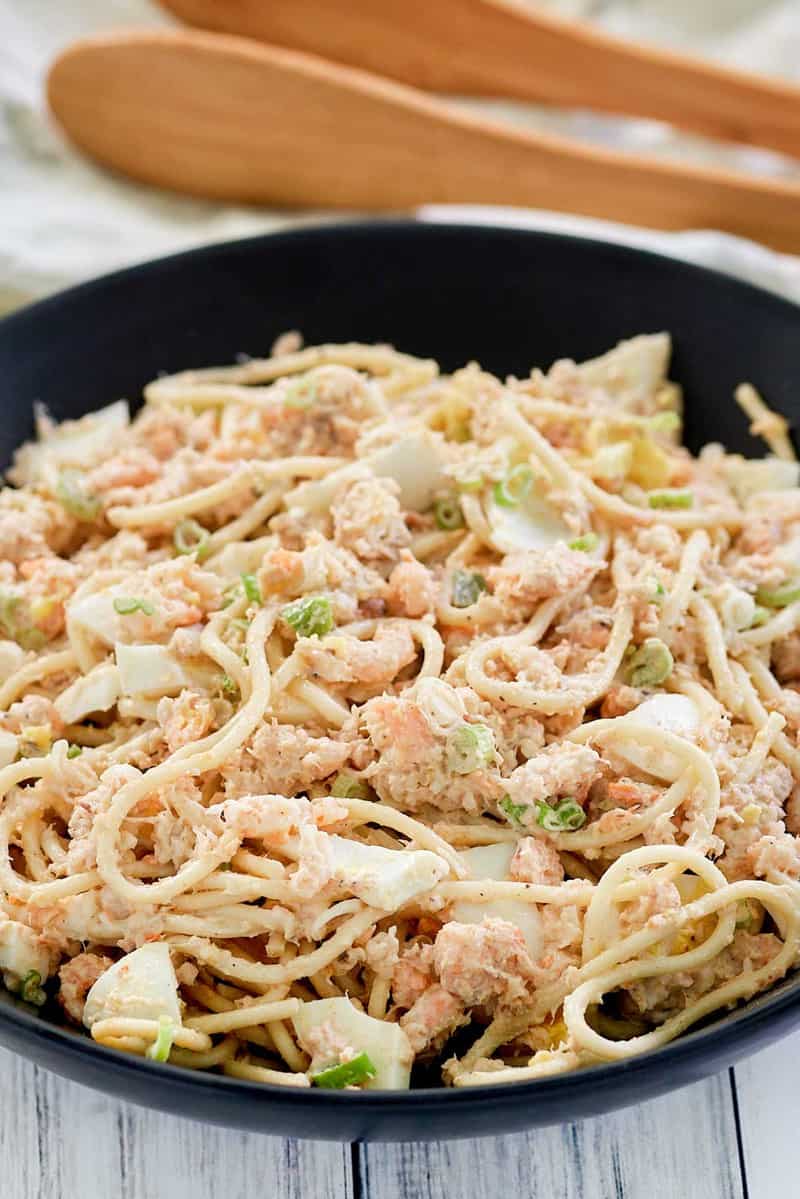 This post contains affiliate links. As an Amazon Associate, I earn from qualifying purchases.
What Makes This Cold Shrimp Pasta Salad So Good?
Once the heat of the summer arrives, the less time you're stuck in a hot kitchen, the better. That makes it the perfect time of year to try this Shrimp and Pasta Salad for your next cookout.
This recipe is loaded with sweet shrimp and vermicelli in a creamy sauce with a hint of tropical flavors. Make it the night before, and you can spend the next day having fun and still serve your family a delicious and satisfying homemade meal. They'll love every bite!
Why Cold Shrimp Salad Is a Great Dish To Take to a Potluck
Are you looking for something simple yet unique enough to impress at your next potluck or cookout? Then look no further than this recipe.
Everyone loves shrimp, and who can say no to pasta? This recipe goes with just about everything, and since it is delicious, either chilled or at room temperature, you never have to worry about keeping it warm or cold.
Ingredients
To make creamy shrimp pasta salad with mayo, you'll need:
Vermicelli pasta or spaghetti
Green onions
Pickapeppa Sauce
Cooked bay shrimp
Hard-boiled eggs
Light mayonnaise
Salt and Pepper
Ingredient Notes
Bay shrimp are tiny. You can typically find them frozen and precooked in the freezer section of your grocery store. You can also use fully cooked larger shrimp.
Pickapeppa sauce is a Jamaican condiment. It is tangy with a certain amount of sweetness and the flavor of fruit coming through. Pickapeppa sauce is essential for this dish, so get it online if you can't find it in the supermarket.
If you don't know how to make perfect hard-boiled eggs check out this stovetop recipe. Pressure cooker owners can use this foolproof Instant Pot hard boiled egg recipe instead.
How to Make Shrimp Pasta Salad
This salad is so simple to make. Here are the steps for cold shrimp pasta with mayo::
Boil the vermicelli according to the package directions.
While the vermicelli is cooking, chop the hard-boiled eggs into medium dice. Slice the green onions into eight-inch pieces on the bias.
Place the cooked pasta in a colander and run it under cold water. Set the colander in the sink to continue to drain.
Transfer the pasta to a large bowl after the pasta is completely drained.
Toss the pasta with the green onions.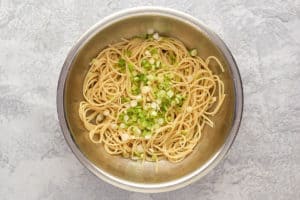 Add Pickapeppa Sauce, shrimp, eggs, mayonnaise, salt, and pepper.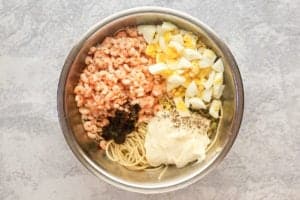 Lightly toss or stir to combine.
Cover the pasta mixture with plastic wrap and put in the fridge for 24 hours before serving to allow the flavors to meld.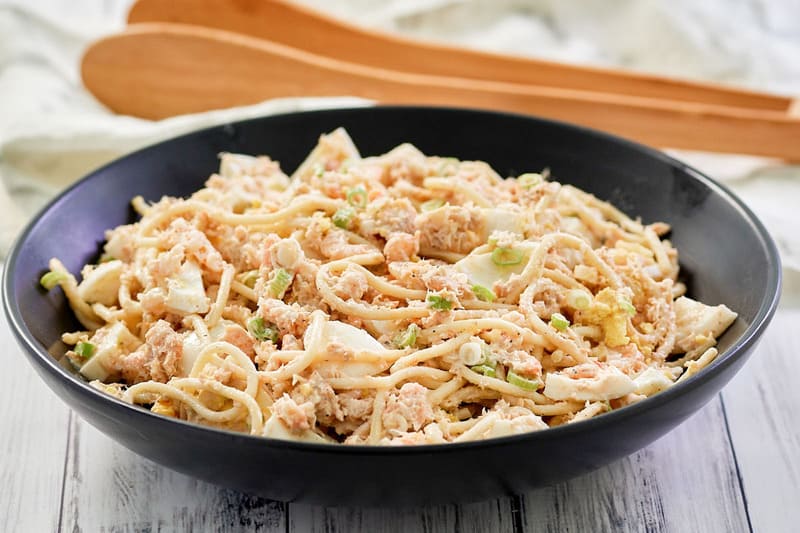 Ways to Customize This Shrimp Pasta Salad Recipe
Change things up by switching out the noodles and mixins.
Add in veggies like celery or red bell pepper.
Add fresh dill or other herbs and spices. Old Bay Seasoning goes great with shrimp.
Use penne or your favorite pasta shape. Elbow macaroni would make a great shrimp macaroni salad.
Switch out the bay shrimp for crab meat.
Try one of these combinations or come up with your own and leave your version down in the comment section:
Japanese Shrimp Salad With Soba Noodles
Cook soba noodles according to the package, rinse, and drain.
In a large mixing bowl, combine:
a cup each of shredded carrots and red cabbage
a half-cup of cooked edamame
a half-cup of sliced onions
two tablespoons of minced garlic
the juice of half a lime
a pound of cooked bay shrimp
a cup of sriracha mayonnaise,
Add the drained soba noodles to the mixing bowl with the other ingredients.
Toss lightly, and chill before serving.
Lemon-Dill Shrimp Salad With Rotini
Follow the directions on the box to cook the rotini.
In a mixing bowl, combine a cup of light mayo with a teaspoon of powdered Italian dressing mix.
Add the following to the mixing bowl:
a cup of peeled and chopped cucumber
a third cup of fresh chopped dill
a quarter cup of lemon juice
a pinch of salt and fresh ground pepper.
Toss the pasta with the sauce. Chill and serve.
What To Serve With Shrimp Pasta Salad
Go ahead and serve this flavorful and substantial shrimp salad as a main course with a lightly dressed green salad. Or, if you prefer, make it a filling side dish.
This recipe pairs well with any meat off the grill, especially a thick Bourbon Street Steak or smoked steak.
How Long Does Shrimp Pasta Salad Last
Since this pasta salad is loaded with mayonnaise and shrimp (two ingredients that can spoil quickly), try to finish it within three to four days. If you decide to leave the pasta out long enough to reach room temperature, be safe and throw it out.
Storing Easy Shrimp Pasta Salad
Keep the pasta in a covered bowl or portion it into a smaller individual airtight container. Store it in the refrigerator.
It is best not to freeze shrimp salad with pasta, especially if you bought frozen shrimp.
Love Shrimp? Try These Recipes
Favorite Cold Pasta Salad Recipes
Check out more of my easy seafood recipes and the best pasta recipes here on CopyKat!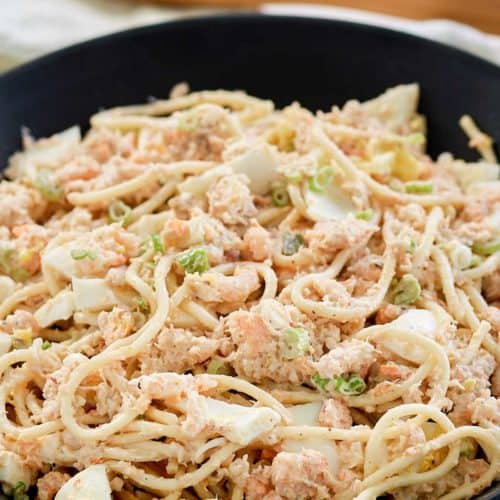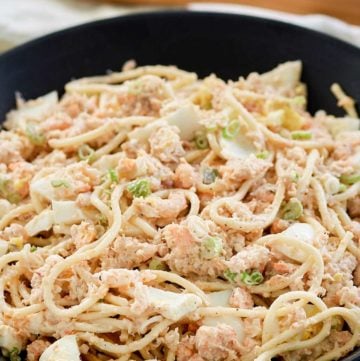 Ingredients
6

ounces

vermicelli pasta

1/2

cup

chopped green onions

4

teaspoons

Pickapeppa Sauce

1

pound

cooked bay shrimp

3

hard-cooked eggs

chopped

1

cup

light mayonnaise

salt to taste

pepper to taste
Instructions
Cook the vermicelli according to the package instructions. Rinse with cool water, drain, and set aside to cool.

Toss the pasta with the green onions.

Add Pickapeppa Sauce, shrimp, eggs, mayonnaise, salt, and pepper. Lightly toss to combine.

Refrigerate for 24 hours before serving.
Nutrition
Calories:
232
kcal
|
Carbohydrates:
20
g
|
Protein:
14
g
|
Fat:
9
g
|
Saturated Fat:
1
g
|
Cholesterol:
217
mg
|
Sodium:
764
mg
|
Potassium:
101
mg
|
Fiber:
0
g
|
Sugar:
1
g
|
Vitamin A:
180
IU
|
Vitamin C:
5
mg
|
Calcium:
102
mg
|
Iron:
1.7
mg