Old Bay Seasoning is a classic spice mix used in seafood dishes. You can make the best homemade Old Bay seasoning with fresh spices for maximum flavor. This easy copycat recipe will be your new go-to when you want to elevate any dish that calls for this spice blend in the recipe.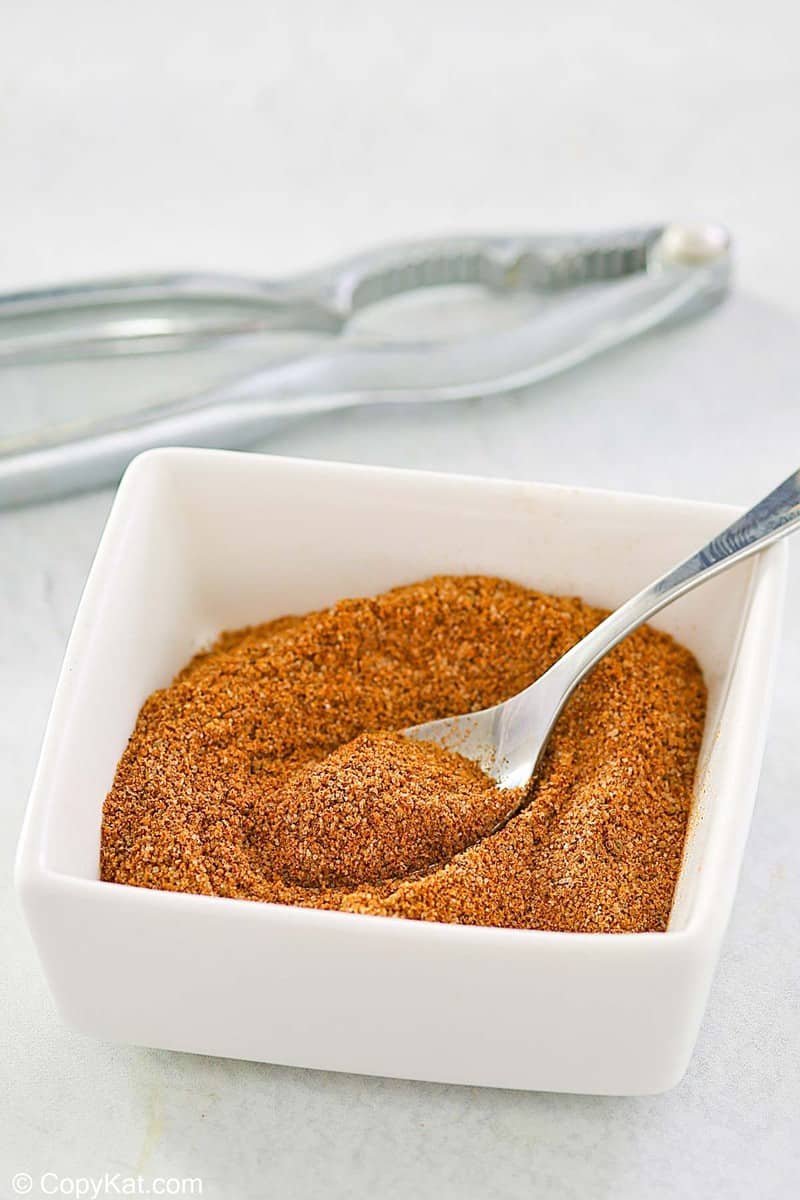 Why This is the Best Old Bay Seasoning Recipe
There is nothing like homemade Old Bay seasoning, it is a very unique blend. You can make the seasoning with fresh spices and know exactly what is in the mix. You can also use organic spices in the blend.
You can also tweak the seasoning by increasing or decreasing the amount of any of the spices.
Why You Should Make Your Own Old Bay Seasoning
The fresh whole seeds, herbs, and spices make all the difference in the flavor of the Chesapeake bay area. When you want to season seafood Old Bay's unique blend of spices has such a great taste, it will soon become a spice blend you will want to use again and again.
When you use whole seeds, they do not have time to release or lose any of their flavors. Also, the flavors will not be muted as they can be with store-bought ground seasonings or Old Bay seasoning in the can.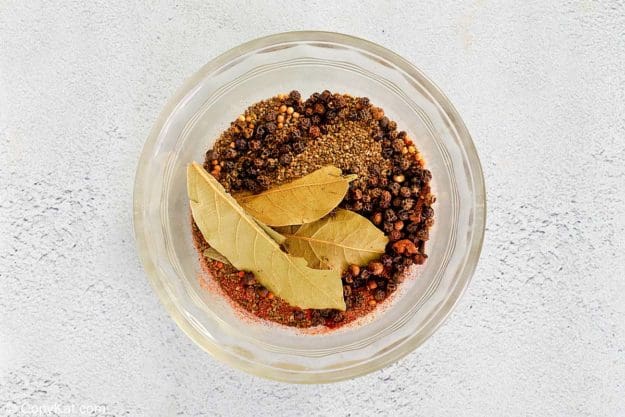 What is in Old Bay Seasoning?
Old Bay seasoning is a mixture of earthy herbs and spices. The blend is perfect for seafood, giving it the ultimate land and sea flavor combination.
Here is a list of all the Old Bay seasoning ingredients:
Celery Seed
Celery seeds are small and are a light brown color. They are a little bit of a hot seasoning and are a little bitter. They are actually a great source of calcium and iron. If you do not have celery see on salt, celery salt can also work in its place.
Whole Black Peppercorns
Whole black peppercorns are definitely a powerhouse of flavor. They are hot and spicy and best when they are served ground. A surprising fact is that it is also a great anti-inflammatory. Black pepper really gives this seasoning blend its rick spicy flavor.
Bay Leaves
Bay leaves are an underrated spice. It is a fragrant leaf taken from the Laurel tree and dried. It is often used in soups and stews because the longer they are cooked the more flavor they omit. They actually have good nutritional value. It provides vitamin A, vitamin C, iron, potassium, and more.
Whole Cardamom
Cardamom is a pod with a seed inside of it. It comes from various plants in the ginger family. Cardamom is widely used in Indian, Middle Eastern, and Arabic dishes. Cardamom can have a sweet flavor along with small pops of both lemon and mint flavor.
Mustard Seed
There are many different kinds of mustard seeds. Brown, black, yellow, and white are the most common varieties. All mustard seeds are fairly pungent in their spicy flavor, with black being the most pungent. Mustard seeds are in the top 5 most used spices in the United States. If you can't find mustard seeds you can use dry mustard.
Whole Cloves
This spice is made from the buds of an evergreen tree. They are small and reddish-brown in color. Clove has a very intense warm spice flavor and is particularly pungent in its aroma.
Sweet Hungarian Paprika
Sweet Hungarian paprika is a complex flavor between sweet and spicy. It is very red in color and is often used as a topping to sprinkle on deviled eggs, egg salad, or potato salad.
Mace
Mace is the sister spice to nutmeg. It is derived from the nutmeg tree and is the dried protective casing around the nutmeg seed. Mace has a less sweet taste than the nutmeg does as well as a bolder flavor.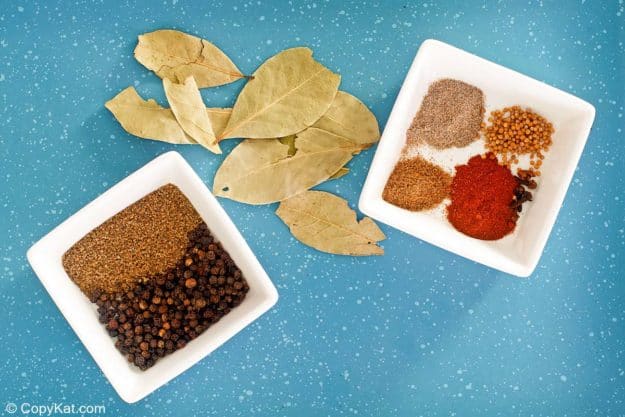 How to Make Old Bay Seasoning
Place all the ingredients in a small spice grinder or small food processor.
Grind or process until the spices are finely ground.
Store the seasoning in an airtight glass spice jar, or other glass jar with a lid.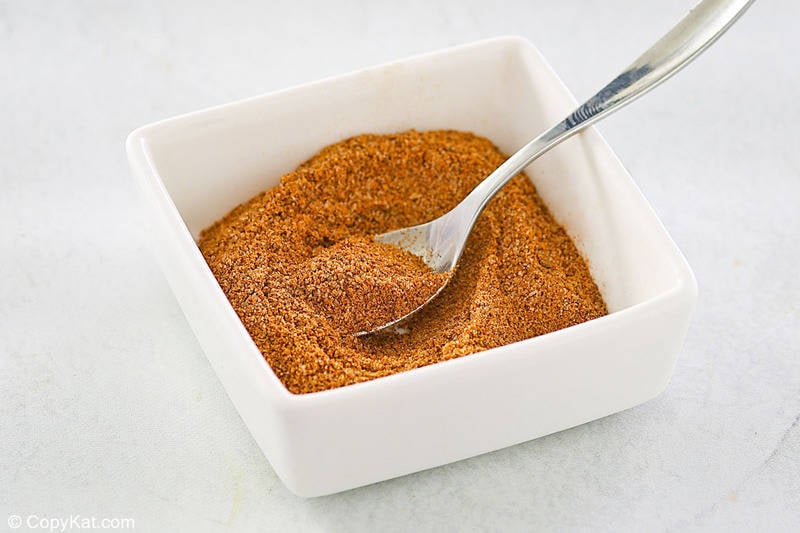 Does this homemade blend really taste like Old Bay seasoning?
Yes, and even better! Almost anything is better when it is fresh, and this homemade Old Bay seasoning is no exception.
You will still get the same great flavors you know and love from store-bought Old Bay seasoning, but it will have a stronger and crisper flavor.
How to Use Old Bay Seasoning
Old Bay seasoning is a very versatile seasoning and not just for seafood. You can use it on chicken and vegetables too.
The most common and popular uses are low country boils, crab cakes, and shrimp dishes. We love to use this seasoning in a low-country shrimp boil.
It is great sprinkled over tops of salads like a potato salad, or even coleslaw.
If you want a couple of recipe ideas, try my Red Lobster Chesapeake Corn on the Cob or Maryland Crab Cakes.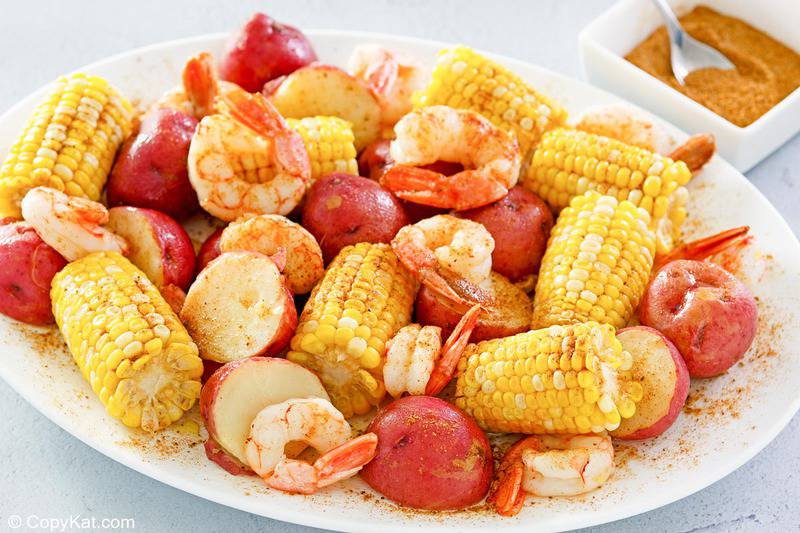 Additional Ways to Use Old Bay Seasoning
Looking for even more ideas for using Old Bay seasoning? Try sprinkling it on or adding it to:
Avocado Toast
BBQ Rubs and Sauces
Bloody Mary
Seasoning blend for chowders like clam chowder
Chicken Wings
Veggies seasoning
Seasoning for burgers
Pork seasoning
Fish Tacos seasoning
Cocktail Sauce
Deviled Eggs
Homemade French Fries
Homemade Potato Chips
Popcorn
Roasted Nuts
Soups
How Long With This Homemade Old Bay Seasoning Last?
After you have ground the spices for this Old Bay seasoning substitute, store it in an airtight container, preferably a small glass spice jar. Be sure to put the date on the container so can remember when you made it.
The seasoning will last about 9 months to a year. However, it will lose some of its pungency as time passes.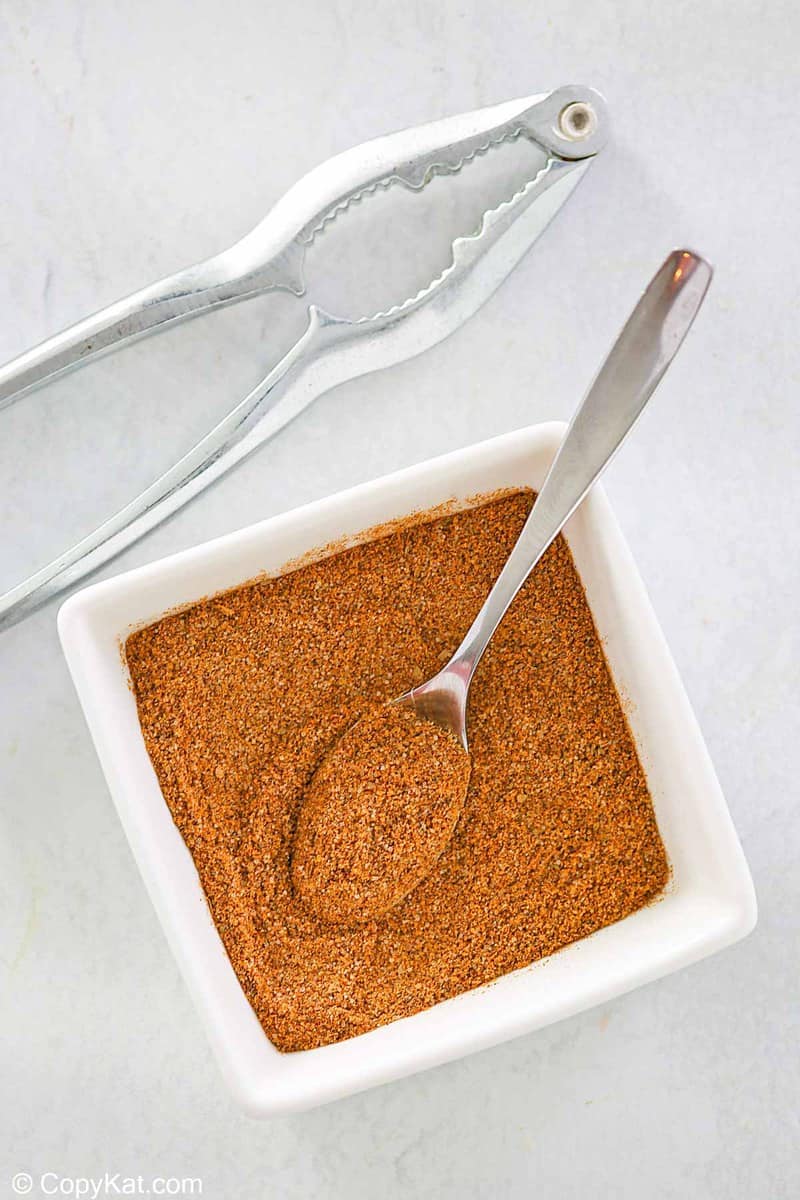 I hope you give this spice blend a try rather than buying a new package of seasoning the next time you need some Old Bay seasoning.
More Homemade Spice Mixes and Seasonings
Favorite DIY Recipes
Check out more of the best DIY recipes and easy seafood recipes here on CopyKat!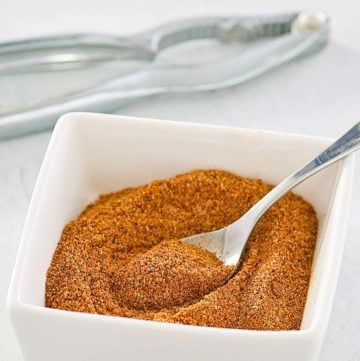 Ingredients
1

tablespoon

Celery Seeds

1

tablespoon

Whole Black Peppercorns

6

Bay Leaves

1/2

teaspoon

Whole Cardamom Pods

1/2

teaspoon

Mustard Seeds

4

Whole Cloves

1

teaspoon

Sweet Hungarian Paprika

1/4

teaspoon

Ground Mace
Instructions
In a spice grinder or small food processor, combine all of the ingredients. Grind well and store in a small glass jar.
Nutrition
Calories:
5
kcal
|
Carbohydrates:
0
g
|
Protein:
0
g
|
Fat:
0
g
|
Saturated Fat:
0
g
|
Cholesterol:
0
mg
|
Sodium:
1
mg
|
Potassium:
18
mg
|
Fiber:
0
g
|
Sugar:
0
g
|
Vitamin A:
65
IU
|
Vitamin C:
0.1
mg
|
Calcium:
11
mg
|
Iron:
0.3
mg