Everything Bagel Seasoning is a delicious mix of spices that can be used for so much more than bagels. This homemade bagel spice blend is so tasty, you'll be putting it on everything. You may even be tempted to carry a little container with you in your work bag. After all, you never know when you are going to need a little spice!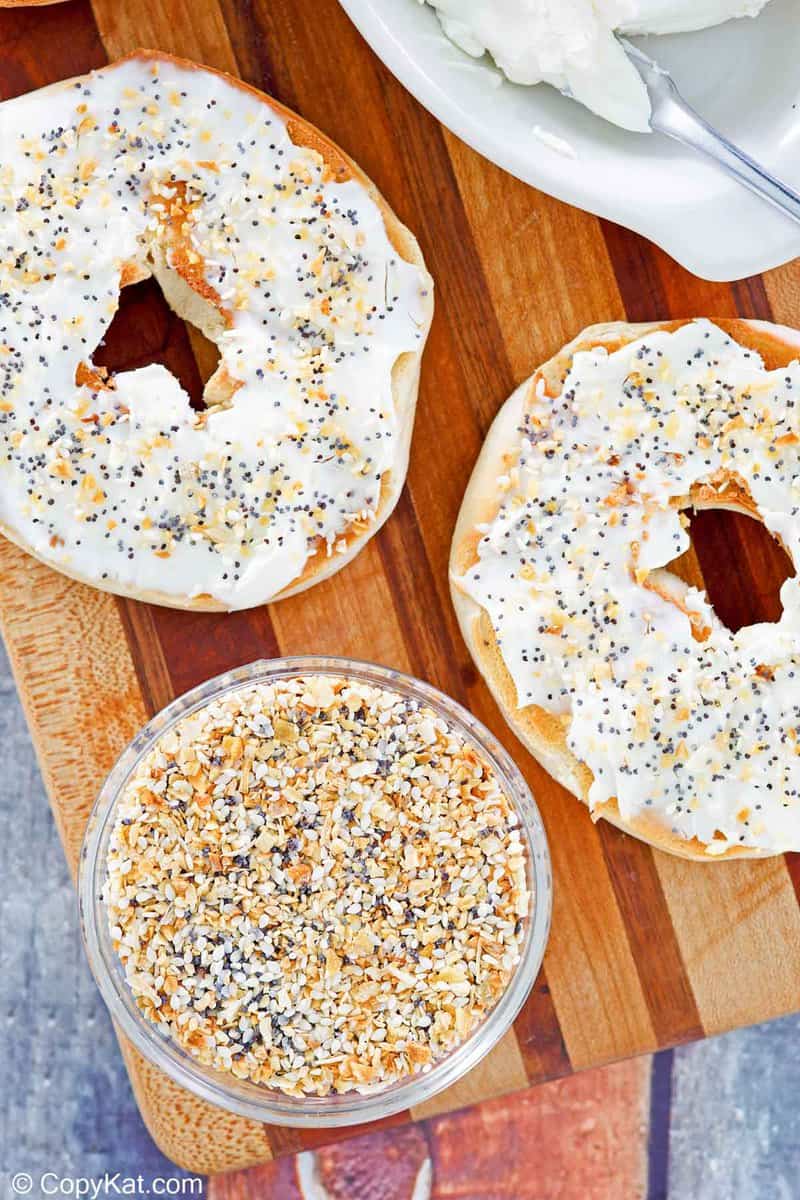 Homemade Everything Bagel Seasoning
It's easy to learn how to make Everything Bagel Seasoning mix. It's guaranteed that you will fall in love when you taste its delicious savory blend of sesame seeds, poppy seeds, dried garlic, dried onion flakes, and sea salt.
The concoction's salty, savory flavors are reminiscent of everyone's favorite bagel variety. However, you can enjoy this bagel spice blend on all kinds of baked dishes, pizza, popcorn, salads, and much more. It's sure to tantalize your taste buds.
Trader Joe's Everything Bagel Seasoning
What do you do when you don't happen to live anywhere close to a Trader Joe's, but you really want Trader Joe's Everything but the Bagel Seasoning? Well, of course, you can order some online, or you can easily make some bagel seasoning yourself.
Oh, and Trader Joe's officially calls it "Everything but the Bagel Sesame Seasoning Blend".
The same applies to other brands including Aldi, McCormick, Olde Thompson, Pampered Chef, and so many more. The best part is you can customize the recipe to your taste.
What's the Difference Between Everything Bagel Seasoning and Everything but the Bagel Seasoning?
Everything bagel seasoning is what goes on an everything bagel, a bagel creation of the past twenty years. It's called an everything bagel because it combines all the original bagel toppings like sesame and poppy seeds. It embellishes your bagel but doesn't deviate from tradition.
The everything bagel became so popular the everything but the bagel seasoning was born. As the name implies, you get all the seasonings; the only thing you don't get is the bagel.
What is in Everything Bagel Seasoning?
Everything bagel seasoning is made up of a mixture of seeds and spices. This bagel spice blend recipe is the best version because it closely follows Trader Joe's product.
You need the following ingredients to make this yummy seasoning: white sesame seeds, black sesame seeds (optional), poppy seeds, dried onion, dried roasted garlic, and flaked sea salt. You should be able to find these items in the bulk spice section of a large grocery store.
More About Everything Bagel Seasoning Ingredients
Sesame Seeds have a mild, sweet, and nutty flavor. Black sesame seeds have a somewhat earthier flavor than white ones.
Poppy seeds are tiny, black, and kidney-shaped. They have been part of traditional Mediterranean and Middle Eastern diets for thousands of years.
Dried minced onions are packed with flavor and are a wonderful way of infusing onion flavor into a variety of dishes – think rubs, marinades, and ground meats.
Toasted minced garlic is a perfect substitute for more pungent-smelling fresh garlic. It's a bit more intense than garlic powder but mellower and smoother. Use it to add a flavor of minced garlic to your most favorite dishes.
Sea salt flakes aren't like other kinds of salt — they're light and crispy and not rock-like. And the flavor is so good. Don't substitute regular salt or even pink Himalayan salt.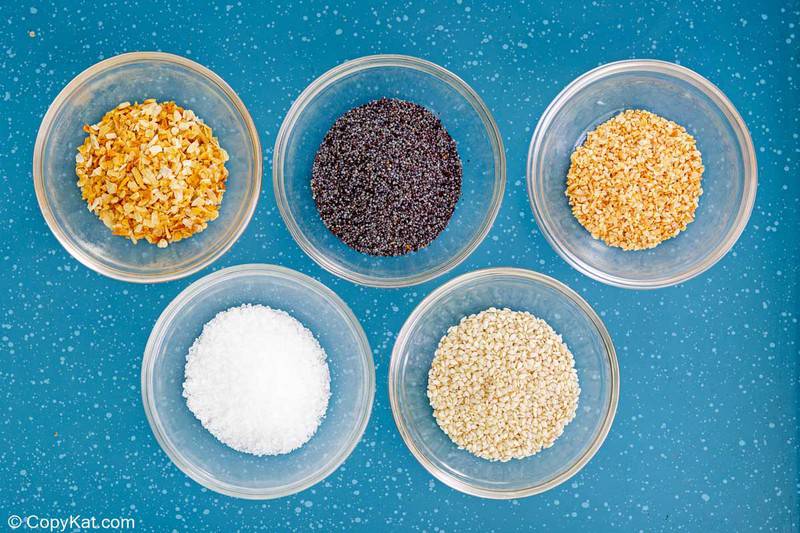 Can I Substitute Onion Powder and Garlic Powder in This Recipe?
No, this is not a good idea. Dried onion flakes and onion powder have different textures and the intensity of the onion flavor is more powerful in the powder.
The same goes for the garlic (don't use garlic powder, granulated garlic, or garlic salt).
Even if you adjust the measurements to compensate, the powders would just settle to the bottom of the jar, and you won't have the wonderful mixture of flavors that give you the taste you love.
How to Make Everything Bagel Seasoning
Simply combine all the ingredients together.
Store the mix in an airtight container at room temperature.
Shake the container before each use. This will ensure you get a nice mix of flavors.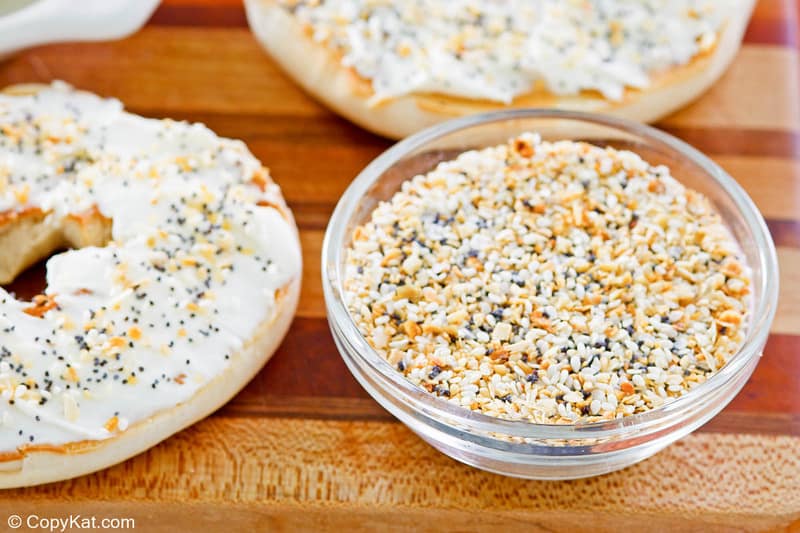 Everything Bagel Seasoning Uses
Many things taste good with everything bagel seasoning. It's especially wonderful on eggs. However, you are not limited to eggs. Here are twelve more ideas on how to use this bagel spice blend:
Avocado toast or fries
Olive oil (think dipping oil)
Shortbread
Sushi rolls
Tuna and salmon steaks
You don't have to stop with these ideas. The options are endless! Use it freely because now you know how to make it at home. Check out these 50 Ways to Use Everything Bagel Seasoning.
How Long Does Everything but the Bagel Seasoning Last?
Store your DIY Everything Bagel Seasoning spice blend in an airtight container in a cool, dry place. A canning jar with a lid and ring is ideal. It's crucial to keep moisture out of the seasoning. Also, keep it out of direct sunlight so the ingredients don't degrade.
When stored properly, your homemade bagel seasoning mix will last a long time, about 6 months. Be sure to date your container so you know when you made it.
Favorite DIY Recipes
Bagel Spread Recipes
Check out more of my DIY recipes and the best copycat recipes here on CopyKat!
Ingredients
¼

cup

white sesame seeds

¼

cup

poppy seeds

¼

cup

dried minced onion

¼

cup

dried toasted garlic

2

tablespoons

flaked sea salt

(Maldon recommended)
Instructions
Stir or whisk all ingredients together until thoroughly combined.

Store in an air-tight container at room temperature.
Nutrition
Calories:
11
kcal
|
Carbohydrates:
1
g
|
Protein:
1
g
|
Fat:
1
g
|
Saturated Fat:
1
g
|
Polyunsaturated Fat:
1
g
|
Monounsaturated Fat:
1
g
|
Sodium:
259
mg
|
Potassium:
24
mg
|
Fiber:
1
g
|
Sugar:
1
g
|
Vitamin A:
1
IU
|
Vitamin C:
1
mg
|
Calcium:
15
mg
|
Iron:
1
mg