Homemade taco seasoning mix can be used in place of the more expensive pre-packaged taco seasoning mix at the store. Blend together spices out of your own kitchen to create your own homemade taco seasoning mix. You can save money by making your own homemade taco seasoning mix and it's just as tasty as what you buy in the packaged taco seasoning mix.
Homemade taco seasoning mix is very easy to make. All you need to do is measure out a few ingredients that you already have in your pantry.
Why not save money and make your own taco seasoning mix? I have been making this mix for almost 15 years. It is easy to do and I always have these ingredients on hand.
If you like a little variety you can add or subtract ingredients. For example, sometimes I add oregano or even a little chipotle powder. Who doesn't love it when they can save some money?
What I really love about this recipe is that if you are in are on a low-sodium diet this taco seasoning is perfect for you. It has no salt in the mix. I know a lot of people are looking for low salt alternatives and this one works well. I hate having salt predetermined for you, I always would prefer to add in salt myself.
Homemade Taco Seasoning Mix
Why make homemade taco seasoning? It's easy to do, and I bet you already have everything you need to make this taco seasoning in your pantry. By making mixes at home, you save yourself from too much salt, preservatives, and hopefully, you can save a few dollars over time as well. If you like your mix spicier, or even smokey, you have the option to customize your personal spice blend the way you enjoy.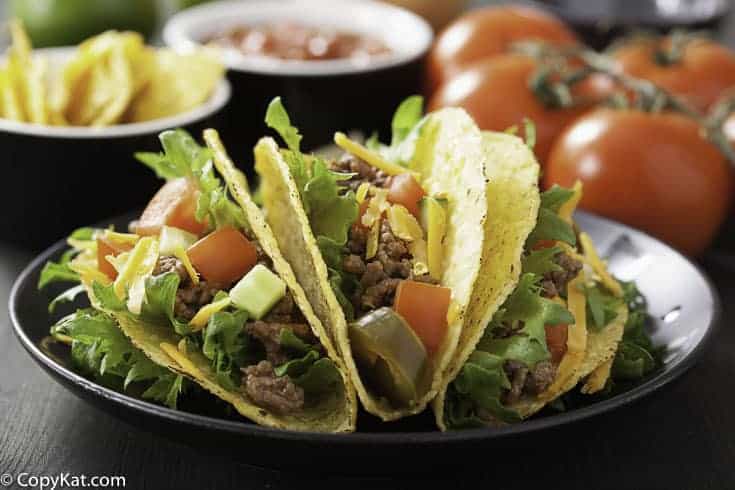 Recipes you can use your homemade taco seasoning:
Easy Make Ahead Taco Casserole
Ingredients
6

tablespoons

chili powder

5

tablespoons

paprika

5

tablespoons

cumin

2 1/2

tablespoons

dehydrated onion

2 1/2

teaspoons

garlic powder

1

teaspoon

oregano

1/2

teaspoon

cayenne pepper
Instructions
Combine all ingredients together, and mix well. This should be stored in an airtight container for up to six months. Use 3 tablespoons of mix and add 3/4 cup of water, to one pound of ground beef.
Nutrition
Calories:
141
kcal
|
Carbohydrates:
24
g
|
Protein:
6
g
|
Fat:
6
g
|
Saturated Fat:
0
g
|
Cholesterol:
0
mg
|
Sodium:
289
mg
|
Potassium:
854
mg
|
Fiber:
11
g
|
Sugar:
4
g
|
Vitamin A:
10755
IU
|
Vitamin C:
3.9
mg
|
Calcium:
194
mg
|
Iron:
12.3
mg