Taco bowl is traditionally presented in a fried tortilla bowl but in the latest trend, thanks to Instagram and Pinterest, we have seen a different way of presenting this meal!
Instead of filling a tortilla, you just put all ingredients in a big bowl. You get yourself an attractive and colorful dinner!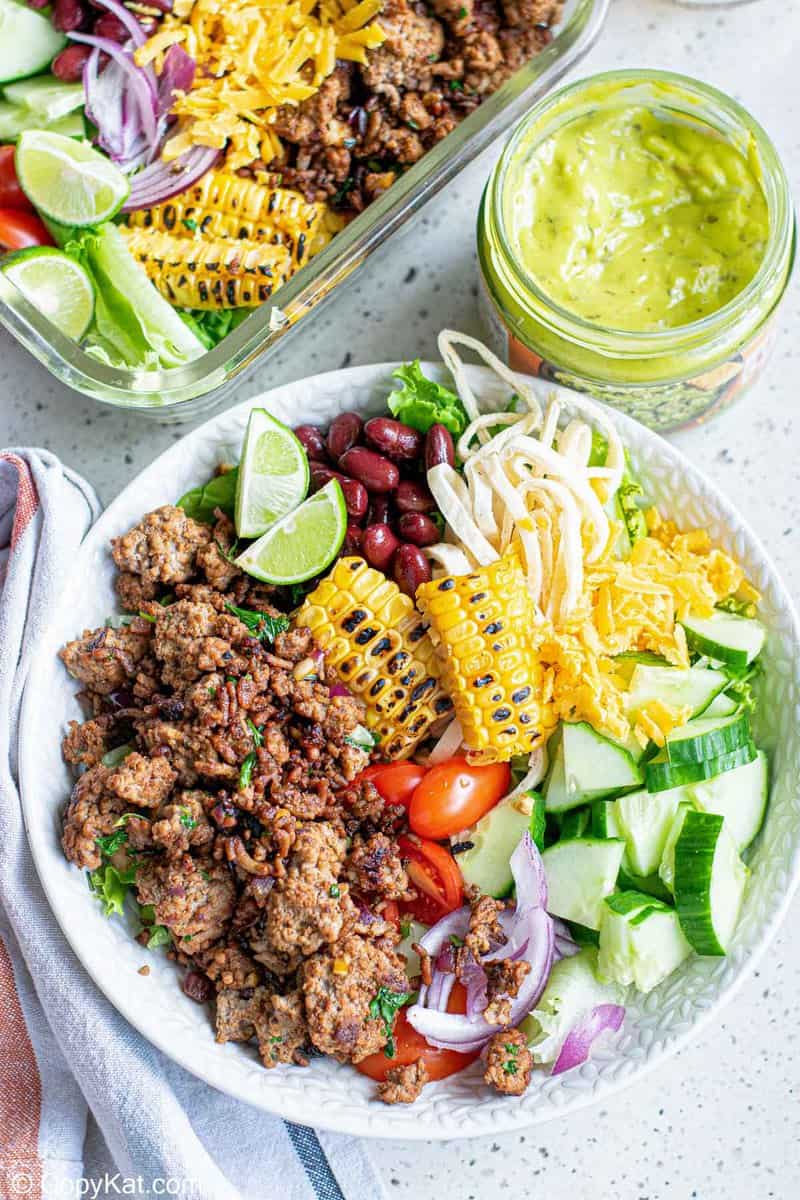 Mexican Recipe for Lunch or Weeknight Dinner
My family has been looking for healthy meals to include in our daily lives. This one is versatile as it can be made low carb, gluten free, or vegan. It is filling and perfect for make-ahead meal prep for lunch. Also my top favorite for lazy days when I still want to keep it healthy.
This taco bowl recipe is delicious, packed with good ingredients, loaded with flavor, and quick to make.
Is beef taco bowl healthy?
Absolutely! It is one of my favorite healthy meals especially during spring and summer because it is well balanced. You get your protein, your carbs, your veggies, and your healthy fats.
How to make it low carb? Simply swap the tortilla strips to roasted cauliflower or cauliflower rice which will also make it gluten free.
Also leave out the corn and beans for a low carb bowl.
What is a taco bowl?
A "taco bowl" is deconstructed beef taco. Instead of putting all ingredients in a tortilla, you just assemble all your them in a big bowl and eat it with a fork.
It is easy and quick to make plus nutritious and fresh because of all the wholesomeness. The bowl contains healthy fat from guacamole, has less sodium, and is high in protein and fiber.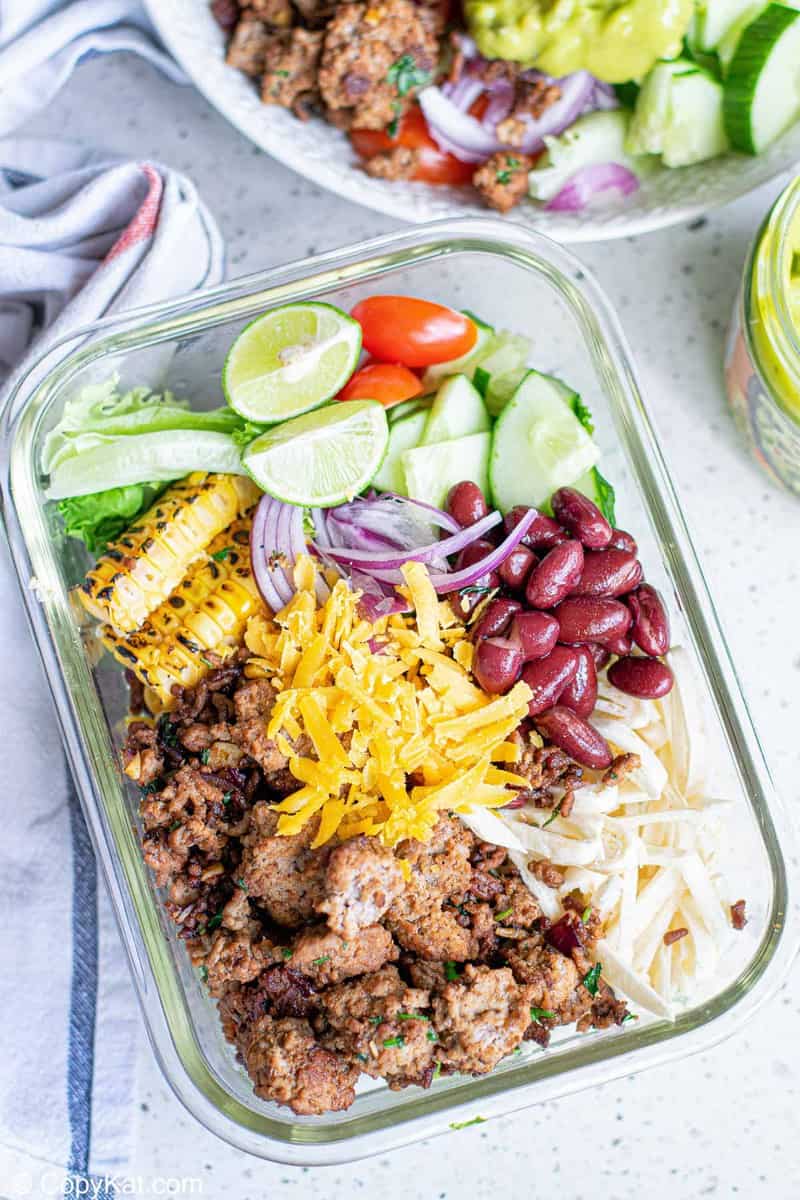 Substitute Beef with Chicken or Turkey
You can swap ground beef with ground turkey or chicken. The result will be the same. Just use any protein you want without stressing too much. The idea here is to not make a complicated meal.
How to Make Vegan Taco Bowl
To substitute the beef which is one of the main proteins in the bowl, you can use firm tofu then create your bowl. Quinoa is also a good source of protein. Some other variations are mushrooms, lentils, edamame, chickpeas, white rice, and vegan meat substitutes.
Use vegan cheese instead of cheddar cheese.
Hard shell tacos taste amazing, but they aren't the easiest things to eat. So, instead of cleaning meat stains from your favorite shirt, why not try a taco bowl? Taco salad bowls give you the same great flavor as your favorite taco without all those carbs and inspire even the most veggie-phobic kids to try. This dish is a fantastic take-along meal or works as a satisfying lunch or a light dinner. Your entire family is going to love this taco bowl recipe whenever you serve it!
Better Beef
While first and foremost, this is a salad, the meat component is essential. Feel free to double or even triple the amount of meat you make because it freezes wonderfully for up to three months and works equally well for taco and burrito fillings! Keep some extra meat on hand, and you can whip up a hearty homemade meal in a matter of minutes!
Use a ground beef mixture between 80/20 and 90/10 for the best results. If you use a less lean variety, wait until your cook and drain the excess fat from the beef before adding the seasoning.
Assembling the Salad
A great salad starts with the right lettuce. Your best option is sticking to a middle-of-the-road kind of lettuce like romaine for this recipe. But you can use something more exotic like endive or even cabbage if you want to try something a little different. Whatever salad greens you choose, remember to cut the leaves thinly to create a light, airy bed for the rest of the ingredients.
Use your favorite canned red beans in this recipe. Pintos and kidney beans are the typical go-to choices for most people, but really any beans packed in water will work with this salad. Make sure to give your beans a good rinse under the faucet to remove some excess salt before adding to the salad.
Seeds don't belong in taco bowls, so scoop out all the seeds from the cucumbers and tomatoes before dicing them into approximately the same size as the beans you are using. To add a bit more color to the salad, why not include both red and yellow cherry tomatoes?
Although the recipe calls for grilled corn, you can save a lot of time and effort by using sweet corn straight from the can. However, if you are going through all the trouble of grilling corn, you might as well do it right. That means starting with the freshest ears of corn that still have their husks tightly wrapped around them.
Start by soaking the ears of corn in their husks for about 15 minutes in cold water to reduce charring and decrease the cooking time.
Heat the grill to medium-high, and remove while you are waiting for the grill to heat up, peel back the husks and remove the corn silk. Replace the husks.
Place the ears of corn on the grill and cook for about 15 minutes, slowly rotating the corn every few minutes. When the husks begin to char, check the corn. Remove the corn from the grill when the kernels soften slightly.
Cut the kernels off the cob and use them in the salad.
Tips for Serving and Storing Ground Beef Taco Bowls
Let your guests serve themselves. Put out all the toppings and give everyone a bowl with just lettuce, so everyone gets what he wants.
Some like it hot. Don't forget to offer chili sauce or a spicy salsa to go along with the taco salad bowls.
Store each leftover component of the recipe separately. Use the cut vegetables up by the next day, but the meat can stay in the fridge for up to three days or in the freezer for months!
Stay connected by friending us on Facebook!
Ingredients
Here's a list of what you need:
Ground beef
Extra virgin olive oil
Onion
Fresh cilantro
Tomato purée
Lettuce
Red beans
Cucumber
Sweet corn
Cherry tomatoes
Guacamole
Tortilla
Red cabbage
Tortilla strips
Lime
Why make a taco bowl?
There are many reasons! This taco salad bowl is:
nutritious
quick to make
easy
full of flavor
delicious
fresh
colorful
How to Make Taco Bowls
In a large bowl, mix beef with taco seasoning mix.

Heat a large nonstick pan over medium-high heat with oil. Add beef in the pan and break with a large wooden spatula by keeping some space in between them. Reduce heat to medium and let cook until the bottom is brown then flip.

Add onion, garlic, cilantro, and tomato purée. Stir to combine.
Decrease heat to medium-low then let it cook for about 3-5 minutes while stirring occasionally.

Remove from heat.
Prepare your bowl by starting with the lettuce as a base then build your bowl with the other ingredients. Add ground beef last.
Serve immediately.
Can a taco bowl be made ahead?
Even if this recipe is easy and quick to make, you still can make the ground beef ahead of time. Cook the beef and store it in the refrigerator without the vegetables.
When ready to eat, reheat beef, chop the vegetables, and assemble your bowl. Dinner is ready!
Taco Bowl is Perfect for Meal Prep
The Beef Taco Bowl is great for next day lunch for busy weeks at work. Prep double or triple the recipe. Allow to cool down and store in an airtight container.
In the morning, prepare your lunch by assembling beef, vegetables, tortilla strips, and guacamole in an airtight meal-size container. Glass containers are the best to keep the freshness of the food.
How to Store Leftovers
Ground beef has to cool down completely at room temperature but not longer than 2 hours before storing. Separate meat from fresh vegetables. Leftovers will keep up to 4 days in the refrigerator.
To reheat, you can warm beef in a pan with a bit of beef broth or tomato purée to get back the moisture. You can also use the microwave but I prefer the pan option. Don't reheat the vegetables.
How to Freeze
Freeze only the ground beef, not the vegetables as it will lose their freshness and crunchiness. Wrap with foil, label then freeze.
Or freeze uncooked beef mixture only in a ziplock bag. Label with the name and the date so as you won't forget. Freeze up to 1 month. Defrost completely before adding the vegetables and cooking.
Love Mexican inspired food? Try these recipes!
Favorite Dinner Salad Recipes
Check out more of my easy Mexican food recipes and the best salad recipes here on CopyKat!
Ingredients
1.25

pounds

lean ground beef

2

ounces

taco seasoning

2

tablespoons

extra virgin olive oil

1/4

cup

chopped white onion

3

teaspoons

minced garlic

1

tablespoon

chopped cilantro

3/4

cup

tomato puree

1

head

lettuce

1

can

red beans

1 15 ounce can

1/4

cup

chopped cucumber

1

cob

sweet corn

roasted

1/2

cup

sliced cherry tomatoes

1/2

cup

guacamole

1/2

cup

shredded cheddar cheese

2

tablespoons

sliced red onions
Optional ingredients
1

cup

tortilla strips

2

sliced limes
Instructions
In a large bowl, mix beef with Taco seasoning mix.

Heat a large nonstick pan over medium high heat with oil. Add beef in the pan and break with a large wooden spatula by keeping some space in between them. Decrease heat to medium and let cook until the bottom is brown then flip. It will take about 3 minutes.

Add onion, garlic, cilantro, tomato purée and mix to combine.

Decrease heat to medium-low then cook for about 3-5 minutes while stirring occasionally.

Prepare your bowl by starting with the lettuce as base then build your bowl with the other ingredients. Add ground beef last.
Nutrition
Calories:
471
kcal
|
Carbohydrates:
26
g
|
Protein:
37
g
|
Fat:
25
g
|
Saturated Fat:
8
g
|
Trans Fat:
1
g
|
Cholesterol:
103
mg
|
Sodium:
1382
mg
|
Potassium:
1150
mg
|
Fiber:
8
g
|
Sugar:
9
g
|
Vitamin A:
2613
IU
|
Vitamin C:
23
mg
|
Calcium:
162
mg
|
Iron:
6
mg