Taco Bell Quesadilla Sauce is creamy, spicy, and perfect for homemade quesadillas, tacos, and taco salad.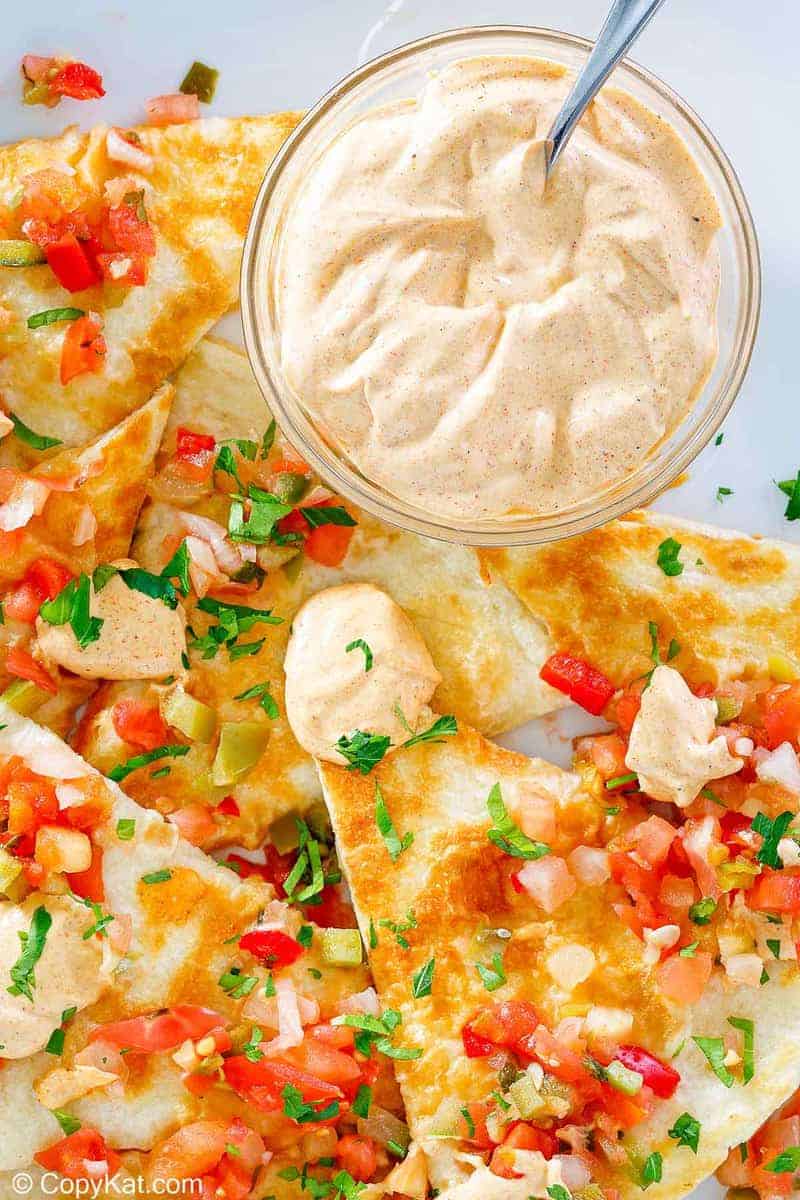 Quesadillas are easy to make and pretty delicious on their own. But depending on the ingredients you use, they can be a bit on the dry side. That's why Mexicans traditionally serve quesadillas with various salsas ranging from Salsa Roja to Salsa Taqueria. While Taco Bell's quesadilla sauce recipe may not be the same as anything you might find in Mexico, it is darn good.
This creamy and a bit spicy DIY Taco Bell quesadilla sauce recipe is definitely one you will want to save. It is quick and easy to pull together, and extremely versatile. Of course, you can use it as a dipping sauce for quesadillas, french fries, chicken nuggets, and even carrot sticks, but it's so much more than that. You'll find yourself reaching for this copycat quesadilla sauce as the ultimate topping for tacos, burrito bowls, burgers, and even as a salad dressing! This recipe is sure to become a family favorite.
Make It Your Own
Go ahead and follow the recipe to the 'T' the first few time you make this sauce. You won't be disappointed. But you can tweak the ingredients a bit to reflect your own personal tastes. Whether it is substituting your favorite spice mixture or adding a bit of this or that, this recipe is begging you to get a bit creative. Here are several variations to help get you thinking:
Add in a few chopped jalapeno peppers. The recipe already calls for jalapeno Tabasco sauce, but why not up the heat level (if you're into that kind of thing) and add in a few diced pickled Jalapeno peppers. If you go this route, maybe substitute some of the jalapeno pickling brine for the Tabasco sauce. If jalapeno peppers are too spicy for you, you may want to try using chipotle peppers in adobo sauce. This gives the dip a rich, smoky flavor.
Substitute Mexican crema for both the sour cream and mayonnaise in the copycat quesadilla sauce recipe. If you have never had Mexican crema before, it is an incredibly white sauce with a bit of tang to help balance its richness. Unlike sour cream and mayonnaise, Mexican crema will not curdle if you add it to hot food. The recipe is simple. To make enough for this recipe, combine a cup of heavy cream with two tablespoons of buttermilk in a jar with a lid. Add the juice of half a lime, or about 1/2 tablespoon of lime juice. Finish with a pinch of salt. Put on the top, give it a good shake, and keep the jar on your countertop for about 24 hours until the crema thickens up.
Tips For Making and Storing DIY Taco Bell Quesadilla Sauce
Keep any leftover sauce in the fridge. It should last about ten days as long as you keep it covered.
Turn up the heat – want a little more fire in this sauce, add more of the Tabasco green jalapeno sauce!
You can see how we make a bunch more Taco Bell favorites on YouTube!
Ingredients
Here's a list of what you need:
Sour cream
Mayonnaise
McCormick Taco seasoning
McCormick chili powder
Tabasco green jalapeno sauce
How to Make Taco Bell Quesadilla Sauce
Place all ingredients in a bowl.

Stir until thoroughly combined.
Serve with quesadillas.
This sauce is also a great topping for tacos and nachos.
Love Taco Bell? Try these recipes!
Favorite Mexican Recipes
Be sure to check out more of my easy Mexican food recipes and the best copycat Taco Bell recipes here on CopyKat.com!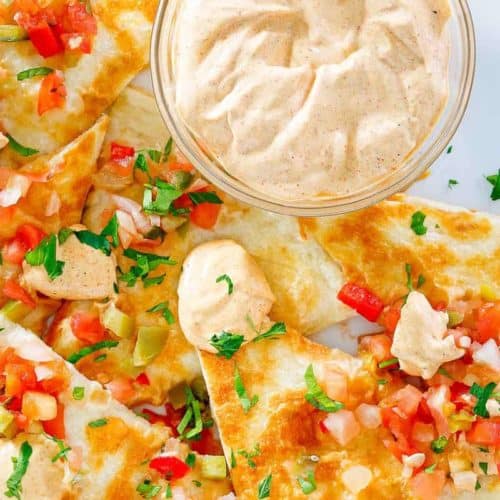 Ingredients
1/2

cup

sour cream

1/2

cup

mayonnaise

4

teaspoons

McCormick Taco Seasoning

1/2

tablespoon

McCormick chili powder

1

tablespoon

Tobasco green sauce
Instructions
Mix all ingredients together, great on quesadillas or can be used as a topping for tacos, or you can use these to drizzle over nachos.
Nutrition
Calories:
62
kcal
|
Carbohydrates:
1
g
|
Protein:
1
g
|
Fat:
7
g
|
Saturated Fat:
2
g
|
Cholesterol:
7
mg
|
Sodium:
72
mg
|
Potassium:
10
mg
|
Sugar:
1
g
|
Vitamin A:
49
IU
|
Vitamin C:
1
mg
|
Calcium:
8
mg
|
Iron:
1
mg