Roasted Turkey Legs with buttery seasoning are a wonderful and easy dinner to make any day of the week. You really can enjoy turkey without having to cook the entire bird. This is a great recipe that has the perfect amount of spices to give you lots of flavor.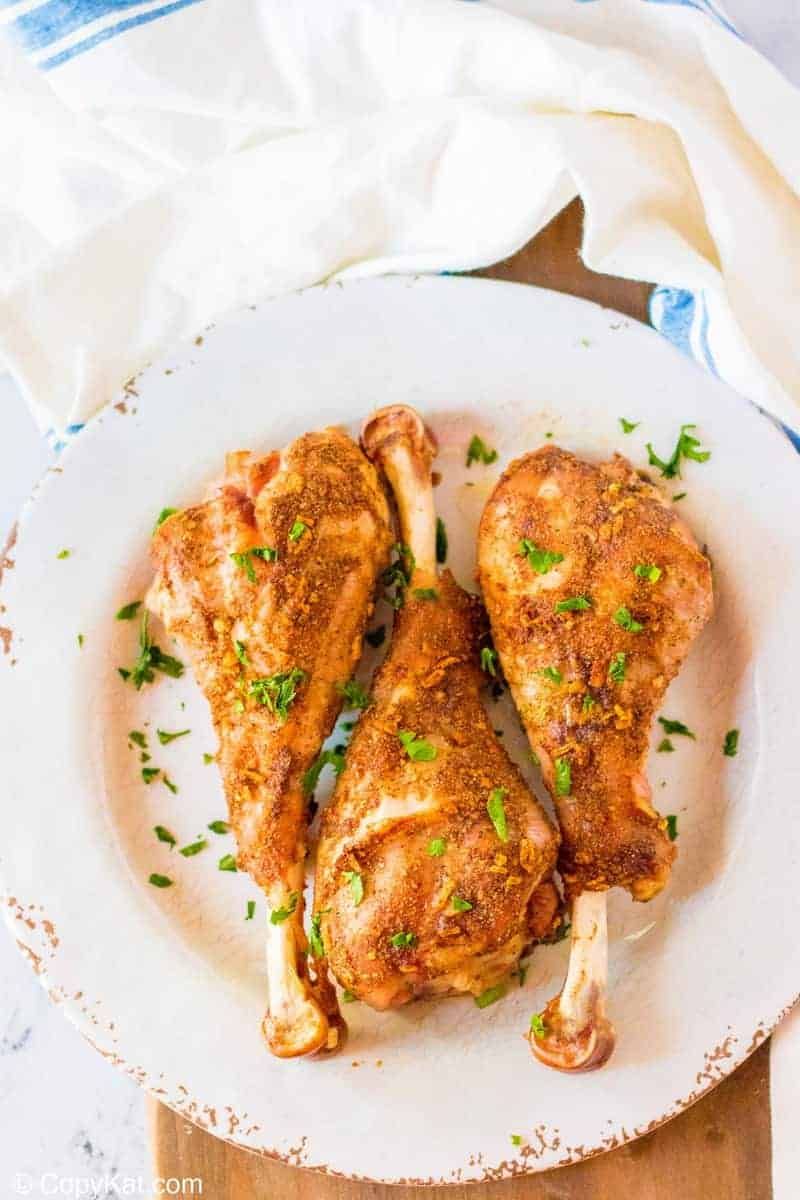 Roasted Turkey Drumsticks
Have you ever had the urge for roasted turkey but didn't want to cook a whole bird? Well, this roasted turkey leg recipe is your answer. Roasted turkey drumsticks are a great low-fuss alternative to roasting a whole turkey. Unlike a large turkey, which can take 4 hours or more to cook, a whole turkey leg is ready in about 40 minutes.
Making roast turkey legs is easy, and this is a great way to enjoy a turkey dinner on a small scale any time of the year, or perhaps you may want to serve this for small Thanksgiving gatherings. If you are a dark meat lover, this recipe is for you! I don't know about you, but I think dark meat is the most flavorful meat of a turkey. Turkey is a great option for the meat lovers in your life.
These delicious turkey legs can be enjoyed outside of Thanksgiving time and Christmas. Big and meaty roasted turkey legs are reminiscent of the ones you may have munched on at your local state fair or Renaissance Festival, or perhaps a trip to the Turkey Leg Hut. There's something so fun about munching on a jumbo turkey leg and satisfying the cavewoman in you! So, if you've missed out this year, it's time to make some roast turkey legs at home.
Oven-roasted turkey legs are perfect for low-carb diets. Turkey is a lean protein food, meaning it contains a lot of protein and not a lot of fat. And dark meat lovers rejoice! The meat is tender and juicy and has a much richer flavor than its turkey breast. Around holiday time, you can usually find turkey legs in the supermarket. At other times of the year, you may have to ask a butcher for them.
This roast turkey recipe is very easy and calls for just a few simple ingredients and an unattended cooking time in the oven. The secret to making tasty legs is a flavored butter consisting of garlic, onion powder, paprika, and other seasonings. This buttery mix is spread all over the turkey legs.
Tips for Making Roasted Turkey Legs
Pat the turkey legs dry with paper towels. Avoid rinsing poultry in the sink; that will spread bacteria around your kitchen.
Roasting at a high temperature gives you juicy meat and crispy skin (see recipe instructions).
You know when the legs are done when the juices run dry and an instant-read thermometer reads 165 degrees when inserted into the thickest part of the leg.
What to Serve With Roasted Turkey Legs
For Thanksgiving, you will likely serve them with your favorite Thanksgiving side dishes.
They are very versatile and at other times you can serve them with many side dishes. For instance, pan-fried potatoes, oven-roasted Brussels sprouts, or buttery peas and carrots.
Different Seasons to Use on Your Turkey Legs
Here are some suggestions for mixing up the flavor with a different compound butter:
Beurre Maître d'Hôtel: Combine 1/2 cup butter with 1 teaspoon fresh lemon juice and 1 tablespoon minced fresh parsley. Add fine sea salt and freshly ground black pepper to taste.

Basil Butter: For every 1/2 cup butter, add 1/2 cup chopped fresh basil. Add a grating or two of lemon zest and/or a clove of minced garlic as well as fine sea salt to taste.

Cilantro Lime Butter: For each 1/2 cup of butter, add 2 teaspoons lime zest and 2-3 tablespoons chopped cilantro leaves. Add a little green Tabasco or green chile sauce if you like.

Poultry Seasoning: A blend of herbs usually including marjoram, rosemary, sage, thyme, salt, and pepper. You can buy it in the supermarket or make your own.
Add Some Celery: With a knife, create 2 or 3 long pockets in each leg. Press a piece of celery into each opening.
Ingredients
Here's a list of what you need:
Turkey legs
Butter
Garlic salt
Onion powder or dried minced onion
Paprika
Steakhouse seasoning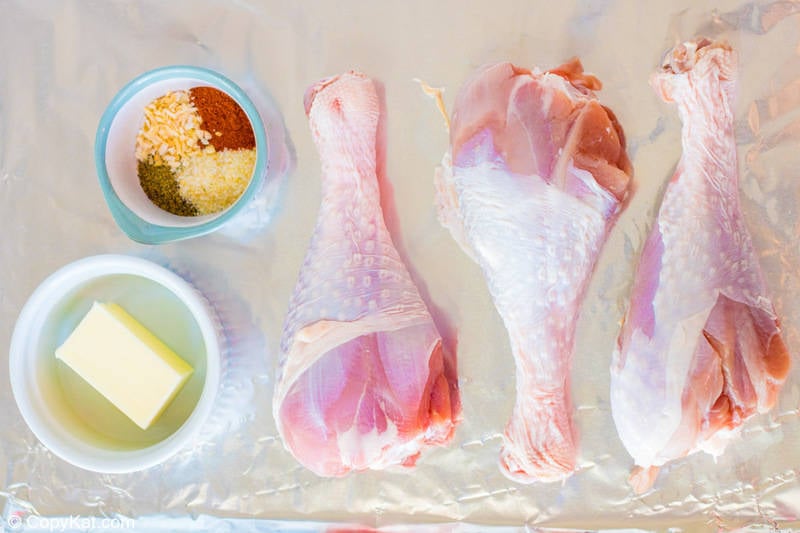 How to Make Roasted Turkey Legs
Pat the turkey legs dry with a paper towel.
Melt butter and stir the garlic salt, onion powder, paprika, and seasoning into the butter.
Place turkey legs on a foil-lined sheet pan.
Brush turkey legs liberally with the butter mixture.

Roast at 400 degrees for 20 minutes.
Reduce the heat to 350 degrees and roast for another 15 to 20 minutes or until done (internal temp is 165 degrees).
How do you know when a Turkey Leg is fully cooked?
This is easy to do when you have a meat thermometer. You will test the meat by placing the probe into the meaty section, don't get too close to the bone though, the drumstick bones can read higher than the turkey meat. When the internal temperature reaches 165 degrees, the turkey part is fully cooked and ready to be enjoyed.
How to Store Leftover Turkey Legs
Should you have any leftovers from this turkey drumstick recipe, be sure to store them in an airtight container in your refrigerator for up to 3 days. You could also freeze them in an airtight container for up to 3 months.
I hope you give this recipe a try, you could use turkey thighs if you wanted instead of drumsticks. You could even use white meat such as wings or a turkey breast if you desire. This recipe is very versatile.
Try smoked turkey legs to make with an electric smoker or pellet grill.
Love roasted meat? Try these recipes!
Favorite Turkey Side Dishes
Be sure to check out more of my easy main dish recipes and delicious low carb recipes here on CopyKat.com!
Ingredients
3

Turkey legs

4

tablespoons

butter

melted

1

teaspoon

onion powder

or dried minced onion

1

teaspoon

garlic salt

1

teaspoon

paprika

1

teaspoon

steak seasoning

like Montreal steak seasoning
Instructions
Preheat oven to 400 degrees.

Pat the turkey legs dry with a paper towel.

In a medium-sized microwave bowl, melt the butter in 30-second intervals until it is all melted.

Stir the garlic salt, onion powder, paprika, and seasoning into the butter. 

Place your turkey legs on a foil-lined rimmed baking sheet (easy cleanup) and brush them liberally with the melted butter seasoning mixture. You can also press some butter under the skin for even more flavor.

Place the turkey pieces into the preheated oven.

Roast at 400 degrees for 20 minutes.

Reduce the heat to 350 degrees and roast for another 15-20 minutes(depending on how big your turkey legs are). You want the internal temperatureof the legs to be 165 degrees.
Nutrition
Calories:
1115
kcal
|
Carbohydrates:
1
g
|
Protein:
133
g
|
Fat:
61
g
|
Saturated Fat:
24
g
|
Cholesterol:
521
mg
|
Sodium:
636
mg
|
Potassium:
1864
mg
|
Fiber:
1
g
|
Sugar:
1
g
|
Vitamin A:
833
IU
|
Calcium:
126
mg
|
Iron:
12
mg