Air fryer baked potatoes are the perfect side dish to add to any meal. They are easy to make, the air fryer can make one of the best-baked potatoes imaginable. The perfect baked potato only requires 3 ingredients, and the result is the skin of a baked potato is a delicious crispy skin.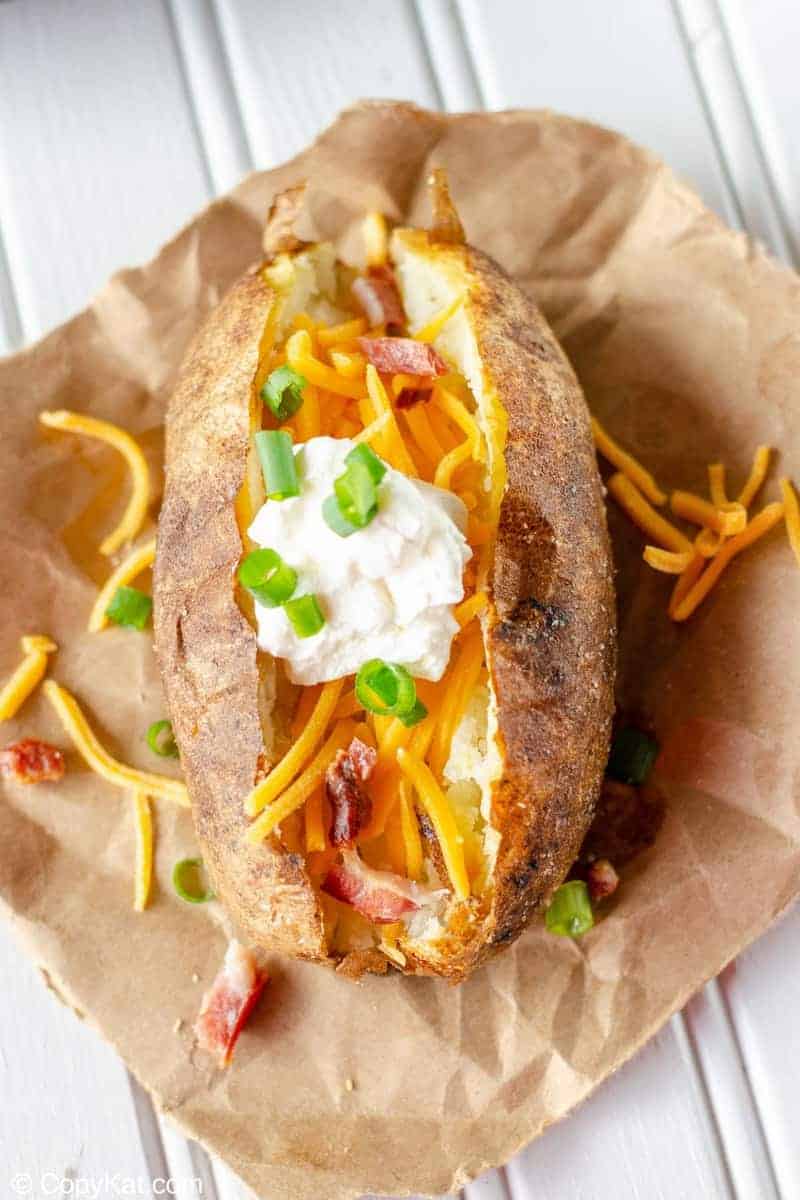 This post contains affiliate links. As an Amazon Associate, I earn from qualifying purchases.
Baked Potatoes in Air Fryer
If you are new to using your air fryer, this is a great beginner recipe for you to try. Grab the butter and let me show you how to make these easy air fryer baked potatoes with crispy potato skins. You can make a great baked potato in less time than it takes in a conventional oven. The convection hot air in the air fryer quickly cooks your potato. I know if you try this, this will be one of your favorite ways to prepare a baked potato.
One of the first things that I made when I got my air fryer was baked potatoes. If it truly could replace my oven for smaller meals, I wanted to make sure it made a good baked potato.
I am so glad that I tried my air fryer for the potatoes because it was so easy! Hands down, this is one of those easy recipes I'for your air fryer. These are the best potatoes because this cooking method makes fluffy insides and crispy outsides. I know you are going to enjoy this easy air fryer baked potato recipe.
What are air fryer baked potatoes?
This is a simple recipe that takes a classic side dish and uses an air fryer instead of an oven or microwave. Air fryers are really small convection ovens where the air is very hot and it circulates that it browns almost anything on the outside.
The best part of cooking these potatoes this way is that you don't have to heat your whole oven to make baked potatoes come out with a fluffy texture in a fraction of the time when compared to cooking them in an oven. When you take them out of the air fryer they are ready for a pat of butter, cheddar cheese, bacon, chives, or your favorite potato toppings. 
Ingredients
Potatoes
Olive oil – avocado oil is a great option
Kosher salt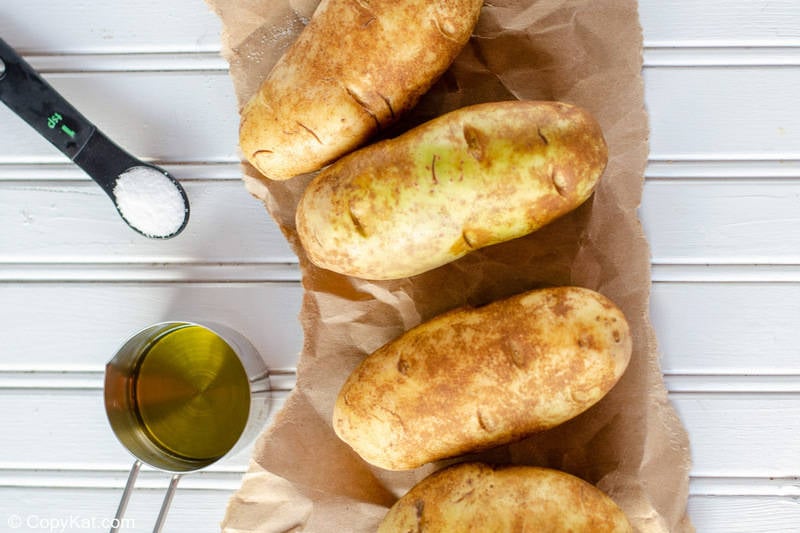 How to Make Baked Potatoes in an Air Fryer
Scrub potatoes to remove any dirt on them.
Place potatoes in a bowl.
Pour in the olive oil and the Kosher salt.

Toss potatoes to coat them with olive oil and salt. You want to make sure the potatoes are coated with a little bit of oil.
Place the potatoes in the air fryer basket.

Air fry at 400 degrees for 40 to 50 minutes, turning potatoes over halfway through cooking.

Remove potatoes from the air fryer and cut them lengthwise.
Top with butter.

Add your choice of toppings and enjoy!
Air Fryer Baked Potato Toppings
Wondering what to put on your air fried baked potato? Here are some topping ideas:
Butter
Shredded cheese
Bacon
Sour cream
Chives
These are just suggestions on toppings to add. Feel free to add your favorite ones to your loaded air fryer baked potatoes!
Recommended equipment for air fryer potatoes
I have tried many different types of air fryers over the years. Now, which model is best for you? May depend upon the size of your kitchen. I personally love the Phillips Air Fryer, it is good for smaller quantities and smaller families. You can serve 1 to 2 people with this machine. I love it for fries or anything I want to crisp up. It has a basin in there, and I will sometimes add a bit of oil and allow that to help crisp up the fries.
I also really like my Breville Smart Oven, but it is an investment, it works as an air fryer, an oven, a toaster, it proofs bread for you, and much more. The Breville is an appliance you can use every day because it can do many things.
Baked Potatoes Frequently Asked Questions
What kind of potatoes for baked potatoes?
Russets work best for baked potatoes. I like to find the biggest ones that are available so I can make giant-loaded baked potatoes in my air fryer.
Do you have to wash potatoes before baking? 
Yes, it's best to wash your potatoes before you air fry them. This removes any dirt or debris from the skin. 
Do you have to poke holes in potatoes before air frying?
No, you don't need to prick your potatoes before you add them to the air fryer. You can, if you'd like, but it doesn't affect cooking at all. Potatoes explode only when they are overcooked.
How long to cook baked potatoes in air fryer?
The cooking time depends on the size of the potato. It can range between 30 to 50 minutes.
What Goes Well with Baked Potatoes for Dinner
Here are some of my favorite dishes to eat with air fryer baked potatoes:
More Air Fryer Recipes
Looking for ideas for food to cook in your air fryer? Try these:
Be sure to check out more of my easy side dish recipes and the best air fryer recipes here on CopyKat.com!
Ingredients
4

Russet potatoes

medium

2

tablespoons

olive oil

1

teaspoon

salt
Instructions
Preheat air fryer to 400 degrees.

Wash potatoes, and pat them dry.

Place potatoes in a bowl and coat with olive oil. Place potatoes into the basket of the air fryer.

Flip after 20 minutes to ensure even cooking.

After the final 20 minutes of cooking remove them from the air fryer. Allow them to cook slightly before cutting into them.

Serve with your favorite toppings.
Nutrition
Calories:
230
kcal
|
Carbohydrates:
38
g
|
Protein:
5
g
|
Fat:
7
g
|
Saturated Fat:
1
g
|
Sodium:
592
mg
|
Potassium:
888
mg
|
Fiber:
3
g
|
Sugar:
1
g
|
Vitamin C:
12
mg
|
Calcium:
28
mg
|
Iron:
2
mg