The Ultimate Stove Top Pot Roast is a super easy way to prepare a beef roast. You could use a chuck roast, sirloin roast, or your favorite cut of beef.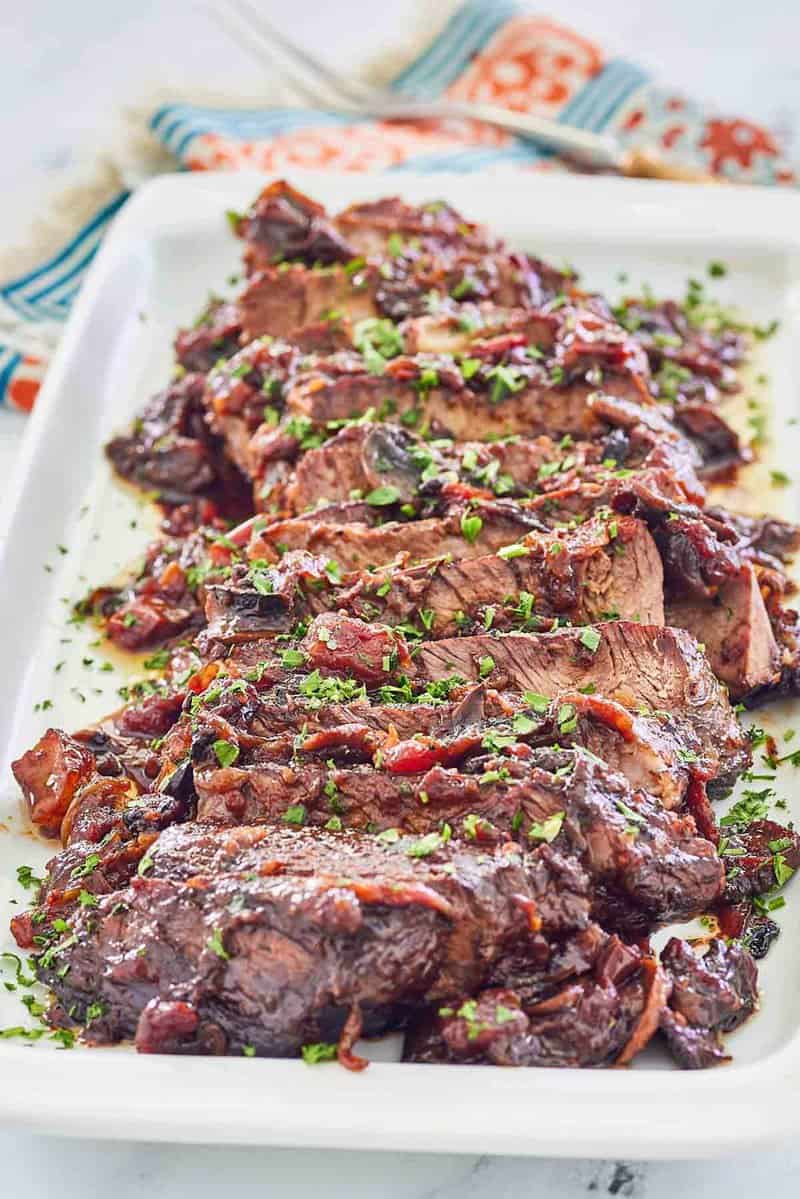 This post contains affiliate links. As an Amazon Associate, I earn from qualifying purchases.
Old Fashioned Pot Roast on Stove Top
Certain dishes are more than mere nourishment for the body. They are nourishment for the soul. Stovetop pot roast is one of these special meals that bring you wonderfully enticing flavors and an incredible sense of nostalgia and comfort.
Why This Recipe Is the One You Will Want To Make Again and Again
There is nothing complicated about this recipe or the cooking method in this recipe. There are no shortcuts, and everything is old-school and economical, just like how your mother and grandmother cooked it.
Don't think this recipe is bland because there isn't any red wine or beef stock. It is not. The rich sauce is flavorful and thickens beautifully to become the perfect complement to the tender meat.
Ingredients for This Pot Roast Recipe on the Stove Top
To make this Dutch oven pot roast stove top recipe, you'll need:
Vegetable oil
Chuck roast
Onion
Garlic
Salt
Black pepper
Tomatoes
Bay leaves
Brown sugar
Mushrooms
Using canned tomatoes and mushrooms in this dish makes things easier and less expensive. Adding some brine from the can of mushrooms effortlessly pumps up the umami flavor.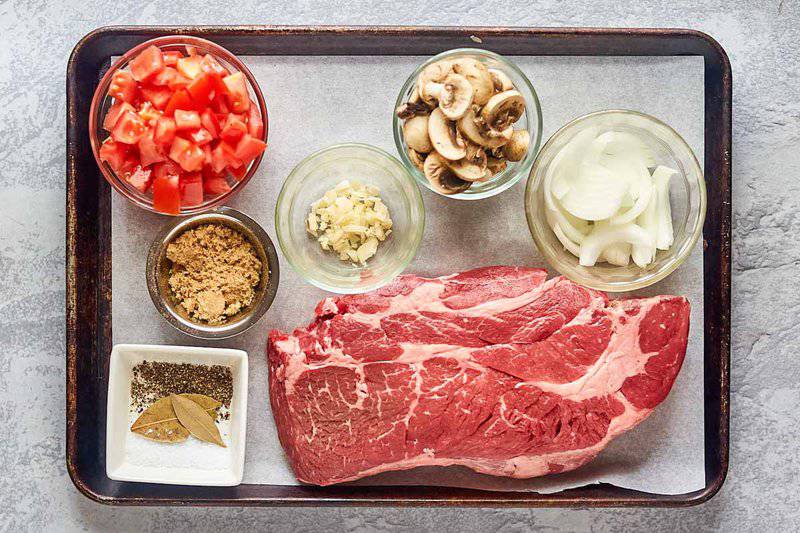 How to Cook Pot Roast on the Stove Top
To prepare this beef pot roast recipe stove top version:
Take the chuck roast out of the fridge about 15 minutes before starting the recipe.
Season the meat well with salt and pepper. Set aside.
Prep the vegetables by slicing the onions and mincing the garlic.
Heat a stockpot, or better yet, a Dutch oven over high heat.
When the pot is hot, add the oil.
Wait until the oil is shimmering and then add the pot roast.
Sear all sides of the meat for color and additional flavor.
Add the onions and garlic to the pot.
Cook until the onions soften.
Add all the rest of the ingredients and mix well.
Cover the pan and turn the heat to low.
Simmer for three to three and a half hours. Turn the pot roast every 15 minutes to ensure it cooks evenly and doesn't stick to the pot. After an hour of cooking, taste the sauce to see if it needs more seasoning or brown sugar.
Use a thermometer to ensure the pot roast is at least 145°F before removing it from the heat.
Be careful removing the meat from the pot because it will be very tender.
Slice the pot roast and serve it with the sauce on a platter.
Garnish with chopped fresh herbs such as parsley, rosemary, or fresh thyme if desired.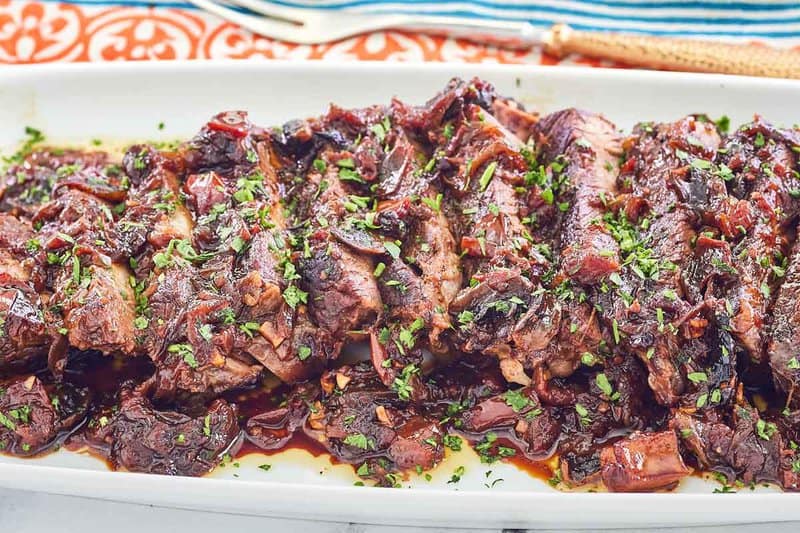 Recipe Variations
As written, this easy pot roast recipe lacks a lot of root vegetables. If you want a heartier pot roast or are looking for a way to stretch the meat to feed more people, try making a stove pot roast with potatoes and carrots instead.
Add the carrots and potatoes to the pot about an hour before the meat is ready to let them cook without becoming mushy.
What Is the Best Type of Beef To Use for a Pot Roast
A chuck roast is an ideal cut for pot roasts. It is a tough flavorful cut that turns fork-tender after braising and slow cooking. Look for a piece that is well-marbled for the best taste.
You can find chuck roast sold under various other names, including chuck eye roasts, chuck roll roast, chuck pot roasts, or simply, pot roast.
What To Serve With a Stove Top Pot Roast
If you are not cooking root vegetables with your pot roast, it is nice to serve roasted vegetables on the side. Alternatively, mashed potatoes and a string bean casserole are great side dishes.
How To Store Pot Roast Leftovers
To store leftover pot roast in the fridge:
Let the pot roast cool.
Place in an airtight container with the gravy for up to three days.
To freeze leftover pot roast:
Note it is best to keep the meat and the gravy separate when freezing pot roast leftovers.
Cool the pot roast to room temperature.
Separate the meat and the gravy.
Place each in an airtight container and freezer for up to three months.
How to Reheat Pot Roast for the Best Results
There are several ways to reheat pot roast, and choosing the best option is a matter of time. Ideally, reheating it low and slow will prevent the meat from drying out, but it takes a long time. A microwave is quick, but the results are not the best. A good middle ground is reheating in the oven.
To reheat in a slow cooker:
Set a slow cooker to the WARM setting.
Place the thawed pot roast and gravy inside.
Add a half cup of beef broth or water.
Cover until warm, about two to three hours.
To reheat in a microwave:
Slice the thawed pot roast and place a single serving on a microwavable plate.
Spoon the gravy on top and cover with an upside-down bowl.
Cook on HIGH for 45 seconds.
Turn the meat and cook for 45 more seconds.
If it is not warm enough, heat on HIGH for 15 seconds at a time.
To reheat in an oven:
Preheat the oven to 375°F.
Place the thawed pot roast and gravy in an ovenproof container with a lid.
Add a half cup of beef broth or water.
Cook covered for 15 minutes or until the meat is warm.
Looking for more ways to prepare roast beef? Try these recipes!
Favorite Dutch Oven Main Dish Recipes
Check out more of my easy roast beef recipes and the best recipes for dinner here on CopyKat!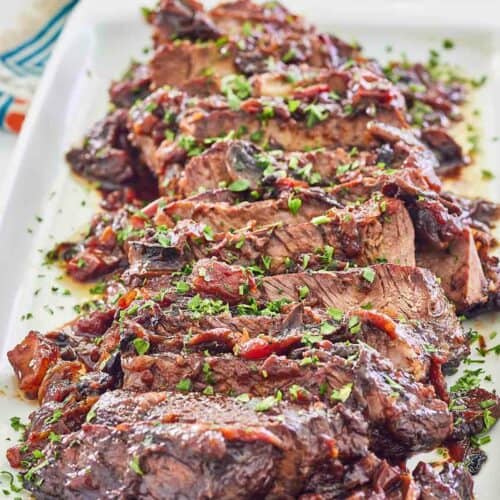 Ingredients
1

4-pound

chuck roast

salt and pepper

to season the roast

2

tablespoons

vegetabe oil

1

cup

sliced onion

1

teaspoon

minced garlic

1

teaspoon

salt

1/2

teaspoon

black pepper

14

ounces

diced tomatoes

2

bay leaves

3/4

cup

brown sugar

4

ounces

mushrooms

(1 can)
Instructions
Pat the chuck roast dry with paper towels and season it on all sides with plenty of salt and pepper.

Put the vegetable oil in the bottom of a stockpot or large saucepan with a lid and heat.

Once the oil is hot, add the chuck roast. Be sure to brown well on all sides and edges.

Once the meat is nicely browned, add the onions and garlic.

When the onions are slightly translucent, add the remaining ingredients. Mix well and taste the liquid. If it does not taste sweet enough for you, add more brown sugar.

Cover with a lid and turn the heat down to low.

Cook for 3 to 3 1/2 hours or until the meat is no longer pink inside. Be sure that you turn the meat every 15 to 20 minutes and stir the sauce over and around the meat to avoid sticking.

When the meat is finished cooking it will be very tender and you will have a thick, sweet gravy to serve with your roast beef.
Notes
Thanks to Canaussie for this pot roast recipe.
Nutrition
Calories:
429
kcal
|
Carbohydrates:
19
g
|
Protein:
35
g
|
Fat:
23
g
|
Saturated Fat:
11
g
|
Cholesterol:
125
mg
|
Sodium:
389
mg
|
Potassium:
758
mg
|
Fiber:
0
g
|
Sugar:
17
g
|
Vitamin A:
70
IU
|
Vitamin C:
5.2
mg
|
Calcium:
61
mg
|
Iron:
4.4
mg