There is nothing better than a tasty beef roast. Perhaps you had these growing up as a child on Sunday afternoons, or on special holidays. You can make a delicious roast that tastes just like it came from a restaurant, at home.
This recipe is so easy to make. You really can use just about any beef roast, I personally like to use chuck roast. Add a few extra ingredients that you most likely already have in your pantry, and you can put this roast together easily and quickly. Your family will think that you worked your fingers to the bone on this delicious roast.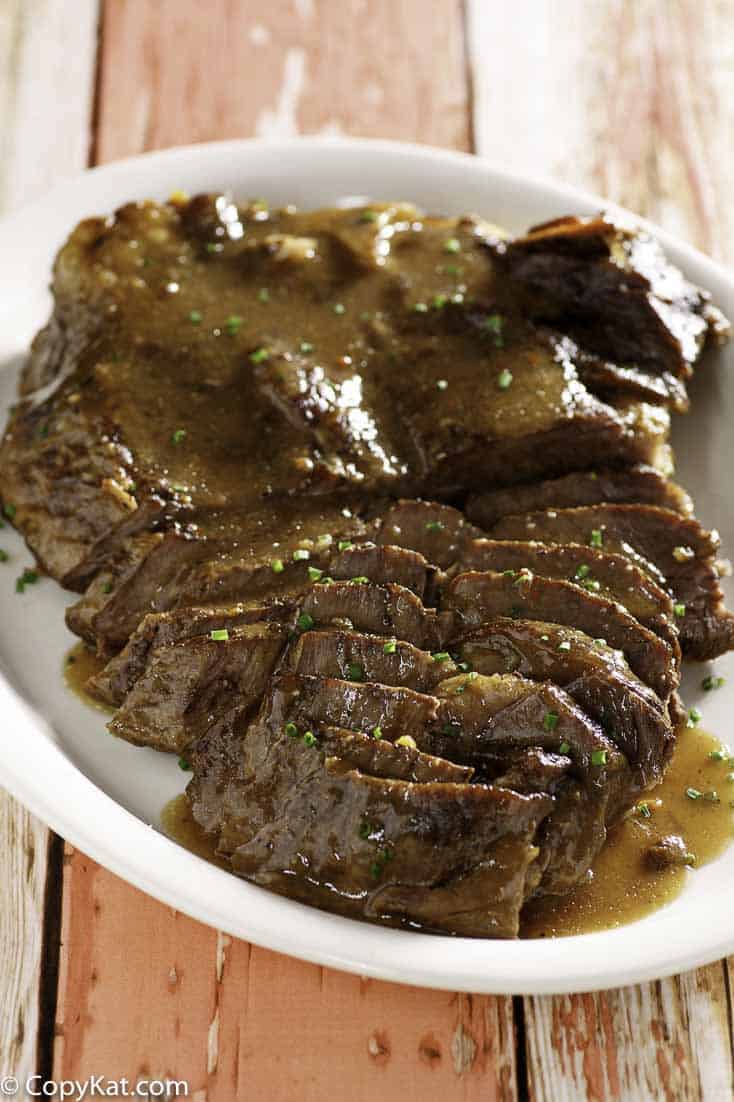 Hands down, this is one of my favorite roasts to make because it is completely reliable. So if you are a beginner cook or someone whose roast attempts in the past haven't been ideal, this is your recipe.
This recipe has variations for both the Instant Pot and the slow cooker. This recipe is made for the busy cook. You are going to use three packaged ingredients for this roast.
You will need a package of brown gravy mix, a package of Italian salad dressing mix, and a package of Ranch dressing. These three ingredients will make for a very flavorful recipe. You won't need to add anything else, so I find this recipe is perfect for a busy weeknight. Add some mashed potatoes to this flavorful dish and you will be in business.
Let me address this recipe is high on sodium. After years of searching, I have been unable to find lower sodium alternatives, so if you need to stay away from sodium this recipe is not for you. If you want to mitigate your sodium you may want to serve this with other food that is lower in salt to even out the entire meal.
Differences between the Slow Cooker and the Instant Pot recipe:
The only difference is the amount of time it takes to cook the roast. Everything else is the same.
Enjoyed this recipe? Be sure to check out my other roast beef recipes.
The Perfect Pot Roast for Beginners
How to Make a Pot Roast in your Instant Pot
Ingredients
4

pounds

roast

any cut, to fit size of crock pot

1

package

Hidden Valley Ranch Dressing mix

1

package

brown gravy mix

1

package

Italian Dressing mix

1 1/2

cups

water
Instructions
Instant Pot Directions
Instant Pot Directions Add two tablespoons of vegetable oil to the Instant Pot, set the Instant Pot to saute. When the pot is hot add the roast.

Pour over the Italian salad dressing mix, the brown gravy mix, and the Ranch dressing mix. Pour the water into the Instant Pot.

Cook for 60 minutes on high in the manual setting. You may perform a quick or natural release. Serve with mashed potatoes.
Slow cooker Directions
Slow Cooker Directions Turn the slow cooker on the low setting. Place the roast in the slow cooker. Pour over the Italian salad dressing mix, the brown gravy mix, and the Ranch dressing mix. Add water to the slow cooker. Cook on low for 6-7 hours.
Nutrition
Calories:
376
kcal
|
Carbohydrates:
3
g
|
Protein:
65
g
|
Fat:
10
g
|
Saturated Fat:
3
g
|
Cholesterol:
172
mg
|
Sodium:
4940
mg
|
Potassium:
846
mg
|
Sugar:
0
g
|
Vitamin C:
136
mg
|
Calcium:
849
mg
|
Iron:
6.4
mg