Making a ribeye roast is an easy dinner to prepare. You might be surprised at how easy it is to create a boneless prime rib roast. This ribeye roast recipe is perfect for a holiday meal, a special occasion, or a Sunday dinner. This recipe will give you the best results. You will be proud to serve this simple recipe for a wonderfully juicy ribeye roast. These step-by-step photos will help you through the whole process.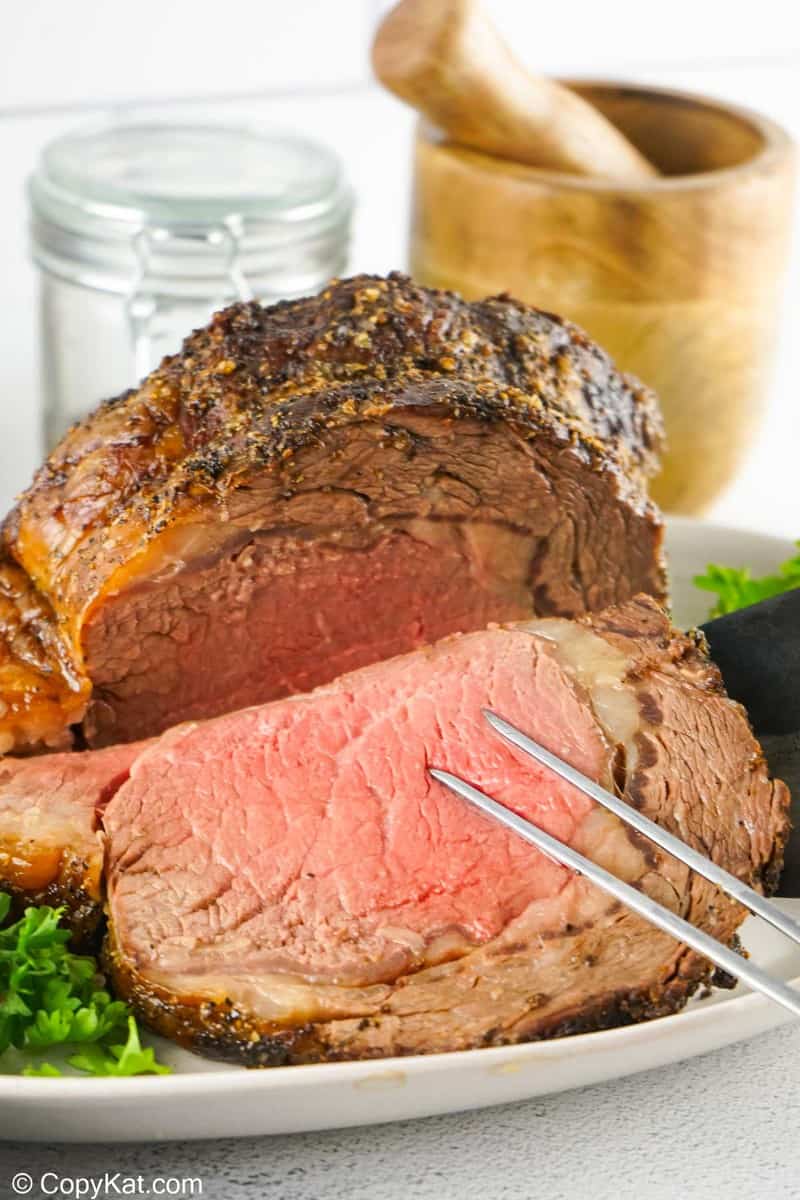 This post contains affiliate links. As an Amazon Associate, I earn from qualifying purchases.
Why this is the perfect recipe for you to try!
This is a simple recipe to make. The main ingredients are ones you already have in your pantry. Armed with these step-by-step instructions. You will be ready to serve your family and guests a delicious meal, no matter the special occasion. It is my family's tradition to serve this for our Christmas dinner.
What cooking technique should you use
One thing you must know, it is easy to make a delicious prime rib roast. Now, we are going to roast the ribeye in the oven. This is not a pot roast. There is no need to cook this cut of beef in liquid or place this in an oven bag, and you do not need to cook it in a slow cooker. Roasting is the best way to cook boneless beef ribeye roasts.
Season for Best Flavor
Since we are not marinating this roast, we are going to season the outside. It is best to season the crust of the roast liberally, and then brown the roast, and place it into the oven.
I like to season my roast simply with salt and black pepper. Everyone has salt and pepper on hand, so chances are you have everything you need to prepare this roast. If desired, you could add a little crushed fresh rosemary; I have even added crushed garlic.
Recipe Ingredients
Here's a list of what you need:
Ribeye roast – you can find these at your local grocery store.
Olive oil or vegetable oil – this is what you will use to sear the roast.
Salt – Kosher salt is recommended
Fresh cracked black pepper
Ribeye Roast Buying Tips
If you want to learn how to buy a ribeye roast, you should consider the grades of meat. There are many different grades of roast. In the grocery store, you will find three main grades of beef. In my house, we like meats with some marbling and fat, as this adds flavor and juiciness to the meat.
You will find select, choice, and prime.
Prime – less than 5% of beef is graded as prime. A prime rib eye roast has the most marbling. It is also the most expensive grade of beef you can buy. Most grocery stores to not carry prime beef.
Choice – has the second most marbling and is priced between Prime and Select.
Select – has the least marbling, but it is still a delicious and tender roast.
No matter which grade of beef you purchase, I feel the ribeye is the perfect cut of beef for a Sunday dinner.
How to Cook a Ribeye Roast
If your roast has bones, cut the bones off, then tie them back on. This makes for easier slicing after it is cooked.
Drizzle olive or vegetable oil over the roast and liberally season it with salt and pepper.
Brown the seasoned roast on all sides in a skillet.
Place the browned whole roast on a wire rack on a baking sheet or a shallow roasting pan with the fat cap or the fat side up.
Bake at 350 degrees for approximately 20 minutes for each pound of meat. Use an instant-read thermometer to read the meat temperature to check for doneness. This moderate oven temperature means your beef will slowly cook and develop flavor.
When you remove the roast from the oven, be sure to let the roast rest for about 20 minutes before slicing and serving.
How long should you cook a ribeye roast?
The answer is pretty straightforward. Look at the weight of the roast. This will help you determine the cooking time.
Your next concern may be how long you should cook the roast. You shouldn't worry about how long it takes to cook a roast.
There is a time guide on how long to cook a roast, and you should always invest in an inexpensive meat thermometer. The roast's internal temperature should be your guide for when to remove this from the oven.
I like to pull my roast out of the oven a degree or two before the roast reaches the exact temperature listed below. The meat will rise a degree or two while it is resting.
Ribeye Roast Cooking Time Chart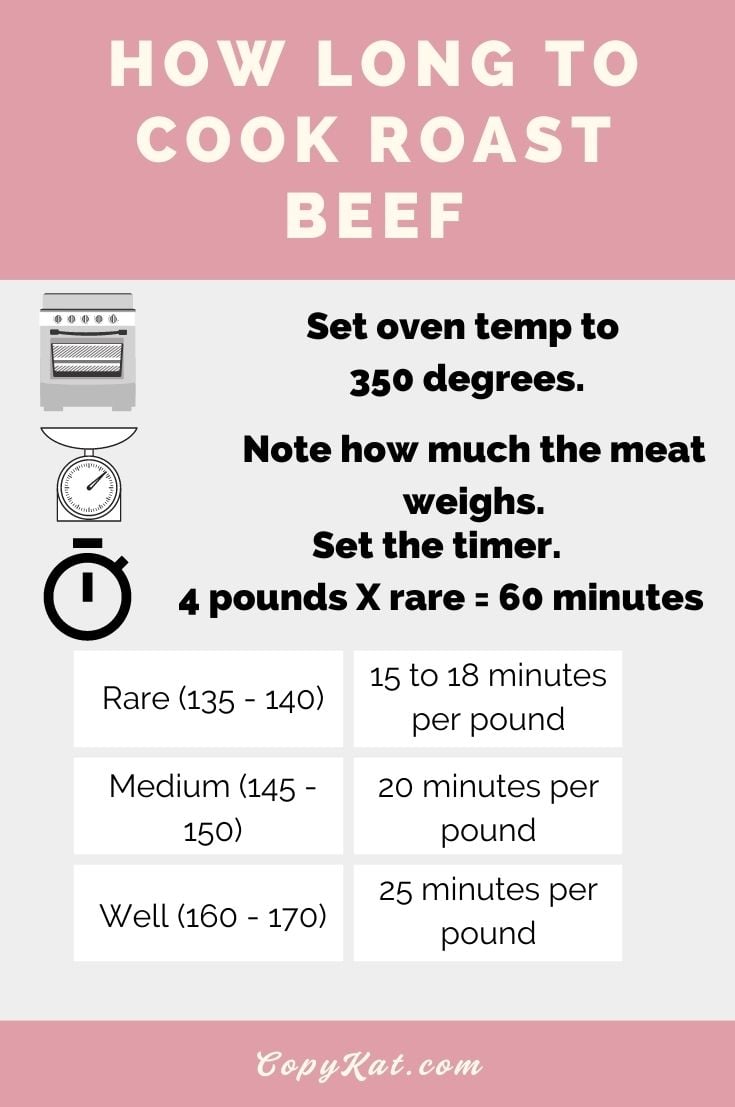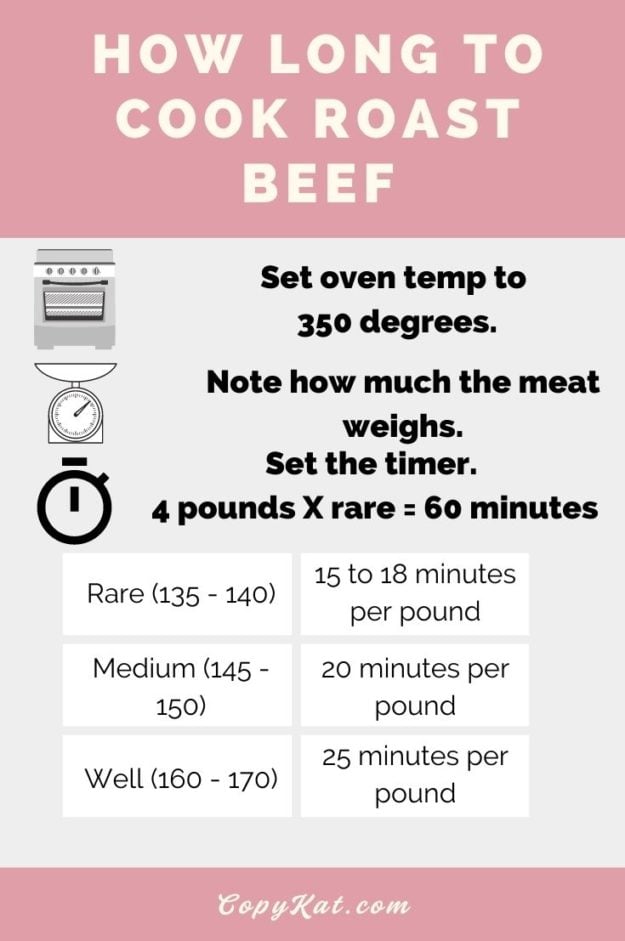 Rest Meat Before Carving
The meat should rest before carving. Put a sheet of aluminum foil over the roast and wait about 15 minutes before cutting. This way, the juice will redistribute through the meat.
How do you cook a bone-in ribeye roast?
Bone-in ribeye roasts cook faster. The bone conducts heat. So plan on the roast cooking 10 to 15% faster.
Begin to check the temperature with a meat thermometer at about 80% of the cooking time to ensure your roast is cooked to perfection.
What to Serve with Ribeye Roast
You might wonder what you should serve with this roast. I suggest homemade mashed potatoes, roasted Brussels sprouts, green beans, or English Yorkshire Pudding.
I hope you give this recipe a try! This standing rib roast is one of my favorite recipes for the holiday table. Boneless ribeye roast is a favorite to serve for all of the holidays.
What sauce goes with a Ribeye Roast?
Horseradish sauce is one of my favorite sauces for a ribeye roast, but the Outback Steakhouse Tiger sauce is also another favorite. You could use the beef drippings to make a delicious gravy.
Popular Beef Recipes
More Sides Perfect for a Ribeye Roast
Be sure to check out my list of 125+ Copycat Recipes, more easy beef recipes, and most-loved favorites.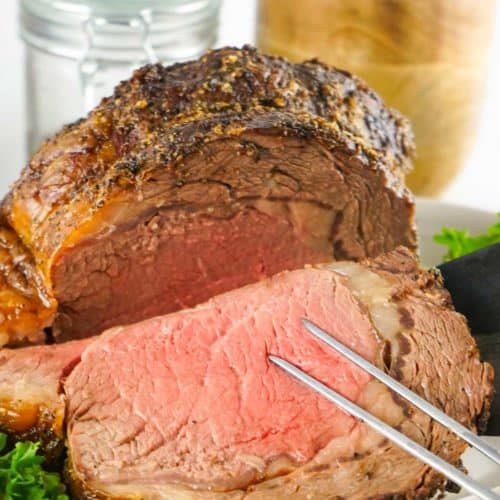 Ingredients
6

pound

ribeye roast

1

tablespoon

salt

1/2

teaspoon

fresh cracked pepper

3

tablepoons

vegetable oil

truffle oil is recommended
Instructions
Preheat oven to 350°F.

Drizzle a little oil over the roast. Rub the oil over the entire roast.

Coat the roast liberally with salt and pepper.

Heat a skillet to medium-high, and add oil to skillet.

Brown the roast on all sides by sautéing it for 2 to 3 minutes on each side.

Place roast on a

wire rack

on top of a baking sheet.

Bake approximately 20 minutes for each pound of meat. Use a meat thermometer to check for doneness. I usually check the temperature after 90 minutes.

Refer to the ribeye roast cooking chart and take into account the amount of meat. There is no set time for cooking any size of roast. The cooking time is dependent upon the size of meat that is used.

Loosely cover the roast with aluminum foil and allow the roast to rest for at least 15 minutes before slicing it.
Nutrition
Calories:
473
kcal
|
Carbohydrates:
0
g
|
Protein:
45
g
|
Fat:
32
g
|
Saturated Fat:
14
g
|
Cholesterol:
138
mg
|
Sodium:
699
mg
|
Potassium:
607
mg
|
Sugar:
0
g
|
Vitamin A:
35
IU
|
Calcium:
16
mg
|
Iron:
3.9
mg