Making a ribeye roast is an easy dinner to prepare. You might be surprised at just how easy it is to make an amazing centerpiece.
Bone-in Ribeye Roast
One thing you must know, it is easy to make a delicious tasting roast. Now, we are going to roast the ribeye in the oven. This is not a pot roast. There is no need to cook cut of beef in liquid, and you do not need to cook this in a slow cooker. Roasting is the ideal cooking method for a ribeye.
Since we are not marinating this roast, we are going to season the outside. It is best to season the crust of the roast liberally, and then brown the roast, and place it into the oven. I like to season my roast simply with salt and pepper. Everyone has salt and pepper on hand, so chances are you have everything you need to prepare this roast. If desired, you could add a little crushed fresh rosemary, and I have even added crushed garlic before.
If you want to learn how to buy a ribeye roast, you should consider grades of meat. There are many different grades of roast. In the grocery store, you will find three main grades of beef. You will find select, choice, and prime. Less than 5% of all beef is graded as prime; it has the most marbling. Choice has the second most marbling and then select. All grades of meat are tender and juicy. They can vary broadly in price, with the most expensive being prime, and select being the less costly.
How long should you cook a ribeye roast?
The answer is pretty easy. Look at the weight of the roast, this will help you determine the cooking time.
Your next concern may be how long you should cook the roast? You shouldn't worry about how long to cook a roast. There is a time guide on how long to cook a roast, and you should always invest in an inexpensive meat thermometer. I like to pull my roast out of the oven a degree or two before the roast reaches the exact temperature as listed below. The meat will rise a degree or two while it is resting.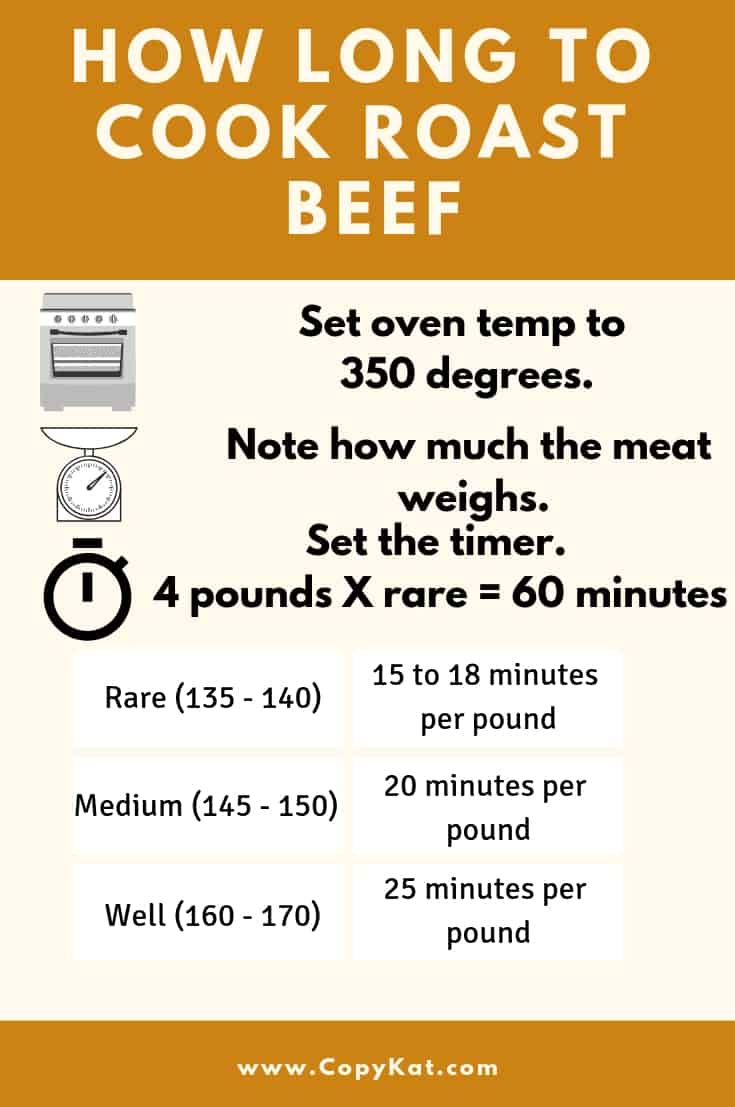 The meat should rest before carving. Just put a sheet of aluminum foil over the roast and wait for about 10 to 15 minutes before cutting. This way the juice will redistribute through the meat.
How do you cook a bone-in ribeye roast?
Bone-in ribeye roasts cook faster. The bone conducts heat. So plan on the roast cooking 10 to 15% faster. Begin to check the temperature with a meat thermometer at about 80% of the cooking time to ensure your roast is cooked to perfection.
You might wonder what you should serve with this roast. I suggest homemade mashed potatoes, roasted Brussel sprouts, or English Yorkshire Pudding.
Popular Beef Recipes
More Sides Perfect for a Ribeye Roast
Be sure to check out my Top 100 Copycat Recipes, more easy beef recipes, and most-loved favorites.
Ingredients
6

pound

ribeye roast

1

tablespoon

salt

1/2

teaspoon

fresh cracked pepper

3

tablepoons

vegetable oil

truffle oil is recommended
Instructions
Preheat oven to 350 degrees. Drizzle a little vegetable oil over the roast. Coat roast liberally with salt and pepper. Heat a skillet to medium-high, and remaining oil to skillet. Brown the roast on all sides by sauteeing it for 2 to 3 minutes on each side. Place roast on a wire rack on top of a baking sheet.

Bake approximately for 20 minutes for each pound of meat. Use a meat thermometer to check for doneness. After about 90 minutes, I used the meat thermometer to check the temperature. Be sure to refer to the chart and take into account the amount of meat. There is no set time for cooking any size of roast. The cooking time is dependent upon the size of meat that is used.
Nutrition
Calories:
473
kcal
|
Carbohydrates:
0
g
|
Protein:
45
g
|
Fat:
32
g
|
Saturated Fat:
14
g
|
Cholesterol:
138
mg
|
Sodium:
699
mg
|
Potassium:
607
mg
|
Sugar:
0
g
|
Vitamin A:
35
IU
|
Calcium:
16
mg
|
Iron:
3.9
mg