Arby's Horsey Sauce is a classic sauce that we all love. Arby's has many great items on the Arby's menu. This sauce has just the right amount of heat, and it is easy to make at home.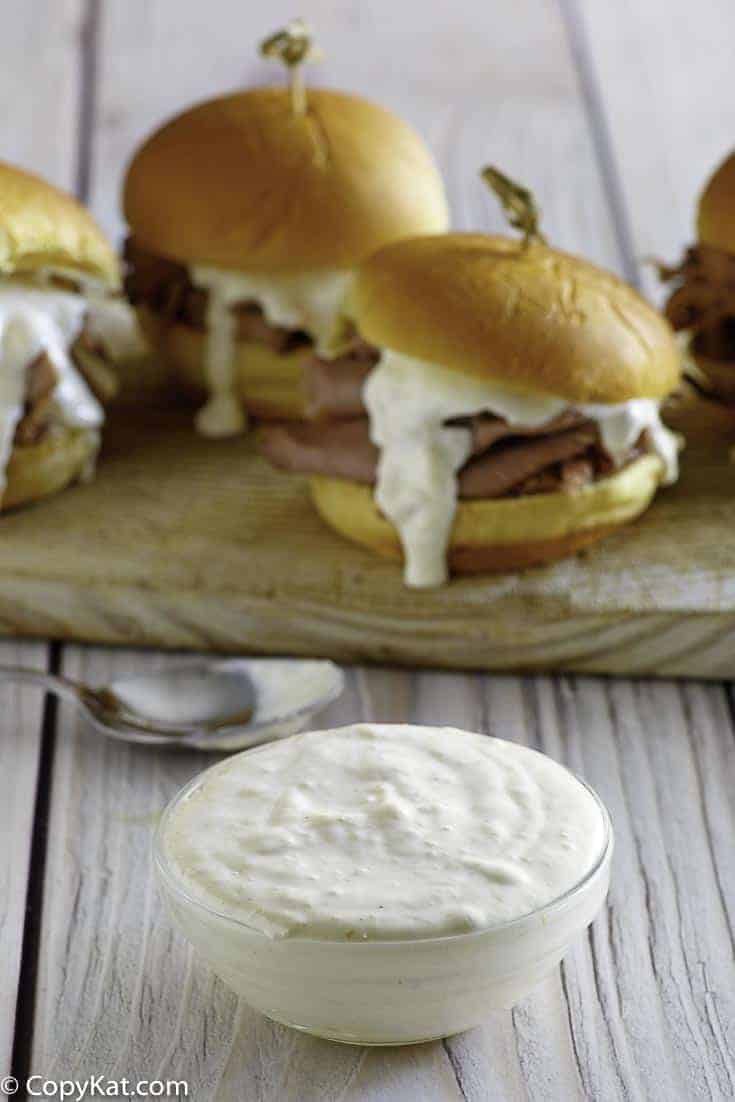 This post contains affiliate links. As an Amazon Associate, I earn from qualifying purchases.
Arby's Sauces
Growing up, we went to Arby's once in a while. I always thought this restaurant was better than an ordinary hamburger place. Arby's has two sauces that are amazing.
I personally love Arby's Sauce, a ketchup that's kicked up a bit and goes well with French fries – and just about anything you pour the sauce over.
I also like their spicy Horsey Sauce, and I think it was the first time I tried anything with horseradish in it. I've even heard of people using both sauces together!
Why this Copycat Arby's Horsey Sauce Recipe is the Best
I have looked at other recipes online for Arby's Horsey Sauce, but I was always a little disappointed in the results. If you recall, this sauce has no texture. It's creamy, with some heat and a little bit of sweet.
While plain old horseradish works well, I found that by using a creamy horseradish, I get something a little closer to Arby's. You can usually find creamy horseradish in the condiment section of the grocery store. And, of course, there's always creamy horseradish on Amazon.
Arby's Horsey Sauce Ingredients
There are only 4 simple items you'll need to make this creamy horseradish sauce. Here's a handy list:
Mayonnaise
Sugar
Creamed horseradish
Salt
How to Make Horsey Sauce
Place mayonnaise, sugar, creamed horseradish, and salt in a small bowl.
Stir until well combined.
Cover and place the sauce in the refrigerator for at least 1 hour prior to serving. For optimal flavor, refrigerate the sauce overnight.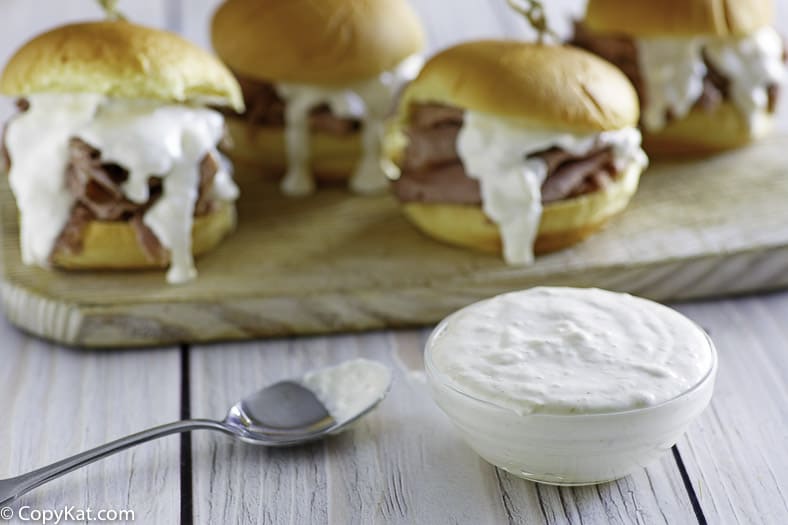 How long does horsey sauce last?
This sauce will stay fresh once made for about 7 to 10 days. I think it tastes a little better once it has had the chance to sit and the flavors get to mingle a bit. The flavor, in my opinion, tastes even better the day after you make the sauce.
Other Uses for Arby's Horsey Sauce
You might wonder how many uses for this classic sauce you can come up with. Well, you can use this horseradish cream sauce on everyday sandwiches.
It tastes wonderful on a homemade hamburger, and I even like to serve a little bit of it with roast beef. You might be able to think of more ways to use this yummy horseradish sauce.
What Does Horseradish have to do with Horses?
The German name for the plant is "meerrettich" which translates as sea radish because it's found near the sea. Apparently, the English couldn't pronounce the word "meer" properly and began referring to it as "mareradish." Eventually, this turned into horseradish.
The word "horse" in this context denotes coarseness and large size and the word "radish" comes from the Latin radix meaning root. There's a lot more to horseradish history than you might think.
And, why not combine horseradish with mashed sweet potatoes?
Popular Arby's Copycat Recipes
More Sandwich and Dipping Sauce Recipes
Be sure to take a look at my popular copycat recipes and easy recipes for dips and sauces.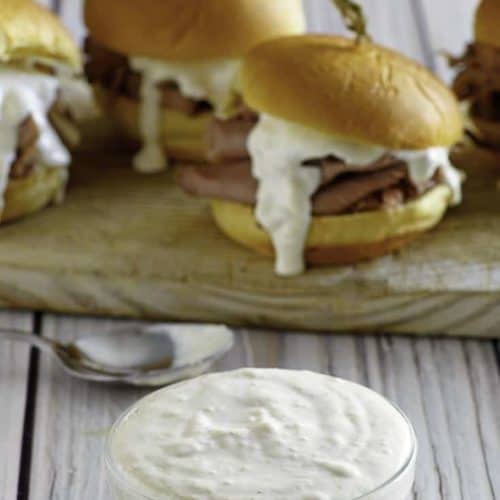 Ingredients
1

cup

mayonnaise

1

tablespoon

sugar

1/4

cup

creamed horseradish

or 2 tablespoons fresh horseradish

1/4

teaspoon

salt
Instructions
In a small bowl combine mayonnaise, sugar, creamed horseradish, and salt. Stir until well combined. For best flavor allow to rest in a covered container in the refrigerator for at least 1 hour. For optimal results allow to rest overnight before serving.
Nutrition
Calories:
159
kcal
|
Carbohydrates:
2
g
|
Protein:
0
g
|
Fat:
16
g
|
Saturated Fat:
2
g
|
Cholesterol:
9
mg
|
Sodium:
225
mg
|
Potassium:
19
mg
|
Fiber:
0
g
|
Sugar:
2
g
|
Vitamin A:
15
IU
|
Vitamin C:
1.5
mg
|
Calcium:
5
mg
|
Iron:
0.1
mg