One of the best ways to enhance a roast beef sandwich from Arby's is with the chain's spicy, creamy Horsey Sauce. But it takes just seconds of work to make it yourself at home, all thanks to horseradish with a kick as potent as its namesake.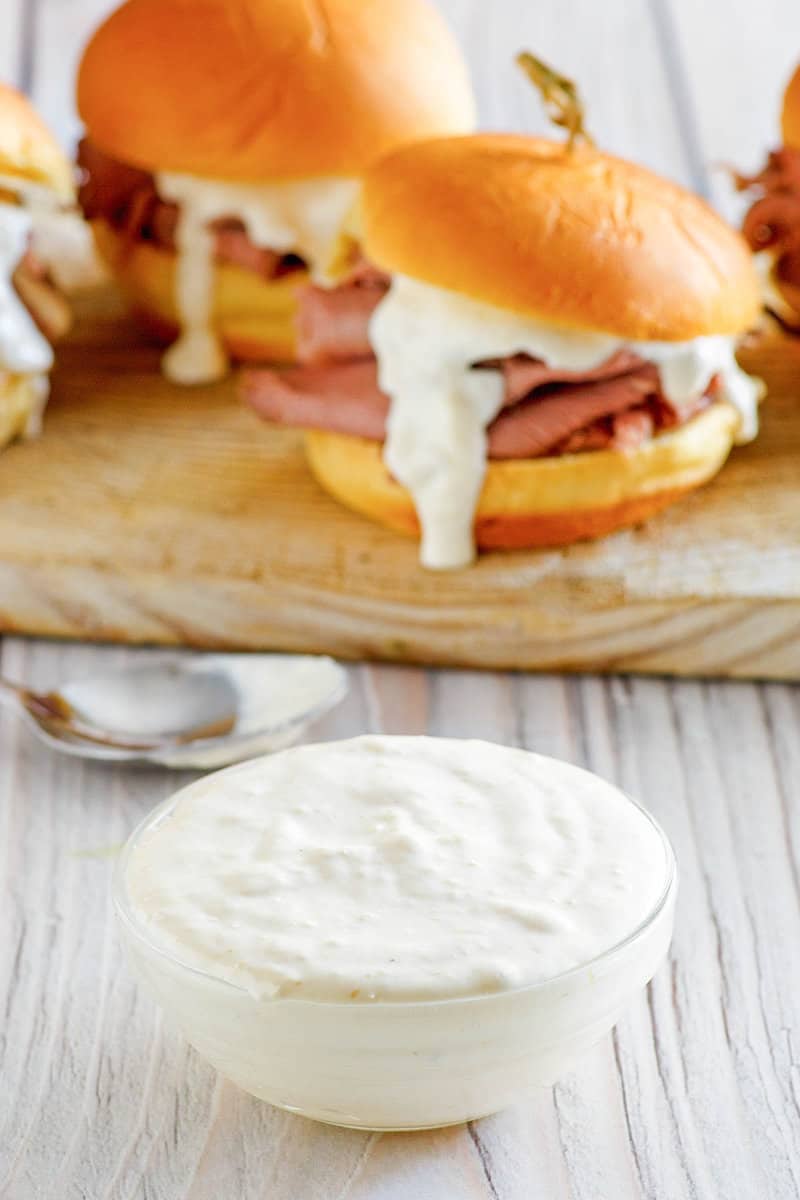 This post contains affiliate links. As an Amazon Associate, I earn from qualifying purchases.
Arby's Horsey Sauce
To paraphrase the commercial, Arby's certainly does have the meats. While the fast food chain offers a large and growing menu, there's no denying the roast beef roots that made Arby's famous. The delicious, thinly sliced meat is excellent on its own but is made even better with one of Arby's unique condiments — Horsey Sauce.
What makes Arby's Horsey Sauce so good?
There are no actual horses involved, but Arby's Horsey Sauce still kicks like one! The spiciness comes from creamed horseradish, a prepared version of the pungent grated root. But unlike some sinus-clearing horseradish recipes, the spice is evened out with velvety mayonnaise and a bit of sugar, creating a perfect balance.
Why This Copycat Arby's Horsey Sauce Recipe is the Best
Those who've enjoyed the real thing know Arby's Horsey Sauce is delightfully smooth. But plenty of online recipes for it aren't, leaving behind noticeable bits of horseradish.
Fortunately, this version solves that problem by opting for creamy horseradish instead, which can be found in the condiment section of your grocery store. You can also get creamy horseradish on Amazon. It provides a similar spicy boost without any texture issues.
Arby's Horsey Sauce Ingredients
You may be surprised how simple it is to make Arby's Horsey Sauce with just four everyday items:
Mayonnaise
Sugar
Creamed horseradish
Salt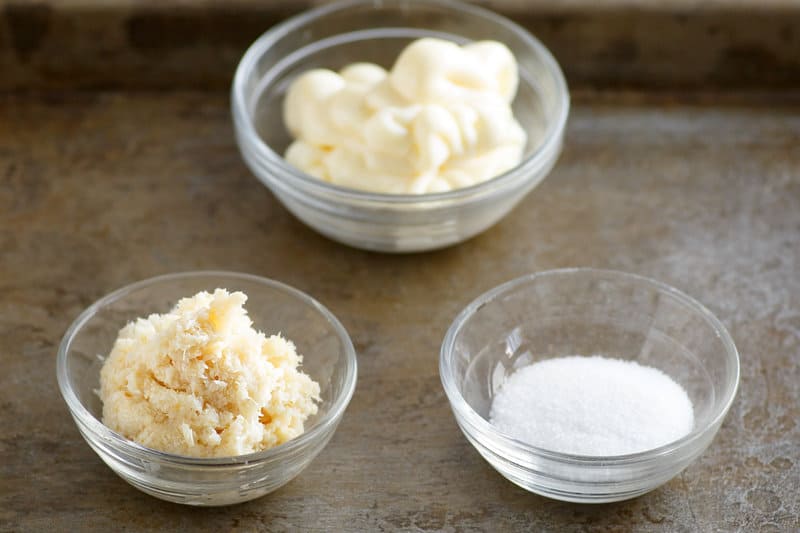 How to Make Horsey Sauce
This tasty, creamy, spicy sauce comes together in just a few minutes:
Add mayo, horseradish, sugar, and salt to a small bowl.
Stir well until combined.
Cover and refrigerate for at least one hour before serving.
For the best flavor, make the horsey sauce the day before eating and refrigerate overnight.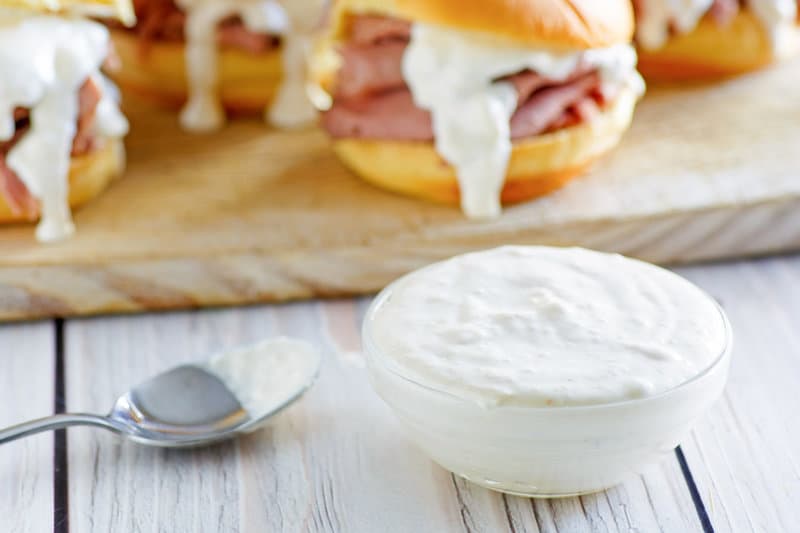 How to Serve Arby's Horsey Sauce
For a true Arby's experience, drizzle your horsey sauce over thinly sliced roast beef on a bun. The creamy spiciness perfectly complements the rich savoriness of the meat. It's also great for dipping fries, particularly the curly fries that Arby's is famous for.
Other Uses for Arby's Horsey Sauce
Don't limit yourself to roast beef sandwiches. This incredible condiment fits a vast selection of dishes. Naturally, it works on just about any sandwich that could use an extra kick, like turkey, ham, or club sandwiches.
By the same token, it also works in place of (or alongside) mayo on burgers, chicken sandwiches, or fried fish sandwiches. It even matches well with grilled meats like steak, pork chops, lamb, or chicken.
Use Arby's horsey sauce as a dipping sauce for French fries, onion rings, or fried mushrooms.
Serve this delicious creamy horseradish sauce with prime rib or pork loin roast.
Arby's Horsey Sauce is so delicious that you may find yourself pairing it with nearly everything!
How to Store Leftovers
Any leftover Arby's horsey sauce can be stored in the refrigerator in an airtight container.
Freezing isn't recommended, especially considering how quick it is to whip up a fresh batch.
How long does horsey sauce last?
It'll stay good for seven to 10 days. Some even enjoy the sauce more after a day or two when the pungent horseradish has had plenty of time to infuse into the creamy mayo.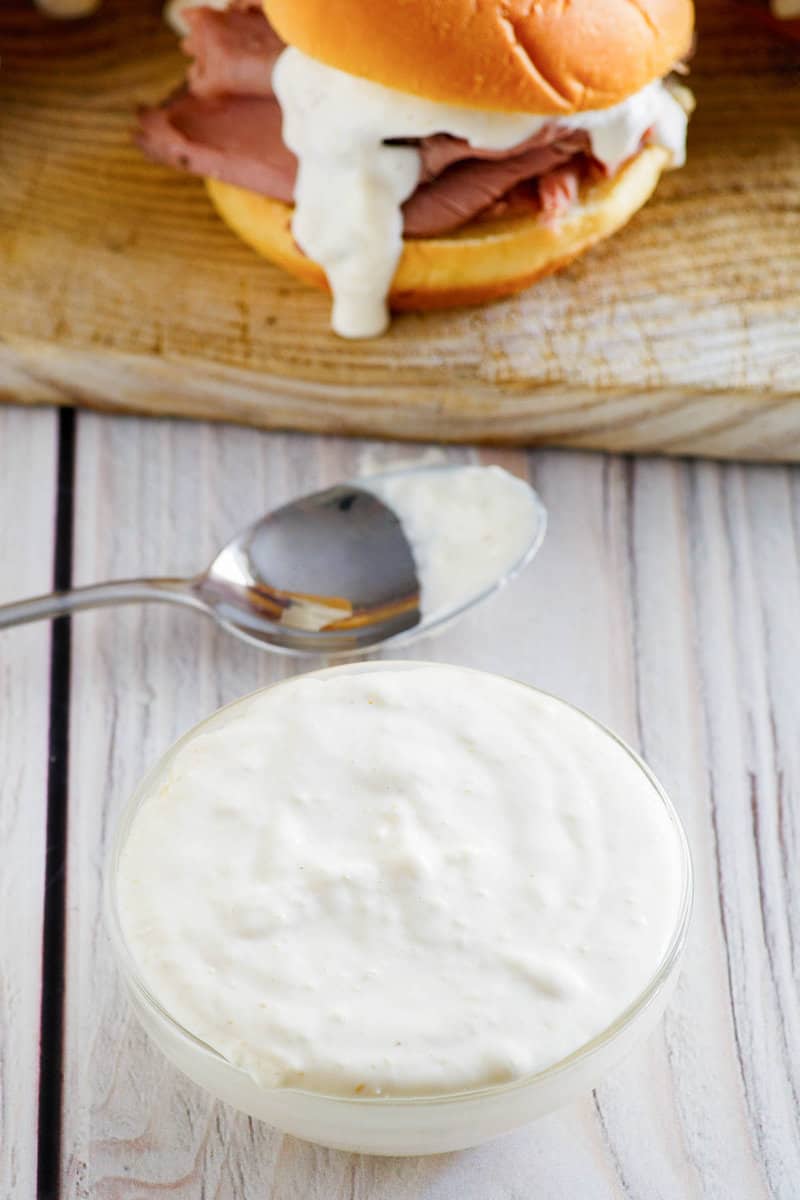 Popular Arby's Copycat Recipes
More Sandwich and Dipping Sauce Recipes
Be sure to take a look at my popular copycat recipes and easy recipes for dips and sauces.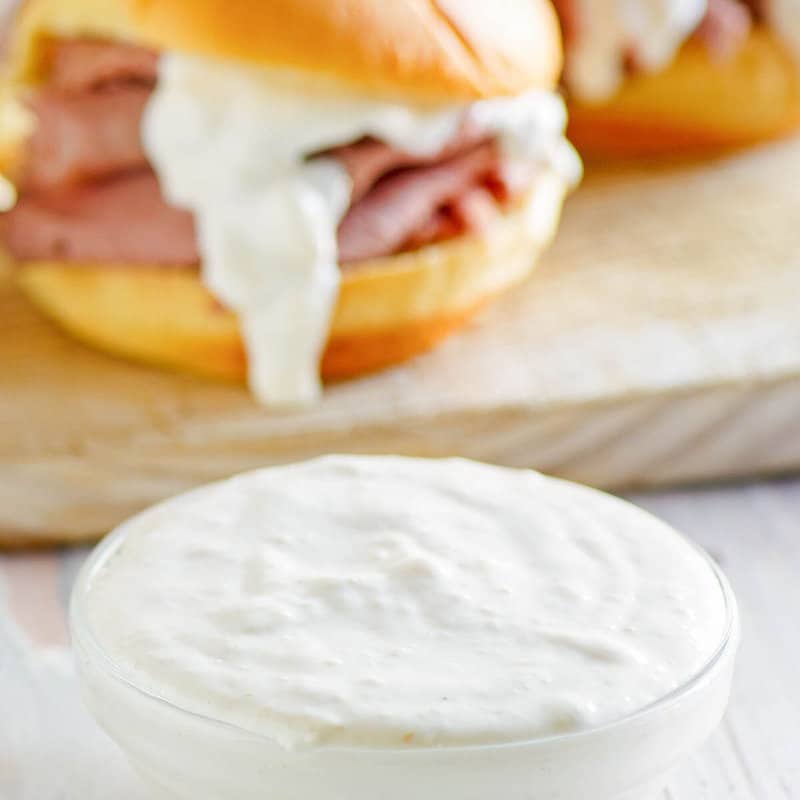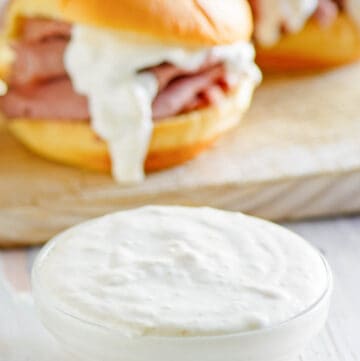 Ingredients
1

cup

mayonnaise

1

tablespoon

sugar

1/4

cup

creamed horseradish

or 2 tablespoons fresh horseradish

1/4

teaspoon

salt
Instructions
In a small bowl combine mayonnaise, sugar, creamed horseradish, and salt. Stir until well combined. For best flavor allow to rest in a covered container in the refrigerator for at least 1 hour. For optimal results allow to rest overnight before serving.
Nutrition
Calories:
159
kcal
|
Carbohydrates:
2
g
|
Protein:
0
g
|
Fat:
16
g
|
Saturated Fat:
2
g
|
Cholesterol:
9
mg
|
Sodium:
225
mg
|
Potassium:
19
mg
|
Fiber:
0
g
|
Sugar:
2
g
|
Vitamin A:
15
IU
|
Vitamin C:
1.5
mg
|
Calcium:
5
mg
|
Iron:
0.1
mg