Do you love the dessert selections at Arby's? Do you want to learn how to make fancy chocolate turnovers? Did you know it's actually easy to make chocolate turnovers at home?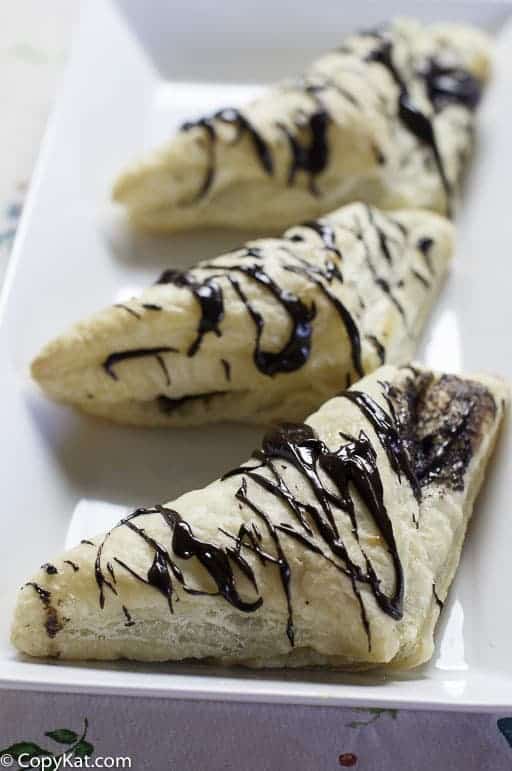 Often you can find a gem or something really tasty at a particular restaurant. Personally, at Arby's I love their Horsey Sauce, and the Arby's sauce, but there is one more special dish at Arby's that I think is a must-try. I love their desserts. They are the turnovers, served hot. They are wonderfully crispy and a pure delight.
Did you know it's very easy to prepare these turnovers? To make these we are going to step into the frozen section of the store and buy some puff pastry. You can make puff pastry at home, it tastes wonderful, but it takes a long time to make puff pastry. If you want to try making homemade puff pastry, the folks that the Kitchn have a great recipe for puff pastry.
For the chocolate, we are going to make a thick chocolate ganache. If you are around a Trader Joes I love their big bars of chocolate. It is rumored they are made by an expensive chocolate maker. If you aren't around a Trader Joes you can use any type of chocolate, in fact, semi-sweet chocolate chips will work very well.
You will be amazed at how easy these are to prepare. Simply roll out the dough, make the ganache, and a couple of quick cuts and you will be in business.
I hope you give this recipe a try. If you liked these, you may want to try Arby's Cherry Turnovers as well.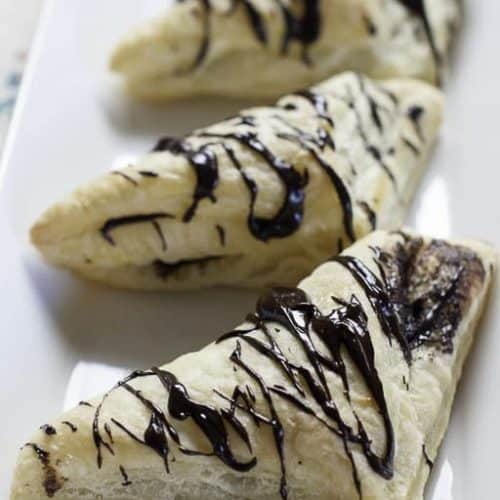 Ingredients
1

sheet

puff pastry

10

ounces

chocolate

3

tablespoons

heavy cream

1

egg

1

tablespoon

water
Instructions
Melt the chocolate in a double boiler until it melts completely. Add 3 tablespoons of heavy cream and stir in the heavy cream. Roll out the puff pastry into a large square. Cut the square into 4 pieces.

Place the chocolate into the squares, be careful not to add too much chocolate, you do not want it to come out. I like to add about a tablespoon of chocolate. Seal the sides of the puff pastry squares with the egg wash. (Prepare the egg wash by beating together 1 tablespoon of water to 1 egg) Bake at 350 degrees for about 15 to 20 minutes.

The turnovers should start to turn a pale tan when they are ready. Remove from oven, and drizzle some of the remaining chocolate over them.
Nutrition
Calories:
751
kcal
|
Carbohydrates:
70
g
|
Protein:
8
g
|
Fat:
52
g
|
Saturated Fat:
23
g
|
Cholesterol:
56
mg
|
Sodium:
183
mg
|
Potassium:
258
mg
|
Fiber:
4
g
|
Sugar:
36
g
|
Vitamin A:
225
IU
|
Calcium:
37
mg
|
Iron:
3.7
mg