Love warm cherry turnovers with their crispy pastry, and the tangy-sweet filling of cherries? Make Arby's Cherry Turnovers are at home.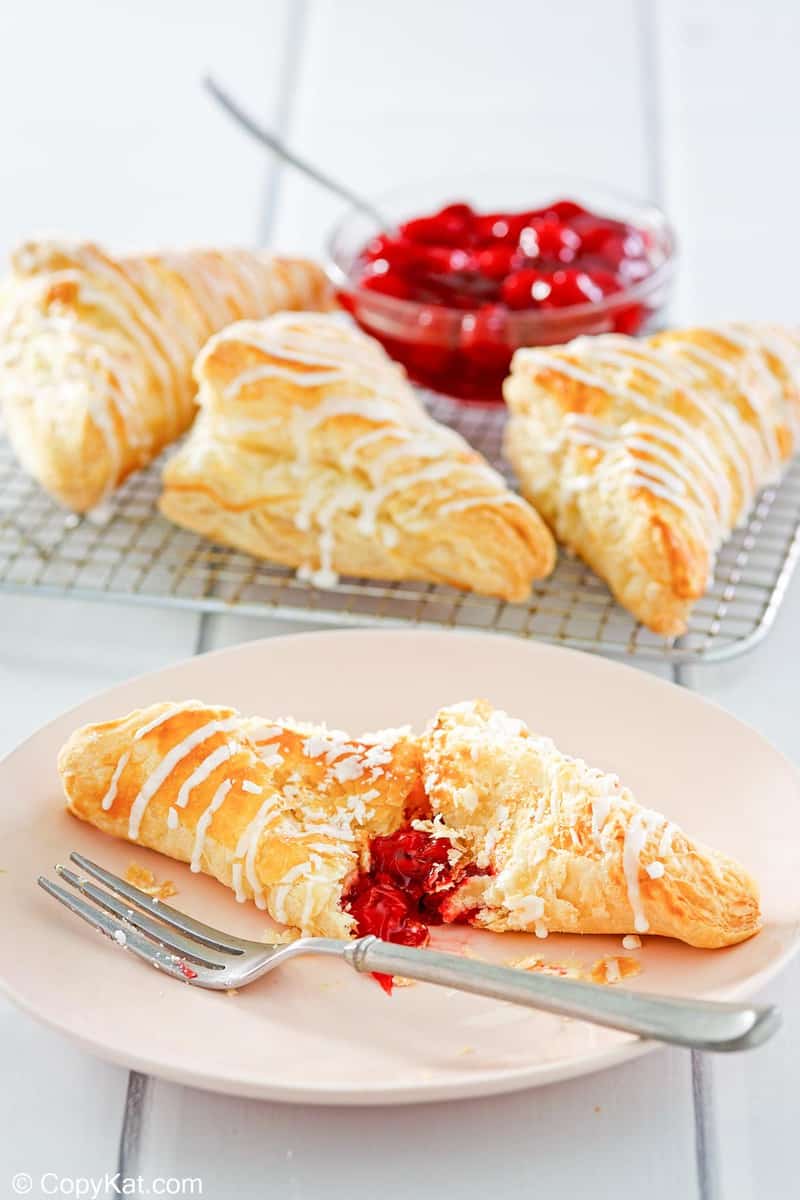 This post contains affiliate links. As an Amazon Associate, I earn from qualifying purchases.
Cherry Turnovers With Puff Pastry
Turnover recipes often begin with puff pastry. Yes, you can make homemade puff pastry; it just takes a long time to do. If you want to try your hand at making your own puff pastry from scratch, Martha Stewart has a really nice recipe for homemade puff pastry.
However, like many of us, it's easier and far less time-consuming to take a stroll down the frozen food aisle and grab some frozen puff pastry for your puff pastry turnovers. I personally like Trader Joe's and Pepperidge Farm, and sometimes my local store will have another brand. Any of them will work well.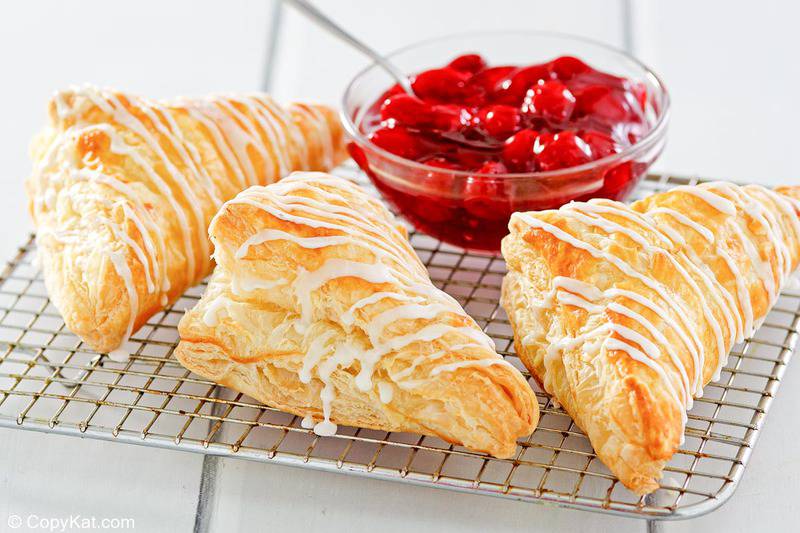 Cherry Turnover Filling
This cherry turnovers recipe uses canned pie filling. Choose a better quality cherry pie filling. This is one of those times to bypass the store brand and go for Solo, Musselman's, or Comstock. Each one of these brands is quite good.
Easy Cherry Turnovers
You will be amazed at how easy it is to make this copycat Arby's Cherry Turnovers recipe. Baking these puff pastry turnovers at home is so simple, and you only need a few ingredients – frozen puff pastry, cherry pie filling, egg, milk, and powdered sugar.
7 Steps for Working With Frozen Puff Pastry
Defrosting Your Puff Pastry: Read the box for defrosting directions and follow them implicitly. You can ruin your puff pastry by leaving it out on the counter for a long time – you may end up with a hunk of dough that is hard to use.
Unfolding Your Puff Pastry: Frozen puff pastry comes neatly folded in a package. You need to unfold the pastry in order to use it, but don't do this too early! If the pastry begins to crack when you are unfolding it, wait a few minutes before proceeding.
3. Flattening Your Puff Pastry: The next step is to roll out your pastry. Before doing so, lightly flour your work surface and your rolling pin. This will help to roll the pastry out smoothly with no sticking or pulling.
4. Be Careful With Your Rolling Pin: Puff pastry requires some delicacy. Don't overdo your rolling or use too much force. If you do, you'll roll out some of the flakiness, and your pastry won't puff as much.
5. Cut With Care: Use a sharp-edged paring knife, pizza cutter, or cookie-cutter, depending on what you are using the pastry for.
6. Keep Your Pastry Chilled: After cutting your puff pastry shapes, refrigerate them so they stay cold (this will help your pastry puff). As soon as you've assembled one, return it to the fridge while working on the next one.
7. Do not assemble your turnovers ahead of time (unless freezing – see below), or they will tend to turn out soggy.
Variations on Cherry Turnovers Recipes
If cherries are not your favorite, you can make turnovers with your favorite fruit pie fillings. Here are some other ideas for great turnovers:
Add a little dollop of softened cream cheese to each turnover before you add the cherry filling.
A little cinnamon goes well with apples and pears. You can also use apple pie spice, nutmeg, a pinch of cloves, or a tiny bit of allspice. Even a smidge of ginger tastes great.
Drizzle some caramel over the filling or add a few raisins.
Add a splash of bourbon.
Fill with lemon cream or lemon curd
Try blueberries and lemon curd
Sliced bananas with nut butter makes a wonderful turnover.
Add nuts–roughly chopped pecans, walnuts, or pistachios.
Mix in chocolate pieces or caramel bits.
Variations on Icing for Turnovers
Top your turnovers with chocolate syrup.
Give the icing a little pop with some vanilla and perhaps a little cream cheese.
Drizzle some caramel over the top.
Tip: Try deep-frying a turnover – it's insanely delicious! It only takes a minute or two in 350°F oil until the pastry is golden brown on both sides.
If you have some puff pastry leftover, one way to use it up is to add it to soup as in this copycat chicken pot pie recipe.
Storing Leftover Puff Pastry Turnovers
Keep in an airtight container at room temperature for 1-2 days or in the fridge for up to 5 days. Reheat in the oven or toaster oven at 375 F for 5-10 minutes until crispy and warm.
Freezing Unbaked Turnovers: Assemble the turnovers but do not brush with egg wash. Arrange them in one layer on a sheet pan and freeze. When frozen, place them in freezer-friendly resealable bags. Frozen turnovers are best used within 3 months.
Baking Frozen UncookedTurnovers: Do not thaw. Brush with egg wash and bake frozen at 400 F per the recipe instructions until the filling is bubbling. You may need to allow an extra 5-10 minutes of baking time. If the turnovers start to brown too quickly, loosely cover with foil.
Freezing Baked Turnovers: Allow the turnovers to cool completely, then wrap in aluminum foil. Freeze for up to 3 months.
Baking Frozen Cooked Turnovers: Do not thaw and bake at 350 F for 15-20 minutes until warm and crispy. They may not turn out as flaky as when freshly baked.
Recipe Ingredients
Here's a list of what you need:
Frozen puff pastry – Pepperidge farm is easy to find, but I have also found some other brands in upscale grocery stores.
Cherry pie filling – buy a good quality brand here, you want lots of cherries in the can!
Egg – I use large or extra large sized eggs.
Milk – I have used whole milk and 2% with good results
Powdered sugar – if your powdered sugar has sat around for awhile, you may want to sift it before using.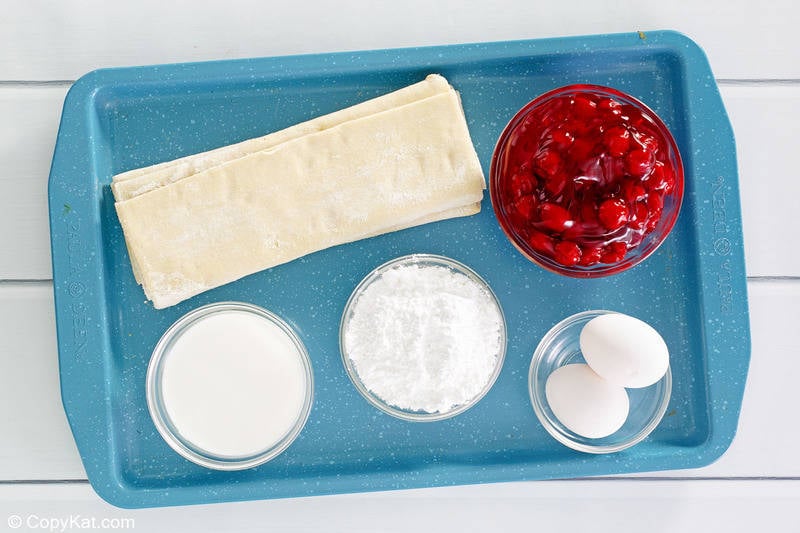 How to Make Cherry Turnovers
Defrost puff pastry and lay out the pastry sheet on a baking sheet.
Cut the pastry into 4-inch squares.

Place a couple of tablespoons of pie filling into the center of each square.

Brush egg wash on the edge of the puff pastry except for 1 inch in the center of each of the sides.
Fold the pastry squares to make triangles.
Gently press the edges together.
Brush egg wash on the top of the turnovers.

Bake at 375 degrees for 25 minutes or until lightly browned.
Combine milk and powdered sugar in a small bowl.
Drizzle the icing over the turnovers.
Recipe Variations
If you do not like cherries, you can make turnovers with other pie fillings:
Apple
Blueberry
Lemon Cream or Lemon Curd
Mixed Berry
Peach
Raspberry
I hope you enjoy these as much as I do.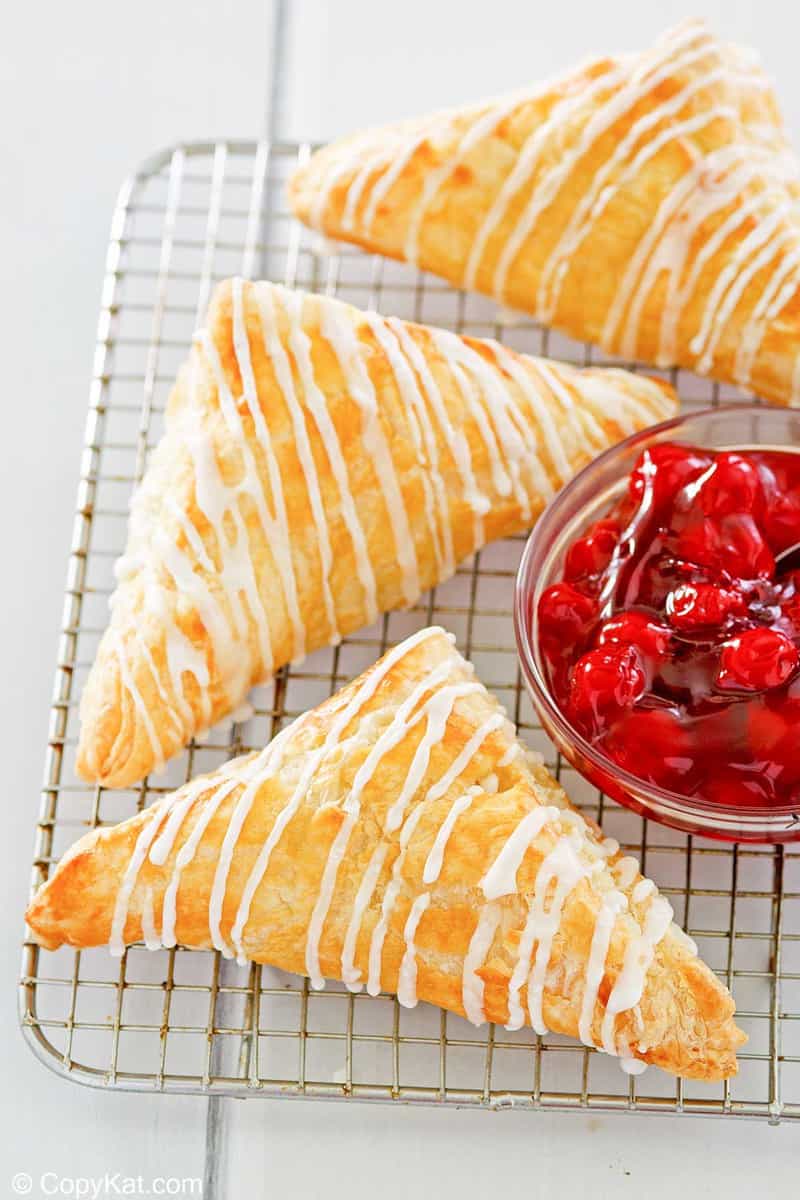 More Arby's Copycat Recipes
Favorite Dessert Recipes
Check out more of my easy dessert recipes and the best fast food recipes here on CopyKat!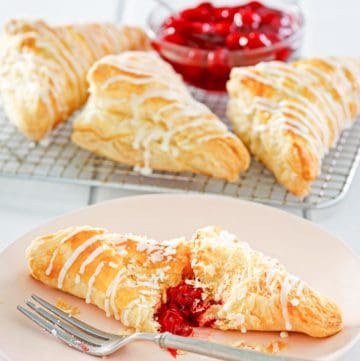 Ingredients
1

package

puff pastry, defrosted

1

21-ounce can

cherry pie filling

1

egg white

lightly beaten with a teaspoon of water

3

tablespoons

milk

1

cup

powdered sugar
Instructions
Preheat oven to 375°F.

Lay out the puff pastry sheets on an ungreased baking sheet, and cut the dough into 4 x 4-inch squares.

Place about 2 tablespoons of pie filling into the center of each square. Ideally, there will be about 5 to 6 cherries in each turnover. Do not overfill, as the filling may leak out while baking.

Brush egg wash on all the inside edges of the puff pastry, except for 1 inch in the center of each of the sides. This will allow the puff pastry to vent while cooking.

Fold the turnover in half diagonally to make a triangle. Gently press the edges together. Don't press too hard, or the edges won't puff as they should.

Brush the top of each turnover with egg wash and bake for 25 to 27 minutes, or until lightly browned. Remove the turnovers from the oven and allow them to cool slightly.

Make the icing by combining the milk and the powdered sugar in a small bowl. Drizzle the icing over the turnovers.
Notes
Store cherry turnovers in an airtight container.
These are best eaten within 1 or 2 days.
Nutrition
Calories:
649
kcal
|
Carbohydrates:
84
g
|
Protein:
7
g
|
Fat:
31
g
|
Saturated Fat:
8
g
|
Cholesterol:
0
mg
|
Sodium:
233
mg
|
Potassium:
172
mg
|
Fiber:
1
g
|
Sugar:
20
g
|
Vitamin A:
215
IU
|
Vitamin C:
3.5
mg
|
Calcium:
28
mg
|
Iron:
2.3
mg