Banana Split Cake has all the flavors of the ice cream dessert. This creamy no bake refrigerator icebox cake is perfect for summer, potlucks, and festive occasions.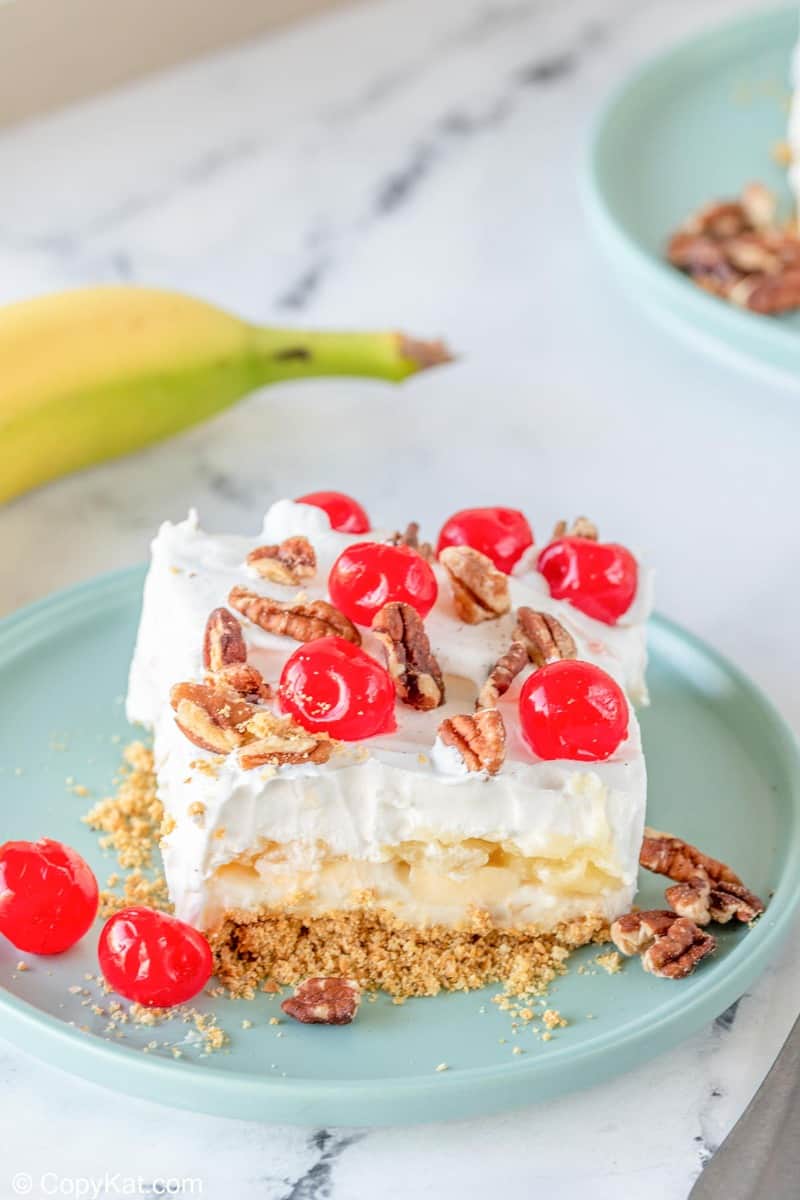 Vintage Dessert
Banana Split Cake is a classic vintage recipe sure to be a favorite for generations. It's one of the top no bake desserts for decades.
This creamy banana split cake with pudding is downright delicious! Between the flavors of the crushed pineapple and maraschino cherries, to the texture of the crunchy pecan, your tastebuds will be soaring.
Why is Banana Split Cake No Bake So Tasty?
No bake banana split cake is like one massive banana split, but made into layers. It is super creamy, filled with amazing flavor from the pineapple and cream cheese.
There is just something about the combination that makes it a light and refreshing dessert, but still a little rich at the same time.
The Cool Whip whipped topping creates a nice airy layer to top everything off and then it is generously sprinkled with lightly toasted pecans to pull the rest of the banana split ice box cake together.
Banana Split Cake Recipe Ingredients
Here's a list of what you need:
Graham cracker crumbs
Butter
Sugar
Powdered sugar
Vanilla extract
Cream cheese
Bananas
Canned crushed pineapple
Cool whip
Maraschino cherries
Pecans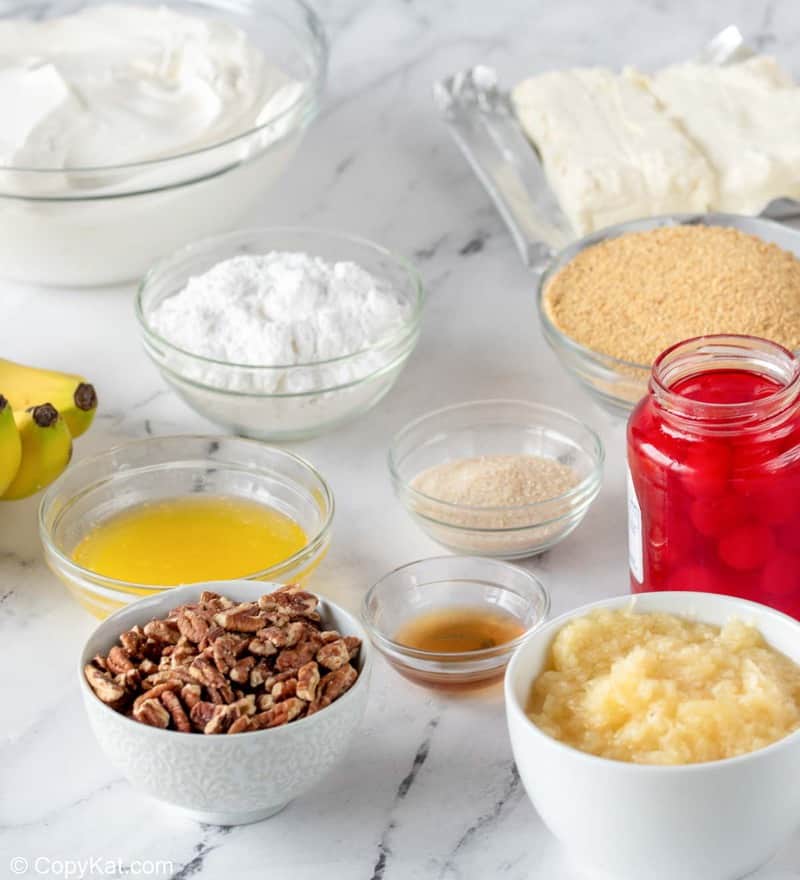 How to Make Banana Split Cake
Place graham cracker crumbs, melted butter, and sugar in a medium bowl.

Stir to combine.

Press graham cracker mixture into and even layer in the bottom of a 9×13-inch pan.

Place powdered sugar, vanilla, and cream cheese in a bowl.

Blend until smooth.

For the next layer, spread the cream cheese mixture over the graham cracker crust.

Slice bananas and place the slices in a layer on the cream cheese.

Drain off the pineapple juice and spread the crushed pineapple over the banana slices.

Spread Cool Whip over the pineapple.

Drain cherries and sprinkle them over the Cool Whip.

Sprinkle pecans on top.

Refrigerate until serving.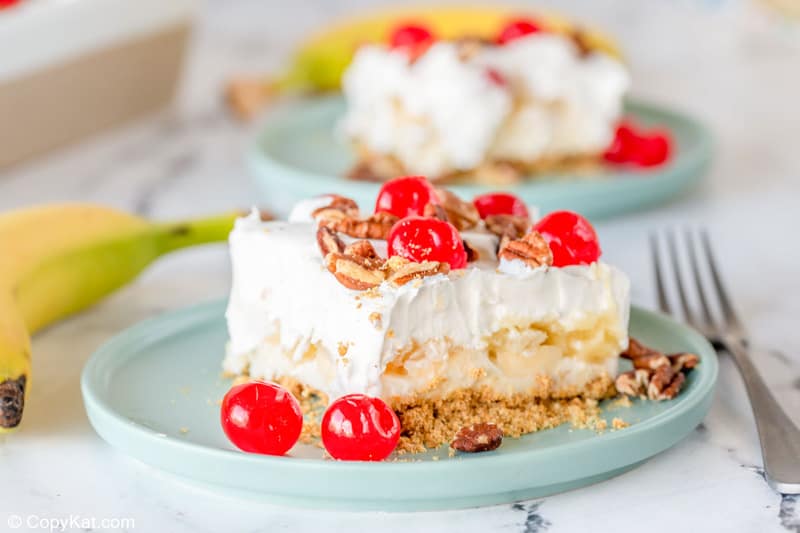 Add Your Own Touches to This Banana Dessert Recipe
While this is a fairly traditional banana split cake recipe, you are welcome to add or take away ingredients based on your personal preference.
You could add a layer of cheesecake, chocolate pudding, or banana pudding to add even more depth to the flavor this recipe provides.
You can use homemade whipped cream instead of Cool Whip.
I've also chopped up the maraschino cherries before and folded them into the cream cheese layer to, allowing you to get cherries in every bite.
Do you like a crunchier dessert? Consider either adding extra pecans, or some chopped walnuts, cashews, or peanuts on top with the pecans to create a nice mixed nut crunch topping.
I also like to serve this with hot fudge or chocolate drizzled over top and it is just fantastic!
How to Store No Bake Banana Split Cake
After making this banana split with pudding, cream cheese, and cool whip, you will want to make sure to refrigerate the banana dessert.
About half of the ingredients required being refrigerated, so when this is not being served, cover the dish it was made in with either plastic wrap, aluminum foil, or the top the dish came with and then store it in the fridge.
This will also ensure that the bananas keep for longer and avoid getting brown, both necessary things to have a tasty banana split cake.
Or, if you do not plan to eat the dessert right away, freezing this dessert might be a good option! Not only will it hold up while frozen, it might even be great frozen or slightly thawed.
But, be careful if you do choose to freeze it, I would hold off on the maraschino cherries on top. When they defrost they will let off water and color the cool whip near it.
How Long Will Banana Split No Bake Last?
Once the dessert is made and in the fridge, it will last at most 2-3 days before the bananas start to get extra mushy and turn colors.
If you do not expect to eat it soon after making it, consider freezing it. This recipe truly is best when it is made the same day and has time to chill in the fridge.
But, it can last perfectly fine for 2 to 3 days in the fridge.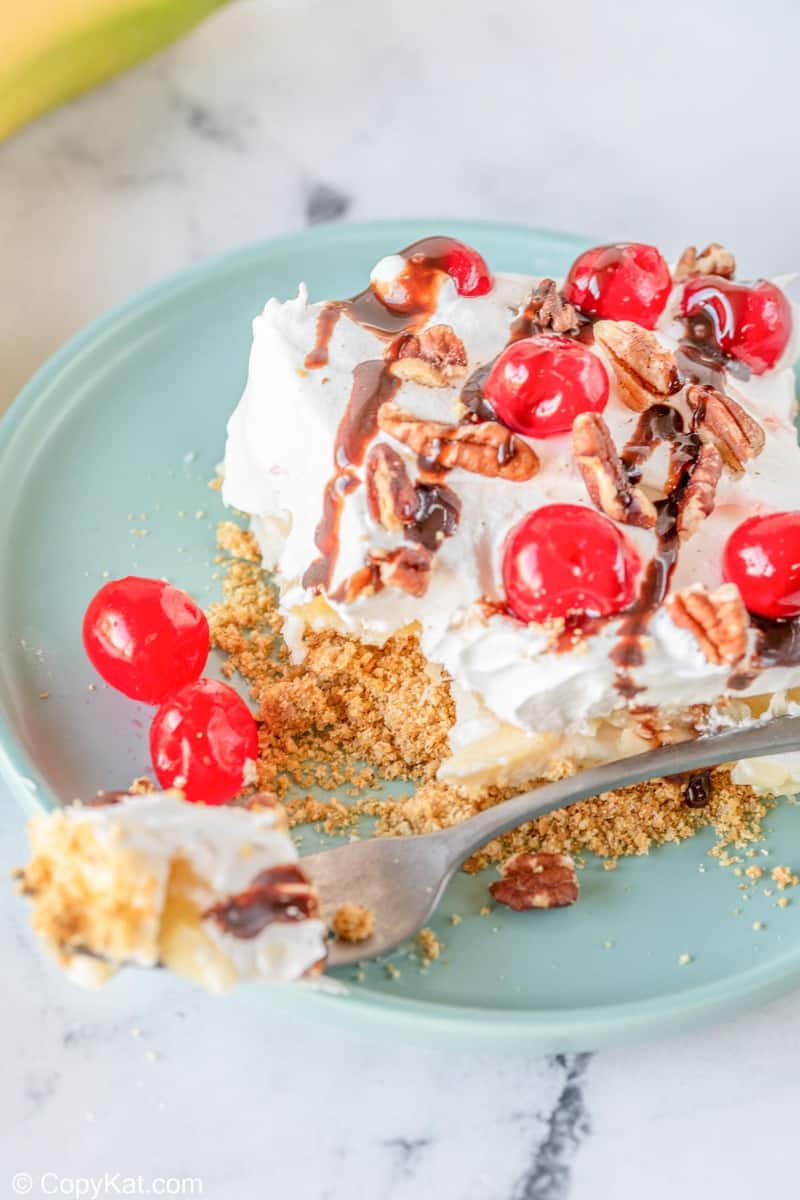 Popular Cake Recipes
Favorite Creamy Desserts
Check out more of my easy cake recipes and the best dessert recipes here on CopyKat!
Source Virginia McDowell. Jefferson City, Mo. 1980.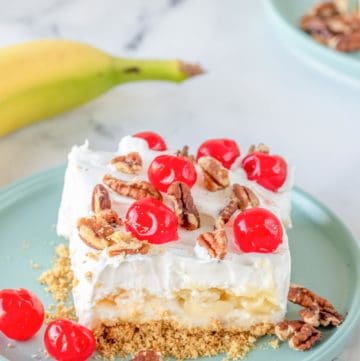 Ingredients
The crust
2

cups

graham cracker crumbs

6

ounces

melted butter

3

tablespoons

sugar
The filling
2

cups

powdered sugar

1

tablespoon

vanilla extract

16

ounces

cream cheese

4

bananas

sliced

15

ounces

crushed pineapple

drained

16

ounces

Cool Whip

1

jar

maraschino cherries

(16 ounces)

12

ounces

pecans
Instructions
To make the crust, combine graham cracker crumbs, melted butter, and sugar in a bowl.  Stir to combine. Press into a 9×13-inch pan. 

Mix the powdered sugar, vanilla, and cream cheese together until smooth. Spread over the graham cracker crust. 

Slice bananas and place them flat in a single layer on the cream cheese mixture.

Drain the crushed pineapple and spread it in the pan.

Spread Cool Whip over the pineapple.

Drain cherries and place them on top of the Cool Whip.

Keep the cake refrigerated when not serving.
Notes
You can lightly toast the pecans before adding them to the cake. Be sure to let them cool completely before sprinkling them on top or they will melt the Cool Whip.
You can drizzle chocolate syrup on the cake when serving if desired.
Nutrition
Calories:
345
kcal
|
Carbohydrates:
31
g
|
Protein:
3
g
|
Fat:
24
g
|
Saturated Fat:
8
g
|
Cholesterol:
39
mg
|
Sodium:
171
mg
|
Potassium:
211
mg
|
Fiber:
2
g
|
Sugar:
22
g
|
Vitamin A:
495
IU
|
Vitamin C:
3.5
mg
|
Calcium:
60
mg
|
Iron:
0.8
mg