Apple muffins are a breakfast staple! You can also enjoy them for lunch or as a snack. They are filled with all the cinnamon, apple, and nut flavors your taste buds can handle!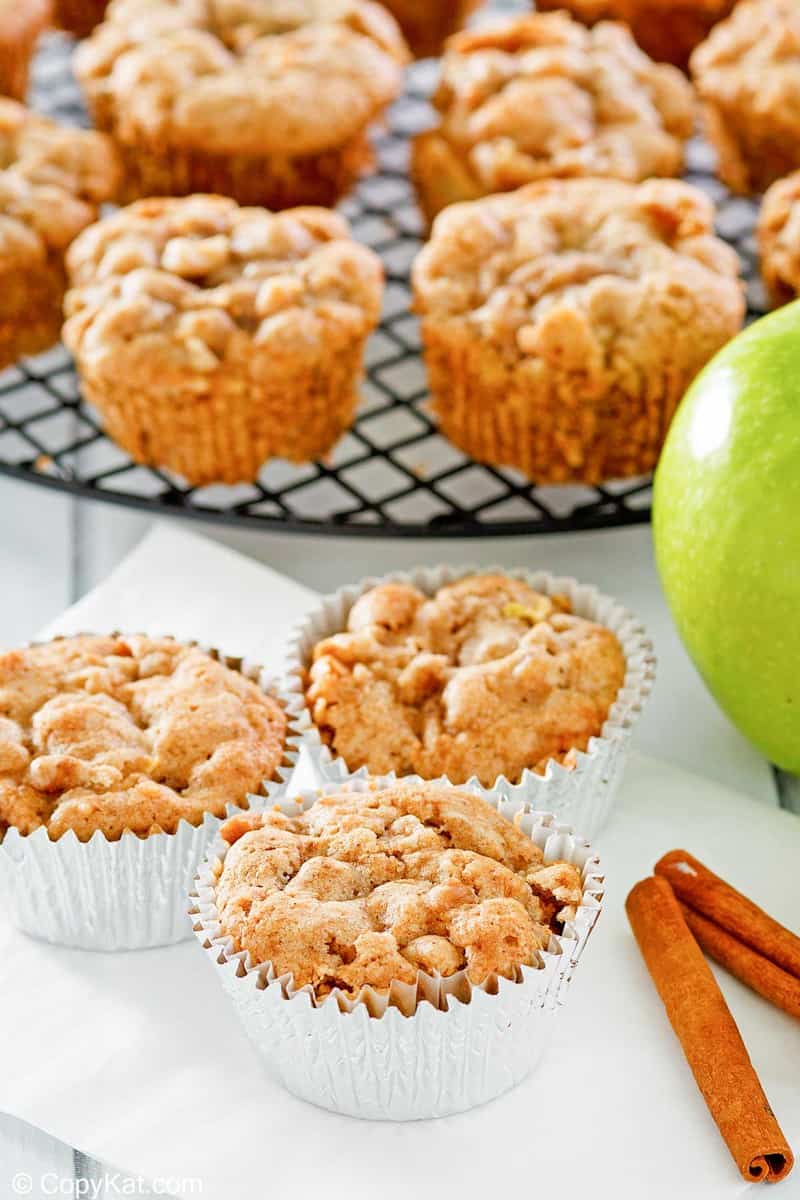 The Best Apple Muffins Recipe
I love pretty much any apple recipe, but this one is special because it was my grandma's homemade apple muffins recipe. She made these perfectly. They are the best warm.
This recipe produces a moist apple cinnamon muffin that you will love. You might even find it hard to stop at just one muffin. Plus they are super easy to make. So if you accidentally eat one too many, it is not hard to make more.
Apple Muffin Recipe Ingredients
Get out your baking ingredients and be ready to make these delicious apple walnut muffins.
Here's a list of what you need:
All-purpose flour
Cinnamon
Baking soda
Salt
Oil
Eggs
Sugar
Vanilla extract
Tart apples
Walnuts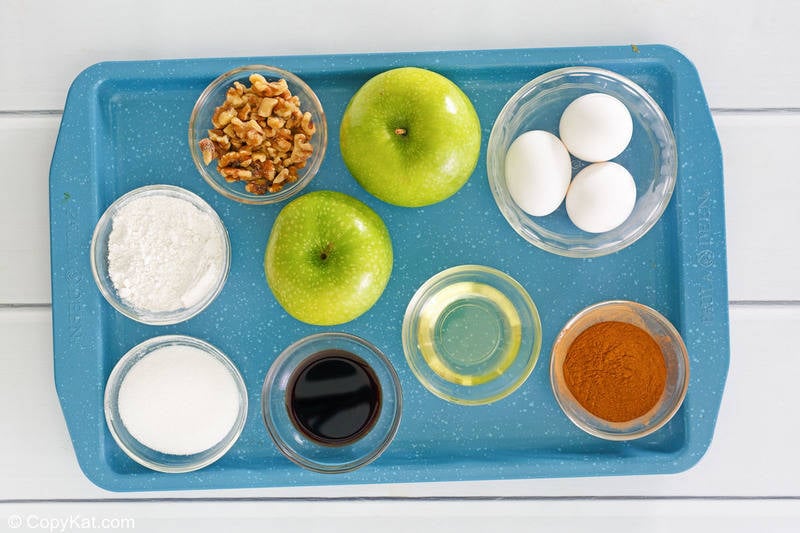 Ingredient Substitutions
You can make this recipe as is or make some alterations to fit your diet.
Switch out the flour for King Arthur measure for measure gluten-free flour.
Use applesauce instead of oil (this will definitely enhance the apple flavor).
Use pecans or almonds instead of walnuts.
Instead of using granulated sugar, try using stevia or organic cane sugar.
Use the changes that work for you and let me know how they go!
Best Apples for Muffins
Are you wondering what kind of apples are best for muffins?
While you can use any type of apple for muffins there are some apples that hold up during the baking process than others.
I like to use the Jonagold, Braeburn, Honeycrisp, or even Granny Smith apples. They all have a lot of great flavor and are sturdier apples.
Is it better to grate or chop the apples?
This question is a little harder to answer because it depends on personal preference.
If you want apple flavor, but do not actually want to see apples in the muffin, then grating is probably the way to go. Note you will lose some of the moisture from the apple when grating it.
However, if you like to see the little bits of apple in the muffin, then I would recommend chopping up the apples. I normally preferred the apples to be chopped up for these cinnamon apple muffins.
How to Make Apple Muffins
To make this cinnamon apple walnut muffins recipe, you'll need to separately combine the dry and wet ingredients. Then put them together and bake. Here are the steps:
Mix together the dry ingredients in a small bowl and set it aside.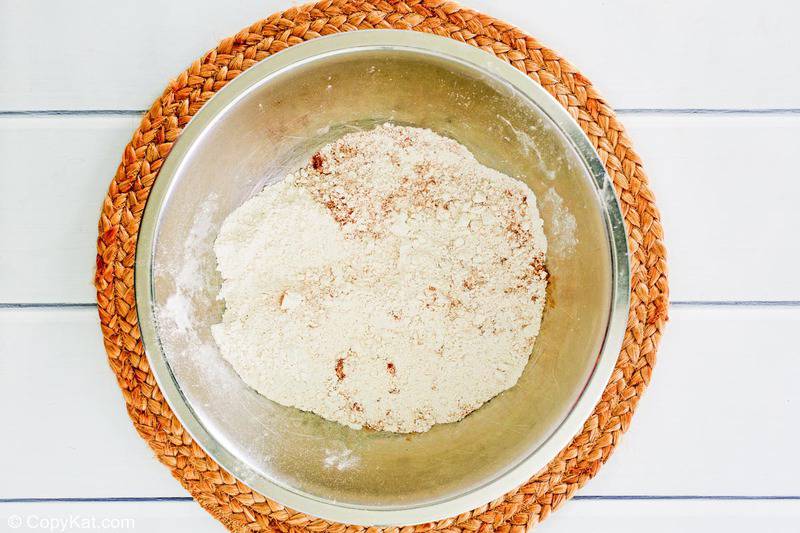 Place the eggs in a large bowl.
Then add in the rest of the wet ingredients and mix them together.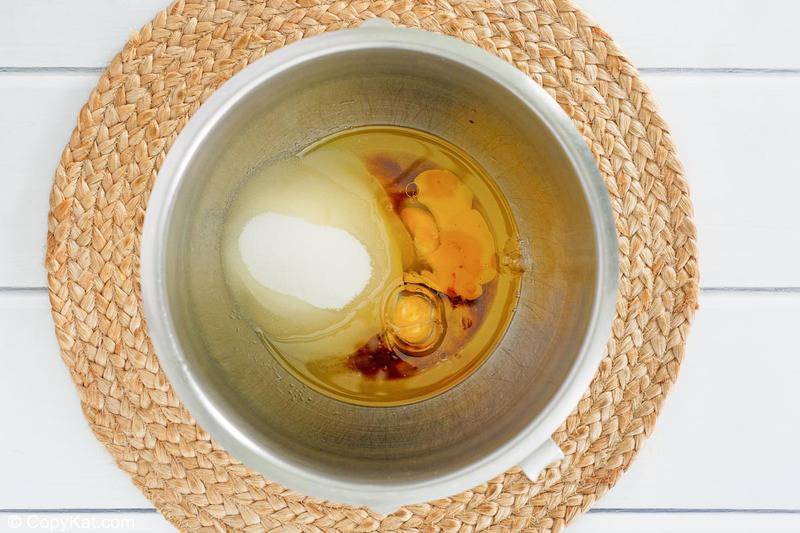 Once everything is creamed together, add in the dry ingredients and mix until just combined.
Add in the apple and walnut pieces and carefully mix them into the batter.
Spoon the batter in lined muffin tins and bake them at 350 degrees for about 15 to 20 minutes.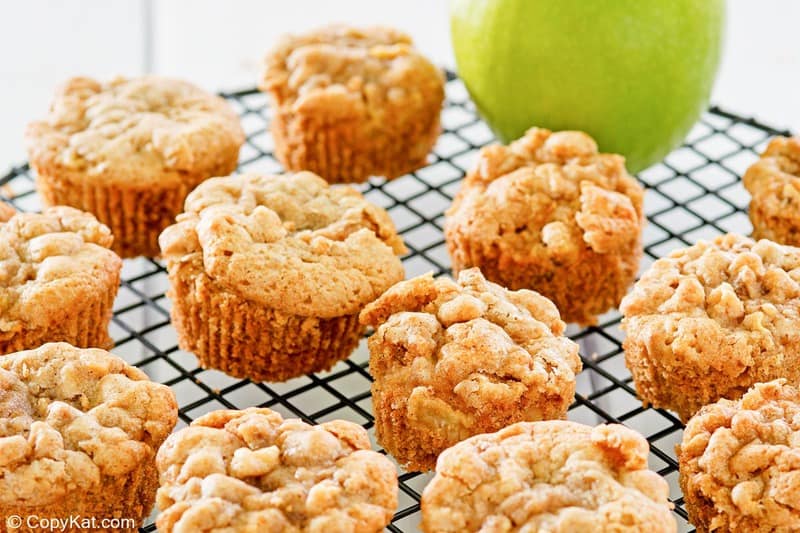 What is the secret to making moist muffins?
By using a sturdier apple for the muffin recipe, the apple retains some of its moisture when it is cut. As an apple is worked, it loses more and more of its moisture.
Also, if you chop up the apple instead of grating the apple you can also help lock in more of the moisture that can then be baked into the muffin.
Best Way to Store Cinnamon Apple Muffins
To make sure that your muffins don't dry out, store them in an airtight container with the end pieces of a loaf of bread (or any slice of bread).
As the muffins lose their own moisture, they can absorb the moisture from the bread allowing them to last longer.
Can I freeze apple muffins?
These muffins will do well frozen. Just make sure to allow them to cool down completely before putting them in a freezer-safe zip-top bag.
And when you want to eat one, just pull them out the day beforehand and set it on the counter to allow it to thaw at room temperature.
Love apples? Try these amazing recipes!
Popular Muffin and Breakfast Bread Recipes
Check out more of my easy bread recipes and the best breakfast recipes here on CopyKat!
This recipe is from the archives of my grandmother, Ethel Eynard. Jefferson City, MO. 1978.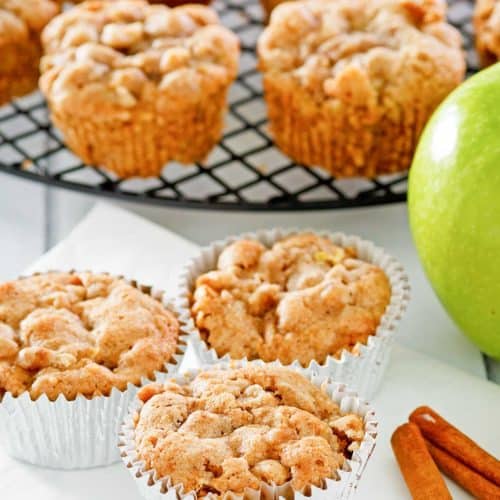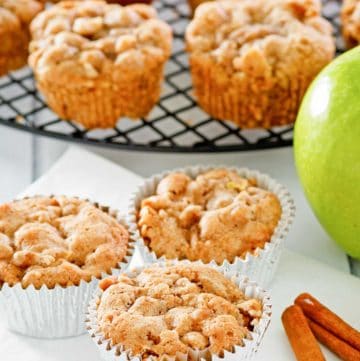 Ingredients
2

cups

all-purpose flour

2

teaspoons

ground cinnamon

1

teaspoon

baking soda

1/2

teaspoon

salt

2

eggs

1

cup

vegetable oil

1

cup

sugar

1

teaspoon

vanilla extract

4

cups

peeled and chopped tart apples

1

cup

chopped walnuts
Instructions
Preheat oven to 350°F.

In a small bowl or on waxed paper, stir together the flour, cinnamon, baking soda, and salt. Set aside.

In a large bowl, beat the eggs until foamy. Then beat in the oil, sugar, and vanilla. Stir the flour mixture into the wet ingredients until blended. Then stir in the apples and walnuts.

Spoon the batter into 2 1/2-inch muffin tins lined with paper muffin cups. Bake for 15 to 20 minutes or until a pick inserted in the center comes out clean. Remove from pans and serve warm or at room temperature.
Nutrition
Calories:
162
kcal
|
Carbohydrates:
26
g
|
Protein:
2
g
|
Fat:
5
g
|
Saturated Fat:
0
g
|
Cholesterol:
0
mg
|
Sodium:
126
mg
|
Potassium:
73
mg
|
Fiber:
1
g
|
Sugar:
14
g
|
Vitamin A:
15
IU
|
Vitamin C:
1.4
mg
|
Calcium:
12
mg
|
Iron:
0.9
mg