Starbucks Blueberry Muffin is loaded with blueberries and topped with crumbly streusel. These moist and soft muffins made with fresh blueberries are perfect for breakfast or an afternoon snack.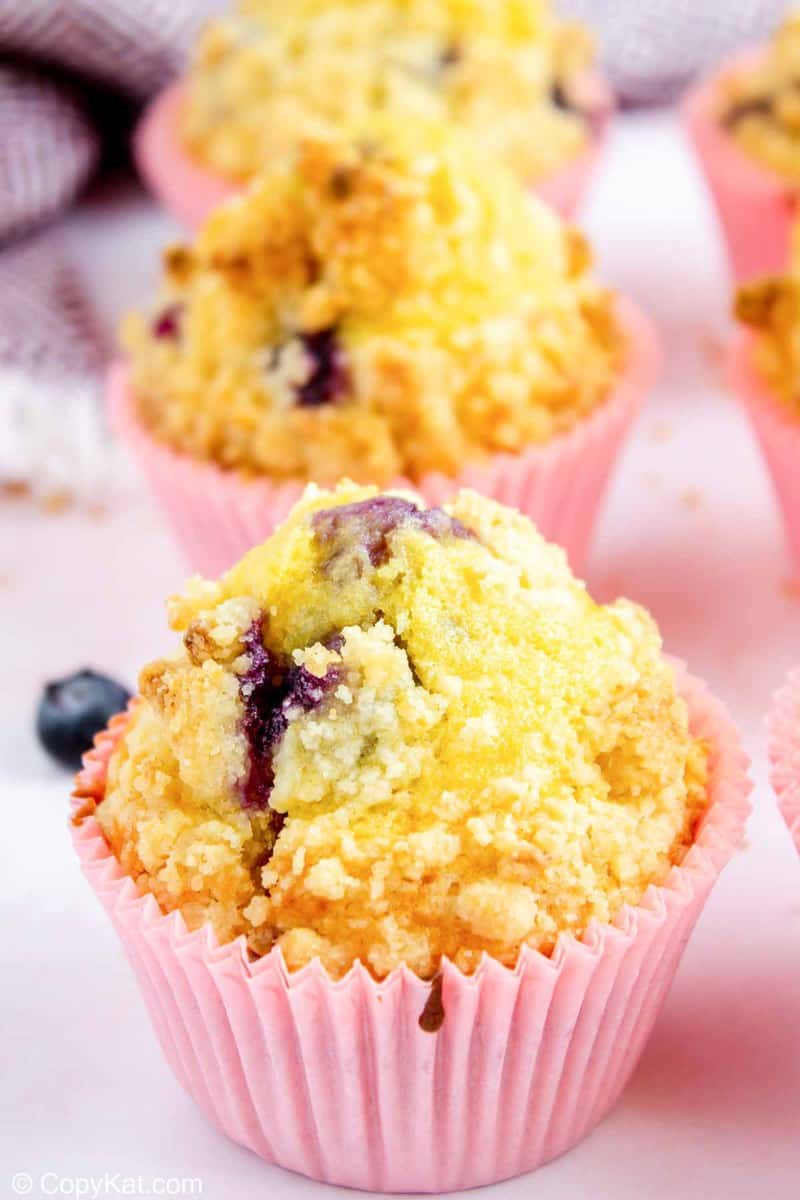 It doesn't seem fair. You're already addicted to Starbucks' coffee drinks, and then they have to go and put irresistible blueberry muffins on the menu. But you don't have to fork over more money to satisfy your muffin cravings. This Starbucks Blueberry Muffin recipe lets you recreate the cafe's delicious streusel-topped muffins at home for a fraction of the cost!
No One Has Time to Bake in the Morning!
Just because getting out of bed at 3 AM to bake is out of the question, don't let that stop you from enjoying warm blueberry muffins for breakfast. These blueberry muffins freeze and reheat beautifully.
To freeze, let the blueberry muffins cool down to room temperature on a wire rack. Once cooled, wrap them individually in plastic wrap and put them in a single layer in a freezer-safe container. This container will help prevent them from being crushed and provide another layer of protection against freezer burn. Muffins can last in the freezer for up to three months.
To reheat the muffins, unwrap the muffins and let them thaw on the counter. Now you have several options to consider depending on how much time you have.
The quickest is simply reheating in the microwave. This method may be the fastest, but you will definitely be sacrificing quality. Still, if you are in a rush, it is better than going hungry. Put the muffin on a plate and cover it with a damp paper towel. Heat on high for 25 seconds.
Perhaps the most common way to reheat muffins is in the oven. While the muffins are thawing on the counter, preheat your oven to 350 degrees. Place the thawed muffins back in the muffin tin you used to bake them. Sprinkle a little water on top of the muffins and wrap the top of the tin with aluminum foil. Bake for about 20 minutes.
A much faster method than an oven that delivers better results than a microwave is using an air fryer. Preheat your air fryer to 300 degrees and pop in the thawed and unwrapped muffins. You don't need to cover the muffins with aluminum foil or add any water. Cook for about 3 minutes.
Tips for Baking This Starbucks Blueberry Muffin Recipe
Use fresh or frozen blueberries in this recipe. If you are using frozen ones, thaw them in a colander in the sink. Pat the berries dry before adding to the recipe.
Slightly underbake any blueberry muffins you plan to freeze and use later. After lowering the temperature to 375 degrees, bake for 5-10 minutes, not the 10-15 minutes as directed in the recipe below. Doing this is especially useful if you plan on using the oven reheating method.
Stop the blueberries from sinking to the bottom. If you find the berries fall to the bottom of your muffins, sprinkle them with a bit of flour before adding them to the batter. Coating the blueberries in flour will also stop them from bleeding into the batter and staining it.
Keep muffins from getting soggy with crackers. Add a few saltine crackers to the container you are storing your muffins to soak up any humidity.
Check out more of our copycat Starbucks recipes on YouTube!
Starbucks Blueberry Muffin Ingredients
Here's a list of what you need:
Butter
Lemon zest
Sugar
All-purpose flour
Eggs
Baking powder
Baking soda
Milk or buttermilk
Vegetable oil
Blueberries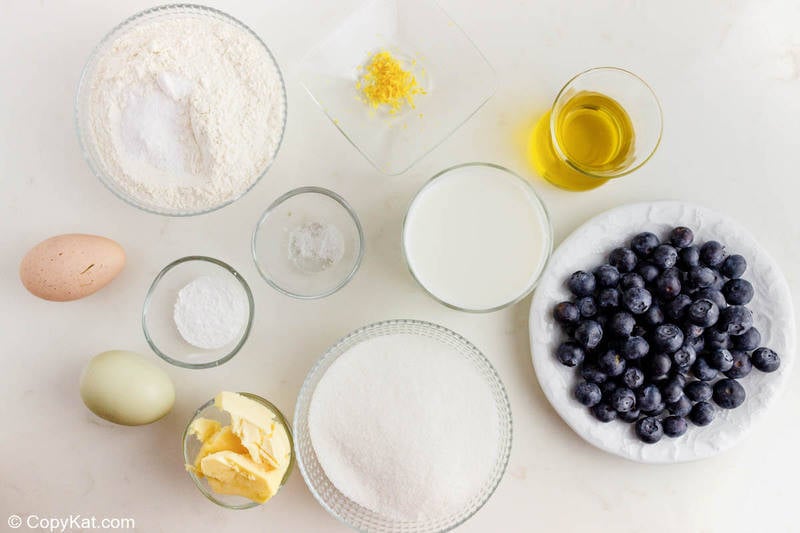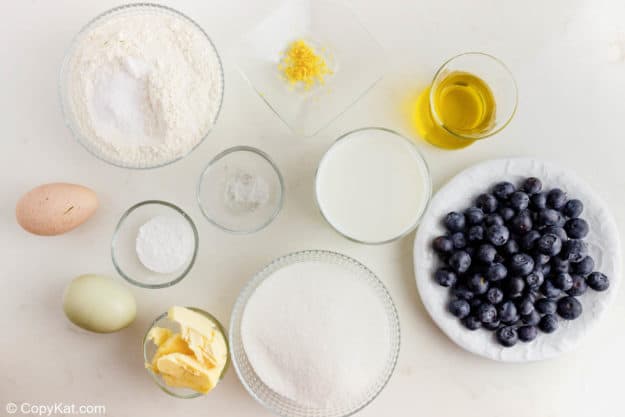 How to Make Starbucks Blueberry Muffin
Place cupcake liners in a 12-cup muffin pan.
Sift the flour.
Place melted butter, sugar, lemon zest, and flour in a bowl.

Mix until crumbly. Set the streusel crumb mixture aside.

Place melted butter, oil, eggs, and milk in a large bowl.

Whisk until combined.

Add flour, sugar, baking powder, and baking soda to the liquid mixture.

Stir with a spatula until just combined. Do not over-mix.

Coat blueberries with flour.
Add blueberries to the batter. Gently fold in the blueberries.

Spoon the batter into the muffin pan, filling each cup about two-thirds full.

Top the batter with the streusel mixture.

Bake at 425 degrees for 10 minutes.
Reduce oven temperature to 375 degrees and bake for 10 to 15 minutes.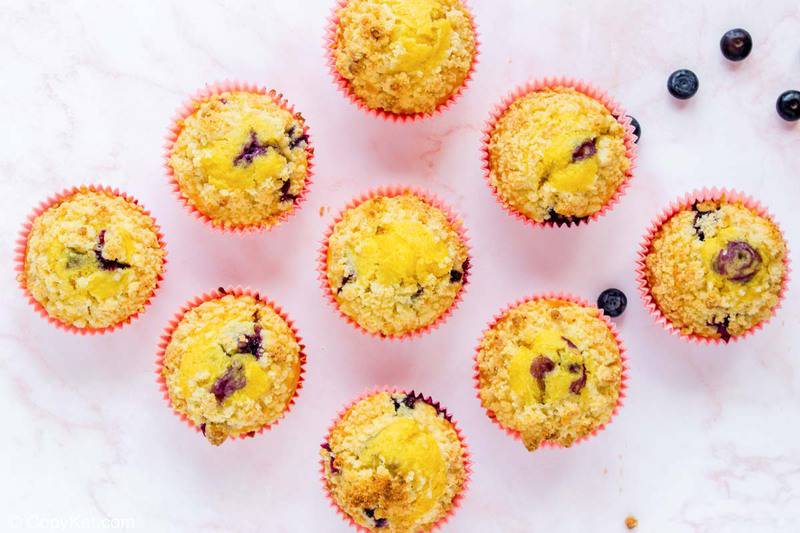 Love Starbucks? Try these copycat recipes!
Favorite Muffin and Quick Bread Recipes
Check out more of my easy bread recipes and the best Starbucks recipes here on CopyKat!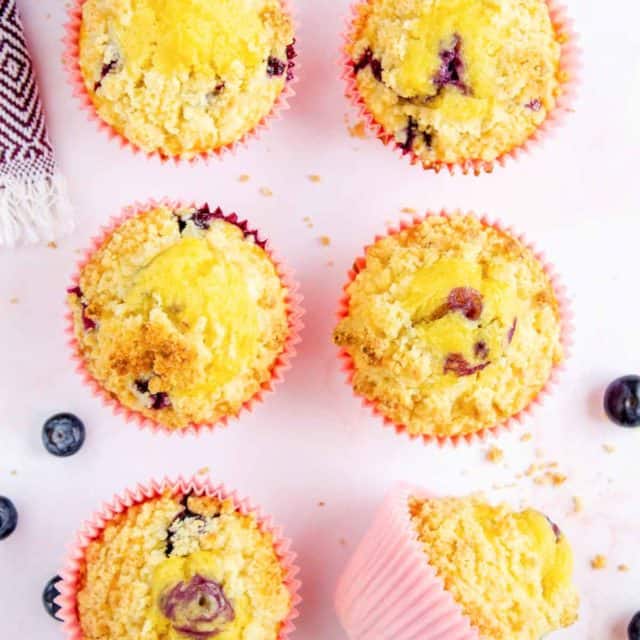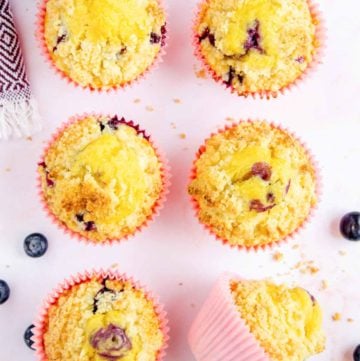 Starbucks Blueberry Muffin
Starbucks Blueberry Muffin is loaded with blueberries and topped with crumbly streusel. Get the easy copycat recipe to make the best muffins with fresh blueberries and crumb topping. Save money and make these homemade blueberry muffins instead of buying them at Starbucks. These moist and soft muffins with blueberries are perfect for breakfast or afternoon snack.
Print
Pin
Rate
Add to Collection
Go to Collections
Ingredients
Streusel Topping
3

tablespoons

melted butter

3

tablespoons

sugar

2

teaspoons

lemon zest

1/2

cup

all-purpose flour
Muffins
3

teaspoons

melted butter

1/4

cup

vegetable oil

2

eggs

1

cup

milk or buttermilk

2 1/2

cups

all-purpose flour

plus 1 tablespoon

1

cup

sugar

2

teaspoon

baking powder

1/2

teaspoon

baking soda

2

cups

blueberries

fresh or frozen

non-stick baking spray
Instructions
Streusel Topping
Mix the melted butter, sugar, lemon zest, and flour together in a small bowl. Set aside.
Muffins
Preheat the oven to 425°F. Grease a muffin tin with non-stick spray.

Whisk the melted butter, vegetable oil, eggs, and milk (or buttermilk) in a bowl until the mixture is uniform.

In another bowl, add 2 1/2 cups sifted flour, baking powder, and baking soda. Stir to combine.

Combine the whisked egg mixture with the dry ingredients, and stir.

Sprinkle 1 tablespoon flour over the blueberries. Then add the blueberries to the muffin batter. Stir only until they are mixed to avoid bursting the blueberries.

Fill each muffin cup 2/3 full with batter, and top with the streusel mixture.

Bake at 425°F for 10 minutes. Then lower the oven temperature to 375°F and bake for another 10 or 15 minutes.
Nutrition
Calories:
303
kcal
|
Carbohydrates:
49
g
|
Protein:
5
g
|
Fat:
10
g
|
Saturated Fat:
7
g
|
Polyunsaturated Fat:
1
g
|
Monounsaturated Fat:
2
g
|
Trans Fat:
1
g
|
Cholesterol:
40
mg
|
Sodium:
100
mg
|
Potassium:
159
mg
|
Fiber:
2
g
|
Sugar:
23
g
|
Vitamin A:
205
IU
|
Vitamin C:
3
mg
|
Calcium:
64
mg
|
Iron:
2
mg