Delightfully moist Zucchini Nut Bread with cream cheese frosting is an incredible treat. Made with freshly grated zucchini and crunchy nuts, this homemade quick bread is a perfect balance of wholesome and sweet. It's deliciously satisfying and great for breakfast, a snack, or dessert. The cream cheese frosting adds an extra layer of richness that makes each bite absolutely irresistible!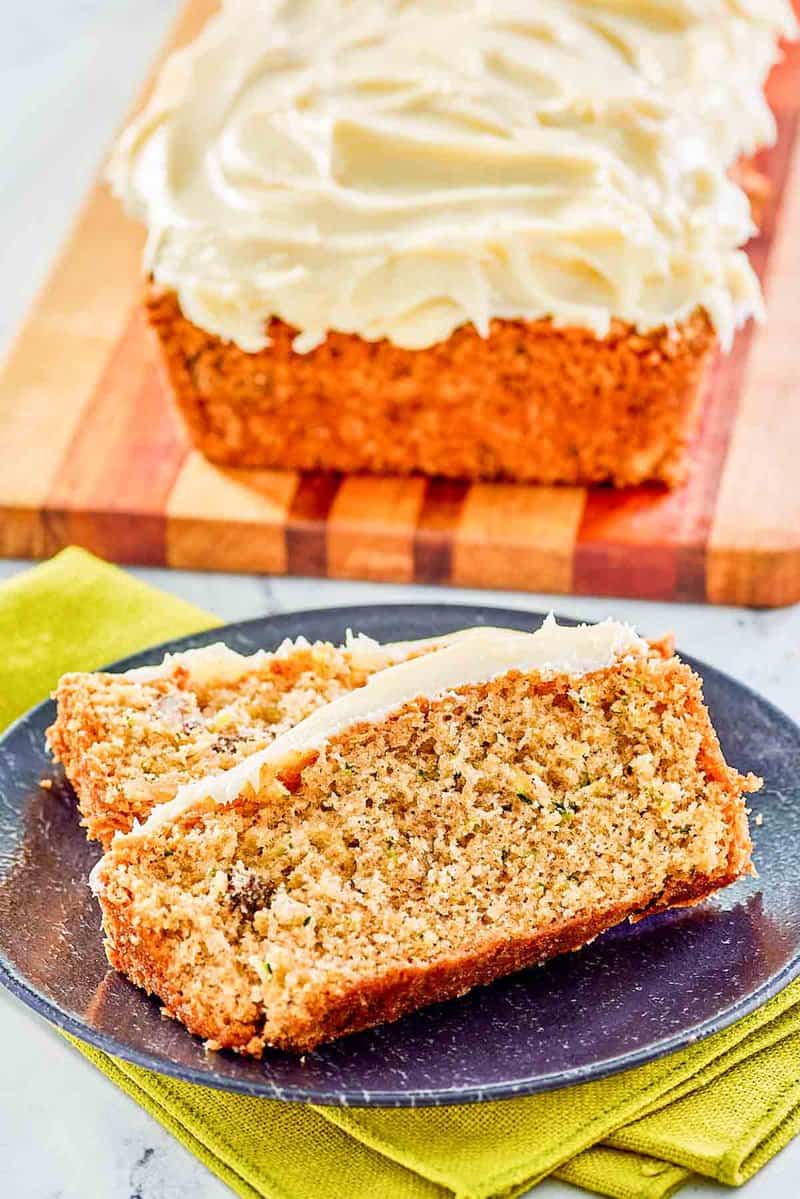 This post contains affiliate links. As an Amazon Associate, I earn from qualifying purchases.
Mom's Zucchini Bread
Successful gardening often means a large bounty of vegetables, and zucchini nut bread can be one of your favorite ways to enjoy fresh zucchini. Growing up, my family had a huge garden, and suddenly we would be inundated with zucchini!
Zucchini bread was a sweet summer treat my mother made. If you have never tried zucchini bread, you will find it is moist, just like carrot cake or banana bread.
Zucchini is very mild tasting, so it may be difficult to understand how bread containing zucchini can taste so fantastic – it does when nuts, sugar, and cinnamon are included and because the zucchini adds moisture.
3 Tips for Handling Zucchini to Make Zucchini Nut Bread
Zucchini is great for baking because it contains a lot of water to make baked goods extra moist. So feel free to add it to brownies, cakes, muffins, pumpkin bread, and more. Here are 3 tips for how to use zucchini in your baking recipes:
Peeling your zucchini is not usually necessary. Zucchini skin is thin and softens while baking; you won't notice it in your baked loaf. Note that the skin contains lots of vitamins and minerals.
Small to medium-sized zucchinis work best. However, larger zucchini may need to be seeded and peeled if the skin is tough.
Grate your zucchini with a large box grater or food processor with a shredder attachment. Don't dice or chop it – grating is the best way to retain moisture.
Why You Should Try This Zucchini Bread With Cream Cheese Frosting
This zucchini bread with walnuts is enhanced by cream cheese frosting, giving this bread a more dessert-like appearance and flavor. This is an extra moist quick bread recipe with a warm cinnamon flavor that everyone will love. Grated zucchini mixed into the batter brings moisture and a tender texture to what is essentially a spice cake.
Quick breads are so easy to make, and there's nothing more classic than zucchini bread. After you try this recipe for zucchini nut bread, you won't need another one.
Zucchini doesn't have to be something your kids won't eat! Baked into something sweet like this zucchini nut bread, your kids won't even notice it – and you don't even have to tell them!
Recipe for Zucchini Bread With Walnuts – Ingredients You Will Need
All you need to make zucchini bread with cream cheese frosting is a few simple ingredients as follows:
For the zucchini walnut bread:
Zucchini
Walnuts
Large Eggs
Sugar
All-purpose flour
Baking powder
Baking soda
Vegetable oil
Cinnamon
Vanilla extract
Salt
For the cream cheese frosting:
Butter
Cream cheese
Powdered sugar
Vanilla extract or vanilla bean paste
How to Make This Easy Recipe for Zucchini Bread
This recipe for zucchini bread with walnuts is not at all difficult to make as follows:
Preheat the oven to 350°F. Spray two 8-inch loaf pans with cooking spray.
Grate the zucchini and squeeze out excess water.
Sift together the flour, salt, baking powder, baking soda, and cinnamon.
Cream together the eggs, vegetable oil, sugar, and vanilla in a large bowl.
Add the dry ingredients and stir to combine.
Fold in the shredded zucchini and walnuts.
Bake at 350°F for about 40 to 50 minutes.
Remove the loaves from the pans and place them on a wire rack to cool to room temperature.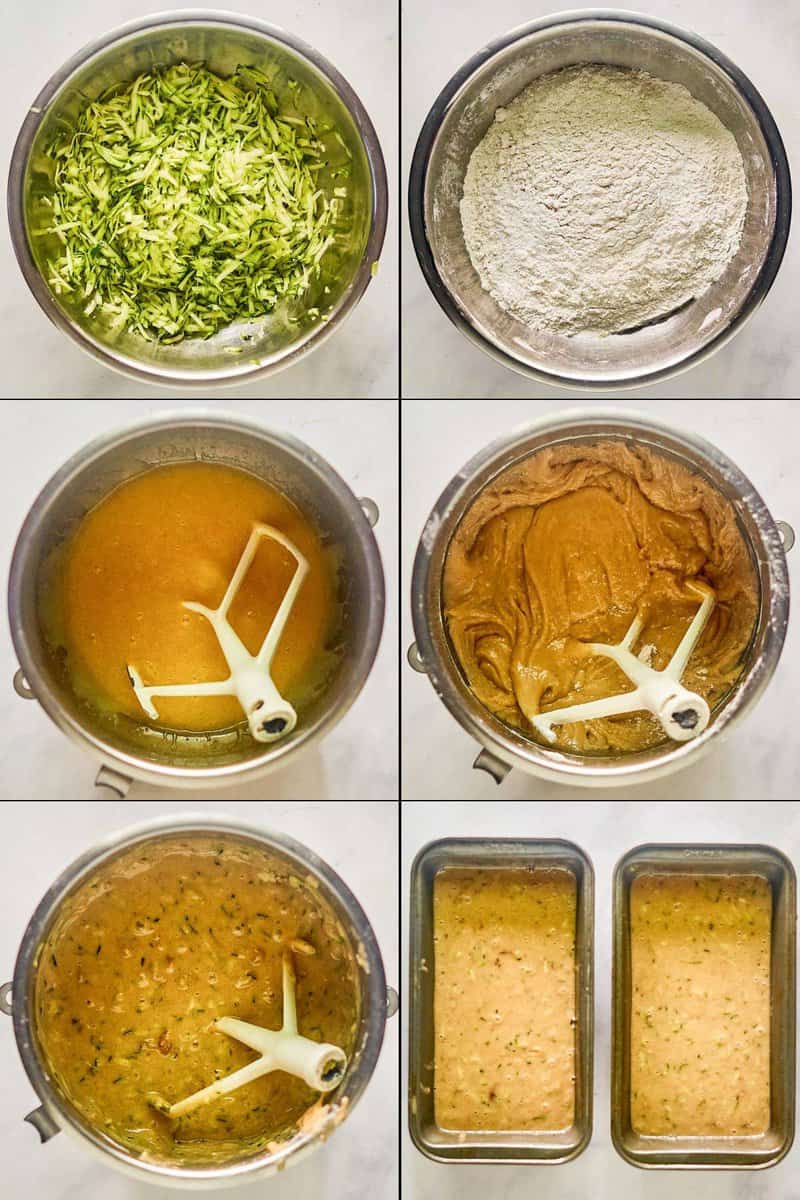 While the bread is cooling, prepare the cream cheese frosting.
Spread the frosting on the top of the cooled loaves.
Serve and enjoy!
Recipe Variations
This recipe for zucchini bread with walnuts is highly customizable. Here are several ideas for variations:
Swap out the walnuts for pecans.
Add a pinch of nutmeg and ground cloves.
Use pumpkin pie spice in place of the cinnamon.
Dried cranberries or raisins are a great addition.
Add some shredded coconut, some orange zest, or a handful of mini chocolate chips.
You can also use this recipe for zucchini bread to make zucchini muffins instead of loaves.
How to Serve This Easy Zucchini Bread
This moist zucchini bread recipe makes a nice breakfast, a tasty snack, or an accompaniment to your mid-morning cup of coffee.
How to Store Zucchini Bread
You can keep baked zucchini bread without frosting on your kitchen counter for up to 2 days or in the fridge for up to 5 days. If frosted, it should be kept in the refrigerator and will last for up to 5 days.
Like most quick breads, zucchini bread freezes well. Cool it completely, then freeze slices wrapped in plastic wrap and then aluminum foil or place the wrapped slices in a plastic freezer bag. Slices make it easy to take out just the right amount you'd like to eat. It's best eaten within 3 months.
Allow your frozen slices (still wrapped) to thaw in the refrigerator overnight.
This recipe for zucchini bread makes two loaves, so it's a good way to make one to enjoy and one to freeze.
More Recipes with Zucchini
If you enjoy zucchini, or your garden is overflowing with fresh zucchini, here are some additional zucchini recipes for you:
Favorite Bread Recipes
And here are some more easy quick bread recipes for you to try:
Check out more of my easy bread recipes and favorite family recipes on CopyKat!
Ingredients
Bread
2

medium

zucchini

3

cups

all-purpose flour

1

teaspoon

salt

1

teaspoon

baking powder

1

teaspoon

baking soda

2

teaspoons

cinnamon

3

eggs

1

cup

vegetable oil

2 1/4

cups

sugar

2

teaspoons

vanilla extract

1

cup

chopped walnuts
Cream Cheese Frosting
8

ounces

butter

8

ounces

cream cheese

16

ounces

powdered sugar

1

teaspoon

vanilla extract or vanilla bean paste
Instructions
Bread
Grate the zucchini with box grater. Place the grated zucchini in a paper towel and squeeze out the excess water. Measure 2 cups of zucchini after the water has been removed.

Preheat the oven to 350°F and spray two loaf pans with nonstick spray.

In a large mixing bowl, sift together the flour, salt, baking powder, baking soda, and cinnamon.

In another large mixing bowl, cream together the eggs, vegetable oil, sugar, and vanilla using an electric or stand

mixer

.

Add the sifted dry ingredients and gently mix to combine.

Fold in 2 cups of zucchini and the chopped walnuts.

Divide the batter evenly between the prepared loaf pans and bake for about 40 to 50 minutes or until a toothpick inserted into the center of each loaf comes out clean.

Allow the loaves to rest in the pans for about 10 minutes before removing from the pans to finish cooling on a

wire rack

.
Frosting
Use a

mixer

to combine the butter and cream cheese.

Slowly add the powdered sugar and vanilla and continue mixing until combined.

Spread the frosting over the top of the zucchini bread.

Once frosted, the bread should be stored in the refrigerator.
Nutrition
Calories:
354
kcal
|
Carbohydrates:
51
g
|
Protein:
3
g
|
Fat:
15
g
|
Saturated Fat:
7
g
|
Cholesterol:
51
mg
|
Sodium:
250
mg
|
Potassium:
104
mg
|
Fiber:
0
g
|
Sugar:
38
g
|
Vitamin A:
415
IU
|
Vitamin C:
1.9
mg
|
Calcium:
32
mg
|
Iron:
1.1
mg