Chicken Croquettes are pan-fried chicken patties full of flavor and veggies. The combination of ground chicken, chopped onions, shredded zucchini makes for a rich dish. Best of all, there is very little fat in this recipe, so it is perfect for when you are trying to watch what you eat.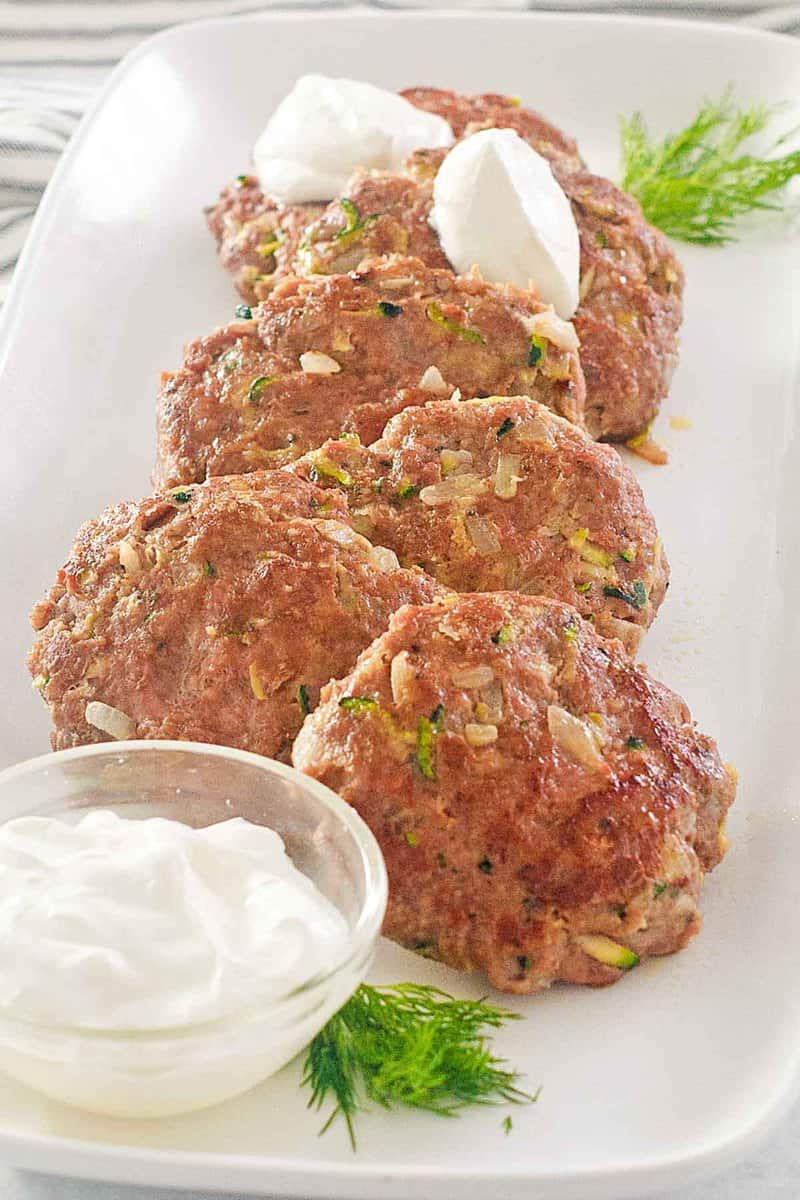 This post contains affiliate links. As an Amazon Associate, I earn from qualifying purchases.
What Are Chicken Croquettes?
So, what are chicken croquettes? Don't worry, they may sound a bit fancy, but they're not. In fact, this Chicken Croquettes recipe isn't any more complicated than making a hamburger, and it's a whole lot more exciting and healthy.
The zucchini and onions in the croquette have a lot of flavor, a bit of nutrition, and, best of all, help keep the ground chicken moist even when fully cooked. So, the next time you feel like chicken, skip the bland seared chicken breast and try this instead.
Why This Is the Best Recipe For Chicken Croquettes
This version of easy Chicken Croquettes is quicker and much healthier than many of the other recipes you can find online. If you have a gluten-free diet, this has no flour as a binder, you could use gluten-free breadcrumbs to make this recipe.
While most other Chicken Croquettes recipes call for using pre-cooked chicken, adding a step, this recipe cooks the chicken from raw. And since you are sautéing rather than deep-frying, you are saving a lot of fat and calories.
Recipe Ingredients
To make these chicken croquettes, you'll need:
Ground chicken or boneless, skinless chicken breasts
Onion
Zucchini
Egg
Salt
Ground black pepper
Cooking oil – olive or vegetable oil
Ingredient Notes
Have the butcher at your local supermarket grind the chicken fresh, if possible. A coarse grind is ideal for this recipe to add some additional texture.
You can use any bread crumbs you prefer, but large panko bread crumbs work well. Flavored crumbs add a little more flavor.
How to Make Chicken Croquettes
These are the simple steps to make these fried chicken patties:
If using chicken breasts, grind them with a meat grinder.
Wash the zucchini well and use the medium-sized holes on a box grater to shred the zucchini. Stop shredding once you expose the seeds.
Finely dice the white onion.
Put the shredded zucchini and the diced onions in a clean tea-towel-lined strainer in the sink. Lightly salt the vegetables and let them sit for about 5 minutes.
Use the tea towel to squeeze as much moisture out of the onions and zucchini as possible and transfer them to a large mixing bowl.
Add the ground chicken, beaten egg, bread crumbs, salt, and pepper in a large bowl.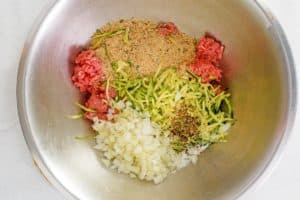 Use a wooden spatula to combine the ingredients. Don't overmix, but make sure to distribute all the ingredients evenly.
Cover the bowl with plastic wrap and put the bowl in the fridge to allow the mixture to set.
Rub your hands with a bit of oil to prevent the mixture from sticking, and make six or eight patties.
Heat a heavy-bottom skillet on a medium heat on your burner. Add a thin layer of oil.
Cook the patties in batches for about four minutes per side. There must be an inch between each patty, or they will steam and not sauté. Check to make sure the internal temperature of each croquette is 165°F before removing it from the pan. The patties should be golden brown on the outside when you remove them from the pan.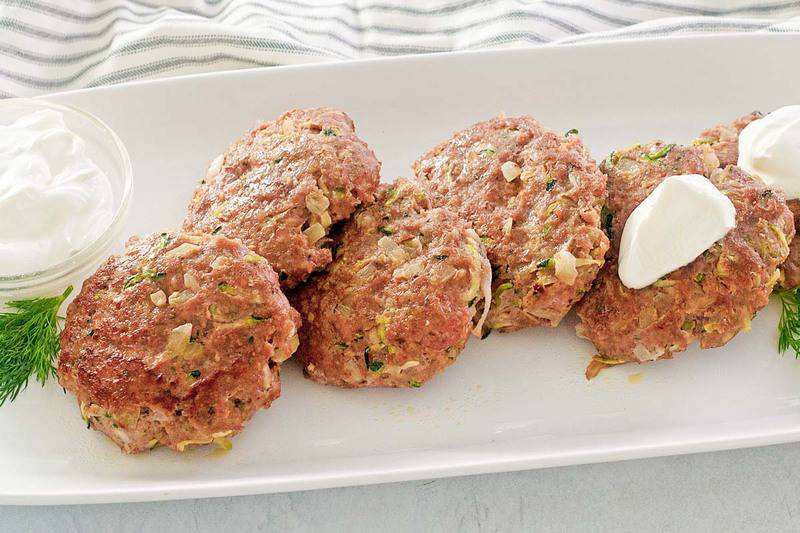 Recipe Variations
Feel free to change the vegetables in the recipe. Just make sure you don't use anything with a lot of water. Root vegetables such as carrots and parsnips are ideal.
How to Serve Chicken Croquettes
Serve the fried chicken patties with a dollop of sour cream and a sprig of fresh dill or chopped fresh parsley.
What to Serve Chicken Croquettes With?
Pair Chicken Croquettes with any side you typically serve with pan-seared chicken. Old-fashioned mashed potatoes or Lyonnaise Potatoes with Steamed Green Beans are classic combinations.
Or, for something a little lighter, you may want to roast vegetables or Brussel Sprouts.
Good chicken gravy is an excellent addition to this recipe. If you don't already have a favorite recipe, try this Easy Homemade Chicken Gravy.
How to Store Chicken Croquettes
You can keep cooked Chicken Croquettes covered in the refrigerator for two to three days. However, since ground chicken is more susceptible to bacteria, try to cook raw croquettes as soon as possible after making them.
Can You Freeze Chicken Croquettes?
Yes, you can freeze both cooked and uncooked Chicken Croquettes.
To freeze uncooked croquettes:
Line a baking tray with aluminum foil and spray with a little oil.
Lay the croquettes on the tray in a single layer, cover with plastic wrap, and freeze overnight.
When the croquettes are frozen solid, transfer them to a freezer bag or container and keep them in the freezer for up to three months.
To freeze cooked croquettes:
Let them cool entirely and follow the same freezing method as above. Try to use cooked croquettes within a month or two for the best flavor.
How to Reheat Chicken Croquettes
If you want to cook prepared frozen, raw croquettes, let them thaw overnight in the fridge. Cook in a pan for about four minutes per side until the internal temperature is 165 degrees.
To reheat cooked, thawed chicken croquettes in the oven:
Preheat the oven to 400 degrees.
Place the thawed Chicken Croquettes on a baking tray and cover with aluminum foil.
Bake for about eight to ten minutes until hot.
Reheating cooked croquettes from the fridge in an air fryer is also a good method:
Preheat the air fryer to 360 degrees.
Spray the chicken croquette with a little oil and heat for a total of about six minutes.
What to Eat With Chicken Patties
Here are a few more great side dishes to make and eat with these chicken patties:
Favorite Chicken Dinner Recipes
Check out more of my easy chicken recipes for dinner and favorite family recipes here on CopyKat!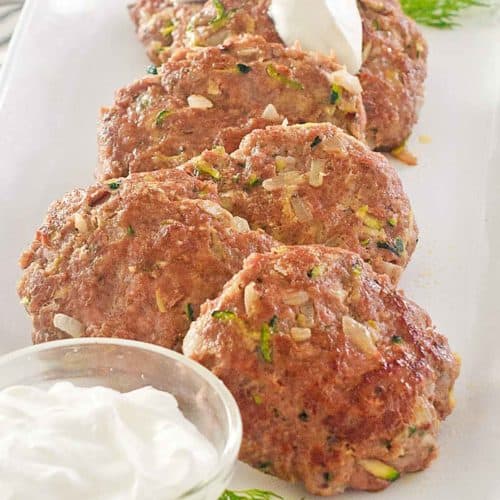 Ingredients
2

pounds

ground chicken breast

1/2

cup

chopped onion

1/2

cup

shredded zucchini

1/2

cup

seasoned bread crumbs

1

egg

1/2

teaspoon

salt

1/2

teaspoon

ground black pepper

2

tablespoons

cooking oil

olive or vegetable
Instructions
In a large bowl, combine the chicken, onion, zucchini, bread crumbs, egg, salt, and pepper. Mix well.

Let the mixture rest for about 30 minutes before forming into patties.

Place the oil in a frying pan over medium to medium-high heat

Cook the chicken patties for approximately 4 minutes on each side. Be sure to cook thoroughly.

Serve with a dollop of sour cream and a sprig of fresh dill.
Nutrition
Calories:
202
kcal
|
Carbohydrates:
6
g
|
Protein:
26
g
|
Fat:
7
g
|
Saturated Fat:
1
g
|
Cholesterol:
93
mg
|
Sodium:
385
mg
|
Potassium:
479
mg
|
Fiber:
0
g
|
Sugar:
1
g
|
Vitamin A:
95
IU
|
Vitamin C:
3.7
mg
|
Calcium:
25
mg
|
Iron:
0.9
mg