Hot Dog Casserole with green beans is a filling and economical dish everyone will enjoy. This takes green bean casserole to a whole new tasty level with cheese-stuffed hot dogs and crispy bacon on top. Comfort food doesn't get better than this!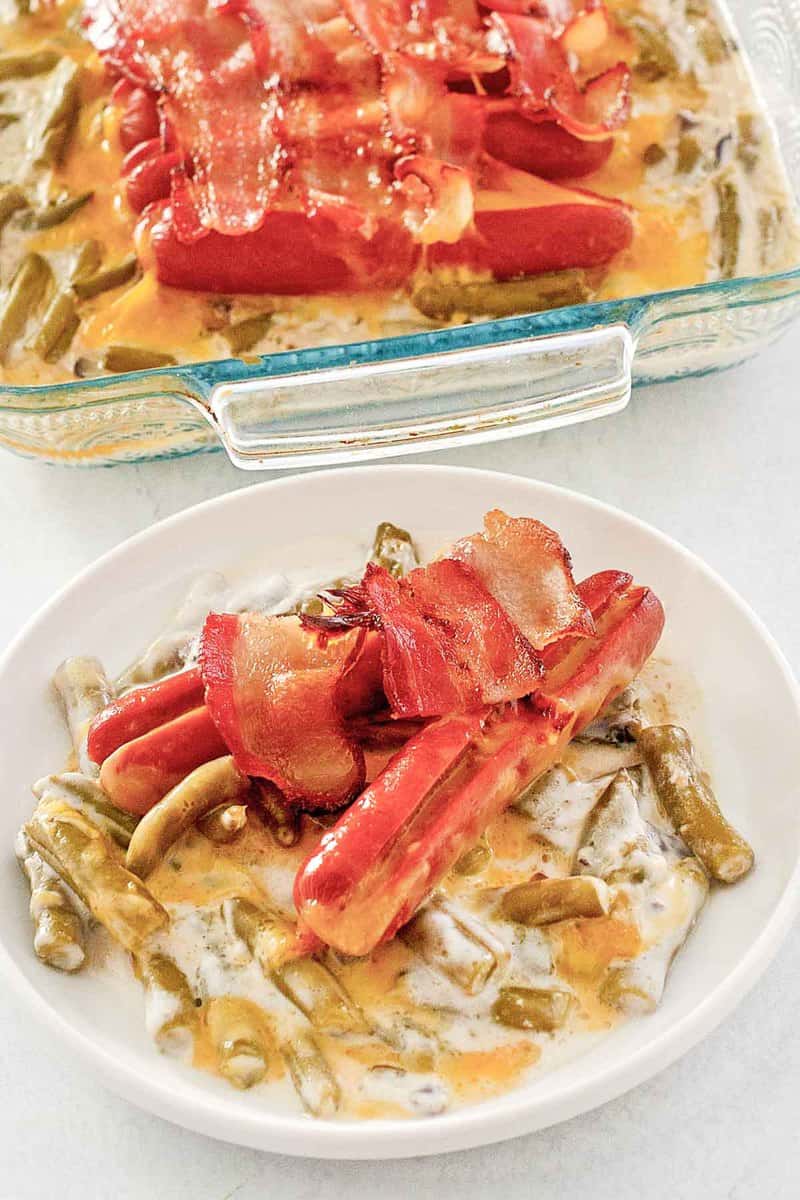 This post contains affiliate links. As an Amazon Associate, I earn from qualifying purchases.
Hot Dog Green Bean Casserole
Hot dogs aren't exactly what you would call "haute cuisine", but that's alright. Whether you are looking for a quick, inexpensive weeknight meal or just want something you are sure the kids will gobble up, this Hot Dog and Bean Casserole may be the perfect dish. There are different ways to serve hot dogs than by topping them with canned chili.
With only a few ingredients that you probably already have in your fridge or cupboard, you can whip up this recipe in no time at all.
Why This is the Best Recipe For Hot Dog Casserole With Cream of Mushroom Soup
Most folks already have a recipe for a green bean casserole that they love. If you don't try this green bean casserole with cheese version. However, even the finest green bean casserole is, at best, a hearty side dish.
This hot dog and beans casserole changes all that and transforms a family favorite into an all-in-one meal. You have something truly extraordinary when you combine hot dogs, bacon, cheese, creamy mushroom soup, and green beans.
Recipe Ingredients
To make this hot dog casserole recipe, you will need:
Cream of mushroom soup
Milk
Canned green beans, drained
Hot dogs
Sliced American cheese
Bacon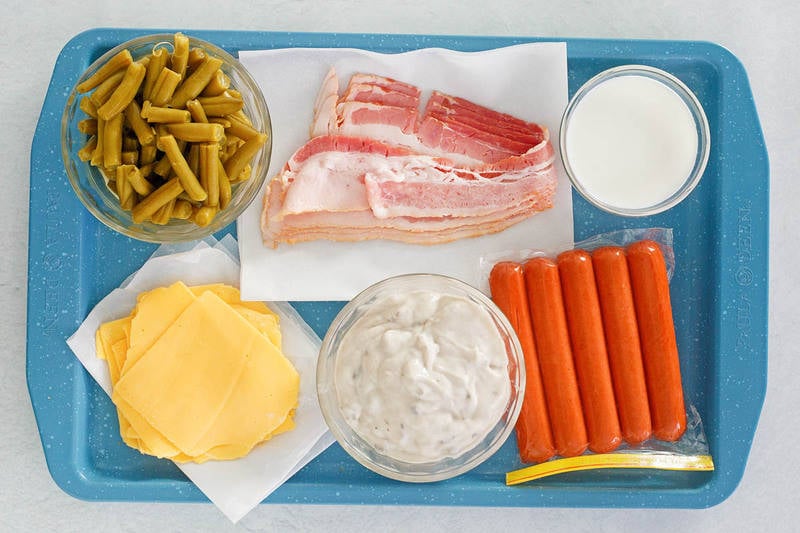 Ingredient Notes
Use your favorite brand of canned green beans in this recipe. Libby's Cut Green Beans is a good choice if you buy ingredients, especially for this recipe.
You can also use frozen green beans, but thaw them a little by placing them in a colander and running them under cool water. Dry well before using.
Feel free to substitute a processed cheese such as Velveeta instead of American cheese. You can even add a bit of heat with Velveeta Mexican Cheese.
Stay away from any cheeses that won't melt well in the oven.
How to Make Hot Dog Casserole
These are the steps to make this simple hot dog casserole:
In a large mixing bowl, stir a can of cream of mushroom soup and the milk together. Depending on the brand of cream of mushroom soup you use, you may have to add a little more milk to ensure a smooth consistency.
Drain a can of green beans and dump them into the mixing bowl. Gently stir to coat the beans thoroughly.
Transfer the contents of the mixing bowl into a 13 x 9-inch baking pan. Use a rubber spatula to scrape down the sides of the bowl. Wipe off any splatter on the sides of the baking dish to prevent burning.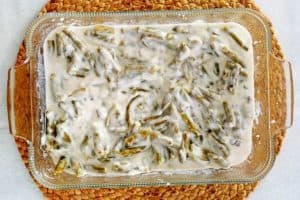 Cut the cheese into eight, four-inch-long, quarter-inch-thick slices. Cut each piece of bacon in half.
Slice the raw hot dogs lengthwise, being careful not to slice the hot dogs in half.
Lay the hot dogs with the cut-side up evenly on top of the green bean mixture in the baking dish.
Stuff the hot dogs with cheese.
Lay bacon on top of the hot dogs.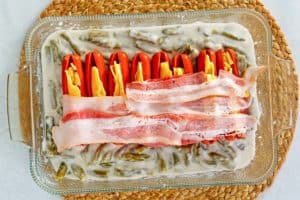 Bake at 350°F for about 25 minutes or until the cheese is bubbling and the bacon cooks through.
Serve and enjoy!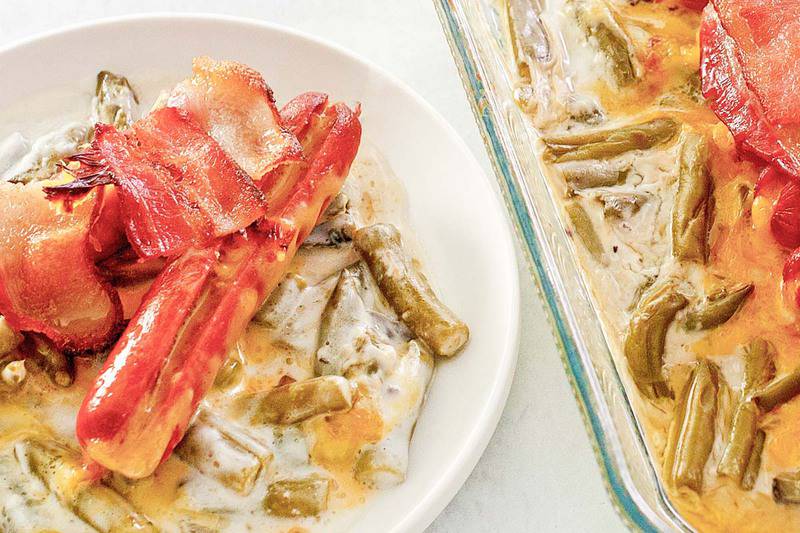 Recipe Variations
Casseroles are great recipes for adding your personality and preferences. Here are a few suggestions you may want to try:
Swap out the hot dogs for kielbasa or chorizo sausage.
Use vegetarian hot dogs and bacon to make a vegetarian version.
Try sprinkling crispy onions on top of the casserole for that traditional green bean casserole taste.
Is someone in your family not a fan of mushrooms? Change things up by using a different soup such as cheddar cheese, nacho cheese, or even a béchamel sauce.
What to Serve With Hot Dog Casserole
Although you can definitely get away with serving this filling dish on its own, a side dish or two will make dinner a bit more interesting. Try making one of these great options:
French fries go with everything. Kids (and adults) will love soaking up all the extra sauce with their fries.
Corn is a popular choice. Serve it any way you want, from Air Fryer Corn on the Cob to cornbread.
A simple side salad. Choose an acidic dressing to help balance out the richness of the casserole.
How to Store Hot Dog and Beans Casserole
You can keep your casserole covered in the fridge for up to three days, but if you don't plan to finish it by then, your best option is freezing.
Let the casserole cool completely. If it is too hot when you cover it, it will cause condensation, making your casserole watery.
Cover with plastic wrap and then wrap tightly with aluminum foil.
Keep in the freezer for up to six months.
Reheating Hot Dog Casserole
Reheating is easy. Here's how to reheat it:
Thaw the casserole overnight in the fridge.
Take out the casserole from the fridge and remove the aluminum foil and plastic wrap about an hour before reheating. Doing this will allow the casserole to come up to room temperature.
Preheat the oven to 350 degrees.
Cover the baking dish with aluminum foil and pop in the oven for ten minutes. Remove the aluminum foil and continue to heat until the cheese is bubbly.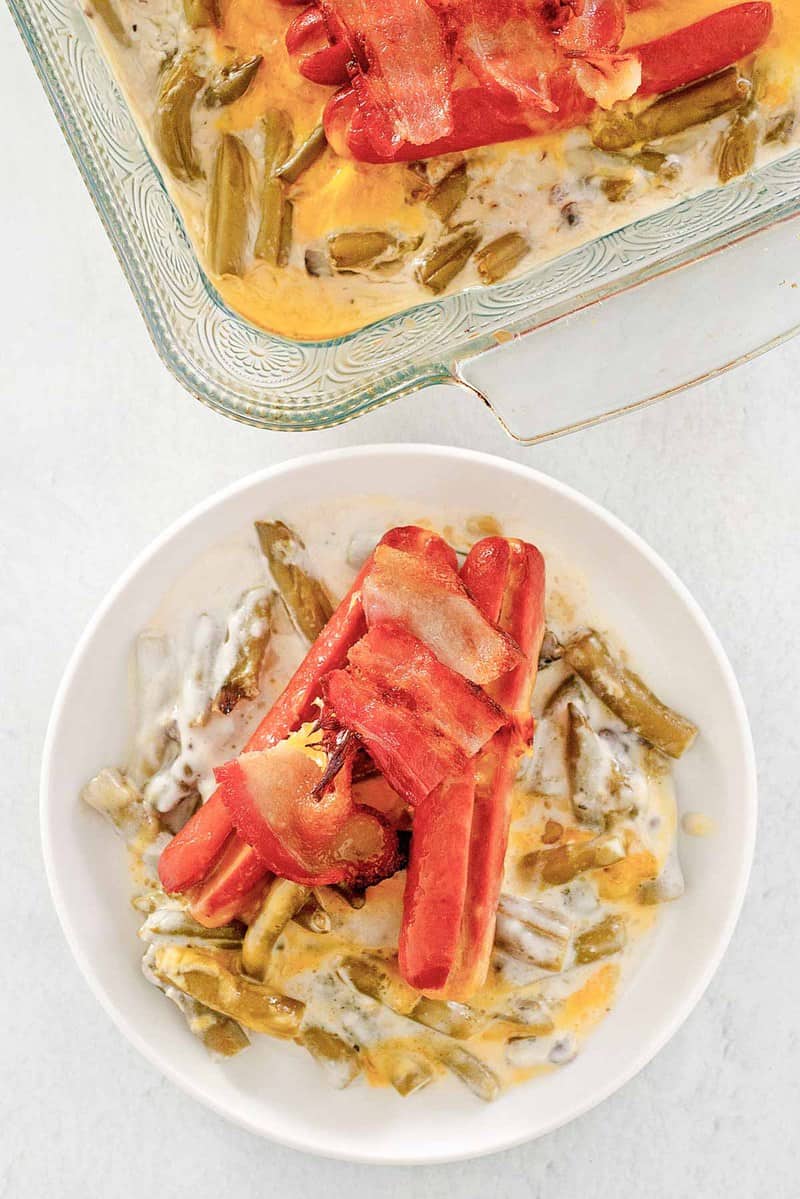 Favorite Hot Dog Recipes
Popular Casserole Recipes
Check out more of my easy casserole recipes and the best budget friendly recipes here on CopyKat!
Recipe source: Ethel Eynard, Jefferson City, MO. 1998.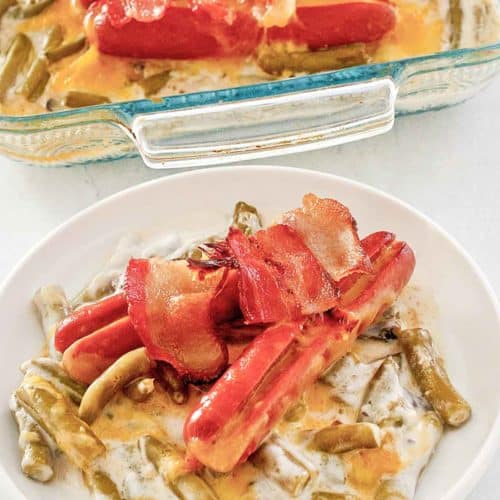 Ingredients
1

can (10.25 ounces)

cream of mushroom soup

1/2

cup

milk

2

cans (29 ounces)

green beans

drained

8

hot dogs

4

slices

American cheese

cut into strips

4

slices

bacon

cut in half
Instructions
Preheat the oven to 350°F.

In a shallow baking dish (13×9 inches) stir the soup until smooth, gradually incorporating the milk.

Stir in the green beans.

Slit the hot dogs lengthwise to about 1/2 inch from each end, and stuff with cheese.

Arrange the hot dogs over the green beans.

Top with bacon.

Bake for 25 minutes or until hot.
Nutrition
Calories:
291
kcal
|
Carbohydrates:
10
g
|
Protein:
12
g
|
Fat:
22
g
|
Saturated Fat:
9
g
|
Cholesterol:
46
mg
|
Sodium:
1208
mg
|
Potassium:
345
mg
|
Fiber:
3
g
|
Sugar:
2
g
|
Vitamin A:
135
IU
|
Vitamin C:
19.9
mg
|
Calcium:
136
mg
|
Iron:
5.9
mg