Magic Shell is a fun chocolate topping. Magic shell is a chocolate sauce you pour over ice cream it turns into a hard shell. If you like dipped cones, you will really enjoy ice cream topped with magic shell.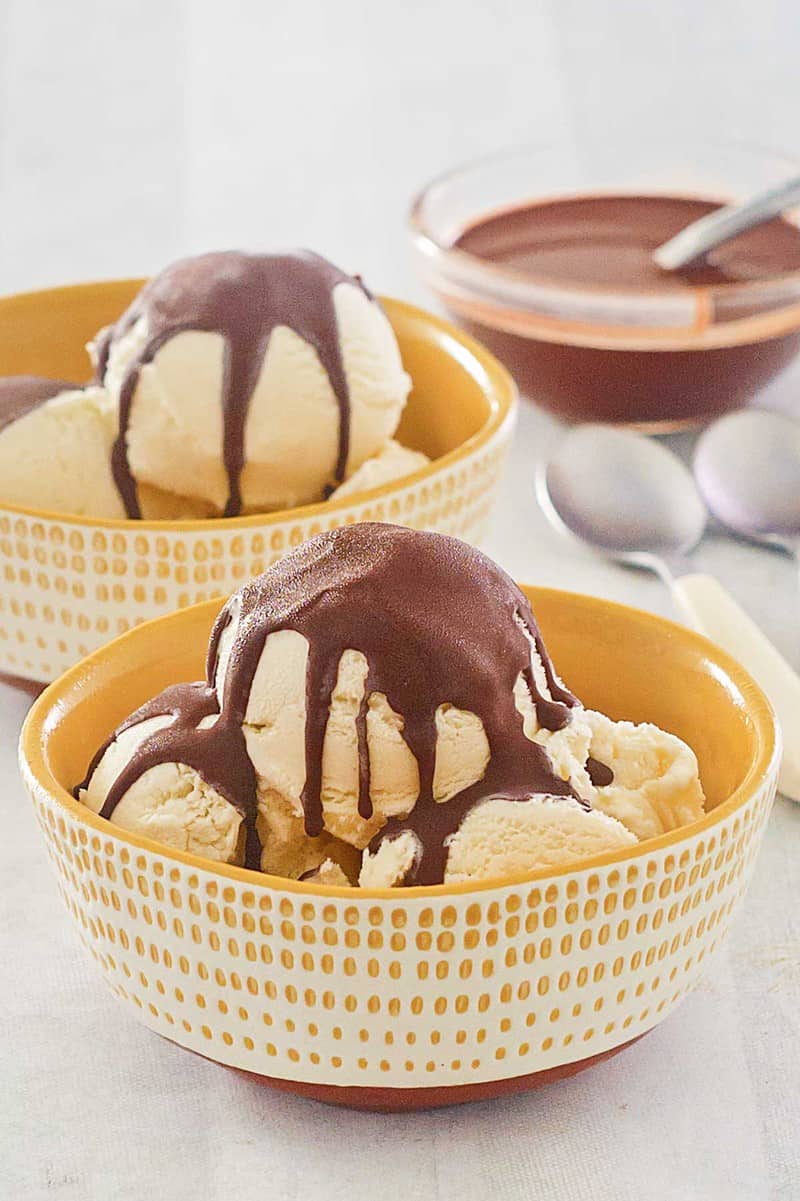 This post contains affiliate links. As an Amazon Associate, I earn from qualifying purchases.
Magic Shell Ice Cream Topping
Relive those summer afternoons of childhood when all you needed to be happy were a few friends and a soft-serve chocolate-dipped vanilla cone.
This Magic Shell recipe turns any ice cream into something exceptional by adding a thin crunchy chocolate coating. Share this homemade Magic Shell recipe with your family and friends to bring wholesome fun to any celebration.
How Does Magic Shell Work?
So what causes the liquid chocolate to harden after you pour it on your favorite ice cream? Well, you don't have to be a scientist to understand why it works.
Magic Shell ice cream topping contains just two ingredients; chocolate and fat that is solid at room temperature.
When you melt the chocolate, the heat also melts the fat, turning it into a pourable liquid. But when the liquid fat comes into contact with something cold, it immediately hardens to become a glossy coating.
Magic Shell Ingredients
To make this DIY Magic Shell ice cream topping, you will need:
Chocolate chips
Coconut oil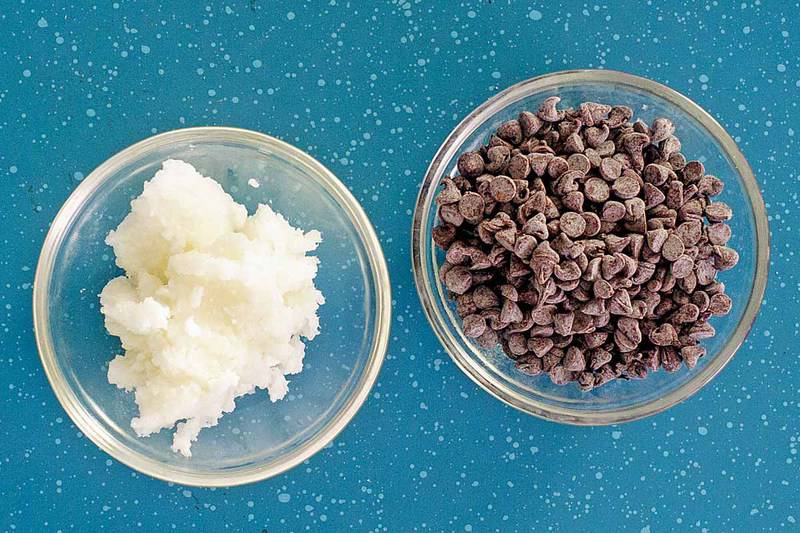 Ingredient Notes
When it comes to chocolate to use in this recipe, you can go with just about any type. The slight bitterness of darker chocolate offers a nice contrast to the sweetness of the ice cream.
When it comes to what form of chocolate is the best, chips melt the easiest. Chopping up your favorite chocolate bar is also an option.
Most people prefer coconut oil over butter in this recipe, but both will work fine. Just be sure that you are adding refined coconut oil and not virgin coconut oil unless you love the taste of coconuts.
If you decide to go with butter instead, select the unsalted variety.
How to Make Magic Shell
It is quickest and easiest to make this recipe in the microwave, but you can also use a double boiler if you prefer. Here are the easy steps:
If you are using a large bar of chocolate, break it into small pieces.
Place the chocolate chips and coconut oil in a microwave-safe bowl.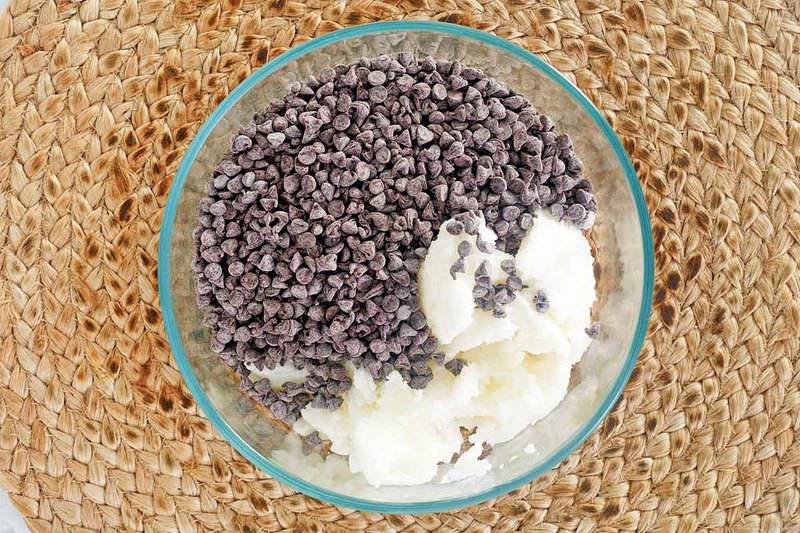 Microwave for 30 seconds. Stir to combine.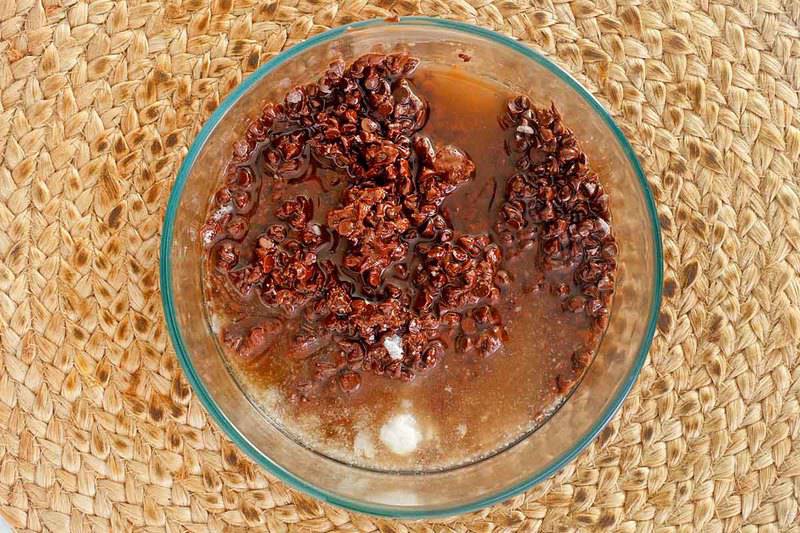 Continue microwaving in 30-second intervals, stirring after every 30 seconds.
It is ready when it is fully melted and has a smooth, uniform texture. Be careful not to microwave it for too long or the chocolate will burn.
Alternative Method – Melting Chocolate and Fat Separately
Place the chocolate in a microwavable bowl and heat for 30 seconds. Stir the chocolate and repeat in 30-second bursts until the chocolate melts completely.
In a separate bowl, heat whichever fat you are using for 10-second intervals in the microwave until it melts. Don't forget to stir.
Add the fat to the chocolate and stir until smooth.
Alternative Method – Double Boiler
No microwave? You can use a double boiler and melt the chocolate and your choice of fat together slowly over low heat.
No matter which method you use to prepare Magic Shell, be sure to use or transfer any to a storage container before it cools and solidifies.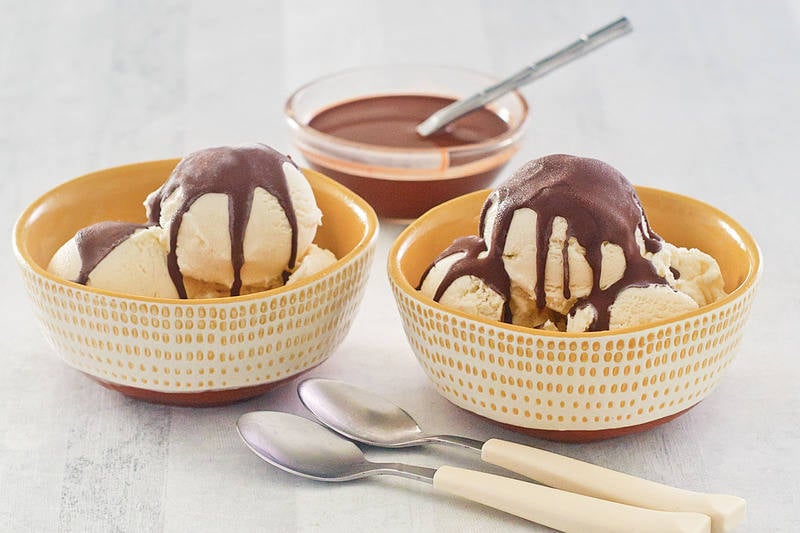 How to Use Magic Shell Chocolate Syrup
The easiest way to use your homemade Magic Shell is to pour it directly onto your ice cream from the bowl you used to heat it. Don't let the ice cream topping cool off too much before using it.
If you want your guests to serve themselves, keep the Magic Shell at a liquid consistency in a slow cooker or a chafing dish.
More Uses For Magic Shell Chocolate Ice Cream Topping
You can do much more than just coat ice cream with Magic Shell than just add extra crunch to your ice cream. Here are just a few suggestions:
Make a chocolate-covered banana. Skewer the end of a few bananas and put them in the fridge or freezer until cold. Roll each banana in the warm Magic Shell. Hold the banana upside down over the bowl to let the excess drain before serving. You can dip just about any fruit if you don't like bananas. Strawberries, sliced apples, and pitted sweet cherries are great options.
Coat a fudge bar. Everyone seems to have a package of fudge bars in the back of their freezer. They're pre-portioned and cheaper than ice cream, but not all that exciting. Take store-bought fudge bars to the next level by dipping into your homemade Magic Shell. You can even sprinkle on a handful of chopped nuts or puffed rice for a bit more crunch.
Create a fancy yogurt parfait. Yogurt parfaits are an excellent alternative to ice cream for those who want something a little healthier. Using the ice cream topping as a layer or two in the parfait adds a bit of sweetness and texture.
How to Store Ice Cream Magic Shell
You can store your homemade Magic Shell made with coconut oil in a tightly covered microwavable container at room temperature.
However, if you used butter in the recipe, it is safer to keep any leftovers in the fridge.
Before storing the ice cream topping, remove any bits of food that may have fallen into the sauce since the food can spoil, ruining the Magic Shell.
Reheat the Magic Shell for 15 seconds at a time in the microwave until warm.
How Long Does Magic Shell Chocolate Syrup Last
Magic Shell with coconut oil can last three to four months at room temperature. Try to use up Magic Shell made with butter within a few days.
More Ice Cream Topping Recipes
Favorite Ice Cream Recipes
Check out more of my easy ice cream recipes and the best DIY recipes here on CopyKat!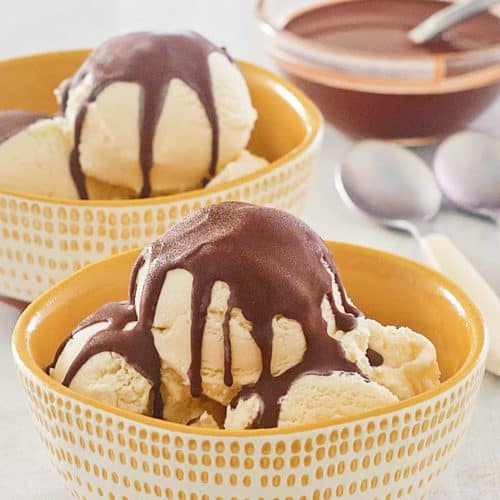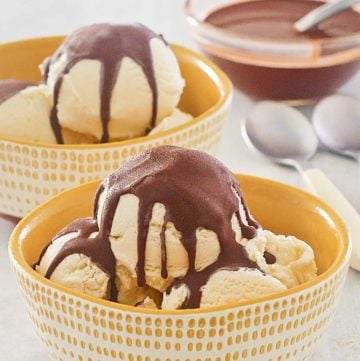 Ingredients
12

ounces

chocolate chips

6

ounces

coconut oil

butter may be substituted
Instructions
Melt the chocolate chips in the microwave in 30 second increments, stirring after each increment, until melted.

Heat the coconut oil until it is liquid.

Stir the coconut oil and chocolate together until the texture is uniform.
Notes
Store in a covered container in the refrigerator.
Nutrition
Calories:
198
kcal
|
Carbohydrates:
14
g
|
Protein:
1
g
|
Fat:
15
g
|
Saturated Fat:
12
g
|
Cholesterol:
3
mg
|
Sodium:
14
mg
|
Fiber:
0
g
|
Sugar:
13
g
|
Vitamin A:
50
IU
|
Vitamin C:
0.2
mg
|
Calcium:
25
mg
|
Iron:
0.3
mg