No need to pay Baskin Robbins high prices. Enjoy this easy to make Turtle Ice Cream Pie at home. This is a nice way to surprise your guests with a little something out of the ordinary.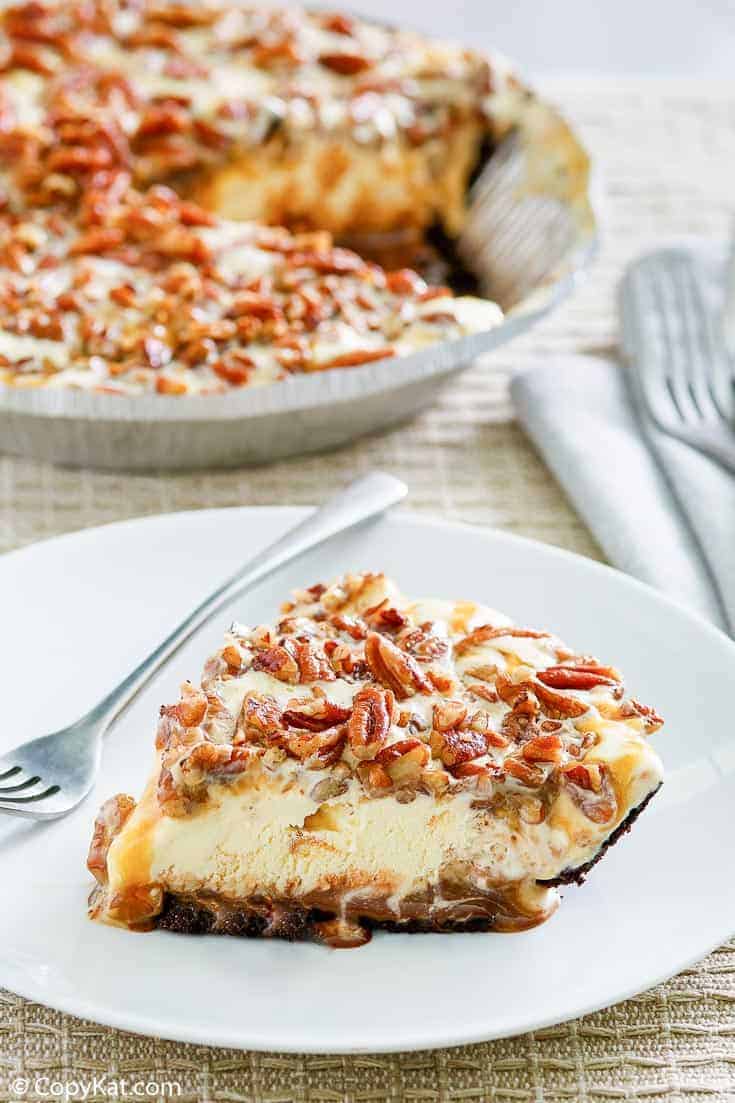 Baskin Robbins is known for its creative ice cream pies and cakes, but they are not exactly cheap. However, there's no need to pay Baskin Robbins high prices. Now you can create this easy to make Baskin Robbins turtle ice cream pie at home. This dessert is a nice way to surprise your guests with a little something out of the ordinary. And, if turtle ice cream pie is your kid's request for their birthday, this is the perfect recipe for you.
This easy turtle pie recipe has everything you love about this classic sweet treat. This copycat Baskin Robbins Turtle Pie features a chocolate pie crust filled with layers of hot fudge sauce, Pralines 'n Cream ice cream, caramel sauce, and pecans. This is a no-bake, cold and creamy ice cream pie recipe.
Why Is It Called a Turtle Pie?
The turtle pie got its name because it's made with the same ingredients as the turtle-shaped candy made by the DeMet's Candy Company. Turtles are made with pecans and caramel dipped in chocolate. At some point, a very creative cook thought that chocolate, caramel, and pecans would also work great as a pie, and so the turtle pie was born!
What's the Difference Between Chocolate Sauce and Hot Fudge Sauce?
The main difference between these two sauces is consistency. Chocolate sauce is thinner and a bit less rich because the chocolate is mixed with water or corn syrup. Hot fudge sauce tends to be thicker because it incorporates butter and milk or cream.
Ways to Use Hot Fudge Sauce
Drizzle on top of fruit such as bananas or strawberries.
Pour a little over brownies or peanut butter blondies.
Use as a filling for crepes, maybe along with some fruit.
Split some plain croissants and spread with just a little sauce.
Combine with mangos on pancakes.
Make banana boats. Split a peeled banana and fill with some sauce. Top with marshmallows (optional). Wrap in foil and bake until golden.
Make chocolate pizza. Roll out the dough, slather on some sauce, and top with fruit and shredded coconut. Bake and serve with ice cream.
Caramel is sugar taken just to the very edge of being burnt. The color of caramel indicates the extent to which it has been cooked. If it is very pale, it is just concentrated sugar syrup. Stage two is golden, followed by amber and dark. If you would like to try your hand at making your own caramel sauce, click here to learn how.
Ingredients
Only five simple ingredients needed to make this tasty turtle pie:
Baskin Robbins Pralines and Cream Ice Cream
Caramel Sauce
Hot Fudge Sauce
Pecans
Chocolate Cookie Pie Crust
How to Make Turtle Ice Cream Pie
Allow ice cream to soften enough to spread but not melt.
Toast pecans in a skillet and cool to room temperature.
Pour hot fudge sauce into the pie crust.
Spread ice cream over hot fudge sauce.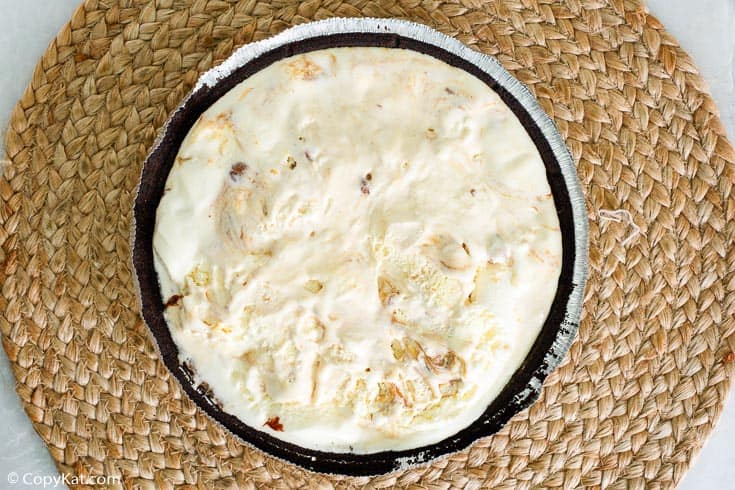 Drizzle caramel sauce over pie.
Top with pecans.
Freeze until firm enough to slice.
Enjoy!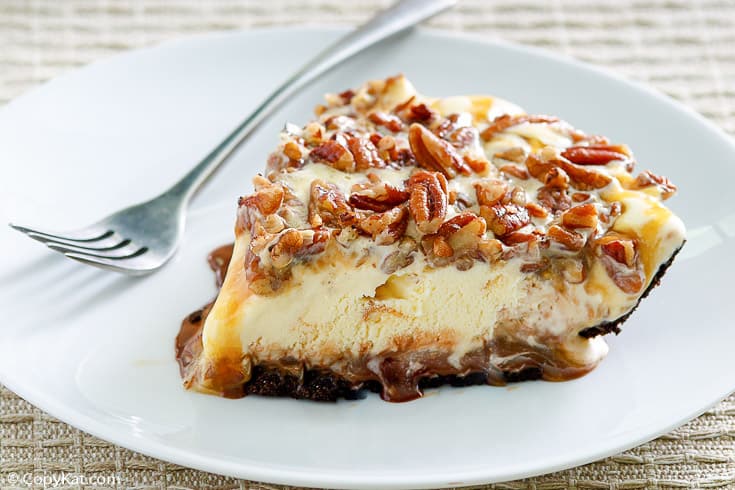 Love Ice Cream? Check out these recipes
Tasty Ice Cream Toppings
Be sure to check out more of my copycat pies and homemade dessert recipes.
Baskin Robbin's Turtle Pie
Indulge yourself and your familywith this homemade turtle ice cream pie. This turtle pie recipe is super gooey, alittle crunchy, and totally delicious. This is basically a candy bar in pieform – and that's why it's so irresistible!
Print
Pin
Rate
Add to Collection
Go to Collections
Ingredients
1

Chocolate Cookie Crumb Pie Crust

1

quart

Baskin-Robbins Pralines and Cream Ice Cream

1/2

cup

Hot Fudge Sauce

1

cup

Caramel Sauce

1

cup

Pecans
Instructions
Allow ice cream to sit out long enough to soften, but do not let it melt!

Linethe bottom of the crust with the hot fudge sauce.

Spread the ice cream on top of thefudge sauce. Top with caramel topping and pecans.
Notes
If you want an extra rich flavor to cook your pecans in real butter until they become aromatic and roast just a bit. I do not know if that works with margarine, I have only tried that with real butter.
Nutrition
Calories:
479
kcal
|
Carbohydrates:
65
g
|
Protein:
6
g
|
Fat:
23
g
|
Saturated Fat:
9
g
|
Cholesterol:
40
mg
|
Sodium:
254
mg
|
Potassium:
422
mg
|
Fiber:
3
g
|
Sugar:
37
g
|
Vitamin A:
525
IU
|
Vitamin C:
1
mg
|
Calcium:
162
mg
|
Iron:
1.7
mg