You can make your own ice cream any time of year. This French Vanilla ice cream is a delicious, creamy, and rich ice cream to try. This recipe is tried and true and you will love the results. Even if you have never made ice cream before, you should give this recipe a try – it is super simple to make!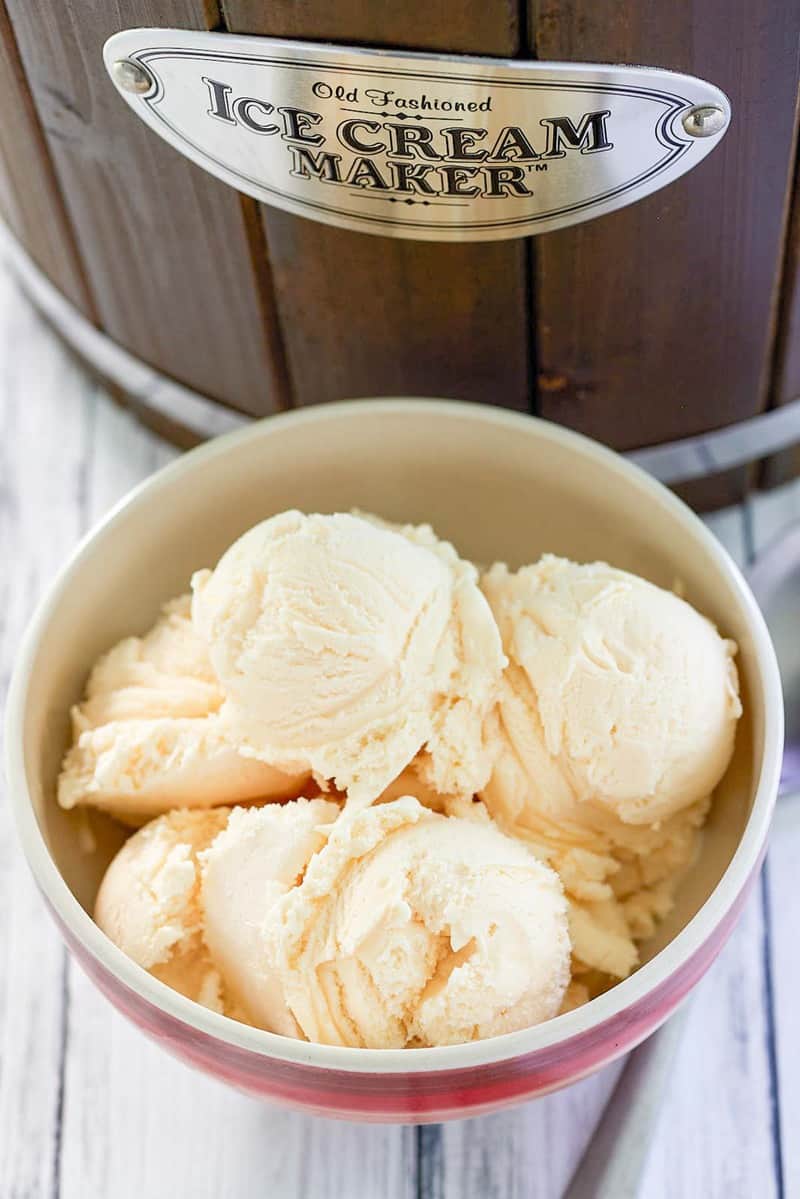 This post contains affiliate links. As an Amazon Associate, I earn from qualifying purchases.
Homemade French Vanilla Ice Cream
Summer just screams for homemade ice cream. Growing up every summer my Grandparents would put on an ice cream social. The ice cream social was made of lots of homemade ice cream, cakes, cookies, all sorts of toppings, and every available relative. It was so much fun.
Some of the machines weren't electric and we had to turn those ourselves. I have always missed those days as an adult, it was the big party to go to.
What is French Vanilla Ice Cream?
French Vanilla Ice Cream is an old-fashioned frozen treat to enjoy any time of the year. It's great alone, with toppings, or served with cake.
Why French Vanilla Ice Cream Is So Good
Some folks say vanilla ice cream is just too basic to be anyone's favorite flavor, but they're wrong. Homemade french vanilla ice cream may not be loaded with mix-ins, but it's tough to beat for those who can appreciate the subtle, refined taste and creamy texture.
French Vanilla vs Vanilla Ice Cream
Almost everyone has tried vanilla ice cream at some point, but many people haven't had french vanilla before. Those who haven't may wonder about the difference between vanilla and french vanilla ice cream.
Although the two flavors are similar in name, they are not the same. French vanilla has nothing to do with the kind of vanilla used to make it but refers to a style of ice cream in France than includes egg yolks.
That slight difference has a significant effect on how the ice cream tastes and how it feels when you eat it.
Why You Must Make Homemade French Vanilla Ice Cream From Scratch With This Recipe
The quality of ice cream in supermarket freezers has improved significantly. These days, you can find plenty of gourmet brands in the supermarket freezers, but buying a pint will cost you plenty.
If you love ice cream, investing in a proper ice cream maker and learning how to make your own will save you a lot of money in the long run.
This French Vanilla Ice Cream recipe is excellent for someone new to making ice cream. While most ice cream recipes require cooking the base to make a custard before churning, this recipe lets you skip that step, saving time and preventing you from turning on the stove.
French Vanilla Ice Cream Ingredients
To make french vanilla ice cream, you'll need:
Eggs
Sugar
Whipping cream or heavy cream
Whole milk
Vanilla extract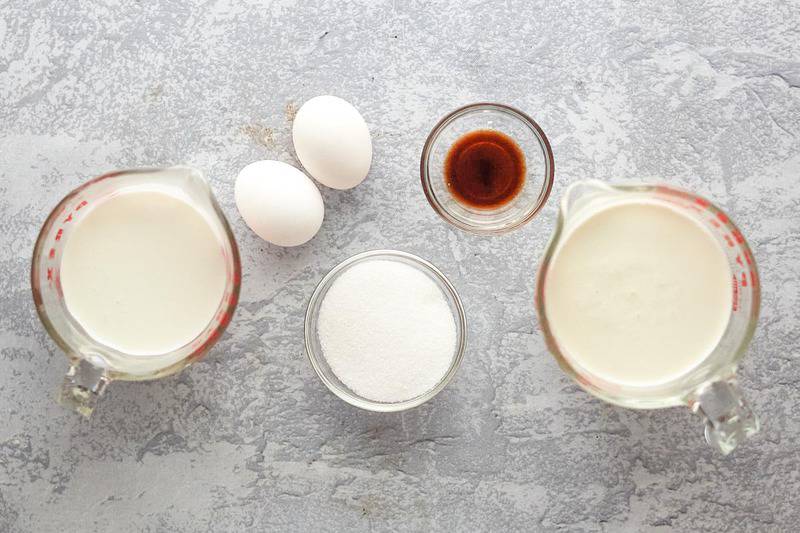 Ingredient Notes
You can find several whipping creams on supermarket shelves, but the kind you want for this recipe is the regular version.
Consuming raw eggs can be dangerous. If you are concerned about using raw eggs in the ice cream, you can find pasteurized eggs in some stores.
How to Make the Best French Vanilla Ice Cream
Just a few simple steps for making this French Vanilla Ice Cream recipe::
Whisk the eggs well for a minute or two until they lighten in color and appear frothy. You can mix with a mixer if you desire.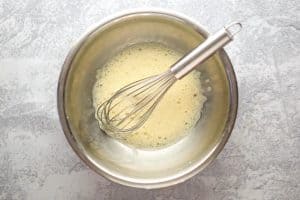 Continue to whisk, adding the sugar in stages.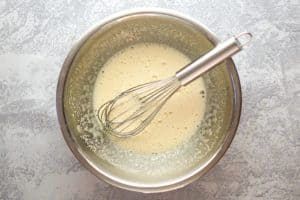 Pour in the rest of the ingredients and whisk the egg mixture well to combine.
Churn the ice cream according to the instructions for your ice cream maker.
Transfer the ice cream to a freezer-safe container and place it in the freezer until ready to serve.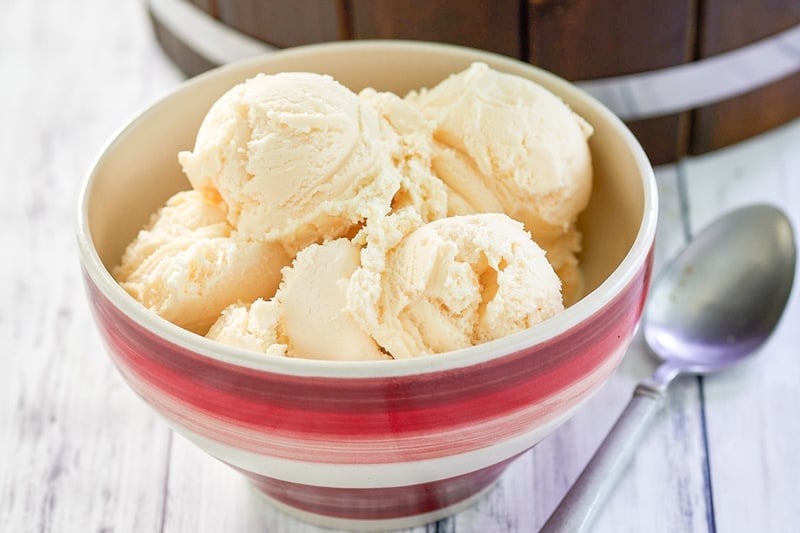 What Goes Well With French Vanilla Ice Cream
After all your hard work, you don't want to cover up the subtle flavors of french vanilla with sauces or too many toppings. If you must add a garnish, try sprinkling crushed walnuts on top or enjoy with a vanilla wafer.
Just in case you want to drizzle on some toppings, here are some suggestions:
French Vanilla Bean Ice Cream
Some versions of french vanilla use real vanilla seeds for flavor and the slightly gritty texture the seeds give the ice cream.
Recipes using vanilla beans require heating on the stove to draw out as much flavor as possible. If you want to use vanilla seeds instead of vanilla extract in this recipe, you can try the following:
Warm the milk and cream in a saucepan over medium-low heat.
Rinse and dry the vanilla bean.
Split the vanilla bean in two the long way using a sharp knife.
Use the back of the knife's blade to scrape the seeds into the saucepan.
Add the vanilla bean to the saucepan.
Cover the saucepan and let the milk and cream steam with the vanilla for a minute or two.
Remove the saucepan from the heat and let cool for five minutes.
Pour the flavored cream mixture into a container with a lid and put it in the fridge until chilled.
Pick out the vanilla pods and use the milk and cream in the recipe. Leave out the vanilla extract.
How To Store French Vanilla Ice Cream
Storing homemade ice cream is a little more complicated than you might think. Commercial manufacturers use stabilizers and blast chillers to prevent ice crystals from forming on their ice cream. Home ice makers don't have those options.
There are a few storage tricks you can use to keep your ice cream as creamy and delicious as possible:
Use a reusable ice cream container.
Place plastic wrap directly on the top of the ice cream.
Store ice cream in the back of the freezer for a more consent temperature.
Eat homemade ice cream within a few days for the best texture.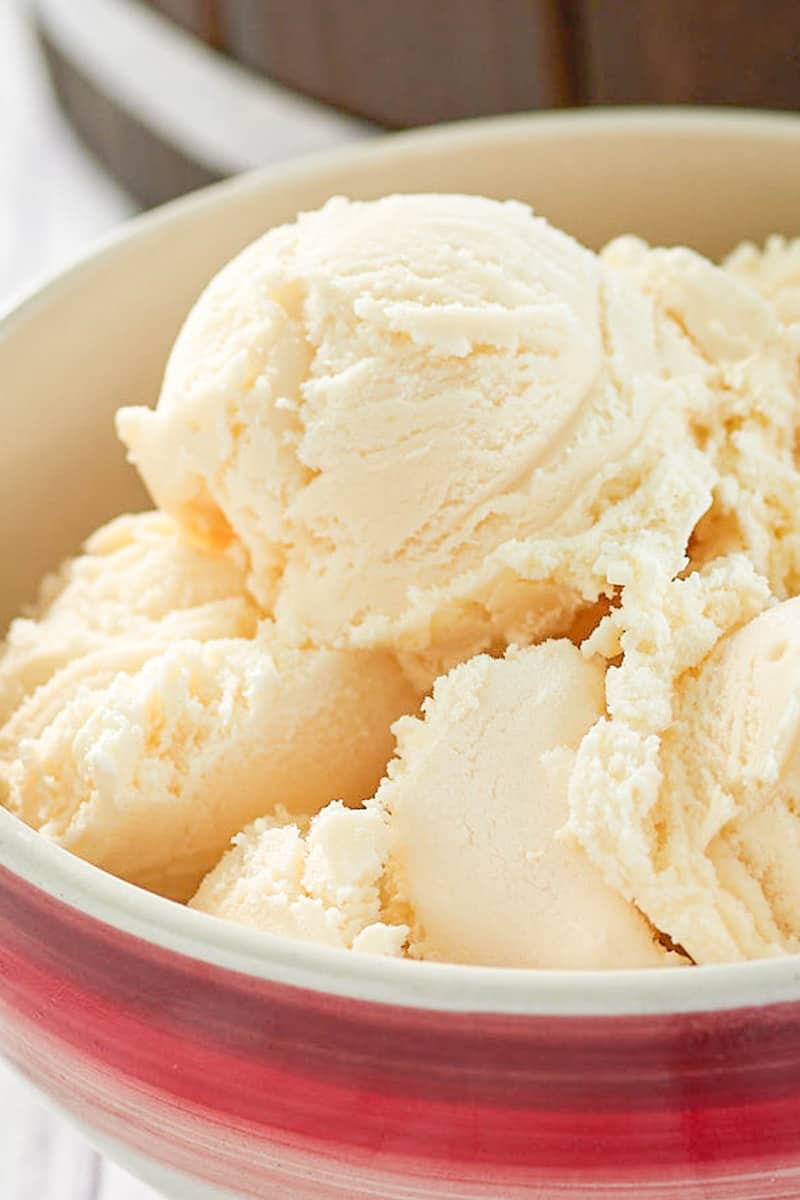 More Ice Cream Recipes to Make
Delicious Ice Cream and Frozen Treats
Check out more of my easy ice cream recipes and the best recipes for summer here on CopyKat!
This recipe is from Ben and Jerry's Homemade Ice Cream and Dessert cookbook. You can find many more of their recipes in the book.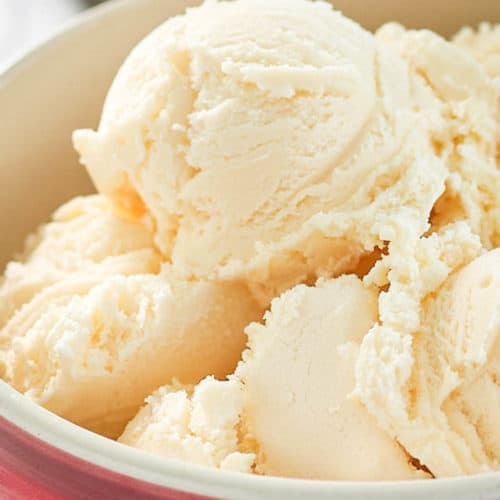 Ingredients
2

large eggs

3/4

cup

sugar

2

cups

whipping cream

1

cup

milk

2

teaspoon

vanilla extract
Instructions
Whisk the eggs in a mixing bowl until light and fluffy, 1 to 2 minutes.

Whisk in the sugar, a little at a time. Continue whisking until completely blended, about 1 minute more.

Add the cream, milk, and vanilla, and whisk to blend.

Transfer the mixture to an ice cream maker and freeze following the manufacturer's instructions.
Nutrition
Calories:
422
kcal
|
Carbohydrates:
29
g
|
Protein:
5
g
|
Fat:
32
g
|
Saturated Fat:
19
g
|
Cholesterol:
174
mg
|
Sodium:
71
mg
|
Potassium:
136
mg
|
Sugar:
27
g
|
Vitamin A:
1320
IU
|
Vitamin C:
0.5
mg
|
Calcium:
107
mg
|
Iron:
0.3
mg