Creamy, smooth, rich, and down right delicious homemade vanilla ice cream. This recipe is an easy homemade ice cream recipe to make with minimal ingredients.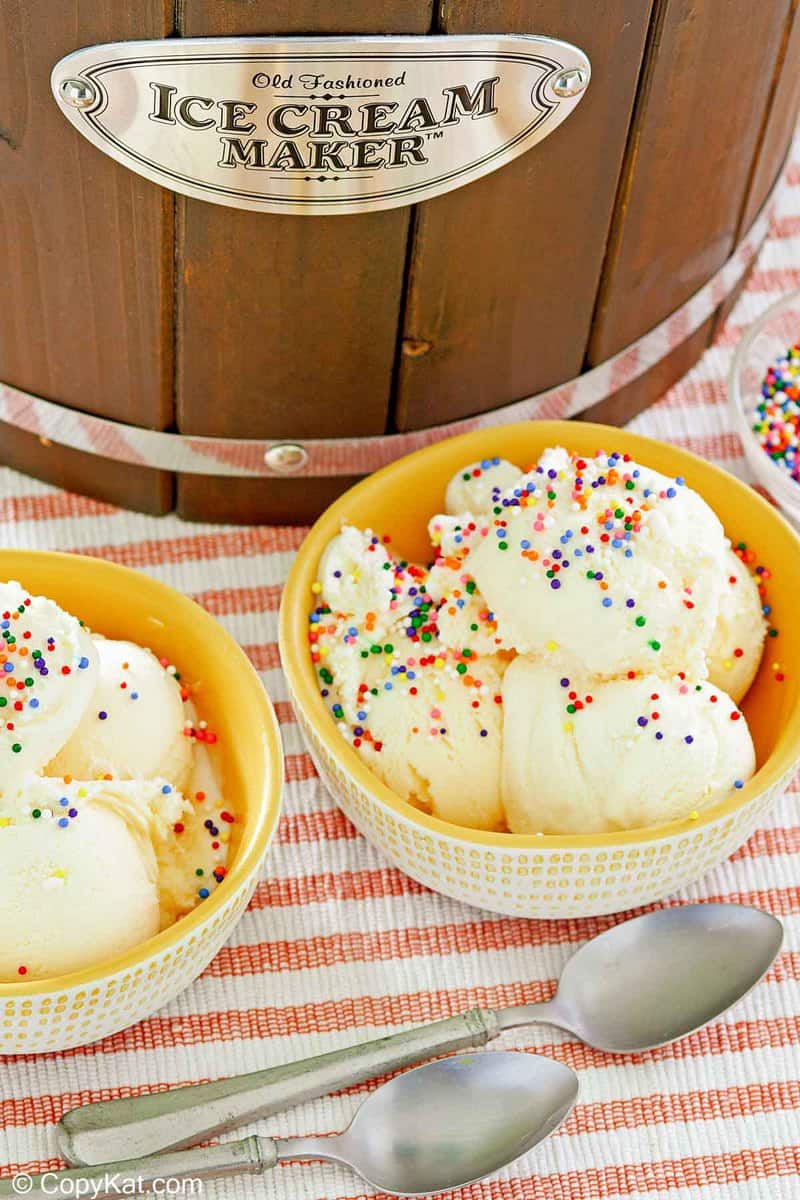 What Makes This Recipe So Simple?
This recipe is so simple, yet absolutely amazing. It produces the most creamy homemade vanilla ice cream.
All you have to do is mix everything together until they are completely combined, and then pour it into your ice cream maker. Then follow the directions for the ice cream mixer.
What Ingredients Do You Need for Homemade Vanilla Ice Cream?
You can make this amazing recipe with everything you have in your house. No need to pick up extra ingredients from the store.
Take a look at what you need to make this homemade ice cream recipe:
Eggs
Salt
Sweetened condensed milk
Milk
Sugar
Vanilla extract
That is it! Nothing too crazy, just simple ingredients for this family secret ice cream.
How to Make Homemade Ice Cream
For this recipe all you will need is a mixer and an ice cream maker. It is super simple like I mentioned before, just throw all of the ingredients in the mixer and blend it all together.
Once you are done mixing everything pour the ingredients into the ice cream maker and let it do its thing! Make sure to follow the ice cream maker's directions to get the best ice cream results.
Mix It Up
You can make this recipe your own! That is the beauty of a homemade ice cream recipe. With homemade ice cream you can put anything in it that you like.
Here are just a few ideas that you could do:
Mint chip – Add mint flavoring and chocolate chips
Cookies and Cream – add in some crushed up oreos
Fudge Swirl – Add in some cold hot fudge
Cookie Dough – Buy some of the Ben and Jerry's cookie dough bites and add it in
Moose Tracks – Add in cold hot fudge and small peanut butter cups
Stawberry – Add strawberry flavoring and red food coloring (or without the food coloring that is just for appearances)

These are a few of my favorites, but the possibilities are endless! Let me know what flavor you decide to make with this homemade vanilla ice cream recipe.

Is It OK To Use Raw Eggs In Homemade Ice Cream Recipes?
While there is some risk to using raw eggs in homemade ice cream, they are higher to those with a compromised immune system, or the elderly, even then the risks are not that high.
As long as you store the ice cream in the freezer, keep the ice cream frozen when not eating it, and avoid crosscontamination then there should be no issues using raw eggs in ice cream.
Ice cream is stored at a cold enough temperature that it will kill the salmonella, so storing the ice cream properly is key.
Can You Make Homemade Ice Cream Without a Machine?
Yes you can! Instead of using an ice cream machine you can use a few other things to make ice cream.
A few other tools you can use to make ice cream are either a hand or stand mixer, a blender, or a food processor are great options to use to make homemade ice cream.
However, an ice cream mixer is a nice tool to have, if you are looking to get one, THIS is a great ice cream maker.
How Long Does It Take For Homemade Ice Cream to Freeze?
If you are using an ice cream maker it will speed up the freezing. Since it is actively cooling down the ice cream as it is mixing, it should only take about 2 or so hours for the ice cream to freeze.
But, if you are not using an ice cream machine it will take around 4-5 hours to freeze the homemade vanilla ice cream completely.
Why Isn't My Ice Cream Freezing?
If while using an ice cream machine your ice cream isn't freezing, that either means your machine is broken or the bowl wasn't cold enough. The inner bowl of an ice cream machine should be completely frozen and feel like rock solid.
When the inner bowl isn't frozen, the ice cream mixture has nothing to draw from to make it cold. Also, try and have the mixture cold going into the ice cream machine, this will help speed up the freezing process.
Storage Tips For Ice Cream
For making homemade ice cream you will want to make sure you have a freezer safe container to keep the ice cream in. If I know I plan to make homemade ice cream, I like to save an old ice cream container, or I will purchase THESE ice cream containers off of Amazon.
If you do not have either of those, a metal bread loaf pan or cake pan will work too! Just make sure to cover it with plastic wrap and then aluminum foil.
Homemade Vanilla Ice Cream Ingredients
Please note this recipe makes just shy of 4 quarts of ice cream.
Here's a list of what you need:
Eggs
Sweetened condensed milk
Milk
Sugar
Vanilla extract
Salt
How to Make Homemade Ice Cream
Place all of the ingredients into a large bowl.

Mix until well combined.
Pour the mixture into an ice cream maker.
Prepare according to the ice cream freezer's directions.

Transfer the ice cream to a freezer-safe container.
Keep the ice cream in your freezer when not until serving.
What to serve homemade ice cream with?
There are several things you can serve this with. Two of my favorites are homemade hot fudge cake and with warm apple pie. The combination of the cool melting ice cream on top of a warm delicious dessert simply can't be beaten.
Love ice cream? Try these recipes!
Favorite Ice Cream Topping Recipes
Popular Frozen Desserts
Check out more of my easy ice cream recipes and the best summer recipes here on CopyKat!
Ingredients
10

eggs

3

teaspoons

vanilla extract

14

ounces

sweetened condensed milk

3

quarts

milk

1 3/4

cups

sugar

1/4

teaspoon

salt
Instructions
Place all ingredients in a large bowl.

Mix until well combined.

Pour the mixture into an ice cream maker.

Prepare according to the ice cream freezer's directions.
Nutrition
Calories:
209
kcal
|
Carbohydrates:
29
g
|
Protein:
7
g
|
Fat:
7
g
|
Saturated Fat:
3
g
|
Cholesterol:
85
mg
|
Sodium:
122
mg
|
Potassium:
242
mg
|
Sugar:
29
g
|
Vitamin A:
335
IU
|
Vitamin C:
0.4
mg
|
Calcium:
191
mg
|
Iron:
0.4
mg