If you have not tried Friendly's Peanut Butter Sauce, you have not enjoyed ice cream in an amazing way. I will show you how to make a copycat Friendly's Peanut Butter Sauce at home.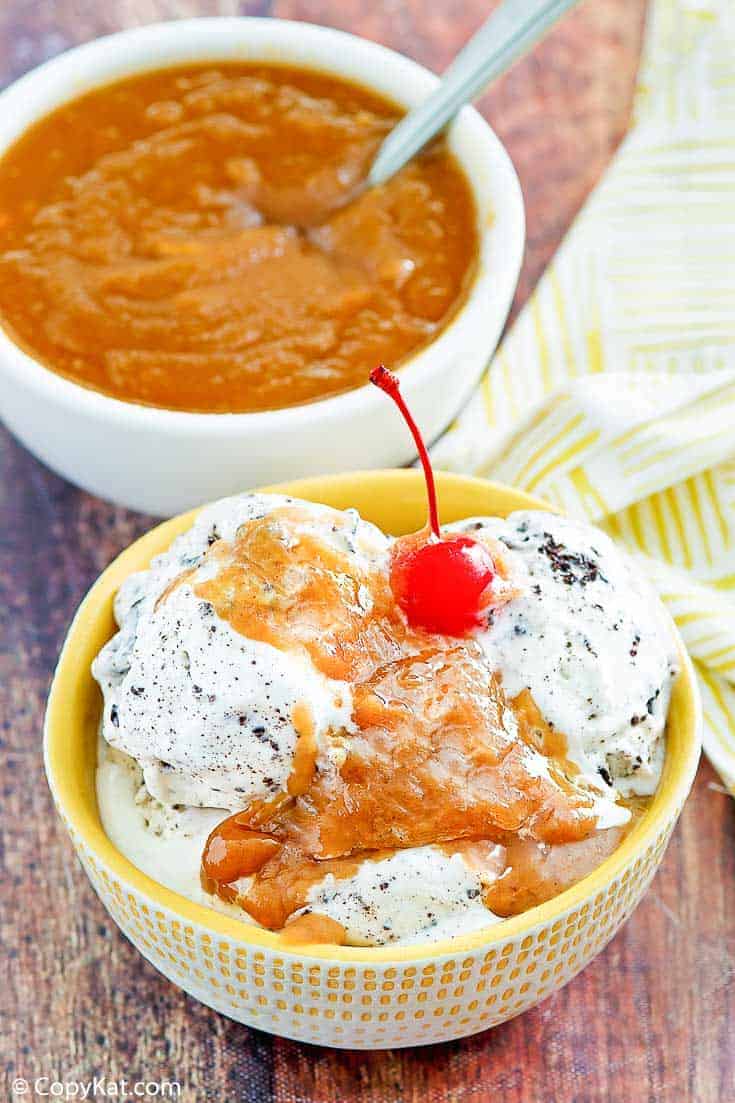 This post contains affiliate links. As an Amazon Associate, I earn from qualifying purchases.
Peanut Butter Sauce for Ice Cream
Sure, we have all tried hot fudge and caramel sauce, but you have not enjoyed peanut butter in such a new and unique way. At Friendly's, the menu is broad and the food is good. Friendly's revived my love of ice cream.
I worked at a Dairy Queen in high school and college and had too much contact with ice cream. I flew too close to the sun, and my love of ice cream burned away after coming home wearing ice cream every day for a couple of years.
A friend encouraged me to go to Friendly's, and I was game. I ordered the peanut butter sauce on ice cream – let me tell you it was magical, and I fell in love with ice cream again.
This recipe is my version of Friendly's Peanut Butter Sauce. So if you aren't close to a Friendly's restaurant (they are mainly up north and in Florida) you don't have to make a special trip for this wonderful taste treat.
Ingredients for Peanut Butter Sauce
Butter
Heavy Whipping Cream
Corn Syrup
Sugar
Salt
Peanut Butter
Vanilla
If you don't want to use corn syrup, I recommend Golden Syrup – it's just like corn syrup, but it is made with sugar cane.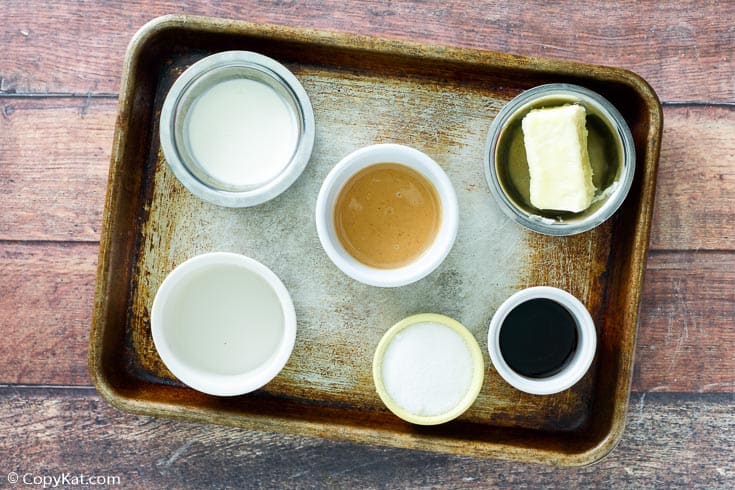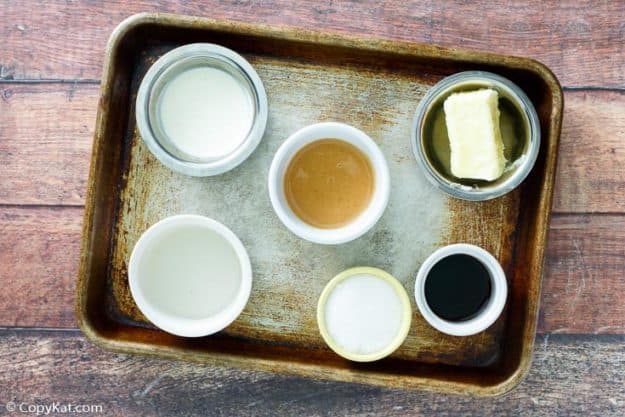 How to Make Friendly's Peanut Butter Sauce
Melt butter in a medium-sized pan over medium heat.
Add cream, corn syrup, sugar, salt, and peanut butter. Stir until sauce is uniform in color.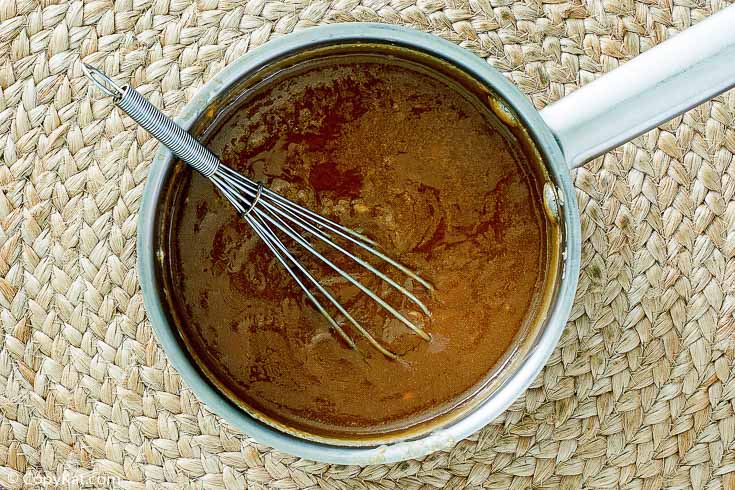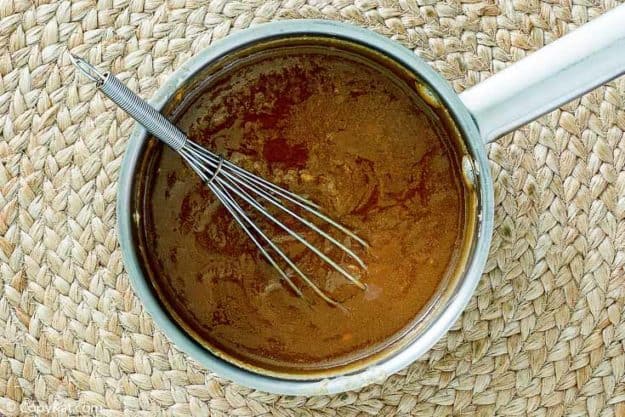 Cool sauce to room temperature.
Stir in vanilla.
Enjoy this delicious peanut butter ice cream topping.
How Do You Thin Peanut Butter to Drizzle It?
There are three ways you can do thin out peanut butter for drizzling:
The fastest and easiest way is to use your microwave. Place the peanut butter in a microwave-safe bowl and microwave on high at intervals as follows. Heat for 30 seconds, remove from the microwave and stir. Repeat until the peanut butter reaches your desired consistency. (You might want to cover the bowl with a microwave-suitable lid or paper towel to avoid messy splatters.)
To use your stove, place the peanut butter in a saucepan. Using low heat, gradually heat the peanut butter stirring gently and constantly to prevent the peanut butter from sticking to the pan and heating through unevenly. It takes approximately five minutes for the peanut butter to melt sufficiently.
You can also thin peanut butter in your food processor or blender. Add two tablespoons of water for each tablespoon of peanut butter. If you want a creamier consistency, you can use milk in place of water. Blend on low speed for 30 seconds then use a higher speed until the peanut butter is thin enough.
CopyKat Tip: Spraying your measuring cup with cooking spray before you begin gets the peanut butter out more easily.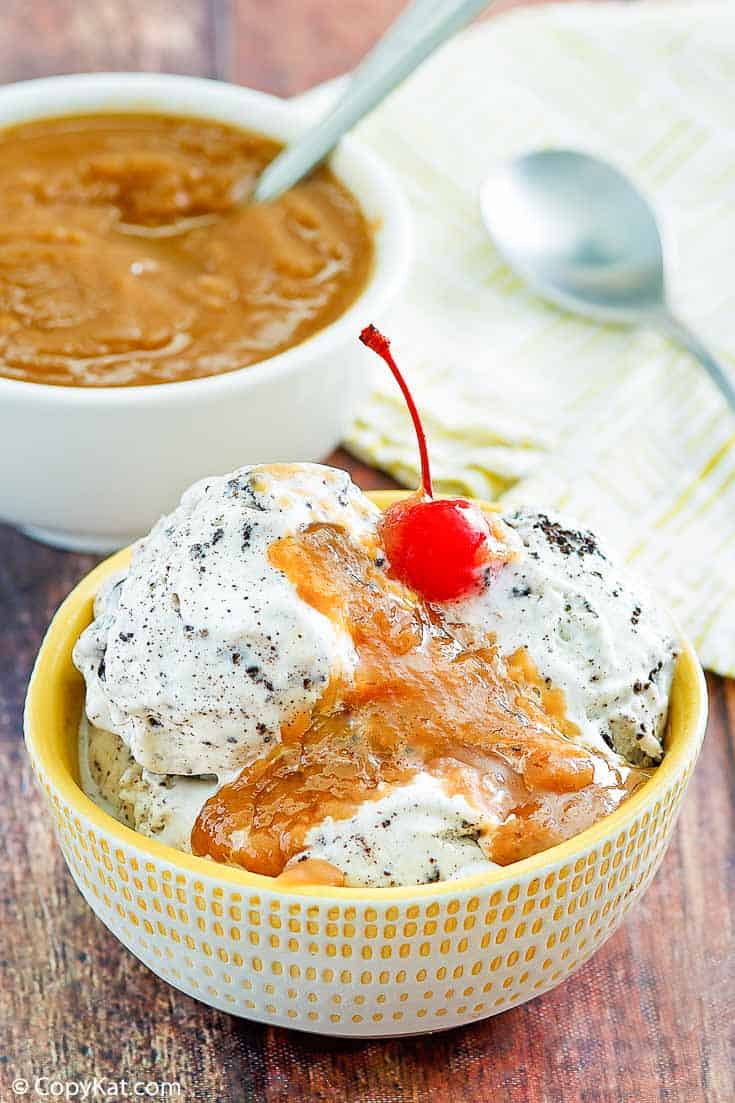 What is Meant by Natural Peanut Butter
Natural peanut butter makes the best peanut butter drizzle. When peanut butter is not natural, this means that stabilizers have been added to prevent the peanut butter from being its natural oily and runny self.
These stabilizers may include various oils like coconut oil, hydrogenated oil, palm oil, or vegetable oil. Crunchy peanut butter, although delightful to eat, will not drizzle as well as the smooth and silky kind.
You might also want to read more on how to get the perfect peanut butter drizzle from the National Peanut Board.
How to Store and Reheat Peanut Butter Sauce
My copycat recipe makes about a pint and a half of sauce. I store mine in a canning jar in the refrigerator where it will stay fresh for a couple of weeks.
It hardens back up in the fridge so you will need to heat it for a moment or two before serving. You can reheat peanut butter sauce in the microwave or on the stovetop.
Best Ice Cream Peanut Butter Sauce
You can't get this famous peanut butter sauce anywhere but at Friendly's Restaurant. But, you can make it at home, and it's very easy.
Please let me know how much you enjoy this sauce and if you have tried it in other ways than on ice cream. One reader told me that the sauce is so good, it's even great cold when you spread it on Oreos!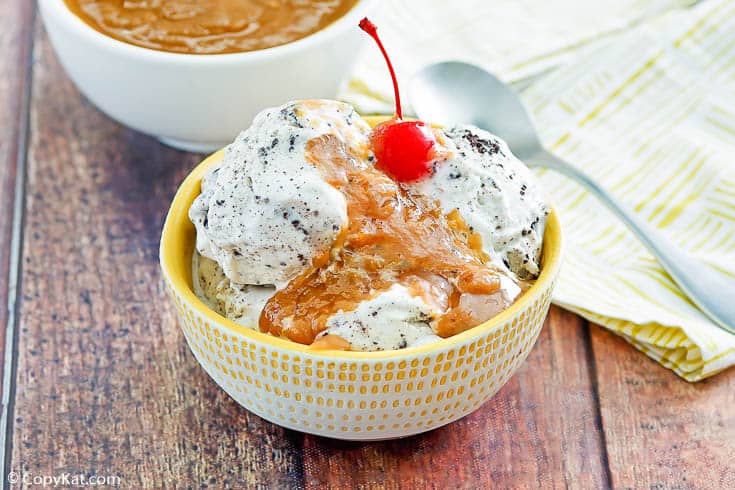 Love peanut butter? Check out these recipes
Best Ice Cream Recipes
Find more incredible copycat foods and family desserts to make and enjoy.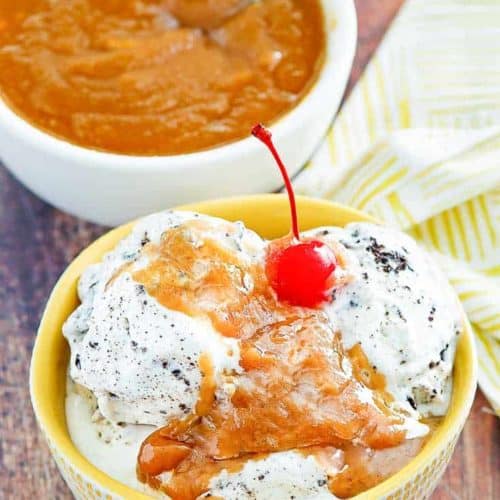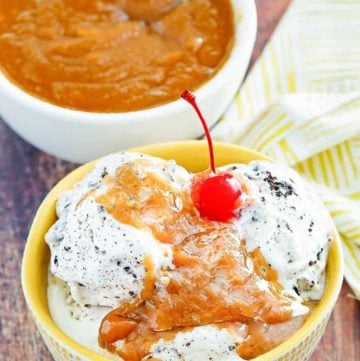 Ingredients
2

tablespoons

butter

1

cup

heavy whipping cream

( you can use half and half)

1/2

cup

corn syrup

1/2

cup

sugar

1/2

teaspoon

salt

1

cup

natural peanut butter

smooth is recommended

1

teaspoon

vanilla
Instructions
In a medium sized saucepan over medium heat, melt butter, add heavy cream, corn syrup, sugar, salt, and natural peanut butter. Stir continually until the mixture is uniform. Cool off sauce, and then add vanilla. Store left over sauce in the refrigerator.
Nutrition
Calories:
324
kcal
|
Carbohydrates:
33
g
|
Protein:
7
g
|
Fat:
19
g
|
Saturated Fat:
8
g
|
Cholesterol:
38
mg
|
Sodium:
295
mg
|
Potassium:
190
mg
|
Fiber:
1
g
|
Sugar:
25
g
|
Vitamin A:
420
IU
|
Vitamin C:
0.2
mg
|
Calcium:
27
mg
|
Iron:
0.5
mg