Reeses Snack Mix is super easy to make, and perfect for your peanut butter lovers.
Reese's Snack Mix for Peanut Butter Lovers
Reese's Snack Mix is super easy to make, and perfect for anyone who loves peanut butter. The perfect snack mix has an ideal combination of savory and sweet ingredients.
This recipe has the savory coming from the pretzels and salted peanuts. Your sweet tooth is satisfied by the Reese's Peanut Butter Cups and the Reese's Pieces candy. It's perfect for the holidays and for any hikers in your family.
There's Peanut Butter in my Chocolate
In the 1920's, Harry Burnett (H.B.) Reese was the man responsible for introducing the world to the magic of the much-loved combination of chocolate and peanut butter. Reese's Peanut Butter Cups were originally known as "Penny Cups."
Reese continued to make his candy through the 1950s. After his death, Hershey bought the candy company Reese created. Read more about the history of Reese's.
Some Facts You Probably Don't Know About Reese's
Before the famous peanut butter cups, Reese made two candy bars named after his children – the Lizzy Bar and the Johnny Bar.
Every year, Reese's makes enough Peanut Butter Cups to feed one cup of peanut butter to almost everyone in the world. That's a lot of peanut butter!
Mars declined the offer to have E.T. the Extra-Terrestrial snack on M&M's, so Reese's Pieces starred in the movie instead. Sales of Reese's Pieces skyrocketed.
I Love Reese's Day is May 18th.
To read more things that you may not know about Reese's, click here.
Variations for this Snack Mix
Obviously, if you are a big fan of peanut butter, you will want to make this snack mix. However, you could easily swap out the semi-sweet chocolate chips for milk chocolate and the peanuts for chocolate-covered peanuts if desired. Whichever way you go, you will save money by making the mix yourself.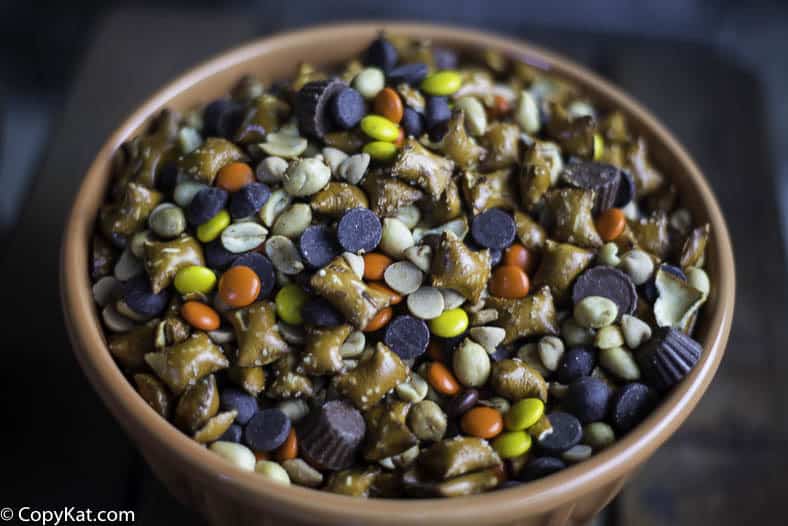 Make Ahead and Store
This snack mix makes a ton of snacks! Store the mix in an airtight container, and you will always have it on hand for snacking. It really is your sweet and salty dream snack.
Can't Get Enough of Peanut Butter? – Try these CopyKat peanut butter recipes.
Ingredients
10

ounces

mini Reeses Peanut Butter Cups

10

ounces

semi sweet chocolate chips

10

ounces

peanut butter chips

24

ounces

peanut butter filled pretzels

10

ounces

Reeses Pieces

12

ounces

peanuts
Instructions
In a large bowl combine all ingredients, and stir to mix well.

Store in an air-tight container.
Nutrition
Calories:
439
kcal
|
Carbohydrates:
50
g
|
Protein:
12
g
|
Fat:
22
g
|
Saturated Fat:
9
g
|
Cholesterol:
3
mg
|
Sodium:
452
mg
|
Potassium:
293
mg
|
Fiber:
4
g
|
Sugar:
21
g
|
Vitamin A:
15
IU
|
Vitamin C:
0
mg
|
Calcium:
45
mg
|
Iron:
3.3
mg