Peanut Butter Pie is so popular. And guess what? It is easy to make. Amaze your friends and family with this delicious dessert. The Afternoon Delight restaurant in Ann Arbor, Michigan is known for its Peanut Butter Pie.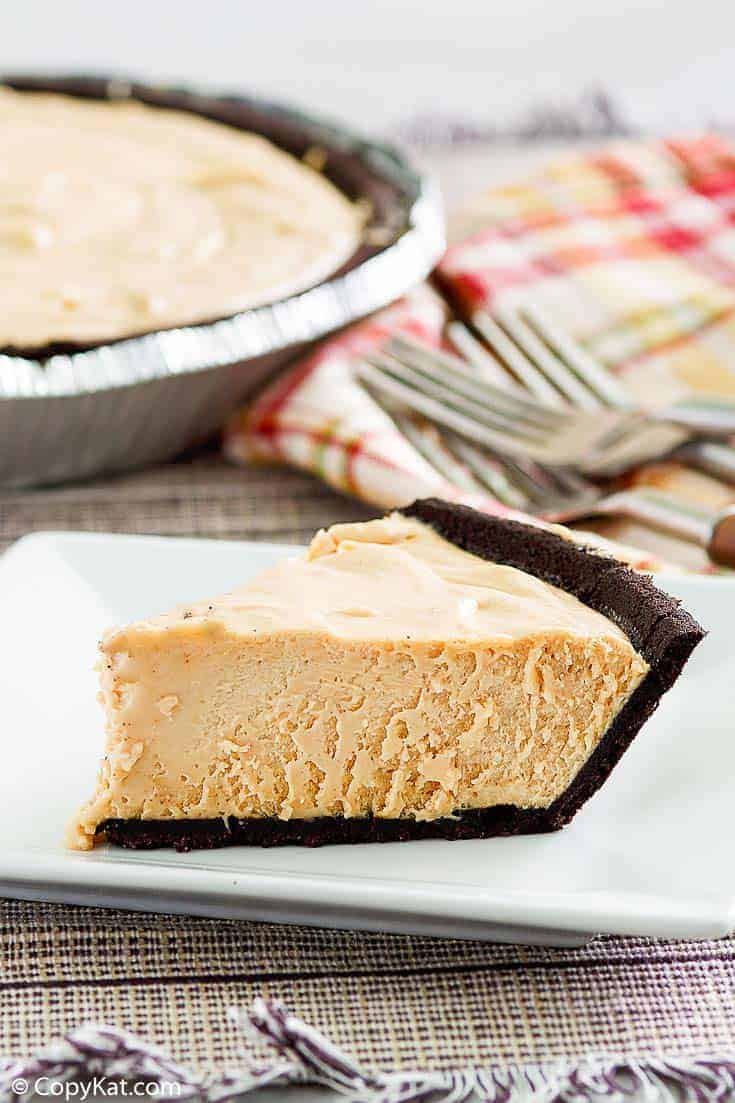 Are you a peanut butter lover in need of a quick fix? In less than ten minutes, you can have a creamy peanut butter pie sitting in your fridge. This no-bake peanut butter pie recipe is just the thing when the temperature outside is soaring, and you want to turn on the oven. The best part is you probably already have most of the ingredients on hand! Whether you serve it to your family, bring it to a potluck, or keep it all to yourself, this creamy peanut butter pie is sure to become one of your go-to summer desserts!
Making This Easy Peanut Butter Pie Recipe Your Own
On its own, this pie is fantastic, but it only gets better when you add your creativity. Here are two variations that are definitely worth trying, and hopefully, they give you the inspiration you need to create your own peanut butter pie masterpiece.
The Buckeye Peanut Butter Pie
Who doesn't love the combination of rich chocolate and creamy peanut butter? This version recreates the taste of classic buckeyes in pie form. Use a pre-made chocolate cookie crumb crust and follow the directions below for the peanut butter filling. Once you fill the crust, pop the pie into the fridge to let it firm up.
Once the pie sets, it is time to make the chocolate ganache topping. Pour a cup and a half of chocolate chips into a heat-proof mixing bowl while warming three-quarters of a cup of heavy cream in a saucepan gently over medium heat. Stir the heavy cream constantly until it just begins to simmer, then remove it from the heat and pour it slowly over the chocolate chips. Stir to melt the chocolate completely.
Allow the chocolate ganache to cool to just over room temperature and pour over the peanut butter pie. Return the Buckeye Pie to the fridge for at least an hour before serving.
Peanut Brittle Pie
Drizzling this caramel sauce over the top of a peanut butter pie gives it the crunchy, sweet and salty taste of old-timey peanut brittle.
Start the caramel sauce by melting four tablespoons of butter in a heavy-bottomed saucepan over medium heat and then adding a quarter cup of brown sugar and a quarter cup of white sugar. Continue to stir until the sugar completely dissolves and begins to darken slightly. Reduce the heat to low and carefully pour in a half cup of heavy cream. While stirring, raise the temperature slowly until it is simmering. Cook for three minutes and remove from the heat. Stir in a half teaspoon of sea salt and a half cup of roughly chopped peanuts.
Let the salted caramel sauce cool to just over room temperature and pour over the peanut butter pie. Put the Peanut Brittle Pie back in the fridge for at least an hour before cutting.
Storing Your No-Bake Peanut Pie
Keep it cool and covered. The peanut pie needs to stay in the fridge and serve it well-chilled. Remember to keep the pie in an airtight container; otherwise, it will pick up odd flavors from the other food in your fridge.
Don't let it hang around too long. Try to finish the pie within five days of making it.
Follow us on Instagram to stay up-to-date with all of our new recipes.
Peanut butter pie ingredients
Here is what you need to make the pie:
Cream Cheese
Confectioners' sugar (powdered sugar)
Half and half
Vanilla
Peanut butter
Whipping Cream
Chocolate cookie crust or graham cracker crust
How to Make Peanut Butter Pie
Using an electric mixer, combine cream cheese, sugar, half and half, peanut butter, and vanilla.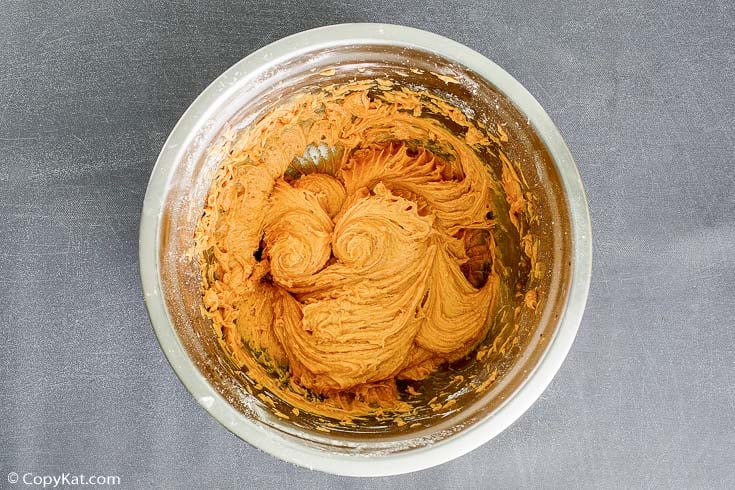 In a separate bowl, whip cream in a chilled bowl until stiff.
Fold whipped cream into peanut butter mixture.
Place filling into the pie crust.
Refrigerate until serving.
Slice and enjoy a creamy and fluffy peanut butter pie.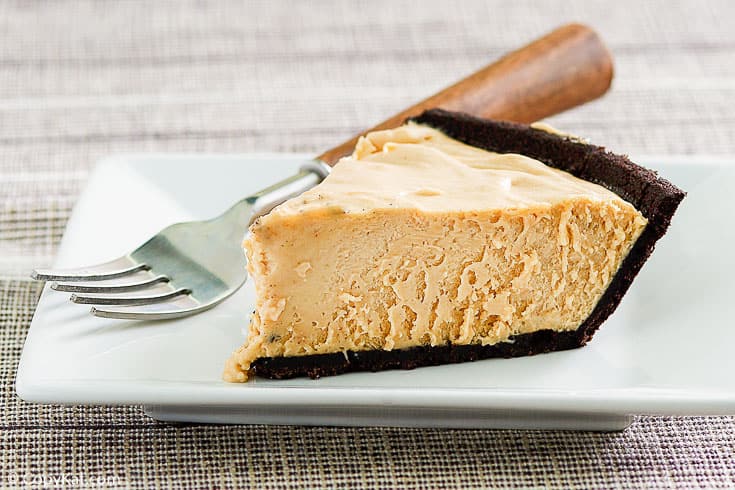 Do you love pie? Check out these recipes
More Peanut Butter Dessert Recipes
Be sure to check out more of my easy pies and homemade dessert recipes.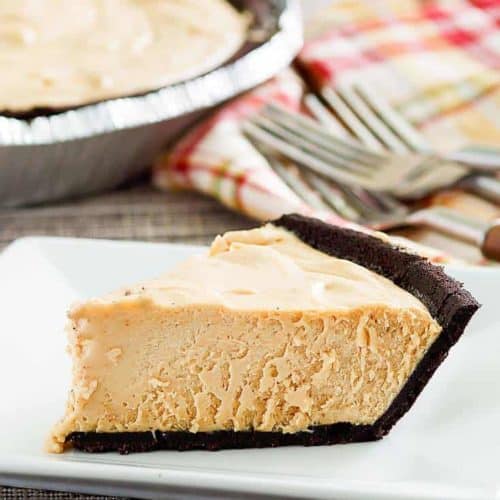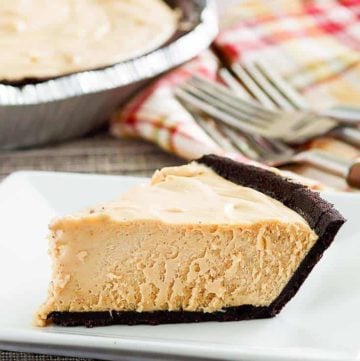 Ingredients
2

ounces

cream cheese

1

cup

sifted confectioners' sugar

1/3

cup

half and half

1

teaspoon

vanilla

1

cup

peanut butter

1 1/2

cups

whipping cream

1

Chocolate cookie crust or graham cracker crust - use the already prepared 9-inch pie shell
Instructions
Using an electric mixer, combine cream cheese, sugar, cream, vanilla, and peanut butter. Chill a small bowl and beaters in the freezer. Whip the cream until very stiff in the chilled bowl. Add one-third of the whipped cream to the peanut butter mixture and fold into remaining whipped cream. Spoon into the chocolate pie crust or graham cracker crust.   Keep the pie refrigerated until you are ready to serve, and store the pie in the refrigerator.
Nutrition
Calories:
441
kcal
|
Carbohydrates:
23
g
|
Protein:
9
g
|
Fat:
36
g
|
Saturated Fat:
15
g
|
Cholesterol:
72
mg
|
Sodium:
192
mg
|
Potassium:
265
mg
|
Fiber:
1
g
|
Sugar:
18
g
|
Vitamin A:
785
IU
|
Vitamin C:
0.2
mg
|
Calcium:
60
mg
|
Iron:
0.6
mg